Monday, July 28, 2014
The Morality of Perversion
by Grace Boey
When Vladimir Nabokov's Lolita was first published in 1955, the novel generated an enormous amount of controversy. Narrated by Humbert Humbert, a fictional literature professor in his late thirties, the tragicomedy depicts his obsessive sexual relationship with 12-year-old Dolores Haze—the eponymous Lolita.
60 years down the road, the book remains as controversial as ever. A large part of this seems to be that Lolita, despite our moral condemnation of child sex, somehow manages to elicit the reader's sympathy for its pedophilic 'protagonist' (who is, possibly, more accurately described as a hebephile). Beyond our contempt for Humbert, there is also disgust with ourselves. How dare we even think of sympathizing with such a pervert? Surely by doing so we inch closer to condoning sex with children.
Such confusion reflects unresolved thoughts and feelings about sexual deviation in general. What does it mean to sympathize with perversion? Where, exactly, lies the wrong in what many of us think of as sexual deviance—such as pedophilia, zoophilia, homosexuality, and various other unusual forms of sexuality? What specifically is it that's so outrageous about the affair between Humbert and Dolores? To answer such questions, we must delve into the field of sexual ethics.
Sex: the moral minefield

Why is the ethics of sex even a thing? For one, sex is a significant act which plays a big part in an individual's life. How someone practices (or doesn't practice) sex is intertwined with their emotions, relationships, expression and identity. Moreover, sex is an act involving our own bodies that we either wish to participate in, or don't. In deontological terms or rights-speak, there are important rights and potential violations surrounding sex. From a consequentialist perspective, there is the potential for both great harm and utility to arise from sex. All this makes sex something we should tread around pretty carefully.
Historically, sexual dynamics have also played a huge role in ordering society (and continue to do so). Our psychological perceptions of morality often end up having a lot to do with maintaining social order. Fields like experimental moral psychology and evolutionary psychology seek to uncover these mental biases. It has been, for example, suggested that moral judgments about promiscuity may have come about as a way of keeping a gender-based social order intact; sleeping around is more likely to be considered a moral violation in places where women are economically dependent on men.
So thinking carefully about the morality of sex is important, because there are substantive deontological and consequential concerns surrounding its practice, and also because it is important to check the psychological biases we have towards our moral judgments about sex.
Orientation versus behaviour, deviation versus disorder
There are two important distinctions to make when analyzing the morality of any sexual phenomenon: that between internal orientation and actual behaviour, and that between statistical deviation and disorder.
To understand the distinction between orientation and behaviour, consider the following: many of us have had murderous thoughts or violent fantasies directed at other individuals; however, we stop ourselves from carrying these desires out because we know that doing so would be wrong. So unless we really believes in involuntary thought crimes, we must acknowledge the substantive moral distinction between internal desire and action.
This is something like the distinction between sexual orientation and related behaviour. Though certain internal orientations generate desires which predispose one to certain types of behaviours, the two things are distinct. Pedophilia, for example is an orientation; sex with pre-pubescent children is an act. The former entails experiencing involuntary desires to commit the latter. Yet, there are non-pedophiles who non-pathologically and non-recurrently engage in sexual activity with children, and there are pedophiles who choose not to act upon their desires. There is even a 'Virtuous Pedophile' online group—a community of those who are involuntarily attracted to children, but commendably resist the urge to sexually abuse them.
Moving on, it's also important to distinguish statistically atypical sexuality from sexual disorders. Consider this question: when is it desirable to 'cure', 'treat' or 'manage' someone's unusual sexual preferences?
It helps to take a look at the latest edition of the American Psychiatric Association's Diagnostic and Statistical Manual of Mental Disorders (DSM-V). DSM-V distinguishes between atypical sexual orientations (or 'paraphilias') that are benign and paraphilic disorders. A paraphilia by itself does not automatically justify or require psychiatric intervention. A paraphilic disorder, on the other hand, "causes distress or impairment to the individual or harm to others", and calls for psychiatric treatment.
In formulating this distinction, DSM-V's paraphilia sub-work group noted the following:
"The important thing for us was distinguishing between benign paraphilias versus paraphilic disorders that cause real anguish to the individual or predispose the individual to violate the rights of other people or harm them in serious ways."
There are, of course, substantive reservations to be had about DSM-V and DSM in general, the practice of labeling certain things as 'disorders' or 'psychopathologies', or—for that matter—the odd fact that the APA finds it necessary to outline benign paraphilias in a mental illness manual at all. Yet, it's hard to disagree with the idea that it is beneficial and desirable to help someone out with his involuntary orientation when it causes harm to others, or causes distress or impairment to himself.
The necessity of treating such paraphilias should not be a moral judgment on anyone for their sexual orientation; intervention is something that is simply done to protect the individual as well as others.
Case studies in deviance

By applying what's been said above, let's consider three cases studies of sexual 'deviance' in turn: pedophilia, homosexuality and objectophilia—sexual attraction to inanimate objects.
As previously discussed, pedophilia is an orientation, whereas having sexual relations with children is the harmful act. This act is always seen as sexual abuse, for at least two reasons: children lack the developmental capacity to meaningfully consent to intimate acts, and there is overwhelming evidence demonstrating that sexual acts between adults and children tend to cause significant, long-lasting psychological harm to children.
To have sexual relations with a child, then, is morally wrong—whether or not the perpetrator is a pedophile. Also, while simply existing as a pedophile warrants no moral judgment, it is certainly in everyone's best interests if the individual controls his impulses, or receives treatment to manage his sexual desires. Not only is it harmful to children if he shouldn't, it's also distressing for the pedophile himself to know that his involuntary sexual desires should never be fulfilled. In this regard, professional help mitigates any harm caused both to potential victims and the pedophile himself.
Something else that's thought of as deviant by many is homosexuality. Note, again, that homosexuality—sexual attraction to other members of the same sex—is the orientation, whereas sexual relations between members of the same sex is the act. In this case, such an act committed between two consenting adults causes no harm to anyone involved. Our moral verdict should be that there is nothing wrong with homosexual orientations or same-sex acts.
Attempts to argue against legalizing gay rights by comparing homosexuality to pedophilia, then, fail as the slope from one to the other turns out to be not so slippery at all. Other than the fact that both pedophilic and homosexual orientations appear to be statistical minorities, the two cases have nothing more in common. The morality of gayness has nothing to do with pedophilia or other potentially harmful deviances.
The final case study to be examined is the curious one of objectophilia, or object sexuality. Anyone unfamiliar with this sexual orientation can start by acquainting themselves with Erika Eiffel, the object-sexual who married a certain world-famous tower.
The inanimate, lifeless subjects of an object-sexual's affection are not things to which the concept of consent applies; neither are these objects capable of suffering from harm. So unless one takes serious issue with the use of sex toys on the grounds that a dildo be harmed or cannot give consent, there's really nothing immoral about people having 'sex' with balloons, cars or bridges.
But one thing should be noted about object-sexuals: although there are plenty of them who get along just fine, at least some cases are said to be linked to the individual's inability to develop meaningful relationships with people—an inability that persists in causing them genuine personal distress. In such a case, 'treating' the object-sexuality may be a necessary step along the way of helping the individual develop healthy human relationships. In such a case, treatment is desirable only because it is beneficial to the individual's well-being.
Sympathy for the Devil
Returning to Lolita: it's easy for readers to experience spurts of sympathy for Humbert. Dolores, after all, was the one who initiated the affair, and she was hardly unacquainted with sex when she did it, having lost her virginity at a summer camp to a young man named Charlie Holmes. Humbert paints a portrait of himself as an unwitting accomplice to the entire affair, seduced by a manipulative nymphet who was all too good at getting what she wanted. He appears, as well, to fit the criteria for pathological pedophilia or hebephilia, having exclusively been attracted to young girls from the start. Humbert, it seems, was set up for depravity from the start. It is completely natural to pity anyone set up for desires that are so strong, yet so utterly wrong and harmful.
Yet make no mistake: despite his efforts to portray otherwise, Humbert knew exactly what he was doing when he acted upon his desires, and had numerous opportunities to remove himself from the situation long before his temptress made her advances. And the fact that she advanced upon him is of no consequence: she was still a child with a child's mentality (as he himself observed numerous times). As the party with more experience and more power, Humbert should have known better than to succumb—and it is here that the immorality of Lolita lies.
As the novel progresses, it becomes sadly obvious that young Dolores was not fully cognizant of her best interests when she initiated the affair. Along the way she becomes irreparably damaged by their relationship: she learns to view sex as a transaction, and enters a confusing cycle of resentment and dependence on Humbert that characterizes so many real-life cases of child sexual abuse. Dolores, in the end, escapes to land up broke and pregnant in a clapboard shack, dying at the age of 17 after a stillbirth on Christmas day.
Ultimately, the essence of what should outrage us the most about Lolita is captured in its last scene. As Humbert stands atop a mountain and gazes at the town below, it dawns upon him that a little girl has been robbed of an innocent childhood:
"What I heard was but the melody of children at play, nothing but that … I stood listening to that musical vibration from my lofty slope, to those flashes of separate cries with a kind of demure murmur for background, and then I knew that the hopelessly poignant thing was not Lolita's absence from my side, but the absence of her voice from that concord."
Posted by Grace Boey at 01:00 AM | Permalink | Comments (0)
Baltimore > Boston > Binghampton > Columbus > Lebanon > Groom > Chamber > Needles > Orange?
by Akim Reinhardt
In February the word came in. My brother in law had a job offer in Orange County. He and my sister would finally be giving up the little apartment in far northern Manhattan and heading for the West coast.
"Lemme know if I can help," I to told my sister.
"You wanna drive the moving truck across the country with Noah?" she asked.
"Sure, I can do that," I said.
Monday, July 21
With luggage, I make the 20 minute walk to the light rail station. Train shows up, and the ride to the airport is uneventful. Not like last time when I had some drunk fool trying to pick a fight with me at 9:00 in the morning cause he thought I was "gay lookin'" at him. Goin' on about how he did a dime in prison and he'd kick my ass, except he's either about 60 years old or a very rough 50, and already lit, drinking tall boys out of paper bags, so no, he can't actually kick my ass. After not engaging, I finally had to tell him to shut the fuck up already, but that didn't help. Didn't make it worse either. Just kept on prattling his belligerent, drunken shit.
Nothing like that this time. To the airport, all good. Until you walk in to find your flight's been delayed two hours.
After what passes for a nice meal at BWI (decent beer, cured olives, mixed salad with goat cheese; actually, that's a nice meal anywhere), I mosey over to the gate. My gate's jammed, so I go to something a bit emptier. I open up Murdering McKinley by Eric Rauchway, a history prof up at UC Davis. He's a good writer, which isn't a given for a historian.
I mean, just look at this pablum.
About thirty pages in, this terribly annoying extended family sits next to me. Not a decent one in the lot.
I move on to a quieter spot. Then the guy behind me starts slurping the straw of his empty Dunkin' Donuts cup. And he won't stop. On and off for 20 minutes. I look behind me. He's about 50 years old
Truly, there is no sense of decorum left in this country.
Tuesday, July 22
We're departing from central Mass. Mostly I'm just here for the driving. I've circled and criss-crossed the U.S. many times. Noah's done it once. More than a decade ago he drove a gray '89 Cadillac Brougham nicknamed "The Phantom" across the northern route, which we won't be taking. So I guess I'm also here to lend my "wisdom." Share the driving, help plot the route, offer tips on various logistical issues.
And I'm not to pay for anything. They've made that clear. He's got a moving budget. My flights from Baltimore to Boston and then from LA back to Baltimore are covered. So are all my expenses along the way. That works.
Noah's got a 16' Penske truck. Hooked behind that is a trailer for the car, an '04 Civic. On top of that is a thirteen and a half foot kayak.
He's strapped the kayak onto cars many times before. But neither of us has ever hooked up a trailer to a truck, or loaded a car onto a trailer. Or driven a truck with a trailer, much less one that's got a car on it, and a yellow kayak on top of that, looking like an insane paper hat.
When we get the truck over to Home Depot, which is apparently a place you can pick up Penske trailers, they're sorta helpful. But they also make it clear that it's all on us cause they're not the Penske people and they can't be responsible if anything goes wrong. Oh, and the pin that guarantees the trailer won't separate from the truck? It's missing, the guy tells us. He casually suggests we should probably go to aisle 16 and buy a new pin. The Penske people will probably reimburse us.
I eyeball a big drawer of different sized pins. I pull out a .55 cent cotter pin that ends up fitting perfectly. I'm also good at guessing distances, crowd sizes, and peoples' heights and weights. That's the kind of "wisdom" you get when you bring me along for the ride.
And away we go.
We might die on this trip. I think it's totally reasonable to assume that might happen.
Wednesday, July 23
It took us about 25 minutes to get the truck out of the Econolodge parking lot in Binghampton, N.Y. this morning. You turn the wheel this way, truck goes that way, trailer goes this way, and on and on.
The motel handyman sat there watching us for a while, which is understandable, until you realize that his pickup truck, parked in the corner of the L-shaped lot, is the one thing that's really holding us up. I mean, that and our own incompetence, Noah attempting a 99 point turn while I shout incoherent directions.  Turns out the handyman's a bit soft in the head. After some grumbling about being parked in the shade, he agreed to move it.
We eventually made our escape and drove across the southern tier of New York. Fucking gorgeous. Spending time in the Appalachians always reinforces my impatience for Rocky Mountain snobbery. Here's my impression of the Rockies:
Pine pine pine pine pine pine pine.
Even as far north as upstate New York, the Appalachians still have a nice mix of coniferous and deciduous foliage. More importantly, to me anyway, at nearly half-a-billion years old, the Appalachians are the world's elder statesmen of mountains. The oldest above sea mountains in the world, they used to be as tall as the Rockies and Alps, but erosion has left them bent and stooping. Whenever I move through them, I feel like I'm in the company of old men. Be respectful.
The young buck Rockies are taller, but that doesn't make them "majestic." It makes them preening, strutting teenagers with greased hair and tight jeans, predictable and gauche. Or, to paraphrase Phil Hartmann's Frank Sinatra: The Appalachians got chunks of mountains like the Rockies in their stool.
After a brief snippet of northwestern Pennsylvania, we entered Ohio. I once got pulled over in Ohio for doing 67 in a 65. While I was passing a semi, no less. True story. The officer didn't actually write me a ticket, but he did offer a patronizing little bromide about how "we like to obey the law here in Ohio."
Yeah, and the people in the other 49 states can't get sexually aroused unless they're committing crimes. You sanctimonious piece of shit scumbag. Go fuck yourself.
When I attended the University of Michigan in the late 1980s, the culture of hating Ohio ran deep, but being from elsewhere, I never cared. However, after that little run-in, circa 1998, it became very real for me. For example, I think it's outrageous that in virtually every road atlas, Ohio gets four pages while a huge state like New Mexico gets one.
Fuck Ohio.
Thursday, July 24
There was a moment. A Phil Collins song came on the radio. Noah was driving and he reached over, I assumed, to change the station. Instead, he turned it up.
I may have to council my sister to get a divorce. I know they're actively trying to have children, but priorities are important.
Other than that, Columbus, Ohio to Lebanon, Missouri, and pretty uneventful. As I learned to say in the Midwest more than a quarter of a century ago: Sweet.
But I have no illusions, and I suspect the future is quietly scheming against us.
Friday, July 25
Today was the day of deep conversations in the cab of the Penske truck. Hours on end as we tooled across Oklahoma and the panhandle of Texas. Family, politics, etc. But you ain't privy to none a that. Suffice it to say that I'm considering telling my sister that she doesn't have to divorce Noah after all.
We finally pulled over in Groom, Texas, about an hour east of Amarillo. A very pleasant Gujarati woman checked us into our motel. She was surprised that I could guess she was Gujarati.
"Well, a lot of people from there are in this business," she said, making sense of my acute handicapping skills, which are carnival barker level quality. Step right up!
I told her I have Gujarati friends back in Maryland and New Jersey.
"How long have you been here," I asked
"About ten years."
"Do you like it?"
"Yes. There's no crime or anything like that to worry about.
Perhaps as if to illustrate, she scoffed mildly and quietly when I asked if there was a password for the internet.
During my early evening shower, as I wiped the road grime from my face with a coarse, white cloth, I decided that I would not in fact steal a bar of soap or roll of toilet paper from this fine and clean mom-n-pop establishment, as is my habit when staying at chain hotels.
After dinner, I stood in a Dairy Queen parking lot and watched a Great Plains sunset.
Saturday, July 26
While Noah was still showering, I walked through Groom to the town's restaurant. Noah drove the truck over and met me there, pulling into the lot just as I showed up. We entered the country cafe and found seats. He asked for a decaf. They don't do that kinda thing, and rightly so. We had omelets, biscuits and gravy, hash browns, and some nice conversation with various people, including the owner.
Used to be cattle country, he said, but the drought did that in, and now it's mostly irrigated farming. The owner himself used to have a dozen head of cattle, but they're all gone, and now he's got the restaurant. The main crops being grown in the area are corn, cotton, and some milo. The cotton only came in about five years ago, he told us.
Afterwards, we hopped in the truck and turned on the radio. Who needs coffee when you've got Journey? "Feeling That Way"/"Anytime That You Want Me" was blasting as we made our way back to I-40.
I was still singing Broom's praises, and along with Steve Perry, when a semi nearly ran us off the road. At first he was trailing us in the right lane. Then he came out into the left and began to pass us. But inexplicably, the big rig began to move back into the right lane before he finished passing. He was only about half-way ahead of us when he started making his way into the right lane and cut us off.
Noah eased off the gas and drifted far enough right to buy us some space while not going so far as to run us into the shoulder. Handled it well. And thus does Death pass me over another day.
At a truck stop in eastern New Mexico I found homemade samosas. An Indian family was running the place and there were two women in the kitchen making food from scratch. For three bucks I got a couple of them and a little plastic container of chutney. Were they the best samosas I've ever had? Hardly. But for a truck stop in eastern New Mexico? Off the chart, brother. Off the chart.
At the filling station after that, just before Gallup, NM, I noticed my first ass pimples of the trip. After five straight days of sitting in the cab of the truck, it was to be expected. Later on that evening, while watching the dependably unfathomable colors of an an Arizona sunset from the terrace of our motel, trucks whizzing by on the interstate below, I found a third, the three of them forming an isosceles triangle on my right cheek.
I've made many long trips before, but it's different in a 16' truck. It drives much differently, of course, especially with the car hitched behind it. But I've also had a tough time getting comfortable. Even thought I'm only 5'9", there's not enough leg room for my liking. But most of all, I'm tired of being encased in a world of vinyl and hard plastic.
Sunday, July 27
This morning was a little rough. But I can't bring myself to blame yesterday's big Texas breakfast, homemade New Mexico samosas, or the chili rellenos I had for dinner. So let's just say five days on the road finally caught up to me. Fair enough. It's behind me now, and I've moved on.
Today's drive was shorter than most. After racking up 500-600 miles per day, we logged a paltry 350. One might be tempted to say we took it easy on Sunday, but honestly, the days have all blended together at this point. The only reason I even know it's Sunday is because of the deadline for this article.
We rolled into Needles, California at about 2:30 and hunkered down at the first motel we could find with truck parking and a pool. Any devoted fans of the Charlie Brown comics will recognize Needles as the hometown of Spike, Snoopy's skinny, mustachioed brother.
I don't know how you could show up in Needles on a late July afternoon and not want a cold beer. The bartender at a nearby establishment told us it was only 102 today. Apparently it hit 124 not that long ago. I lived in Phoenix for a year and actually like this kinda thing, but it's not for Noah, he of the stocky Jewish genes. He tans well, but he finds anything over 85 to be oppressive. I tried to sell him on the virtues of dry heat instead of the East coast humidity he's used to, but he was having none of it.
After the bar, we returned to the motel and went for a dip in the pool. We were talking to some nice people who were on their way from Albuquerque to Disney Land when the transformer for the motel blew. There was a loud bang and then a big aluminum thingee on top of the shed behind the pool shot into the air and came crashing back down. Since it didn't land on anyone, we in the pool simply resumed our pleasant conversations.
However, we returned to the room to find the electricity out. So after quick showers, we walked to a Mexican restaurant the bartender had recommended earlier. Outstanding food.
But despite the glorious repast and pleasant stroll afterwards, I approached our motel room in a state of mild panic. What if the juice is still out? How will I file this paean to easy travel and mediocre writing? How will I meet my deadline? I pride myself on never missing deadlines and haven't missed a single one during my nearly four years of writing for 3QD.
I've seen a lotta roadside stuff about Jesus Christ being available for saving one from trying times. I myself am an atheistic motherfucker, but if there is a sentient creator out an about, then that good Lord was on my side tonight.
We walked back into the room to find the alarm clock blinking red numbers. And thus, dear reader, I can share these 2600-some-odd words with you.
There's just one more day in the truck awaiting us. God willin' and the creek don't rise, we'll arrive in the town of Orange in Orange County, California as you're reading these words. There'll be unloading, unpacking, and this-n-that. Then on Wednesday I catch a red eye out of LAX back to Baltimore, and I'll be ready to stand still.
--
Akim Reinhardt's website is ThePublicProfessor.com
Posted by Akim Reinhardt at 12:50 AM | Permalink | Comments (0)
Perceptions
Jennifer West. Film Quilt, 2013.
Posted by Sughra Raza at 12:45 AM | Permalink | Comments (0)
Sing Me a Song of Hyperobjects: Starting over with Humans and Other Creatures in the 21st Century CE
by Bill Benzon
Timothy Morton. Hyperobjects: Philosophy and Ecology after the End of the World. University of Minnesota Press 2013. 229 pp.
This is a strange book, for it is three. There is the book that is easy to praise for its range of topics – quantum mechanics, La Monte Young, global warming, The Matrix, the Prisoner's Dilemma, for example – and its quasi-virtuoso stylistic versatility. There is, as well, the book that is easy to criticize – though I'm sure some would regard that as too mild a word – for its conceptual instabilities, lapses in logic, and misreading of science.
And there is another book, the one leaking out of the cracks and pores in the first two.  That book has the scattered beginnings of a framework in which we can construct a viable approach to the future. That's the book I'm writing about, making this essay as much an interpretation of as a review of Morton's fine Hyperobjects.
Hyperobjects and Objects
Hyperobjects are "things that are massively distributed in time and space relative to humans" (p. 1). What isn't a hyperobject is an object. Kumquats, automobiles, palm trees, squids, geosynchronous satellites, Olympic records, a promise, a rooster's crow, these are all objects in the philosophical sense of the word. In the first paragraph of the book Morton lists these examples: the Lago Agrio oil field, Florida Everglades, the biosphere, the Solar System, "the sum total of all the nuclear materials on Earth; or just the plutonium, or the uranium," Styrofoam, plastic bags, or "the sum of all the whirring machinery of capitalism."
The philosophical sense of object is not quite the same as the ordinary sense, which tends toward physical things that are neither very large nor very small. Roughly speaking, for Morton and proponents of other object oriented ontology (OOO) – a recent school of Continental philosophy – anything that can be designated by a noun or a noun phrase is an object. Anything. Including, of course hyperobjects.
The point is that all objects are of the same ontological kind. No objects are higher than others, as in the old Great Chain of Being, where animate things are higher than inanimate, animals higher than plants, human higher than animals, angels above humans, and God at the very top. Objects may well contain other objects as components, but they cannot be reduced to those components – a critical feature of objects according to OOO.
Hyperobjects, of course, are objects as well. But they can be difficult to grasp as such because they are, in Morton's formulation, massively distributed in time and space. They are also viscous, nonlocal, phased, undulate in time, and "exhibit their effects interobjectively" (p. 1), each of which is discussed in a chapter. Morton's exposition goes through quantum mechanics, relativity, complexity / chaos, and a bit of philosophical wizardry. The upshot is that it begins to look like objects of the ordinary philosophical kind are, for all practical purposes, hyperobjects as well.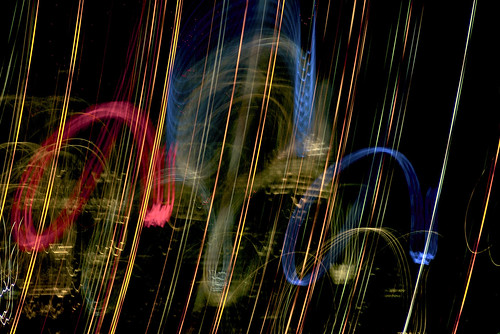 Stephen Muecke noticed this when reviewing Hyperobjects for the Los Angeles Review of Books:
Finally, even simple objects are "hyper" to the extent that they are in or out of phase, not being exactly "equivalent to themselves" at any given time. A paper clip is also a SIM card remover. An apple is also a baseball in a high-spirited backyard game ... This lack of discreteness of objects, which tends to make every object somewhat hyperobjective, is underscored by the final property of Part 1, interobjectivity, "in which nothing is ever experienced directly, but only as mediated through other entities in some shared sensual space."
Now, Morton might object that Muecke doesn't understand, for the effects he lists in that paragraph belong to ordinary objects as analyzed and construed in OOO. But I don't buy that, not quite.
In the first place, under OOO ordinary objects turn out to be very strange things, as strange as Morton's hyperobjects. Though physical scale IS important, I fear that strangeness trumps scale in Morton's exposition. Even for Morton himself.
He equivocates in his account of quantum mechanics. His argument seems to be that though individual quanta, strange though they are, are exceedingly small, the quantum realm itself is massive (cf. pp. 44-45). His exposition here is fuzzy at best.
The problem continues in his account of phasing, which draws on complexity theory and chaos, where high-dimensional spaces are used to analyze the dynamics of physical systems. Morton's principle example is the well-known Lorenz Attractor, which Lorenz discovered while analyzing weather data. The weather system, of course, is massively distributed in time and space. But the same mathematics is used to analyze the behavior turbulent flow in one's kitchen sink. It is not at all massively distributed in time and space, but the analysis employs a phase space of exceedingly high dimensionality. That space is no easier to grasp than that for the weather system, nor any harder either.
So yes indeed, as Morton says (p. 139): "Hyperobjects undermine normative ideas of what an "object" is in the first place." This is pushing things rather hard, but I'm going to do it anyhow: For all practical and philosophical purposes all objects are hyperobjects. Morton may have coined the term to characterize certain very large objects – global warming in particular – but the properties under which he conducts his analysis of those hyperobjects – being viscous, nonlocal, phased, undulating in time, and interobjectively – apply to pretty much all objects.
And that is just fine. Far from weakening his argument, it makes it stronger. What Morton has done, in effect, is to use an account of certain large-scale phenomena as a vehicle for for a more general account of the physical world.
Now and Evermore, the (Real) Singularity
Global warming, Morton's paradigmatic hyperobject, IS massive in both spatial and temporal scale, encompassing and extending into the distant future.
And it changes everything.
Even casual conversation.
As Morton observes (p. 102) conversation about the weather is a prominent component of the trivial chatter that lubricates our social lives. It's background discourse, as the weather itself is the background against which we live our lives. But weather can no longer be merely the background, for it is forcing us to change the way we interact with the planet and, necessarily, with one another. As for the weather conversation, it now carries undertones of existential risk.
But the end of the world? Yes. In a sense.
Did you grow up watching The Jetsons on TV and dream of jetpacks? Did you see Disney's Our Friend the Atom, with its prophesy of endless clean energy from atomic power? Did you see Kubrick's 2001 and wonder when we'd see the Monolith? Or are you a believer in the coming Singularity, when computers will come to out-think us and may or may-not let us use nanotechnology to endow our bodies with never-ending youth?
Well, it's happened.
That BIG EVENT IN THE FUTURE when everything is supposed to change? Well, it IS HAPPENING RIGHT NOW. Global warming is the first child of the Anthropocene. It snuck up on us while we weren't looking. Morton double dates it: to 1784, the birth of the steam engine, and 1945, the explosion of the first atomic bombs.
This is not only a historical age but also a geological one. Or better: we are no longer able to think history as exclusively human, for the very reason that we are in the Anthropocene. (p. 5)
It ends the world in a special sense of "world", just as Francis Fukuyama had a special sense of "history" in mind when he declared it at an end back in 1989. Whether or not Fukuyama was right about history ending in that special sense, it has kept chugging right along in the ordinary sense.
Of course, the world has not ended in the ordinary sense; the earth hasn't been blasted to smithereens by a wandering asteroid, nor melted in the sun's dying explosion, nor conquered by super intelligent lizard beings from outer space. But Morton is right in declaring the world at an end.
In a special sense.
Hyperobjects are a good candidate for what Heidegger calls "the last god," or what the poet Hölderlin calls "the saving" power that grows alongside the dangerous power. We were perhaps expecting an eschatological solution from the sky, or a revolution in consciousness – or, indeed, a people's army seizing control of the state. What we got instead came too soon for us to anticipate it. (p. 21)
Whatever your hopes or fears for the next major era in human history, Morton is telling us that it has already happened and it is us. Not merely us, of course, for Morton sets microbes, nebulae, siroccos, falafel carts, giant squids, dandelions, NGOs, bonobos, and the worldwide web all on the same ontological footing, neither above nor below us.
A Brave New World
We face many challenges on the new savanna. It's not as though it is pristine territory. On the contrary, it is scared with the tribulations of civilizations in collapse, for that's what it is going on around us, even as many have technophilic dreams of a coming utopia. And one of those scars is nuclear waste, which will be with us for millennia to come.
What do we do?
Thomas Sebeok, the semiotician, proposed that knowledge of and access to the waste be entrusted to an "atomic priesthood." Morton rejects that idea and turns to the Nuclear Guardianship movement (121):
Guardianship, care–to curate is to care for. We are the curators of a gigantic museum of non-art in which we have found ourselves, a spontaneous museum of hyperobjects. The very nature of democracy and society–Whom does it contain? Only human? Whom, if any, can it exclude?–is thrown into question. The atomic priesthood would prevent others from knowing the truth. The attempt to care for hyperobjects and for their distant future guardians will strikingly change how humans think about themselves and their relationships with nonhumans. This change will be a symptom of a gradually emerging ecological theory and practice that includes social policy, ethics, spirituality, and art, as well as science. Humans become, in Heidegger's word, the guardians of futurality, "the stillness of the passing of the last god." Nuclear Guardianship has suggested encasing plutonium in gold, that precious object of global reverence and lust, rather than sweeping it away out of view. Encased in gold, which has the advantage of absorbing gamma rays, plutonium could become an object of contemplation. Set free from use, plutonium becomes a member of a democracy expanded beyond the human.
While I wished Morton had said more about this proposal – I'd like to know specifically about encasing plutonium in gold – I like its spirit. Don't sweep the trash away; acknowledge it and care for it.
It's in this spirit that I read the recent emergence of ruins photography, photographs of abandoned and decaying buildings and other infrastructure. In the spirit of Shakespeare's Prospero – "This thing of darkness / I acknowledge mine" – these artists are creating the means through which we can claim and acknowledge the fruits of civilization-wide failure. And we can move forward only by acknowledging where we have been.
Morton talks of "a time of sincerity: a time in which it is impossible to achieve a final distance toward the world" (p. 130). Not even from our trash and ruins can we, should we, distance ourselves. Nothing is "over there" where it is hidden, out of sight, out of mind. All is / needs to be open.
The ruins of Fukuyama's terminated history are ready to be remixed and written into a new order of things. THAT is how I read the graffiti that has traced its way over the urban world in the last half century. As I have written previously on 3QD, graffiti emerged outside of existing institutions, created by marginalized peoples, and has become a way of reclaiming urban space for the disposed. Much of this graffiti has been and is being painted on the surfaces of ruined and abandoned industrial buildings.
Let me suggest, by way of closing, that we treat the graffiti that's been painted and written – coincidentally, during the period what we became aware of global warming – as a single work of art, a hyperobject, one created, not by a single prepossessing genius, but by two or three generations (so far) of loosely-knit graffiti crews: The World Wide Wall.
❖ ❖ ❖
I created the photographs specifically for this review. I went to the bank to the Hudson River – I live in Hoboken, NJ – Saturday evening and photographed the Manhattan skyline while moving the camera. They are thus traces of interobjectivity, with traces from different buildings and other objects crossing one another, but yet preserving some order.
I have written extensively about object-oriented ontology at New Savanna, and about Morton's work. I have recently been blogging specifically about Hyperobjects.
Posted by Bill Benzon at 12:30 AM | Permalink | Comments (0)
Another man's sandals
by Sarah Firisen
I am Jewish by birth. My family wasn't particularly religious; we went to synagogue at Rosh Hashanah, the Jewish New Year, and Yom Kippur, the Day of Atonement, but not really any other time. My brother and I went through years of Hebrew school, but we came home and ate bacon sandwiches. As a teenager, I became involved in BBYO, a Jewish teen organization and through it became quite heavily exposed to conversations about Israel, the general evilness of the Palestinians and the righteousness of the concept of a Jewish homeland. When I was 17, a school friend and I went away together to Israel for our first trip without our parents. We chose not to do a tour or a work on a kibbutz but instead to make our own way around Israel staying in youth hostels.
I remember the moment we got off the plane onto the tarmac thinking, "this is it, I'm in Israel, the Jewish homeland." It was a transcendent moment that made me feel connected to my heritage and to a community that I had only ever skirted around of the edge for the most part. I truly believed that this would be a transformative trip for me.
In the second hostel we stayed in, I fell in love with Abbud, a Palestinian man who was working there for the summer. We spent a few days and nights together and then my friend and I moved to another part of the country. But I promised to come back. When I did, Abbud wanted to show me his village in the West Bank. This was in 1986 just before the first Palestinian Intifada and, apart from the general lack of common sense shown by two young girls agreeing to travel across country with a man they hardly knew, there didn't seem to be any good reason not to go with him.
We arrived in Abbud's village in time for dinner and he took us to his cousin's home. My friend and I were both vegetarian and so unable to eat much of what was put before us and I was wearing quite a prominent Star of David around my neck, regardless we were treated as honored guests. We stayed in his parent's home that night. I woke up early the next morning and padded through the house in bare feet. I came across Abbud's elderly father who spoke no English. He took off his sandals and gave them to me to wear.  The gesture was so gracious and generous that I couldn't say no and spent the rest of the morning flopping around in sandals that were much too big for me. I couldn't help but wonder what kind of reception my family would give Abbud if he visited me in London.
That day, my Palestinian boyfriend drove us around the West Bank. He took showed us refugee camps, ravaged villages, told us stories of confiscated land and shared his feelings of hopelessness and despair. He wanted to be an engineer but wasn't sure how much of a future he could ever hope to have in a country where he would always be seen as the enemy and was denied many of the basic rights of citizenship.
The next day, Abbud drove us back into Israel and a few days later my friend and I flew back to London.  Abbud and I of course made all sorts of lovers' promises to each other. I arrived home and to my father's horror told him that I was in love with a Palestinian. My extended family was even more appalled. The love affair lasted through a couple of phone calls and then, inevitably, fizzled out. But I never lost the family label of a PLO supporter.
Any possibility of peace between the Israelis and the Palestinians has perhaps never seemed as remote as it does at the moment. There are rights and wrongs on both sides. Hamas often make it very easy to paint them as the villains.  During this time, my Facebook newsfeed has been inundated with posts from family members and old BBYO friends about the atrocities committed by the Palestinians, the misinformation in the media when it paints Israel in any kind of negative light and a general narrative that allows for nothing but unconditional support for Israel no matter what they do stoked by a burning white hatred of the Palestinians that has no room for any compassion or empathy.
Of course, this kind of tribalism is hardly limited to the unquestioning support of Israel by so many Jews. Our kneejerk defense of and preference for "people like us" is a very human trait, whether this tribalism is expressed as political nationalism or support of a team in the World Cup, we want our people to win. But what has always particularly upset me about the blind support and defense of Israel that I've been lectured about over the years by my family and other Jews around me is that it almost always has as its root defense the Holocaust: "We had this horrific thing happen to us and so we deserve and need a place to call our own so this can never happen to us again because now the Jews will always have a place to escape to." And for my grandmother's generation who went through the Second World War, who lost family and friends in the gas chambers, I can empathize with the sentiment, but did that really give us the right to displace and oppress another group of people?
Why can't my family and old friends try, even for a moment, to see things from the Palestinian perspective, to spend a morning flopping around in someone else's shoes?

Posted by Sarah Firisen at 12:20 AM | Permalink | Comments (0)
time travel
by Leanne Ogasawara
Time in space
The race was on: for whoever discovered a way to accurately measure longitude aboard a ship would be able to control the seas --and thereby control the riches of the world!
The search for longitude at sea was one of the great quests starting in the late Renaissance. And, it was how it came to be that a 17th century nobleman named Roberto della Griva found himself aboard a ship sailing southward toward Australia in search of the Prime Meridian, in Umberto Eco's novel Island of the Day Before.
Being obsessed by longitude, the characters in the book are also obsessed by notions of time. For to calculate longitude is, of course, to calculate time.
But to do this at sea is no easy feat, because while one only requires to know the local time at the ship's current meridian as well as what the current time is would be back at the meridian of departure (or at some fixed meridian, like, say at the Solomon Islands), this remained very difficult to accurately determine aboard ship. And inaccuracies in time would result in inaccuracies of place--as is well known.
You can see where this is going... 
In the novel, as the characters are plying the waters of the southern oceans, Roberto's alter ego, the dastardly villain extraordinaire Ferrante, encounters Judas Iscariot, who is chained to a rock in the sea.  After inquiring as to the nature of his punishment, Judas offers this explanation:
Why, because God has willed that my punishment consist in living always on Good Friday, to celebrate always and every day the Passion of the man I betrayed.  The first day of my suffering, when for other human beings sunset approached, and then night, and then the dawn of Saturday, for me only an atom of an atom of a minute of the ninth hour of that Friday had gone by.  As the course of my sun began to move even more slowly, for the rest of you Christ was rising from the dead, but I was still barely a step from that hour.  And now, when centuries and centuries have passed for you, I am still only a crumb of time from that instant…
Killing Judas, Ferrante decides to try and go back in time to intercede so to ensure that Christ is not killed on the cross and the Passion never takes place. But then again, if the Passion never takes place humankind will never be redeemed, will it, now? And so the two men --one wishing to ensure Christ is not killed and one wishing to make sure things go as they should so to bring about the redemption of humankind- set about to destroy each other.
On this Christian theme of time travel, Boris Akunin's fantastic mystery, which I also just finished, Sister Pelagia and the Red Cockerel is similarly taken up with the characters' desires to time travel back to the moment when the Christ is made to carry the cross to Golgotha. It is a fabulous mystery! And time becomes crucial, since as Evelyn Waugh was to assert in his book about Saint Helena:
Above all the babble of her age and ours, she makes one blunt assertion, that Jesus died at a particular time and at a particular place. And there alone lies hope.
As Waugh insisted, to have God break into time generates great hope and perhaps instills a special interest for Christians in time travel and figuring out the speed of light. For the Christian version of history is deeply teleological. And, this is tiresome--for as Umberto Eco would write about his characters, they were "sentenced to the travail of time."
Being in time
I was just reading an incredibly gloomy piece by Robert Harrison on the NYRB blog site which discusses the psychology of Silicon Valley Time. As I read the piece which describes a culture that values making changes in the "now" --changes which are more or less virtual and are evoked to make waves at share holder meetings?-- I thought, is it any wonder conversations have become so utterly boring nowadays? In fact, not only have conversations become tiresome but time itself seems to be speeding up --so that sometimes it seems that all that really matters anymore is the time span based on very short term performance. A US business model based on quarterly earnings, it has become a real bottom line in absolutely everything, I think.
We are beings who are thrown in time. And being in times like these right now, who wouldn't dream of time travel?
This all reminds me of another wonderful blog post I read last month right here, by Charlie Huenemann, called Leibniz's Stepped Reckoner, and a clock for the next 10,000 years. 
It's a wonderful piece about Leibnitz's notions of "God as the divine coder." Working like a computer programmer with two basic concepts: that of unity and that of nothing; Leibnitz found great beauty, wonder and awe in numbers. Science, indeed, has always had a profound hold on the human imagination and sense of wonder. And perhaps in no place more than in astronomy and mathematics-- and yes, perhaps in notions concerning time and time travel too.
In his piece, huenemann brings up the Long Now Foundation project of the 10,000 year clock and says, 
In thinking about these projects, the designers had to work themselves backwards from all of the wonders of modern computing technology to the very basics: ones and zeros, expressed with pins pointed up or down and ratchet wheels that have either locked in or haven't. These devices are the first firm embodiments of computational math, at least in our own history of technology. There are surely other kinds of devices that might also be designed to function for 10,000 years - perhaps some with electronic components and incredible recharging batteries. But my bet is that the designers felt that sort of machine just wasn't as wonderful - at least to us, as we are now. Along with encouraging us to think in larger scales of time, the Long Nowers may also be encouraging us to think in deeper scales of time: that is to say, of the very basic "unity and privation" that underwrites all mechanization. 
I love the 10,000 Year Clock--it reminds me so much of the Prague Astronomical Clock--a wondrous Medieval device that still functions. Telling time in multiple manners (babylonian, Italian, German and bohemian), it also reminds people of the bigger picture- the zodiac, the position of the sun and the phases of the moon, as well as recalling death and the four evils. 
My time travelers fieldguide informs me that nearly every influential time scientist, starting with Einstein, has forged some kind of special relationship to an oversized clock! 
Jeff Bezos apparently, wanting to encourage thinking outside the box, is having one of these 10,000 Year Clocks installed in his Texas ranch.... it kind of boggles the mind since one wonders what his long term thinking really is? (I think of him more of a quarterly performance kind of guy...?) My astronomer (who often has time on the mind) laments that young people would rather be shocked than be alone with their thoughts--and that time is frenzied and something to be "filled." And he tells me:
We are thrown into a vast physical universe in which the laws of time and space are simple and inexorable. The earth will continue to spin and revolve around the Sun, causing seasons to rotate in and out at the appointed time. Astronomical and long-range clocks connect us to forces and times-scales larger than us that drive the world. We are part of a larger arc of time, in which our role is difficult to grasp, and perhaps even seems to diminish into insignificance. But we must travel into that long future one day per day, aware that each breath we take and choice we make could have no effect, or a profound one, on a tomorrow we can only dimly imagine.
I love this and agree with him. Indeed, my time travel field guide says that its a reckless abandon and the disregard for mistakes that is the stuff time travelers are made of...Dividing time travelers between those who prefer the past to those who prefer the future for their destinations, I stand with the former. But either way, in the same way one must take a stand on being, one also must come to term with their own personal notion of time. And speaking for myself, temporarl relocation is for me. That is, to step back and reject the frantic pace in which every minute has to be productive--not to mention the relentless need to constantly control and consume things is ultimately the only way to go.
Thus spoke a time-traveling flaneur. 
***
 Recommended So You Created a Wormhole: The Time Traveler's Guide to Time Travel and Robert Harrison's Entitled Opinions show on Time as a Function of Age. 
Posted by Leanne Ogasawara at 12:15 AM | Permalink | Comments (0)
Monday, July 21, 2014
Buddhist Musings in Ramadan
by Jalees Rehman
Ramadan is the month of fasting and a time for spiritual growth among Muslims. The traditionalist approach to "spiritual growth" is for Muslims to complement their fasting with performing additional prayers at night and regular reading of the Quran throughout the month. My own approach is somewhat different, I tend to complement my fasting with the reading of writings and scriptures from other philosophies or faith traditions, including atheist and humanist teachings. This year, I decided to study the Dhammapada (in the translation of Gil Fronsdal), one of the most widely read and revered writings in the Buddhist faith.
I was inspired to learn more about Buddhism because I was reading the remarkable novel "A Tale for the Time Being" by Ruth Ozeki, who is not only a brilliant author but also an ordained Zen Buddhist priest. The first person narrator in the novel is a 16-year old Japanese girl Nao who is bullied by her classmates. Nao's parents moved from Japan to Silicon Valley but were forced to return to Japan when the Dotcom bubble burst. Nao's father loses his job and the family is forced to live in poverty. The family's poverty and the fact that Nao is seen as an alien "transfer student" lead to her being ostracized at school. But her classmates go even further and begin psychologically and physically torturing her, leaving scars and scabs all over her body.
Nao is invited to spend the summer with her 104-year old great-grandmother Jiko who is a Buddhist nun. In the following scene, Jiko takes a bath with Nao and notices the scars:
"I waited. Old Jiko liked to take her time, and she was really good at it because she'd been practicing for so many years, so as a result, I was always waiting for her, and you'd think that waiting would be annoying for a young person like me, but for some reason I didn't mind. It wasn't like I had anything better to do that summer. I sat there on my little wooden stool, naked and hugging my knees and shivering, not from the cold but in anticipation of the scalding heat of the water, so when, instead, I felt her fingertip touch a small scar in the middle of my back, I was startled. My body stiffened. The light was so dim, how could she see my scars with her bad eyes? I figured she couldn't, but then I felt her finger move across my skin in a pattern, hesitant, pausing here and there to connect the dots.
"You must be very angry," she said. She spoke so quietly, it was like she was talking to herself, and maybe she was. Or maybe she hadn't said anything at all, and I'd just imagined it. Either way, my throat squeezed shut and I couldn't answer, so I shook my head. I was so ashamed, but at the same time, this enormous feeling of sadness brimmed up inside me, and I had to hold my breath to stop from crying.
She didn't say anything else. She washed me gently, and for the first time I just wanted her to hurry up and finish. After we were done, I got dressed quickly and said good night and left her there. I thought I was going to throw up. I didn't want to go back to my room, so I ran halfway down the mountainside and hid in the bamboo forest until it got dark and the fireflies came out. When Muji rang the big bell at the end of her fire watch to signal the end of the day, I snuck back into the temple and crawled into bed.
The next morning I went looking for old Jiko and found her in her room. She was sitting on the floor with her back to the door, bent over her low table. She was reading. I stood in the doorway and didn't even bother to go in. "Yes," I told her. "I'm angry, so what?"
(excerpted from novel "A Tale for the Time Being" by Ruth Ozeki)
Once Nao is able to speak about her anger to Jiko, Nao's healing process can begin. The story makes frequent references to Buddhist teachings, quoting from Buddhist texts as well as allowing the reader to gradually imbibe important spiritual concepts. To better understand these concepts, I decided to read the Dhammapada. I first began with the chapter on "Anger" where I was struck by the following verses:
"The one who keeps anger in check as it arises,
            As one would a careening chariot,
I call a charioteer.
            Others are merely rein-holders."
How often do we let our anger chariot determine our paths? I can remember countless times when I have been passively holding the reins but rarely take control of this chariot.
I will just leave you with one more excerpt from the Dhammapada, but I advise you to read it (and, of course, Ozeki's novel!) in its entirety:
From the chapter "The Sage":
"As a solid mass of rock,
            Is not moved by the wind,
So a sage is not moved
            By praise or blame."
***************
Image credit: 1) Buddha statue now housed in Berlin, image by Gryffindor via Wikimedia, 2) Takht-i-Bahi monastery ruins in Northern Pakistan, image by Ziegler175 via Wikimedia.
Posted by Jalees Rehman at 12:50 AM | Permalink | Comments (0)
Perceptions

Annemarie Busschers. Self portrait. 2013
Pencil, graphite, acrylic.
Posted by Sughra Raza at 12:30 AM | Permalink | Comments (0)
Monday, July 14, 2014
perceptions
Sughra Raza. Aerial "painting" over Innsbruck, March 2012.
Digital photograph.
Posted by Sughra Raza at 12:30 AM | Permalink | Comments (0)
HOW TO BE A FRENCH GANGSTER
by Lisa Lieberman
As a break from the seriously depressing topics I've been writing about lately, and in honor of Bastille Day, I offer this tribute to French gangster films.
First off, you need the fedora. The gangster accessory de rigueur,
it was already iconic by the time Paul Muni popularized the look in Scarface (1932). Al Capone, Clyde Barrow, John Dillinger, Machine Gun Kelly were all photographed wearing one. Baby Face Nelson was astute enough to recognize the souvenir value of his trademark fedora, bartering it for food and a place to hide after a botched bank job.
By the time Bogey donned one to play 'Bugs' Fenner alongside Edward G. Robinson in Bullets or Ballots (1936), it was a bit passé. Robinson, you will note, sports a derby, signaling his authority over his fedora-wearing lackeys. (That's Bogey on the right, with the gun.)
Leave it to the French to reinvent the gangster look and give it panache. In Pépé le Moko (1937), Jean Gabin wears the hat, but he adds a gallic touch: a silk scarf. Gabin's character has style—something his American counterparts lacked—but more importantly, he's got heart. Love will be his undoing, and we're not talking about a fling with some cheap, two-timing dame. We're talking epic love, the kind of love that inspires poetry and songs. Ah, l'amour.
Director Julien Duvivier gives us a tragic hero in the classical tradition
who is the victim of fate. Pépé is wanted in France for various crimes. He's been hiding out in the Casbah of Algiers for two years, sheltered by the local inhabitants who will take any opportunity to defy the colonial authorities. He may be king of the Algerian underworld, but exile has turned bitter for Pépé, whose longing for Paris recalls Ovid's lament in the Tristia: "Say that I died when I lost my native land." Here we see him looking mournfully out over the rooftops of the Casbah to the sea, toward France and freedom, both of which elude him.
Pépé meets a Parisienne who has pulled herself up from the gutter and is now the mistress of a wealthy businessman. Gaby represents all the beauty and excitement of the civilization Pépé has left behind and he is instantly smitten. When he loses her, he loses the will to live. Here we see him watching Gaby's ship sail back to France shortly before he stabs himself.
After Pépé, Gabin would go on to play his greatest role, the working-class Lieutenant Maréchal, in Renoir's Grand Illusion (1937). In much the same way that John Wayne seemed to embody the fiercely independent American spirit, Gabin "epitomized the values French people like to think of as their own: cool intelligence, open-hearted love of life, courage, moral rectitude," as one critic put it after the actor's death.
The martyred Resistance leader Jean Moulin favored the scarf-and-fedora style of the French gangster.
Perhaps he was fashioning himself as a romantic outlaw. Over time, Moulin's image became even more Pépé-like. Here is how Claude Berri imagined him in Lucie Aubrac, his 1997 picture about the Lyon Resistance heroine.
Alas, something happened to the French gangster after World War II. You notice it right away in Bob le flambeur (1956). The gambler played by Roger Duchesne is a natty dresser. He's got the fedora and a trench coat, opting for the full American look (i.e., no scarf) in keeping with his American nickname. He's got a classy apartment too, complete with his own personal slot machine in the closet, drives a big American convertible, and lives by a code of honor that sets him apart from the riffraff he consorts with in Montmartre. So why the jaded expression?
Bob's on a losing streak. It's more than bad luck; the malaise seems existential, maybe not full-blown angst, but Bob is listless, out of sorts. We watch him wandering the city streets, proceeding aimlessly from one back-room card game to another, catching a few hours of sleep before heading off to the races where he actually wins, only to gamble it away in a matter of hours. He doesn't care, either way, and nor do we.
Don't get me wrong. Bob le flambeur is a delightful movie. You've got Paris, enchantingly shot with hand-held camera in the rough-edged, documentary manner that would become the hallmark of New Wave cinema. You've got your low-life criminals, a heist, and a couple of double-crossing dames. Then there's the pleasure in hearing the French pronounce the name Bob, which comes out sounding more like "Bub" than "Bahb," which is how we Americans say it. Try it: purse your lips first, so the word forms in the front of your mouth, then say "Bob" very fast, allowing the syllable to resonate inside your nose.
Jean-Pierre Melville, who directed Bob le flambeur, loved all things American. "Melville" was his nom de guerre in the French Resistance, which he continued to use professionally for the rest of his life. He drove a convertible like Bob's, although he went in for the western look—cowboy boots and a Stetson—and liked cruising around Paris late at night with the top down.
The tough-guy persona was more than a pose. Melville was a man of few words. He didn't speak of his time in the Resistance, for example, but his film of Joseph Kessel's wartime novel, Army of Shadows (1943), punctured the myths that the French still cherished in 1969, when the film was released. Not many people resisted the Nazis, and those who joined the underground did so out of a variety of motives, not all of them admirable. Yes, there was courage, and sacrifice for the sake of others, quiet acts of decency no less stunning than the grandiose gestures. Melville's heroes were complicated people, as befits a time when choices were not black and white, but gray.
Which brings us back to Bob. There's no place for him in postwar France, and he knows it. The style, the conventions, are all that's left of a vanished world, and yet Bob takes perverse satisfaction in playing by the old rules, keeping up appearances. Coolness has its consolations. He can't pull off the heist, but he can pull off the look.
By the time we get to Breathless (1959), even the look is degraded. Here's Belmondo practicing his cool in the mirror, posing with a gun, trying to convince everybody he's a gangster, starting with himself. We see him imitating Bogey. He's got the gesture down, has trained himself to talk with a cigarette dangling from his lips. And check out that fedora!
Jean-Luc Godard layers on the clichés. Soon the cops are on Belmondo's tail. He's a wanted man, forced to go underground. He even gets himself tangled up with a two-timing dame, an American, no less.
Pépé gave the American gangster a dash of French flair. Bob (Bub) wore his American name, along with his fedora, like a true Frenchman. Belmondo's character is just a punk, but he's a French punk and, wouldn't you know it, the guy's style has endured.
Posted by Lisa Lieberman at 12:15 AM | Permalink | Comments (0)
Monday, July 07, 2014
Encounters in the Passing Moment
by Mathangi Krishnamurthy
Last week I ran into a faintly familiar face and looked at him quizzically as he said, "You asked a good question yesterday. At the talk." I thanked him, we muttered names; I don't think I heard his name, and I don't think he caught mine. We exchanged a sentence in a bakery of some repute and then went our opposite ways. I felt suitably flattered; the feeling lasted for an hour.
One could argue that the politics of this encounter lie in prolonging its affect without ever completing its narrative. After all, they tell me that the beauty of the fleeting encounter lies in its imminent disappearance. All narratives as we well know, are already rigged, and the novel, as we are told again and again, has been long dead. (Don't believe any of it). This man that I will never see again, this woman who I will not call. Futures, possibilities, rumours, closures, openings, continuations, none need ever bother except to open oneself to these delicious punctuations. But still, aren't some chance encounters also the beginning of long fantasies? And hence I think about the politics of the chance encounter. A glance here, a smile there, a blink-and-you-miss-it moment participating in no pre-determined destiny and yet one that has the possibility of solidifying into fate (never ill-fatedness). 
In her beautiful book Cruel Optimism, Lauren Berlant calls this a "situation", "a state of things in which something that will perhaps matter is unfolding amidst the usual activity of life." In Berlant's words, this is "a state of animated and animating suspension that forces itself on consciousness, a sense of the emergence of something in the present that may become an event." I therefore understand vaguely that one shared stop in a present continuous time-frame adds to the je ne sais quoi of daily life, staving the disenchantments of modernity, holding at bay my certain knowledge that nothing will happen today. After all, how would we live life if we were to actually believe that nothing will happen today? So the chance encounter punctuates such hope, delivering small bits of evidence that guarantee the possibility of that event, the one event that will deliver us all.
Metropolitan life, indeed all of modern life, as many will testify is staged against the tedium of constant movement, routine life, and excessive stimuli. It is a contrary set of movements. On the one hand, one needs normalization. My bed, my toothbrush, my day, my night. And on the other, a burst of the extraordinary. It is a battle to feel, but not feel too much. A need to live in this familiar world, while rendering it both unnecessary and unfamiliar. When I was a child, all summer vacations seemed to be training camps in making manifest the art of the unfamiliar. Most of this education happened on the great Indian railway journey. Travelling to the beat of a lazily drumming train for a whole twenty four hours, sharing food with strangers, exchanging notes on life details, hopes, fears, and ending the journey with phone numbers and postal addresses, I learnt early on to participate in the joy of small meetings. The small duration of these acquaintances varied inversely with their intensity, and so one looked forward to the coming and going as much as to being somewhere else.
Kent Johnson's strange and sensate collection of poems I Once Met reads the poet's life as a series of encounters with other poets, critics, writers. A few years ago, reading this book on a long train journey trotting along sleepy stations, vast rocky plains, and many almost cities, I thought long and hard about the many encounters of my varied train journeys and realized with some sadness that I no longer enjoy them. For that matter, I hardly ever travel by train. In adulthood, airports and security detailed plane journeys create my encounters. As a result, they are infrequent, smaller, and counter-intuitively less intense. But daily life is also longer in adulthood. So often, in need of suddenness, unexpected meetings and situations, I travel. And travel generates encounters. 
If I were to remember my meetings Johnson-like, I would have to admit that nobody remotely famous populates these fragments that I would some day like to write down in miniscule detail. But I remember many of them. In San Francisco one night, the driver of the shared cab told me it was his birthday and how he had splurged on a thousand dollar fur coat. We sang together, I wished him well, and he wished me safe travels. I remember the back of his head; he had dark brown hair. In a railway station somewhere in Europe, I experienced a strong sugar craving even as I ran for the train. The Turkish storeowner gave me a chocolate because he said he liked people from India. He wore a green t-shirt and had the kindest smile. He waved me on as I scurried for change. A man on a bus in the middle of Texas clad in red from head to toe guessed my age and told me that I looked old. He then foamed at the mouth and told me not to worry because it happens. At a bus stop somewhere in the world, a gentleman in yellow trousers, and an elderly lady in trainers flanked me as we waited for the never-arriving bus. Together we rocked to the loud music from the gentleman's iPod. He had his eyes shut and couldn't see us. We laughed at him and rocked to his beat. We must have made a pretty sight.
Throwaway sentences, conspiratorial sentences, just-in-time smiles, gestures standing in for language, stories hinted at, lives collectively acknowledged; in the middle of endless travel, one craves the random connection. My saddest moments when away are when I travel and stare outside into lit homes. I imagine people warm, and chatting, and waiting dinner, and am always rendered momentarily despondent and angry at my own need to travel. In these times, the encounter is all that stands between my melancholia and life. The strange loneliness of being far from home in a situation that one has engineered is paradoxical, but nevertheless sad. Sometimes, a kind person sensed my loneliness and offered a smile or two as temporary scaffolding to my temporary state of loss and longing. Sometimes, one of us was lonely and at other times, the other. Very often, we were all okay and merely staging conversation.
For many years, I was a graduate student in the US. The secret about this life, this urban American life that nobody ever articulated to me was about it being constituted by loneliness. Yes, we hear about it and yes, it's talked about, but nobody ever tells you how it feels. Even as it is deeply felt, it must also be deeply buried. In the process of learning this code and attempting to prevent its frequent hauntings through alcohol, work, activity, and lists, I was frequently saved by people on the bus who spoke to me as long as I looked at them.
Sometimes I'm beset by a deep and dark sorrow that life will in the end merely be a series of such encounters that fulfill a temporary purpose but do not allow for real and lasting connection. This difference between the real and the temporary, alas and alack, comes too deeply divided in my head.
How does one return to daily life? And how does one manage these contrary impulses? Perhaps the chance encounter reminds us that ordered life is a bit of a fiction. Sometimes things happen, and sometimes they don't. But we meet people, and we manage common humanity. We show kindness, we offer compliments, and for an affordable moment, we manage connection. Yet, the liberating potential of these moments seems to be in walking away. Our stories end in that moment. Re-reading I Once Met, I was greatly moved by Johnson's series of what seemed to be seamless encounters. One would imagine Johnson to have been both born wise and to have continually been sitting around with a notepad, waiting and watching and writing down the details of all these encounters; making them in turn sad, happy, funny, lucid, lovely, cruel and moving. My favorite poem reads thus:
I've never met Ron Padgett, but I almost did. I raised my fist before his door and paused. There were cicadas screaming to death in the rich summer trees. Why ruin it, I said, and walked away.
Posted by Mathangi Krishnamurthy at 12:40 AM | Permalink | Comments (0)
Perceptions
Michelle Lougee. Dinoflagellate. 2014.
Plastic bags, 55" x 34" x 30"
Posted by Sughra Raza at 12:35 AM | Permalink | Comments (0)
Travels in Northeast Turkey: Part 2
by Hari Balasubramanian
After the road trip to the Turkey-Georgia border (see Part 1), I returned along with my friend Serhat to Erzurum on the third day. Serhat flew back to Istanbul that same evening. My plan was to travel solo to the town of Kars next morning by bus, spend two full days there before returning by flight to Istanbul. All this was in July 2013. 
1.The minibus from Erzurum to Kars
Kars is at the far northeastern end of Turkey, about 3 hours by bus from Erzurum, close to the Armenian and Georgian borders. This is the same town where Orhan Pamuk's Snow is set. In the opening section of the novel, the protagonist Ka takes a bus from Erzurum to Kars; the bus runs into a raging winter storm.
I had a more basic problem. I thought that finding a bus would be a simple task. In the morning I took a taxi to the gleaming and modern Otogar, the bus station, about 14 km from Erzurum Center. But after a frustrating hour of enquiries, I had made no progress. I expected buses to Kars to be frequent. But no one seemed to know where to find one; the private companies – there were no government buses – said they did not have service to Kars that day. I roamed around the well maintained bus station, asking at least ten people, moving in circles, not making any progress, gradually feeling amused at my travel predicament. The language barrier was a huge issue: I realized that even very basic English words and phrases weren't working.   
Not knowing how to proceed, I returned to Erzurum Center, and spent some time in an internet café pondering my options. The café owner wanted to help; we used Google Translate to carry on a rudimentary conversation. He let me use his cell phone to call Serhat. Something was eventually arranged, I wasn't sure what; I simply waited. Ten minutes later, a car with a young man and a boy – both from a bus company – arrived to pick me up from the café. They were going to lead me to the bus to Kars. I rushed out with my baggage and left my personal diary next to the computer.
In the car, I was asked many questions. The boy – chubby, no more than fifteen – was particularly talkative and seemed very much the street smart type. Understanding absolutely nothing, I only smiled at him in response. I had two things I needed to convey. First, if there was still time to turn around and retrieve my diary. Second, if I would get time to use a restroom. But I knew there was no way I could communicate these urgent needs. 
The minibus to Kars, run by a private company, departed from a small side street, a kilometer or so away from Erzurum center (an informal bus stop that, perhaps, only locals were aware of). Relieved at having gotten into the bus, and now almost reconciled with the loss of the diary, I seated myself comfortably. The bus left in ten minutes. A conductor -- another boy, as talkative as the one I'd met earlier -- came by with a ticket slip and asked for some information. After seeing my blank face, he began to make exaggerated gestures.  
A man seated a few rows ahead with his wife and few months old baby, came to my assistance. Turning around, he said in English: "The boy is asking for your name. What is your name?" It was the best English I'd heard all morning. After filling out my name, I promptly changed seats so I could chat more with him. The man's name was Nuri. 
The bus was on its way. The flat landscape outside Erzurum had been cultivated into farms. Square piles of hay stood on neatly delineated plots of land.
"What are you doing here?" Nuri asked me, genuinely puzzled that an Indian with no language skills was traveling alone in northeast Turkey. I explained that my Turkish friend had been with me until yesterday, and that I was doing this last phase to Kars by myself.  
 "Are you Muslim?" Nuri asked.
It wasn't a new question: it had come up every single day that I'd spent in Northeast Turkey. Until then, in each case, Serhat had explained to all those interested that I wasn't Muslim. In Part 1 I wrote about a villager who had been keen on getting me converted. To avoid such issues, Serhat, before leaving, had advised me to say yes when asked.
So I said yes to Nuri. It felt very awkward to lie, but I did. After we'd exchanged some details about each other, Nuri said:
"I am a religion man, an imam."
The one occasion I'd decided cover up the fact that I wasn't Muslim, it turned out I speaking with an imam! I looked at Nuri with renewed interest. He was wearing casual clothes: a white t-shirt and jeans. He was clean shaven, had youthful features - he was perhaps thirty – but had lost most of his hair. He had a large Samsung phone which he consulted whenever he ran out of English words. His wife was dressed in the conservative way: a black dress with a headscarf. It was clear that Nuri was Muslim, but there was no way I could have figured from his outward appearance that he was an imam. 
Nuri was from the Erzurum province; he had grown up near Tortum, which has a famous waterfall that Serhat and I had visited on our way back to Erzurum the previous day. The mist from the waterfall had come as a tremendous relief from the hot sun. Not far from the waterfall was a fertile valley, and amidst small villages in this valley, reached by a flat unpaved road, were the beautiful ruins of a 10th century church: the Monastery of Öşk (see pictures at the end).
The minibus stopped at a gas station to refuel. I asked Nuri if it was a good idea to use the restroom. "Of course, do go ahead," he said, "I will make sure the bus waits for you. You can leave your bag here."
I ran in to the restroom and while I was at it, I heard an engine roar. I imagined the bus leaving without me – perhaps I'd made an error in communicating myself. But all this was my imagination: the bus was still there, still fueling. Nuri had gotten off to take new clothes for the baby from the baggage section to the side of the bus.  
We resumed our conversation. He laughed and said he didn't like Erzurum very much. He had finished a degree – I forget which: perhaps it was economics – in Marmara University in Istanbul. After a year of military service, he had gone to a religious school in Bartın, a Black Sea city in the northern Turkey. He now taught religion to others. He was proud of his knowledge of the Quran.
"I have memorized the entire Quran," he said emphatically. "I did it in one year." He then asked me about a well known set of verses in Quran; these verses had a specific name that I cannot now remember.
I realized I was in a tangle. "I don't know those verses," I said.
"Really, you don't know those verses?" Nuri asked unbelievingly, wondering perhaps how I could have claimed that I was Muslim.
I struggled for explanations. "My parents are not that religious," I said. It just came out: a lie to cover another lie! I couldn't believe what I was saying. Only I knew the irony: my parents are very religious, just in a very different way.
"Well, that is not very good," Nuri said.
I mumbled something irrelevant about India having both Hindu and Muslim faiths.
"Well, not everybody in the world is Muslim. In fact not everybody in Turkey is Muslim – you don't have to be Muslim," Nuri acknowledged pragmatically. He didn't seem very affected by the fact that I wasn't quite who I'd said I was. He continued to talk in just as friendly manner as before. But I felt guilty: how much more honest the exchange could have been had I stuck with the truth.
We moved to other topics. I asked Nuri about the mass protests going on in the cities of Turkey. Firmly in the Erdoğan camp, Nuri seemed to believe in the government view that there was a foreign hand bent on disturbing Turkey's progress. "Look at how well the economy has done in the last ten years [under Erdoğan]," he said. "Look at the roads all around, how much progress has been made." Certainly, I had noticed plenty of infrastructure projects in the region over the last few days: new tunneled roads through mountains, and a number of dams for hydroelectric power generation along the Çoruh River (not without controversy: 15,000 homes in Yusufeli will be submerged as a result of one such dam).  
When the topic turned to Mustafa Kemal Ataturk – I mentioned the prominent Atatürk University with 30-40,000 students in Erzurum; the huge hilltop statue of Atatürk in Artvin – Nuri said: "Yes, he is everywhere." After a pause he said: "I don't like this guy. I can say that nearly 50 million people in Turkey do not like him. I think he was just a dictator like Mussolini…he killed a lot of people around here." I was taken aback by these statements: this was the first time I was hearing a view unequivocally opposed to the founder of Turkey.
§
The bus was now getting closer to Kars; we had passed Sarıkamış, the site of a major battle during World War I, and now famous for its pine forests and winter skiing. Soon, on either side of the road were the gently undulating grassland plains that characterize the province of Kars.
The bus driver had been talking on his cell almost the entire time. He spoke in an accent I felt I'd heard in the United States, but I couldn't place it. I just knew it wasn't Turkish. And then I remembered it was exactly how the Iranians I knew in the US spoke, even when they spoke in English; it was the same intonation and accent I was hearing now. But the driver wasn't speaking Fārsi; Nuri said it was Kurdish.
Nuri and his family got off in the village of Selim, 40 odd kilometers from Kars. The family was visiting a grand-uncle who would be seeing the baby for the first time. The bus went into the village main street to drop passengers off. For most of my travels in the northeast, I'd felt that Turkey's regional cities, towns, and even villages had done quite well: they were clean, had reasonable roads and generally seemed well off. But the village of Selim was a bit ragged; and later, as the bus got close to Kars, I could see that the town was messier, less organized and poorer than Erzurum.
2. Kars and Ani
Not surprisingly, the Kars I experienced as a casual tourist was completely unlike the gloomy winter town full of intrigues portrayed in Orhan Pamuk's Snow. It was bright and sunny July day and everything felt cheerful: maybe I was just happy to finally make it here, after the difficulties of the morning. When I asked for directions to my hotel, at least four people volunteered, trying their very best. Unlike Erzurum, there were places open for lunch despite Ramazan. Kristal Café, right next to the hotel, had dishes that matched my vegetarian preferences; I ate there five times in three days.
I spent my time largely walking the streets, and climbed the hill where the old citadel or fortress was, to get an aerial view. As a border town with plenty of countries in close proximity -- and historically always a kind of frontier zone, close to competing empires; the Ottomans and Russians fought for it in the 19th and early 20th centuries -- Kars is more diverse than Erzurum: there are Kurds, Azeris, Georgians, Russians here. The friendly hotel receptionist – who wished to travel to Delhi by bus, and who wanted to know how much time the journey would take – was Kurdish. Celil, an English-speaking local guide, said he had both Azeri and Dagestani ancestry. In the hotel lobby, I met a veterinarian from Mersin (southern Turkey) on a business trip. Stock breeding is the primary economic activity in the province, and the vet was here to meet with dealers of cattle about the health of their livestock. 
§
The second morning, I went along with Celil to the ruins of an ancient Silk Road city called Ani, a 45-minute drive from town. There's a good summary of this special site from a 2006 article in the Economist:
"A millennium ago, Ani rivalled Byzantium as one of the great cities of the Christian world. At its height, the Armenian capital had over 100,000 inhabitants. Now all that stands is an impressive wall, and the gaunt but beautiful remains of churches and mosques randomly scattered across a vast expanse of grassy earth. On a hot day in early summer, with flowers blooming and birds swooping through the ruins, the place is utterly empty.

Ani's location at one of Eurasia's nodal points, where rival civilizations either clash or co-operate, has been both a blessing and a curse. The "silk route" linking Byzantium with China ran through it. But less than a century after it became the Armenian capital in 961, the city began falling victim to waves of conquerors, including Seljuk Turks, Georgians and Mongols. In 1319 it was devastated by an earthquake.

Even as a ruin, Ani has been a disputed city. In 1921 when most of the site was ceded to Turkey, the Armenians were dismayed. They have since accused the Turks of neglecting the place in a spirit of chauvinism. The Turks retort that Ani's remains have been shaken by blasts from a quarry on the Armenian side of the border."
Ani is now open to tourists and is listed as a stellar attraction in travel guides. Yet, when I arrived at 9 am there was no one around, only hundreds of rock swallows and some hovering bees. Celil left me at the entrance. "There are Russian intelligence units across the border on the Armenian side," he said gravely. He pointed them out to me: dull clusters of anonymous buildings. "Make sure you don't visit parts of the ruins close the border."
Celil's warnings only made Ani seem all the more dramatic and interesting. I spent two hours leisurely walking through the well spead out ruins. From the entrance, only parts of Ani are visible; the views get more interesting closer to the border. The Church of Tigran Honents (first image above), sits at a slightly lower elevation, at the rim of the canyon where the Akhurian River (Arpaçay River in Turkish) runs. The river forms the border between Turkey and Armenia. Also visible from the rim are the remains of an ancient Silk Route bridge (second image above). Two parts of the bridge are still standing, one on either bank, unconnected: symbolic, since the border between Turkey and Armenia remains closed. 
§
To finish, a few other peripherally related pictures. First, the waterfall in Tortum on the Artvin-Erzurum road. Second, the ruins of the Monastery of Öşk, in a secluded valley near Tortum. Last, my typical meal at the Kristal Kafe in Kars: green beans (taze fasulye); a bulgur-lentil soup with spices called ezogelin (one of my favorite dishes) that tasted exactly the same no matter where I had it in Turkey; and salad, rice and yogurt.   
Posted by Hari Balasubramanian at 12:05 AM | Permalink | Comments (0)
Monday, June 30, 2014
A Taste of EMPTY IDEAS
by Peter Unger
On June 16th, an interview of me appeared on this site that, initially, was supposed to be largely concerned with what's in my brand new book, Empty Ideas, to be published officially, by the Oxford University Press, on July 14th.  Well, as actually happened, most of the discussion ended up being about other things, providing little idea as to what's actually in the book itself, and what it might mean for the importance of - or the unimportance of - a very great deal of mainstream analytic philosophy. In this brief piece, I'd like to do something to help rectify that.
First off, I should tell readers that Amazon.com has done a pretty good job with the first swatches of the book: there, you can see what looks to be more than 40 of the book's first 56 pages. In just a few moments, the relevance of that will be made quite striking.
A central thesis of the book, perhaps its most central thesis, is this:  Contrary to what has been supposed by Anglophone academic philosophers, during the last five decades, there has been offered hardly any new thoughts whose truth, or whose untruth, makes or means any difference as to how anything ever is as concern concrete reality, except for ever so many perfectly parochial thoughts, ideas about nothing much more than which words are used by which people, and how various of these people use these words of theirs — and nothing any deeper than that. (And, if it be required that the newly offered non-parochial thoughts be credible idea – at least more credible than their negations, or their denials, then what's been relevantly placed on offer, in all these years, goes from hardly anything to nothing at all.) Rather, even while brilliant thinkers have offered thoughts meant to cut lots of concrete mustard, what's been newly placed on offer, with any credibility, are just so many thoughts empty of import for concrete reality, that is, just so many concretely empty ideas. And, each of these concretely empty ideas owes its emptiness to its being analytic, in a useful sense of that term, so, what's more, each of the offered thoughts are thoughts that, at least when correct, are just so many analytically empty ideas, each on a par with, in that way, the thought that someone can remember her old college days only if she went to college.
All that is spelled out, at least pretty well, I think, in pages of the book that Amazon offers for your free inspection, especially in the freely available pages comprising almost all of chapter 1.
(And, should those pages leave you a little shy of a firm grasp of what I mean to convey, your grasp should be pretty firm, indeed, if you also read the next pages Amazon provides freely, pages comprising most of chapter 2 of Empty Ideas. For good measure, on Amazon you'll also get, for free, a good running start on what's in chapter 3 of the book.) As is my hope, many of those reading these words, will jump over there - right now - and get a good look at that material, doing that before proceeding with any more of this present short piece.
In line with all that material, and at all events, in the rest of this brief piece, I'll aim to add just a bit more, providing some central material from the next chapter in the book, chapter 4. While this won't do anything even remotely close to giving an adequate idea of all that goes on in Empty Ideas, a book comprising 9 dense chapters, it may well, I think, convey the flavor of what goes on in about half the book.
Well, as best I can tell, the single most influential work in recent analytic philosophy – in at least the last half-century of mainstream philosophy - is Saul Kripke's Naming and Necessity. In chapter 4 of Empty Ideas, I discuss what's meant to be a paradigmatic case of 'deep worldly thoughts' in Saul's celebrated book — thoughts concerned not just with our use of names and other linguistic items, but rather with how things are with concrete matters that clearly transcend the reach of merely linguistic and semantic issues.
Toward that end, I first cite, and I then discuss at some length, a passage from the book — one that's been read, time and time again, by almost all analytic philosophers, along with ever so many of their students:
In the case of this table, we may not know what block of wood the table came from.  Now could this table have been made from a completely different block of wood, or even of water cleverly hardened into ice — water taken from the Thames River? We could conceivably discover that, contrary to what we now think, this table is indeed made of ice from the river.  But let us suppose that it is not. Then, though we can imagine making a table out of another block of wood or even from ice, identical in appearance with this one, and though we could have put it in this very position in the room, it seems to me that this is not to imagine this table as made of wood or ice, but rather it is to imagine another table, resembling this one in all external details, made of another block of wood, or even of ice. [1]
Now, as many have noted, there are quite a few counter-examples to Kripke's claim about the table and the block of wood, even if none is very devastating to the central thrust of what Saul was trying to place on offer. At any rate, for the sake of argument, let's grant that the following more modest idea is correct: If something is that very table that Saul was indicating, then it absolutely must be something that, when it first existed, contained at least some of the matter that Saul's indicated table itself first contained during its earliest moments.
Supposing that's true, what are we to make of it? Does it provide any deep insight into the nature of tables — whatever that might be? Or does it signify some impressively fundamental feature of that particular table, as deeply worldly as can be?
In my discussion of the matter, I argue that nothing at all like that is in the works. Rather, if that (conditional) thought holds true — that 'if-then' thought — then it's merely just another analytic truth, or a correct analytically empty idea. There are various lines of argument to that deflationary end. Here I'll present — accompanied by a visual aid — the one that I'm guessing people will find most enjoyable to contemplate.
First, let's get a handle on what philosophers take to be the persistence conditions for various sorts of individual things, most often contemplating quite ordinary individuals, like tables and chairs, rocks and stones, and so on. Often, these persistence conditions concern the matter constituting the ordinary individual in focus. Perhaps the most familiar case of this sort, at least among philosophers, is the case of the Ship of Theseus, an example whose origins go back to antiquity. Here's a happily simple formulation of that case, which will hopefully allow readers to grasp things both rapidly and firmly:
Let's suppose that a certain ship is entirely composed of 1000 wooden planks, each plank being precisely like all the others. Now, suppose that each day, the original ship loses one of its original 1000 planks, and with each time the lost plank being replaced by a new precise duplicate of it. And finally, in order for us to avoid problems raised by the likes of the 17th-century philosopher Thomas Hobbes, let's suppose that each original plank is nuked shortly after its extraction from the original ship, its matter never available again for ship construction.
As many people would conclude, the resulting ship — the ship that's there after more than three eventful years — is the same ship as the original ship, even though none of its original matter serves to constitute the ship that is now there before us. As regards the loss of its original matter, then, we may say that in a certain way, the persistence conditions of a ship are, as concerns its constituting matter, lax or lenient conditions. And, of course, just as it is with ships, so it also is with tables.
With that as background, even many who are quite innocent of philosophy should be well able to understand this swatch from Empty Ideas:
Correlative with the word "table", I'll now introduce a new word, "shmable."  Through my establishing the appropriate conventions for its doing so, with this new word we'll latch onto a concept that, in many respects, is quite the same as the concept of a table. But, in certain respects, the concept of a shmable is very different from that ordinary concept. As I stipulate, in these following two respects the concept of a shmable differs from the concept of a table.

First, as concerns its requisite origination conditions, the concept of a shmable is rather more lax than (what we've supposed for) the concept of a table: As concerns whether a certain shmable currently exists, let it be one Sam, it makes no difference what matter was doing what when Sam first existed. As long as there was enough matter nicely enough arranged, and providing that there's a nicely gradual transition from the shmable's originating matter to how things are right now with Sam materially, with Sam now having just the matter that, in fact, it does now have, Sam certainly will have existed at the beginning of the transition, just as certainly as it exists right now.

Second, as concerns its requisite persistence conditions, the concept of a shmable is rather stricter than (what we've supposed for) the concept of a table: Unlike a table, a shmable can lose only a tiny bit of the matter constituting the individual. When there's a very gradual changeover of the matter composing a shmable I'm confronting, then, after even just a certain small amount of that shmable's matter is lost, that very shmable, [Sam itself] will cease to exist (leaving it open, in this discussion, whether at some still much later time, the shmable might again exist.) [2]
I'm pretty sure most readers are doing well at getting the hang of what's going on here, and quite a few may anticipate what's coming up next. Along with our ordinary concept of a table, and our non-ordinary concept of a shmable, it will be no surprise that we may also latch onto these two other concepts, allowing us — as it's sometimes said — to box the compass here. With that said, it's high time for me to display another swatch, and visual aid, from Empty Ideas:
One of the two concepts, which we latch onto with the new word strable, will be a concept with strict conditions of both our currently considered kinds:  Strables must satisfy pretty strict origination conditions and they also must satisfy pretty strict persistence conditions.  The other further concept has lenient conditions of both our currently considered kinds.  We'll latch onto this concept with the new word "lable," whose initial "l" matches those of "lax" and "lenient":  Our newly noticed lables satisfy pretty lax origination conditions and they also satisfy pretty lenient persistence conditions.

For quite a few readers, it may be helpfully handy to have all four terms properly placed, each relative to the others, via a very simple and visually vivid table. Arbitrarily, I'll have the vertical columns for this table representing the noted persistence conditions of the concepts – with one column for the ideas with strict p-conditions and with the other for the ideas with lax p-conditions. And, I'll have the horizontal rows representing the noted origination conditions – with one row for the ideas with strict o-conditions and with the other for the ideas with lax o-conditions:



Of course, tables are no more realistic, or fundamental, than are strables, shmables or lables. [3]
As you may now readily agree, I trust, the Kripkean thought that a given table must be first made of at least some of the matter of which it actually is made, well — that's on all fours with the Quasi-Kripkean thought that a given strable can't possibly lose all of the matter that it now has and yet still exist, and the parallel Quasi-Kripkean thought about any given shmable.
Quite fully, they're all concretely empty ideas, whose emptiness owes to their analyticity. Or, they're all analytically empty ideas. And, as I show in my book, so it is with pretty much all else that's in the core of mainstream analytic philosophy.
Peter Unger is a professor of philosophy at New York University.
References:
[1] Naming and Necessity, pages 113-14.
[2] Empty Ideas, page 88.
[3] Empty Ideas, page 90.
Posted by Grace Boey at 01:30 AM | Permalink | Comments (0)
On my interview with Peter Unger, and the value of Philosophy
by Grace Boey
Two weeks ago, 3 Quarks Daily ran an interview I did with Peter Unger, professor of philosophy at New York University. The candid conversation touched on several things, including Peter's newest book Empty Ideas, and the value of philosophy. The piece caused quite a stir within the philosophical community, and generated a significant amount of online commentary — from sources more and less academic alike.
The aim of this follow-up piece is twofold. First, judging from some of the commentary, a brief clarification's in order regarding the scope and nature of the book and interview (though Peter does much of that himself in his own piece today). Second, the interview has provoked a healthy online debate on the value of philosophical education and philosophy in general; as a young person just starting out in the field, I aim to add a little to this discussion.
About that interview…
One aim of the interview was, of course, for Peter and I to discuss his book. As the conversation turned out, the interview ended up covering a great deal of interesting things — but not representing the many specific and subtle arguments Peter makes in Empty Ideas. A better description of the interview might be that some of it makes for part of a terribly informal prologue (or epilogue) to the book. I encourage interested readers to take a look at Peter's guest column today on 3 Quarks Daily — A Taste of Some Empty Ideas — to get a better feel of, and engage with, the book.
Next: much of the internet commentary invoked the value of philosophical fields such as moral and social philosophy. While I think this is a great debate, which I'll address shortly, it's important to note the scope of Peter's general critique: that is, mainstream Anglophone analytic philosophy. As he expresses in Empty Ideas, normative domains are off the hook:
I do not mean to say much about what's been going on lately in absolutely every area of terribly respectable philosophical activity. To help you appreciate the range of my argumentation, I say that it's aimed at what's recently and currently regarded as analytic philosophy's core: Certainly metaphysics, and also the most general and metaphysical-seeming parts of, or aspects of, philosophy of mind, philosophy of language, and epistemology. By contrast, my argumentation won't concern anything that's deeply normative, or fully evaluative, or anything of the ilk.
On the value of philosophy
Now that that's been taken care of: one debate that the interview addressed obliquely, or at any rate happened to spark off online, was about the value (or non-value) of philosophical study in general. My own reflections, as someone who's just graduated with an MA in philosophy, will be a take on this issue. As a young person just starting out, should I quit while I still can, or should I stay? Will I have anything to offer if I choose the latter?
Let me start by attempting to define philosophy. Doing this, accurately and succinctly to someone who doesn't know what it is, is a tricky task. With the multitude of philosophical subfields, many of which have become highly specialized, it's quite possible to follow goings-on in some areas while remaining largely ignorant of what's happening in others.
But as far as I can tell, what pretty much all these subfields have in common is this: they seek to question, clarify and cohere our assumptions and concepts behind things. Moral philosophy, for example, questions the assumptions behind our moral judgments; epistemology questions the assumptions behind what we think of as knowledge. At least in this sense, philosophy constitutes a practice of critical thinking that's distinct from the various kinds of content that have traditionally filled it out. And this is why there exists the potential for there to be the philosophy of pretty much anything — whenever we critically question fundamental assumptions about our beliefs, our activities, and the world around us, we are in the business of doing philosophy.
Now, there are always going to be debates over potentially-useful things or practices have indeed been applied to a valuable, justified end. Though debates of value in science and philosophy probably aren't completely analogous, charges of misapplication happen with the scientific method too — remember the great duck penis controversy? In a similar way, one might argue that the things academic philosophers think about are at best an unfortunate waste of time, or at worst a serious misuse of valuable university funds.
I'm the last person to rush to defend the value of all philosophy as currently practiced, if the number of why-are-we-doing-this moments I've had in philosophy classes is any indicator. In fact, in a very frustrated final paper for the graduate metaphysics course I took under Professor Unger, I wrote mostly about how I (thought I rightfully) found a large chunk of what we'd read over the semester uninteresting, and how I'd like to spend my time on bioethics instead. (Needless to say, Peter did not give me an A for that metaphysics course).
Renowned philosopher John Searle, in a great interview conducted by fellow philosopher Tim Crane, admits that current Anglophone philosophy is in 'terrible shape' because philosophers have 'lost sight of the questions'. But here is his advice for young philosophers just starting out:
Well, my advice would be to take questions that genuinely worry you. Take questions that really keep you awake at nights, and work on them with passion. I think what we try to do is bully the graduate students. The graduate students suffer worse than the undergraduates. We bully the graduate students into thinking that they have to accept our conception of what is a legitimate philosophical problem, so very few of them come with their own philosophical problems. They get an inventory of problems that they get from their professors. My bet would be to follow your own passion. That would be my advice. That's what I did.
I find myself heartened by this advice. Though I've found myself yawning over large portions of metaphysics, there are subfields of philosophy I indeed find extremely fruitful, and philosophical questions that keep me up at night. Ethics — especially normative and applied ethics — is an example, though some of this may not be perceived as being particularly prestigious in the mainstream philosophical community. The works of classic heavyweights like John Rawls, Peter Singer, John Stuart Mill and the like have made profound differences to the way I live my life and treat others. I deeply respect the work done by philosophers and academics such as Larry Temkin, Joseph Raz and Michael Maniates. I believe good things can come out of these fields for others — especially if philosophers put in the effort to make themselves heard. And with an increasing portion of society enrolling in higher education, I don't think it's implausible to think it'll become easier for academia to influence society.
Beyond traditionally-defined academic subfields of philosophy, and outside academia altogether, I find it hard to believe that anyone could deny the value of critical thinking — or the 'philosophical method'. The practice of philosophy is a skill that can be honed by individuals, for the good of themselves and society. A philosophy PhD, MA or BA is, for sure, not for most people — but everyone can benefit from a well-conducted philosophy class or two. Philosophy keeps us on our toes, sharpens our beliefs and informs our worldviews. It surely has the potential to profoundly influence what we do with the rest of our time, and how we do it. Learning to think critically has a ripple effect.
It is with a mix of motivations that I hope to pursue a PhD in philosophy, and eventually work in academia. Some of these reasons are selfish, and some are not. First: I strive to do fruitful research and writing. Second: I hope to impart critical thinking skills to students, and I think universities are a good place to influence minds at critical junctures. Third, and this is entirely for myself: I just so happen love teaching, thinking about the things I get to think about in philosophy, and writing too. Though I know academia's not always that rosy, and that I have my own personal limitations to face up to, I believe I have a decent chance of doing alright by these agendas.
Maybe I'm still being a little too naive. Should I make it as an academic, perhaps I'll eventually lose sight of these goals, and become one of those professors who yaps away purely to stoke her own ego. Or maybe I'll become jaded enough to plunge right back into finance, the field I left some years ago in order to pursue philosophy. Or, perhaps I'll eventually do as my old professor Pete has opted to do: devote the bulk of my time and energy to collaborating with younger scholars on scientific research, in the hopes of making more difference in another field before I go (though, I suspect it won't be experimental moral psychology for me). Who knows what will happen?
Still, I don't intend to let the possibility of jadedness dash my current hopes for a fulfilling and fruitful career. The struggle against disappointment and the adjustment of expectations are things almost everyone experiences across career fields. So until someone, say, coughs up a couple million dollars to prove that the benefits of philosophy are really just a selection effect, I'm going to assume that people like me — who are nowhere near the top twenty — can have a treatment effect on others.
Posted by Grace Boey at 01:00 AM | Permalink | Comments (0)
The Road to Bad Science Is Paved with Obedience and Secrecy
by Jalees Rehman
We often laud intellectual diversity of a scientific research group because we hope that the multitude of opinions can help point out flaws and improve the quality of research long before it is finalized and written up as a manuscript. The recent events surrounding the research in one of the world's most famous stem cell research laboratories at Harvard shows us the disastrous effects of suppressing diverse and dissenting opinions.
The infamous "Orlic paper" was a landmark research article published in the prestigious scientific journal Nature in 2001, which showed that stem cells contained in the bone marrow could be converted into functional heart cells. After a heart attack, injections of bone marrow cells reversed much of the heart attack damage by creating new heart cells and restoring heart function. It was called the "Orlic paper" because the first author of the paper was Donald Orlic, but the lead investigator of the study was Piero Anversa, a professor and highly respected scientist at New York Medical College.
Anversa had established himself as one of the world's leading experts on the survival and death of heart muscle cells in the 1980s and 1990s, but with the start of the new millennium, Anversa shifted his laboratory's focus towards the emerging field of stem cell biology and its role in cardiovascular regeneration. The Orlic paper was just one of several highly influential stem cell papers to come out of Anversa's lab at the onset of the new millenium. A 2002 Anversa paper in the New England Journal of Medicine – the world's most highly cited academic journal –investigated the hearts of human organ transplant recipients. This study showed that up to 10% of the cells in the transplanted heart were derived from the recipient's own body. The only conceivable explanation was that after a patient received another person's heart, the recipient's own cells began maintaining the health of the transplanted organ. The Orlic paper had shown the regenerative power of bone marrow cells in mouse hearts, but this new paper now offered the more tantalizing suggestion that even human hearts could be regenerated by circulating stem cells in their blood stream.
A 2003 publication in Cell by the Anversa group described another ground-breaking discovery, identifying a reservoir of stem cells contained within the heart itself. This latest coup de force found that the newly uncovered heart stem cell population resembled the bone marrow stem cells because both groups of cells bore the same stem cell protein called c-kit and both were able to make new heart muscle cells. According to Anversa, c-kit cells extracted from a heart could be re-injected back into a heart after a heart attack and regenerate more than half of the damaged heart!
These Anversa papers revolutionized cardiovascular research. Prior to 2001, most cardiovascular researchers believed that the cell turnover in the adult mammalian heart was minimal because soon after birth, heart cells stopped dividing. Some organs or tissues such as the skin contained stem cells which could divide and continuously give rise to new cells as needed. When skin is scraped during a fall from a bike, it only takes a few days for new skin cells to coat the area of injury and heal the wound. Unfortunately, the heart was not one of those self-regenerating organs. The number of heart cells was thought to be more or less fixed in adults. If heart cells were damaged by a heart attack, then the affected area was replaced by rigid scar tissue, not new heart muscle cells. If the area of damage was large, then the heart's pump function was severely compromised and patients developed the chronic and ultimately fatal disease known as "heart failure".
Anversa's work challenged this dogma by putting forward a bold new theory: the adult heart was highly regenerative, its regeneration was driven by c-kit stem cells, which could be isolated and used to treat injured hearts. All one had to do was harness the regenerative potential of c-kit cells in the bone marrow and the heart, and millions of patients all over the world suffering from heart failure might be cured. Not only did Anversa publish a slew of supportive papers in highly prestigious scientific journals to challenge the dogma of the quiescent heart, he also happened to publish them at a unique time in history which maximized their impact.
In the year 2001, there were few innovative treatments available to treat patients with heart failure. The standard approach was to use medications that would delay the progression of heart failure. But even the best medications could not prevent the gradual decline of heart function. Organ transplants were a cure, but transplantable hearts were rare and only a small fraction of heart failure patients would be fortunate enough to receive a new heart. Hopes for a definitive heart failure cure were buoyed when researchers isolated human embryonic stem cells in 1998. This discovery paved the way for using highly pliable embryonic stem cells to create new heart muscle cells, which might one day be used to restore the heart's pump function without  resorting to a heart transplant.
The dreams of using embryonic stem cells to regenerate human hearts were soon squashed when the Bush administration banned the generation of new human embryonic stem cells in 2001, citing ethical concerns. These federal regulations and the lobbying of religious and political groups against human embryonic stem cells were a major blow to research on cardiovascular regeneration. Amidst this looming hiatus in cardiovascular regeneration, Anversa's papers appeared and showed that one could steer clear of the ethical controversies surrounding embryonic stem cells by using an adult patient's own stem cells. The Anversa group re-energized the field of cardiovascular stem cell research and cleared the path for the first human stem cell treatments in heart disease.
Instead of having to wait for the US government to reverse its restrictive policy on human embryonic stem cells, one could now initiate clinical trials with adult stem cells, treating heart attack patients with their own cells and without having to worry about an ethical quagmire. Heart failure might soon become a disease of the past. The excitement at all major national and international cardiovascular conferences was palpable whenever the Anversa group, their collaborators or other scientists working on bone marrow and cardiac stem cells presented their dizzyingly successful results. Anversa received numerous accolades for his discoveries and research grants from the NIH (National Institutes of Health) to further develop his research program. He was so successful that some researchers believed Anversa might receive the Nobel Prize for his iconoclastic work which had redefined the regenerative potential of the heart. Many of the world's top universities were vying to recruit Anversa and his group, and he decided to relocate his research group to Harvard Medical School and Brigham and Women's Hospital 2008.
There were naysayers and skeptics who had resisted the adult stem cell euphoria. Some researchers had spent decades studying the heart and found little to no evidence for regeneration in the adult heart. They were having difficulties reconciling their own results with those of the Anversa group. A number of practicing cardiologists who treated heart failure patients were also skeptical because they did not see the near-miraculous regenerative power of the heart in their patients. One Anversa paper went as far as suggesting that the whole heart would completely regenerate itself roughly every 8-9 years, a claim that was at odds with the clinical experience of practicing cardiologists.  Other researchers pointed out serious flaws in the Anversa papers. For example, the 2002 paper on stem cells in human heart transplant patients claimed that the hearts were coated with the recipient's regenerative cells, including cells which contained the stem cell marker Sca-1. Within days of the paper's publication, many researchers were puzzled by this finding because Sca-1 was a marker of mouse and rat cells – not human cells! If Anversa's group was finding rat or mouse proteins in human hearts, it was most likely due to an artifact. And if they had mistakenly found rodent cells in human hearts, so these critics surmised, perhaps other aspects of Anversa's research were similarly flawed or riddled with artifacts.
At national and international meetings, one could observe heated debates between members of the Anversa camp and their critics. The critics then decided to change their tactics. Instead of just debating Anversa and commenting about errors in the Anversa papers, they invested substantial funds and efforts to replicate Anversa's findings. One of the most important and rigorous attempts to assess the validity of the Orlic paper was published in 2004, by the research teams of Chuck Murry and Loren Field. Murry and Field found no evidence of bone marrow cells converting into heart muscle cells. This was a major scientific blow to the burgeoning adult stem cell movement, but even this paper could not deter the bone marrow cell champions.
Despite the fact that the refutation of the Orlic paper was published in 2004, the Orlic paper continues to carry the dubious distinction of being one of the most cited papers in the history of stem cell research. At first, Anversa and his colleagues would shrug off their critics' findings or publish refutations of refutations – but over time, an increasing number of research groups all over the world began to realize that many of the central tenets of Anversa's work could not be replicated and the number of critics and skeptics increased. As the signs of irreplicability and other concerns about Anversa's work mounted, Harvard and Brigham and Women's Hospital were forced to initiate an internal investigation which resulted in the retraction of one Anversa paper and an expression of concern about another major paper. Finally, a research group published a paper in May 2014 using mice in which c-kit cells were genetically labeled so that one could track their fate and found that c-kit cells have a minimal – if any – contribution to the formation of new heart cells: a fraction of a percent!
The skeptics who had doubted Anversa's claims all along may now feel vindicated, but this is not the time to gloat. Instead, the discipline of cardiovascular stem cell biology is now undergoing a process of soul-searching. How was it possible that some of the most widely read and cited papers were based on heavily flawed observations and assumptions? Why did it take more than a decade since the first refutation was published in 2004 for scientists to finally accept that the near-magical regenerative power of the heart turned out to be a pipe dream.
One reason for this lag time is pretty straightforward: It takes a tremendous amount of time to refute papers. Funding to conduct the experiments is difficult to obtain because grant funding agencies are not easily convinced to invest in studies replicating existing research. For a refutation to be accepted by the scientific community, it has to be at least as rigorous as the original, but in practice, refutations are subject to even greater scrutiny. Scientists trying to disprove another group's claim may be asked to develop even better research tools and technologies so that their results can be seen as more definitive than those of the original group. Instead of relying on antibodies to identify c-kit cells, the 2014 refutation developed a transgenic mouse in which all c-kit cells could be genetically traced to yield more definitive results - but developing new models and tools can take years.
The scientific peer review process by external researchers is a central pillar of the quality control process in modern scientific research, but one has to be cognizant of its limitations. Peer review of a scientific manuscript is routinely performed by experts for all the major academic journals which publish original scientific results. However, peer review only involves a "review", i.e. a general evaluation of major strengths and flaws, and peer reviewers do not see the original raw data nor are they provided with the resources to replicate the studies and confirm the veracity of the submitted results. Peer reviewers rely on the honor system, assuming that the scientists are submitting accurate representations of their data and that the data has been thoroughly scrutinized and critiqued by all the involved researchers before it is even submitted to a journal for publication. If peer reviewers were asked to actually wade through all the original data generated by the scientists and even perform confirmatory studies, then the peer review of every single manuscript could take years and one would have to find the money to pay for the replication or confirmation experiments conducted by peer reviewers. Publication of experiments would come to a grinding halt because thousands of manuscripts would be stuck in the purgatory of peer review. Relying on the integrity of the scientists submitting the data and their internal review processes may seem naïve, but it has always been the bedrock of scientific peer review. And it is precisely the internal review process which may have gone awry in the Anversa group.
Just like Pygmalion fell in love with Galatea, researchers fall in love with the hypotheses and theories that they have constructed. To minimize the effects of these personal biases, scientists regularly present their results to colleagues within their own groups at internal lab meetings and seminars or at external institutions and conferences long before they submit their data to a peer-reviewed journal. The preliminary presentations are intended to spark discussions, inviting the audience to challenge the veracity of the hypotheses and the data while the work is still in progress. Sometimes fellow group members are truly skeptical of the results, at other times they take on the devil's advocate role to see if they can find holes in their group's own research. The larger a group, the greater the chance that one will find colleagues within a group with dissenting views. This type of feedback is a necessary internal review process which provides valuable insights that can steer the direction of the research.
Considering the size of the Anversa group – consisting of 20, 30 or even more PhD students, postdoctoral fellows and senior scientists – it is puzzling why the discussions among the group members did not already internally challenge their hypotheses and findings, especially in light of the fact that they knew extramural scientists were having difficulties replicating the work.
Retraction Watch is one of the most widely read scientific watchdogs which tracks scientific misconduct and retractions of published scientific papers. Recently, Retraction Watch published the account of an anonymous whistleblower who had worked as a research fellow in Anversa's group and provided some unprecedented insights into the inner workings of the group, which explain why the internal review process had failed:
"I think that most scientists, perhaps with the exception of the most lucky or most dishonest, have personal experience with failure in science—experiments that are unreproducible, hypotheses that are fundamentally incorrect. Generally, we sigh, we alter hypotheses, we develop new methods, we move on. It is the data that should guide the science.

 In the Anversa group, a model with much less intellectual flexibility was applied. The "Hypothesis" was that c-kit (cd117) positive cells in the heart (or bone marrow if you read their earlier studies) were cardiac progenitors that could: 1) repair a scarred heart post-myocardial infarction, and: 2) supply the cells necessary for cardiomyocyte turnover in the normal heart.

 This central theme was that which supplied the lab with upwards of $50 million worth of public funding over a decade, a number which would be much higher if one considers collaborating labs that worked on related subjects.

 In theory, this hypothesis would be elegant in its simplicity and amenable to testing in current model systems. In practice, all data that did not point to the "truth" of the hypothesis were considered wrong, and experiments which would definitively show if this hypothesis was incorrect were never performed (lineage tracing e.g.)."
Discarding data that might have challenged the central hypothesis appears to have been a central principle.
According to the whistleblower, Anversa's group did not just discard undesirable data, they actually punished group members who would question the group's hypotheses:
"In essence, to Dr. Anversa all investigators who questioned the hypothesis were "morons," a word he used frequently at lab meetings. For one within the group to dare question the central hypothesis, or the methods used to support it, was a quick ticket to dismissal from your position."
The group also created an environment of strict information hierarchy and secrecy which is antithetical to the spirit of science:
"The day to day operation of the lab was conducted under a severe information embargo. The lab had Piero Anversa at the head with group leaders Annarosa Leri, Jan Kajstura and Marcello Rota immediately supervising experimentation. Below that was a group of around 25 instructors, research fellows, graduate students and technicians. Information flowed one way, which was up, and conversation between working groups was generally discouraged and often forbidden.

 Raw data left one's hands, went to the immediate superior (one of the three named above) and the next time it was seen would be in a manuscript or grant. What happened to that data in the intervening period is unclear.

 A side effect of this information embargo was the limitation of the average worker to determine what was really going on in a research project. It would also effectively limit the ability of an average worker to make allegations regarding specific data/experiments, a requirement for a formal investigation."
This segregation of information is a powerful method to maintain an authoritarian rule and is more typical for terrorist cells or intelligence agencies than for a scientific lab, but it would definitely explain how the Anversa group was able to mass produce numerous irreproducible papers without any major dissent from within the group.
In addition to the secrecy and segregation of information, the group also created an atmosphere of fear to ensure obedience:
"Although individually-tailored stated and unstated threats were present for lab members, the plight of many of us who were international fellows was especially harrowing. Many were technically and educationally underqualified compared to what might be considered average research fellows in the United States. Many also originated in Italy where Dr. Anversa continues to wield considerable influence over biomedical research.

 This combination of being undesirable to many other labs should they leave their position due to lack of experience/training, dependent upon employment for U.S. visa status, and under constant threat of career suicide in your home country should you leave, was enough to make many people play along.

 Even so, I witnessed several people question the findings during their time in the lab. These people and working groups were subsequently fired or resigned. I would like to note that this lab is not unique in this type of exploitative practice, but that does not make it ethically sound and certainly does not create an environment for creative, collaborative, or honest science."
Foreign researchers are particularly dependent on their employment to maintain their visa status and the prospect of being fired from one's job can be terrifying for anyone.
This is an anonymous account of a whistleblower and as such, it is problematic. The use of anonymous sources in science journalism could open the doors for all sorts of unfounded and malicious accusations, which is why the ethics of using anonymous sources was heavily debated at the recent ScienceOnline conference. But the claims of the whistleblower are not made in a vacuum – they have to be evaluated in the context of known facts. The whistleblower's claim that the Anversa group and their collaborators received more than $50 million to study bone marrow cell and c-kit cell regeneration of the heart can be easily verified at the public NIH grant funding RePORTer website. The whistleblower's claim that many of the Anversa group's findings could not be replicated is also a verifiable fact. It may seem unfair to condemn Anversa and his group for creating an atmosphere of secrecy and obedience which undermined the scientific enterprise, caused torment among trainees and wasted millions of dollars of tax payer money simply based on one whistleblower's account. However, if one looks at the entire picture of the amazing rise and decline of the Anversa group's foray into cardiac regeneration, then the whistleblower's description of the atmosphere of secrecy and hierarchy seems very plausible.
The investigation of Harvard into the Anversa group is not open to the public and therefore it is difficult to know whether the university is primarily investigating scientific errors or whether it is also looking into such claims of egregious scientific misconduct and abuse of scientific trainees. It is unlikely that Anversa's group is the only group that might have engaged in such forms of misconduct. Threatening dissenting junior researchers with a loss of employment or visa status may be far more common than we think. The gravity of the problem requires that the NIH – the major funding agency for biomedical research in the US – should look into the prevalence of such practices in research labs and develop safeguards to prevent the abuse of science and scientists.
Posted by Jalees Rehman at 12:50 AM | Permalink | Comments (0)
Graffiti is the most important art form of the last half-century…
by Bill Benzon
...though many don't think of it as art at all, but as crime. After all graffiti – by which I mean the styles that originated in New York City and Philadelphia in the late 1960s and early 1970s – was born when kids and young adults began spray-canning their names on other people's walls without permission. They were committing crimes, and some of them did time for it. Still do.
Art? Crime? Art? Crime? The question isn't a real or least not a very deep one. Why can't graffiti be both artistic and criminal?
Enoe
Such mythical, but nonetheless real historical, figures as Taki 183 and Cornbread weren't trying to make art. It's safe to say that many of the early writers had never been inside the Guggenheim, the Met, or the Barnes and had never taken Art History 101 in college. They just wanted to get their names up, to be noticed. Not their real names, that is, the names on their birth certificates. But names they assumed for purposes of getting fame; names that had one significance within graffiti culture but that simultaneously were opaque and provocative to the outside world, names that told of another society walking the streets and claiming the walls.
As such graffiti was born outside the categories that had become conventionalized in mid-century Western culture. It just oozed up from the street. And THAT'S one reason graffiti is important. It's so new it doesn't fit.
Rime / Jersey Joe
Late in 1972 Jon Naar, a photographer, and Norman Mailer, a writer, were commissioned to do a book on graffiti. They took to the streets of New York City, Naar snapping photos, Mailer observing and interviewing, and the book came out in 1974: The Birth of Graffiti. It quickly became known as the bible of graffiti and copies were passed from hand to hand, spreading of the gospel according to aerosol.
Naar's photographs were superb. Some captured the full sweep of the streets surrounding the writing; others were tightly focused on the letters. Naar established photography as an integral component of graffiti culture.
Though at the time no one knew that it would evolve into such a thing as graffiti culture, much less that it would spawn something that would be called street art – also on walls, but not necessarily aerosol, not based on the name, think Banksy. No one knew what it was. How could they? The world's changing too fast for us to see it happen.
Post
But Mailer, egomaniac and Pulitzer Prizer that he was, took it seriously. He told us about trips he took to art museums so he could contextualize the graffiti he saw on the streets, in subway stations, and on the cars. That is to say, he recognized that THAT contextualization, nothing less than Western capital "A" Art, was necessary.
He interviewed graffiti writers. One of them, Cay 161, told him, "The name is the faith of graffiti," and Mailer slapped in on the cover of the book as a title. It's all about the name, which, incidentally, is why they call themselves writers. That's how you inscribe your name; you write it.
Mailer also interviewed the Mayor of New York, John Lindsey, who was trying to eradicate graffiti. And so it went for the next two decades or so, the writers vs. the City. The writers would do a car and the City would buff it, that is, apply a chemical wash to dissolve the graffiti.
In 1984 graffiti's second bible appeared, Subway Art, by Martha Cooper and Henry Chalfont. It documented the golden age of New York City graffiti, writers such as Zephyr, Seen, Kase2, Dondi and Lady Pink. By this time the writers had figured out how to make integrated compositions that covered an entire subway car; some even managed multi-car extravaganzas. We saw the flowering of wild style graffiti, pieces where the letters we so cut-up, twisted, and otherwise embellished that it was all but impossible to read the name.
But the name was still there, for the name is the faith of graffiti. Western art in the Renaissance arose from a reconceptualization of space and the artist and viewer's relation to that space. That space was reconceptualized again in the late 19th and early 20th centuries by impressionists, cubists, surrealists, and abstractionists, who reconfigured and ultimately abandoned the visible world. Now along comes graffiti and inscribes its art within, not a space, but a name.
SP ONE
The name as the axis and framework of the world. The conception is almost biblical. Is that what Mailer had seen in Cay 161's statement?
By that time graffiti had become the visual style of hip-hop culture and hip hop took it around the world. Graffiti had become the first form of abstract art that attracted a large popular audience. Let's run that by again: Graffiti is the first abstract art to achieve popular approval. That's worth thinking about.
Are we on the threshold of a new culture, one that's transnational in scope?
Mustart
And then, on November 1, 2010, all hell broke loose. The Underbelly Project hit. As the New York Times put it, the exhibition:
defies every norm of the gallery scene. Collectors can't buy the art. The public can't see it. And the only people with a chance of stumbling across it are the urban explorers who prowl the city's hidden infrastructure or employees of the Metropolitan Transportation Authority.
The Underbelly Project was mounted in an abandoned Brooklyn subway station by Workhorse and PAC. Over a period of a year and half they brought a hundred or so graffiti writers and street artists into the station under cover of night and let them do whatever they wanted to a section of the wall. But they only had a night; time was precious.
At the end they brought in a photographer or two and a reporter so the story could be told, and the art be seen. But when the tour was over, they sealed it up so no one could get down there to see the art live and in person.
Fat chance! Did they really think that no one would find this long abandoned subway station? It was quickly found and others went in, some just to see, others to trash the place, and others to take more flicks.
It was the buzz of the graffiti and street art blogospheres. Graffiti and street art, together in one space! The very idea! – you have to realize that there's a certain amount of antipathy between graffiti writers and street artists – it's a long story, but trust me, the antipathy is real. It won't last.
The whole thing just didn't make any sense. Which, I warrant, is the point. It's outside the of the friggin' box, between the keys on the piano, in limbo. But real.
And now four years later we have The Mana Museum of Urban Art and rumor has it that some of the folks involved in the Underbelly Project are involved in this above ground legit enterprise. But how could they not be, given the scope of the two projects.
This Museum is on the other side of Manhattan from the Underbelly Project. It's in Jersey City, in an abandoned ice factory. If you look at the photo in the previous link you'll see that, in it's present state, the building has graffiti on the inside. I have no idea whether or not the existing graffiti will be preserved or painted over.
Nor do I think it much matters. Graffiti long ago made its peace with impermance.
Have we made our peace with graffiti?
❖ ❖ ❖
A large and elaborate graffito is called a piece, derived from "masterpiece". A group of pieces executed on the same wall at the same time is called a production. The production I've photographed for this article was made about a month ago and is in Jersey City roughly a mile south of the new museum. It was organized by Green Villain.
Bill Benzon's blog, New Savanna. My graffiti posts are HERE. Here's a series of posts on the Underbelly Project, make as its effects rippled through the blogosphere.
Posted by Bill Benzon at 12:45 AM | Permalink | Comments (0)
repairing in gold
by Leanne Ogasawara
For whatever reason, all of our conversations ultimately ended with him explaining why some aspect of Japanese culture was somehow extraordinary. And this time was no different. After thanking me for the pictures I had sent of our son, he said (apropos of nothing whatsoever):
日本文化の根底に、草木国土悉皆成仏があります。人間だけでなくすべてに心があるということ。これが大切やね。(At the root of Japanese culture is the idea that everything is on the path to becoming a Buddha. Not just sentient life but everything is on the path to Buddhahood.~~Rough translation, other possible translations welcome). 
This idea (草木国土悉皆成仏) is from the Nirvana Sutra, and argues that even things like trees, rocks and other inanimate objects also have a Buddha-nature -- and therefore all things are precious.
It was exactly a year ago that I posted this 3Quarks daily piece about the enchantment of things and China's legendary Nine Bronze Tripods 九鼎. 
From Xia to Shang
   And from Shang to Zhou....
You know the story: Nine bronze tripods-- cast back in the mists of great antiquity-- were treasured by ancient Chinese Kings as a symbol of their right to rule.
Passed down from dynasty to dynasty-- for nearly 2,000 years (or so the story goes) until the time when the First Emperor, Shihuangdi, finally toppled the last Zhou King-- and rather than see their transfer to Shihuangdi's new dynasty-- the last Chu King flung the nine bronzes forever into the River Si
 Given their symbolic significance, Shihuangdi actively attempted to dredge up the sacred bronzes from the river, but it was to no avail; and scholars of later dynasties saw this as further evidence of the lack of moral virtue of the First Emperor.
I wondered if things have the power to move us in this way anymore? I mean, there was a time (the time Umberto Eco likes to write about) when people were obsessed by fantastical maps and with great quests for objects that held much power. Like mountains, certain objects had the power to draw people in. Relics, for example, were big business. Think of Sainte-Chappele, built to house the Crown of Thorns or recall the mystery surrounding the quests for the Holy Grail. Eco's Baudolino is almost entirely taken up with the relic trade and the role played by faith (faith in the fragrance of these relics--where it is the perfume that is true-- not necessarily the relic itself). This kind of devotion to relics is famously practiced by Catholics and Buddhists, and probably harkens back to an ancient propensity for becoming enchanted by things.
It is also a commitment to remember, right? (Poor, dear Henri Fontal!)
The other day on facebook, a friend reminded me of the scene in an old Zhang Yimou film, The Road Home, when a traveling potter arrives in the heroine's village. Asking whether anyone has something needing repair, he is asked to mend a broken ceramic bowl. Even though it would cost less just to buy a new one-- and money was tight-- still in those days people knew that tending memories and taking care of things was a virtue(美徳). And so he skillfully repairs the bowl. That scene had struck me too, and I told my friend that in Japan, I thought the spirit of craftsmanship is still alive and well. Having a heart to take good care of things (物を大切にする心) is related to concepts of divinity in things and to a natural piety. My best friend's husband, for example, is really adept at repairing ceramics using gold lacquer and the repairs he lovingly labors over add to the interest or fascination of the the ceramic pieces themselves. Kintsugi.
Craftsmanship is something Hubert Dreyfus (my intellectual hero) has written about for twenty years. Contrasting craftsmanship with "technology," he says:
To the extent that technology strips away the need for skill, it strips away the possibility for meaning as well. To have a skill is to know what counts or is worthwhile in a certain domain. Skills reveal meaningful differences to us and cultivate in us a sense of responsibility to bring these out at their best. To the extent that it takes away the need for skill, technology flattens out human life. (All things shining)
I think it is true that if technology aims to make things easier, more convenient, and efficient; craftsmanship--in contrast-- generates embodied skills, discernment, and care; all things which used to be very central to the way people lived their lives. This still can be found in japan where 職人文化 (craftsman culture) is alive and well; and where people continue perhaps to value quality. The existentialist--like the Confucian or daoist--- prioritizes embodied know-how, and this is predicated on a worldview that does not emphasize a mind-body divide so that-- (as the brilliant Wang Yangming suggested by 知行合一) to know is to do and to do to is to know. This is what Dreyfus called embodied know-how. And by this he is bringing forth Heidegger's old concept--borrowed from the Greeks-- of Poiesis, which itself harkens back to a world where sophia means both wisdom and skill and where poetry was thought to be a form of craft or a practiced skill which not only warms the heart but sheds a special radiance on the subjects it celebrates (Bowra).
With all this in mind, I posted a wonderful video (see below) on the Japanese art of pottery repair with gold lacquer (kintsugi) to facebook. A friend remarked that,
When we were kids everything got repaired. All the wooden furniture were repaired and used forever. All the urushi items were repaired and used forever. All the Japanese clothes were recycled besides being almost universal size for adults. Something is wrong with the world if buying the new things is cheaper than repairing the old item.
Something is very wrong indeed. Because it is not just things that are being treated as "disposable resources." For people too--even our own selves-- are being thought of as a kind of resource to be used, I would argue.  That the excesses of capitalism are undermining the health of this nation seems to be a fact. But there is an ontological component to this as well. And, as Turkish journalist Ibrahim Kalin aptly put it: 
The point is that we as human beings are increasingly becoming part of a system that defines our humanity and morality according to instrumental value and nothing else. But reality offers more possibilities than use-value and will to power.
Rabbi Jonathan Sacks, reviewing Terry Eagleton's Culture and the Death of God, echoes this unhappy conclusion:
The result is that we are witnesses to the advent of the first genuinely atheist culture in history. The apparent secularism of the 18th to 20th centuries was nothing of the kind. God—absent, hiding, yet underwriting the search for meaning—was in the background all along. In postmodernism, that sense of an absence, or what Eagleton calls "nostalgia for the numinous," is no longer there. Not only is there no redemption, there is nothing to be redeemed. We are left, Eagleton writes, with "Man the Eternal Consumer."
As Heidegger prophesized, then, is there really no escape from "man the eternal consumer," asks Sacks? 
My astronomer is more optimistic. He thinks that erotic love is the last frontier by which a person can access the numinous. Beyond pure efficient istrumentalism, love is--as Badiou and Zizek write--all about madness and yes even violence. My beloved believes that purely practical people can still fall madly in love and that this experience is something --in today's world more than ever--  that is deeply hungered after. As always, I guess I am more pessimistic and agree with Zizek that it is gradually disappearing as well (as Badious says, "Love is not a contract between two narcissists"). For in a truly disposable culture what things or experiences will have the power to move us beyond the self? It's no surprise, I guess, that this dead-end in the search for meaning is where all roads end in ruins in Continental philosophy today....
 ++
Recommended: Andrew Baseman's wonderful blog, Past Imperfect, The Relic, by Guy de Maupassant, Treasure Hunting, an essay by Umberto Eco, and one of my favorite novels of all time, Umberto Eco's Baudolino (and Eco's anti-library by Nassim Nicolas Taleb). 
And 3QD: Enchantment and the Nine Bronze Tripods 九鼎
Is the Quest for the Holy Grail Over?
Kintsugi: The Art of Broken Pieces from Greatcoat Films on Vimeo.
Posted by Leanne Ogasawara at 12:40 AM | Permalink | Comments (0)
Perceptions
Rosalyn Driscoll. Whether. 2012.
Wood and rawhide.
Posted by Sughra Raza at 12:35 AM | Permalink | Comments (0)
Marketing Soccer to Americans
by Akim Reinhardt
It has been exactly 20 years since the United States hosted a World Cup, and just as long since the debut of Major League Soccer (MLS), the nation's homegrown professional soccer league. Two decades later, American interest in the World Cup continues to grow.  Beyond that, however, soccer remains a marginal product in the marketplace of U.S. spectator sports.

There are many obstacles to soccer becoming substantially more prominent in the U.S. marketplace beyond the World Cup.  But I believe most of them can be overcome, and the key is better marketing.

Several factors are often cited as major roadblocks to soccer becoming a major spectator sport in the United States. Some of them are indeed daunting, but some are misunderstood and not as obstructionist as commonly perceived. Regardless, they can all be overcome to one degree or another. The key is understanding that soccer, like all spectator sports, is a cultural product.  And cultural products demand relevant marketing.

Let me begin by briefly listing the perceived major obstacles to soccer's popularity as a spectator sport.
The U.S. marketplace for spectator sports is already saturated.
Soccer is low scoring and Americans hate low scoring sports.
Most Americans don't really understand soccer.
Americans are turned off by the dives, fake injuries, and histrionics
Most Americans won't embrace soccer because they perceive it as "foreign."
After briefly assessing each of these obstacles, I will make a case that they can be overcome with better marketing to American consumers.
1. The U.S. Marketplace for Spectator Sports Is Already Saturated
This is a very real obstacle to professional soccer becoming more popular in the United States. However, it can be overcome, as recent history shows.
In the United States, professional soccer labors in the shadow of what are effectively six other, well established pro sports leagues. In addition to professional leagues in American football, baseball, basketball, and hockey (NFL, MLB, NBA, NHL respectively), there are also two other professional leagues, one football and one basketball, masquerading as "college amateur" athletics. Taken together, these six pro leagues dominate the marketplace in U.S. spectator team sports, with the National Football League by far the most successful of the bunch. And that's not even counting popularity of pro golf, pro tennis, and NASCAR auto racing.
While the World Cup, as an event, is nearing the biennial Olympics in popularity, the year round marketplace for spectator sports in the United States seems saturated; it's difficult to imagine carving out more space in an American sports calendar that is already fairly well full.
But recent history suggests it is possible. First, the advent of cable TV and the internet has greatly expanded the U.S. marketplace for spectator sports during the last quarter-century, which helps to explain why it's so large to begin with. Americans consume far more spectator sports than they did in the 1980s.
Furthermore, it's important to remember that, like any market, the American spectator sports marketplace is dynamic. It changes over time. Products rise and fall. Older products falter and new products displace them. For example, American football shot past baseball in popularity during the 1970s and 1980s. New products can also break through, such as NASCAR auto racing and mixed martial arts leagues, both of which substantially grew their audiences during the last two decades. Meanwhile, horse racing and professional boxing have been diminishing in popularity for years now.
Yes, the U.S. marketplace is crowded. But, with its small foothold already established, professional soccer can grow.
2. Soccer Is Low Scoring and Americans Hate Low Scoring Sports
Although a widely accepted truism, I think this is a phantom obstacle for the most part. This bit of folksy, conventional wisdom is based on an ahistorical understanding of the U.S. marketplace, and I flatly reject the notion that Americans won't embrace soccer simply because it's a low scoring game. Honestly, now. Millions of Americans watch golf. And auto racing. And fishing.
Yes, there are people in this country who watch fishing on TV.
And lest we forget, America's two most popular team sports of the late 20th century were quite low scoring. From the mid-1960s to the early 1980s, baseball was a fairly low scoring game, dominated by pitching and defense. And from the late 1960s to the late 1970s, American football was also a relatively low scoring affair; don't be fooled by a touchdown usually producing 7 points. If you counted a TD as 1,
the typical NFL game back then was something like 3-1
with a few disappointing field goals sprinkled in.
Scoring has increased in both sports since then, as well as in pro hockey and basketball. However, increased scoring in American professional sports isn't the natural consequence of some Darwinian process. Rather, it is actually the result of marketing. All four U.S. professional sports leagues have changed numerous rules, tinkering with the games to heighten scoring.
That's not to say MLS should change its rules to increase scoring. Rather, I think the inverse is true: Americans have enjoyed low-scoring sports before, and they can do so again. There is nothing inherent in the "American character" that demands high scoring in spectator sports. It's a marketing contrivance that can be countered with better marketing for soccer.
3. Most Americans Don't Really Understand Soccer
This is absolutely true. It is a very real obstacle, but one that can be addressed through, you guessed it, better marketing. After all, delivering a specific, well-crafted message is central to marketing.
4. Americans are Turned Off by the Dives, Fake Injuries, and Histrionics
Make no mistake: Players blatantly faking injuries, and the accompanying histrionics, are a real turnoff to most American consumers of spectator sports.
Spectator sports are a form of theater, and in the theater of American sports, an important recurring theme is American machismo. American fans admire players who play through injuries and don't complain. So faking injuries, much less rolling around like a fucking four year old, is a big problem for many Americans. But this can be overcome with smart marketing, particularly in the MLS.
Soccer players are of course quite tough despite melodrama to the contrary.  They endure their share of injuries and many play through pain.  The MLS should make a concerted effort to market their players as macho, as strong men who play through pain and overcome obstacles. This is exactly the kind of thing that resonates deeply with the American audience in spectator sports.
For example, consider the recent marketing opportunity offered by Clint Dempsey's broken nose and black eye, sustained in the United States' opening game against Ghana. Not to be too crass about it, but hat's exactly the kind of thing the American media should have played up. Mix in Dempsey's quietly menacing demeanor, and you've got a natural tough guy Americans will admire.
Cracking down on dives and histrionics in MLS would also help, but even if that's not practical, marketing can overcome a lot on this count.
5. Most Americans Won't Embrace Soccer Because They Perceive it as "Foreign"
This concern unfairly panders to stereotypes of American xenophobia while also actually getting at the real heart of the issue. To understand how, it's important to mark the difference between "foreign" and "global." 
Most Americans don't have any problem with the fact that soccer is a global game. I think it should go without saying that Americans generally love international athletic competition. I mean, mostly they love winning, but the mentality is, bring it on, world! That's how many Americans look at global competition. You know. Arrogant chants of "We're #1!" and "U!S!A!"  

It's not always pretty, but the point is, if Americans are nonplused about soccer, it's hardly because soccer's a global game. Rather, the main obstacle to the soccer's popularity is that most Americans perceive it as a "foreign" sport, and that's a very different thing than being a "global" sport.
I am most certainly not using "foriegn" as a pejorative, nor to as a referent to American provincialism or xenaphobia. Rather, I'm using the word to indidcate that Americans simply do not see soccer as being part of their culture.
Americans have yet to embrace soccer as their own. They still don't see it as one of their own spectator sports. And so for now, as the World Cup's popoularity rises, most Americans are coming to view soccer as an exotic spectacle rather than a sport that is of and for Americans

If soccer continues to be marketed as foreign exotica, it will never move beyond occasional spectacle, garnering great attention once in a rare while. It will be akin to the many "foreign" sports Americans watch during the Olympics that are not popular here. The nationalistic thrill of international competition gives them a global context and a temporary entrepôt into American culture, but they have no permanent presence in the culture.

The luge? The biathalon? Bobsledding? Speed skating? The decathlon? That thing where horses jump over hedges?

Americans will plop themselves down in front of a TV and watch international athletic competitions every four years. But once it's over, those sports all but disappear from American sporting culture. Without better marketing, soccer will be little more than the most successful version of those sports.

The World Cup may very well keep growing in popularity. But for soccer to become something beyond a quadrennial spectacle, for it to earn a far more permanent and substantial space in the U.S. marketplace, soccer has to stop being "foreign."  

Soccer needs to become "American."  And it's not about invention. Americans didn't invent hockey, tennis, golf, or mixed martial arts, yet all of those sports have established a permanent presence in the
U.S. marketplace and been been embraced by American culture.

Just like all of the non-European nations that have embraced soccer as their own, even though they didn't invent the sport.

Better marketing is the key to getting Americans to embrace soccer as part of their culture

*

Football is a religion. I hear it over and over again. One beer company even put together a clever marketing campaign based on the idea of making football a state recognized religion in Brazil.

I think it's an interesting comparison, but not from the perspective of spectator sports as a well of spiritual sustenance; that's just depressing. Rather, like religion, soccer is a cultural product that can be exported and marketed.

Consider Christianity for a moment. It has well over 2 billion adherents around the world, more than any other religion. And an important key to its success is marketing.

First, its marketing is aggressive. Christianity is a proselytizing religion, perpetually seeking to increase marketshare by chasing converts. And while aggressively marketing a cultural product doesn't assure success, it can help, especially when there is a lot of competition in the marketplace.

But the marketing of soccer in America has always been tepid at best. Aside from the World Cup, it has had a relatively minuscule presence in advertising and other marketing schema. I'm not suggesting FIFA send people to knock on doors and handout pamphlets proclaiming they'll burn in hell if they don't accept Pelé as their Lord and Savior. But soccer could benefit from a more active marketing campaign. There remains a small, loyal audience of American soccer fans, but that's it. More aggressive marketing could help it grow.

But more than marketing aggressively, soccer needs to be marketed smartly. And I dare say, the marketing of soccer as a cultural product to Americans has usually been, and continues to be, quite inept in many ways. As in, you probably couldn't do a worse job. To understand why, let's again consider the marketing of religion.

Christianity, like soccer, is a cultural product. As such, it isn't marketed or even practiced the same way among different ethnic groups and nations. Even right here in America . . . or rather, especially right here in America, there is a vast difference, for example, between the ornate, rigid ritualism of Catholic churches, the intimate, participatory nature of small black AME and Baptist churches, and the stadium-style spectatorship of evangelical mega-churches to name just a few.

Where would Christianity be in America if it were only marketed as The Church of England? Probably in the shitter. And the same elsewhere if not for the countless denominations and theological schisms shaping Christianity around the world.

A big part of Christianity's success as a global cultural product has been its flexibility. To be successful on a large scale, cultural products need to reflect local concerns and interests, at least to some degree. If a foreign cultural product is not integrated into a local culture, it will generally founder. Cultural products must be marketed in ways that appeal to local populations, instead of a rigid one size fits all marketing that is likely to constrict its appeal.

Yet soccer has been and continues to be marketed in America as a foreign cultural product, usually a British one specifically. Just look at the current World Cup.

ESPN and ABC (both owned by Disney), which are broadcasting all of the games in the United States, mostly rely on foreign play-by-play announcers. Non-Americans also fill many of the American color commentator and studio analysts slots, and even some of of the studio host positions.

Don't get me wrong. This is absolutely not about sucking up to American provincialism and xenaphobia, creating jobs for Americans, or some other right wing nonsense. It's not that "Americans hate foreigners."  If you want that interpretation of soccer, go read some Ann Coulter.

Rather, I'm talking about marketing a cultural product to Americans. Most Americans still see soccer as a "foreign" sport. Not in a xenophobic way, but simply as a something that is not for them. It might be nice or interesting, but its detached from the culture to some degree. Like bidets or Tuvan throat music.

But if soccer is going to have greater success in the year round American marketplace, it needs to be presented to the American audience, and accepted by them, as an "American" sport. It has to become part of American culture.

In and of itself, of course there's absolutely nothing wrong with using British announcers for World Cup games. Anglophiles and hardcore soccer fans may love it. And maybe British and other foreign national announcers and commentators are the best in the business.

But good marketing doesn't call for the best announcers. Rather, it requires the best sales people.

The accents, some of them quite thick, are difficult for many Americans to understand. Meanwhile, foreign idioms and cultural gaps, like announcing the temperature in celsius instead of
fahrenheit, or the distance run by players in kilometers instead of miles, subtly alienate most Americans. The issue isn't whether or not Americans should learn celsius (they should) or become more fluent in British dialect; it's about making your product appealing to the marketplace.

Furthermore, media need to take the lead on educating American audiences about the workings of soccer. Most Americans really don't understand the sport. Something as basic as the game clock counting up instead of down can be jarring to newbies. And most Americans are in an utter fog about more complex issues like the offsides rules or why some fouls get no card, some get a yellow card, and some get a red card.

Remember, all World Cup games weren't broadcast live in the United States until 1998! That's right. Even when the United States hosted in 1994, not all of the World Cup games were broadcast live here because not enough people cared. It's all still very new to most Americans, and the broad U.S. audience needs to learn the game before it can embrace it.

But the media currently often talk over their audience's head. In fairness to foreign announcers, it's hard for them to realize what he average American understands, and frankly, that's a bit much to ask of them.

But all of this begs the question: Are there not any qualified American soccer announcers who sound like they're from Nebraska? If there are, use them. If not, develop them. Christ, how many tens of millions are ABC and ESPN spending on this tournament?

Actually, the answer is about $50 million. And FOX will pay a combined $425 million for the U.S. rights to the 2018 and 2022 World Cups.

With that kind of money on the line, spend a little more and develop some announcers if you need to. And develop them with marketing in mind.

Similarly, nearly all of the American announcers and commentators in broadcast media, and many in print, currently use Brit-speak to discuss soccer. This is, I believe, a huge marketing blunder for the sport.

When the media use British jargon to discuss soccer, they build a wall between themselves and their potential audience. Is there any more effective way to continue defining soccer as a foreign cultural product instead of an American one?

Say "field" instead of "pitch," "zero" or "nothing" instead of "nil," "speed" instead of "pace," "clete" instead of "boot," and so forth.

This isn't about right or wrong. There's nothing "wrong" with calling the playing surface a "pitch" instead of a "field."  It's just god-awful marketing.

American culture already has a very established sports vocabulary. When the mass media start using it, at least for generic terms, soccer will become more accessible to the American audience. Imposing foreign jargon just maintains barriers.

Taken together, it seems to me that the American media have been going about it all wrong, quite frankly. They've marketed soccer to potential American audiences as a fairly impenetrable and very foreign product. Continuing to define and market soccer as something "foreign" will create obstacles to broad popularity instead of overcoming them.

*
On the one hand, there is no question that slowly but surely, soccer is gaining some popularity here in the States. The recent nail biter between the U.S. and Portugal was the highest rated soccer game in American television history, ekeing past the Spain-Netherlands World Cup final of fours years ago. No doubt, airing on a Sunday evening helped. Ratings for the more important U.S.-Germany game, held on a Thursday at noon, were half that. And the ratings for the U.S.-Protugal game barely exceed the ratings for a generic, mid-season Sunday night NFL game.

And despite the growth in poplularity, soccer is still a source of complaints and butt of jokes for Americans in a way that established sports are not. Such is just one more sign that it has not yet been fully accepted in the U.S. as an American cultural product.

For Americans, the World Cup is now nearing the Olympics in popularity as a global athletic spectacle. Millions will indeed rally around the U.S. team so long has it has success on the international stage.

But after that, most of them will quickly return to utterly ignoring soccer as a spectator sport for another four years  The vast majority of American sports consumers still have little or no interest in soccer beyond the quadrennial spectacle. If that is to change, improved marketing of soccer as a cultural product will be the key.
--
Akim Reinhardt is depressed about Mexico's loss to the Netherlands yesterday.  His website is ThePublicProfessor.com
Posted by Akim Reinhardt at 12:25 AM | Permalink | Comments (0)
Monday, June 23, 2014
Perceptions
Ekua Holmes. All Weather Friends.
Posted by Sughra Raza at 12:30 AM | Permalink | Comments (0)
A Far-Reaching Liquidation
"For the last twenty years neither matter
nor space nor time has been what it was."
 ~ Paul Valéry, 1931 
Ever since Napster tore through the music industry like an Ebola outbreak, there has followed a ceaseless hand-wringing about the ever-decreasing "value" of music. Chart-busting hits have been replaced by body blows to an industry that was once fat and happy. From Napster's peer-to-peer networking model to the current ascendancy of streaming services, the big labels have seen their fortunes scrambled and re-scrambled by the onrushing and ever-changing technological landscape. This is further complicated by the fact that young people are its most desired demographic, but are also the most ardent adopters of said inconvenient technologies. It's easy to say that there is no going back – and there isn't – but how can artists respond to this seemingly unstoppable race to the bottom, now that the link between a work of music, and the physical artifact that is its vehicle, has been permanently sundered?
Earlier this spring, we received a candidate answer from the venerable hip hop outfit Wu-Tang Clan. The Wu-Tang have been secretly recording a new double album for several years, an event that would commonly be greeted with much rejoicing by their legions of fans. However, the zinger is that only one copy of the album will be made, destined to be sold to the highest bidder. Even more interesting is the fact that, prior to the auction, the record will tour "festivals, museums, exhibition spaces and galleries for the public as a one off [sic] experience." (Imagine the stringency of the security that will be required to keep this particular cat in its bag; I am already anticipating the Twittersphere lighting up in outrage as museum staff shine flashlights into people's ear canals, conduct full body cavity searches, and generally out-TSA the TSA.)
Of course, such acts of conceptual brazenness are usually (and usually regrettably) accompanied by a manifesto, and Wu-Tang does not disappoint...
...although they seem to prefer the term "edictum":
Is exclusivity versus mass replication really the 50 million dollar difference between a microphone and a paintbrush? Is contemporary art overvalued in an exclusive market, or are musicians undervalued in a profoundly saturated market? By adopting a 400 year old Renaissance-style approach to music, offering it as a commissioned commodity and allowing it to take a similar trajectory from creation to exhibition to sale, as any other contemporary art piece, we hope to inspire and intensify urgent debates about the future of music. We hope to steer those debates toward more radical solutions and provoke questions about the value and perception of music as a work of art in today's world.
Now, the Wu-Tang boys bring up a real issue here. It's not hard for musicians to look at the contemporary art world, with its bloated traffic in fetishized objects that seem to spring, fully formed, from an inexhaustible well of cynicism, and wonder what wrong turns their own art form has taken. The concept itself has a very appealing simplicity to it as well: it is the re-attachment of the content to its vehicle. And what a pretty vehicle it is, too. But what kind of a "radical solution" is this? Because once the auction goes through, whoever buys owns all the rights to the music. They can distribute the album or simply squirrel it away for personal listening pleasure. They can bury it in their backyard, or douse it with gasoline and torch it. They can be as democratic or as perverse about it as they may feel inclined.
However, my disquiet runs even deeper than that. From the "conceptus" (!) page of the album's site, we read that
…a new approach is introduced, one where the pride and joy of sharing music with the masses is sacrificed for the benefit of reviving music as a valuable art and inspiring debate about its future among musicians, fans and the industry that drives it. Simultaneously, it launches the private music branch as a new luxury business model for those able to commission musicians to create songs or albums for private collections. It is a fascinating melting pot of art, luxury, revolution and inspiration. It's welcoming people to an old world.
This nudge-nudge-wink-wink tone of noblesse oblige makes me think that the author intended for this copy to end up on the Financial Times' How To Spend It, a sort of Whole Earth Catalog for the One Percent. While I value the provocative nature of Wu-Tang's act, I wish that they had stopped there. But by dressing up an old patronage system in new clothes, they are pointing to a cul-de-sac in the conversation. This has nothing to do with the radical opening of possibilities. It is merely about the enshrinement of exclusivity. It also grates against the intrinsic ephemerality that is the very nature of music. Even if I possess the only extant recording of a certain piece of music, I still cannot "consume" it just by looking at the recording. I have to play it, and once I have played it, that moment is gone. This is the deep appeal of streaming services. But the Wu-Tang Clan has conjured up the most radical opposite imaginable. Is it still music if it's never played? Or if there's no one around to hear it?
(There is another, greater irony here. Hip hop was once the voice of the urban voiceless in this country, and despite its commoditization here, it has gone on to fulfill this role in many others. Has hip hop reached yet another apotheosis on the way to perfecting its self-worship?)
*
I cribbed the title of this post (as well as the Valéry quote) from Walter Benjamin's seminal 1936 essay "The Work of Art in the Age of Mechanical Reproduction." Anyone who has read (or who vaguely remembers reading) this essay would consider it the go-to critique for this sort of discussion. But Benjamin is mostly concerned with film and does not in fact mention music at all. It is also further problematic because Benjamin regards art as a point of contention between fascism and socialism – that the only possible response to the state gaining control of the reproduction of art is its politicization. The Wu-Tang stunt fits neither category. Instead, it's just another signpost along the way to the reductio ad nihilum of our late capitalist fantasyland.
However, there is another, more generous provocation that was offered by Beck in 2012. Beck, conjunction with McSweeney's, released a new album, except he didn't record a single note. Instead, he released 20 songs as sheet music, and invited everyone to create their own interpretation. You can view the results at Song Reader, the site set up to collect all these contributions. This may seem precious and retro, the kind of winking irony that would be at home in a snooty Williamsburg coffee shop. But this gesture is not dissimilar to the kind of "instruction art" that was refined by John Cage and Sol LeWitt, where the fundamental idea is that people can – and should – create the work for themselves.
Of course, prior to the advent of radio and 78s, sheet music was the primary vehicle by which music was distributed and popularized, and as such formed a significant part of the connective tissue of a society's culture. In her article "Before the Deluge: The Technoculture of Song-Sheet Publishing Viewed from Late Nineteenth-Century Galveston" author Leslie Gay notes that "communication technologies like song sheets are implicated within the myriad ways we build social relations, make exchanges and create meaning". There is something very important here: the idea of being a mere consumer is discarded. It is quite simply impossible. As a score, music only exists in its potential form. The musician is the vehicle. Put another way, the siting of "value" has shifted from the monetary expectation of the producer, to the experience of the participants.
Take as an example Russia in the 19th century, where orchestras would go on long tours. People in the town would know not only when the orchestra would come to town, but what it would be playing, sometimes months in advance. So households would procure piano reductions and work through the scores in anticipation of the big night. One can only imagine the intimacy with which the listeners were able to "consume" the music, having played through and argued over many of each work's nuances. In this way, the act of consumption was in fact replaced by an act of consummation.
Similarly, what makes the Song Reader project really groundbreaking is its expectations. In order to engage the work, you have to know how to read music. And I mean really read music – there are no guitar tabs here. There is something fascinatingly paradoxical about this. On the one hand, the fact that there is no authoritative recording – so far Beck has yet to put out a disc of his own interpretations – implies a vast artistic freedom. On the other, that world is only open to those who have a sufficient degree of a very specific kind of literacy (one that, nevertheless, was much more common a century ago than it is now). What Beck offers us is an invitation to engage deeply with the world around us, whether it is in the form of the text of the score, the playing of our fellow musicians, or the interpretations created by others. Having worked through this text ourselves, we are in a much subtler place, one that can appreciate why certain decisions may have been made or ignored. We have created a foundation for critique, and for pleasure.
The other, even more important implication in Beck's act is one of trust. Consider the courage that an artist must have in order to issue his art in the form of instructions. I'm pretty certain that Beck knows exactly how he thinks his songs should sound. I don't know if he thinks that he is more qualified than anyone else to interpret them. I know that if they were my songs, I would think that way. But by only giving the instructions, Beck is saying that this latter concern really isn't relevant. He is essentially saying "I trust you" to his fans. There is an empathetic generosity that is really rather astonishing. And what is given back to him is a richness of interpretation that will doubtless have an impact on the way he views his own composing.
This rhizomatic conception stands in stark contrast with the idea of a final object that is perfect, authoritative and unique, as is personified by the Wu-Tang Clan's gesture. The rhizome is resilient and unpredictable, whereas the unique object is non-negotiable and brittle. On account of its uniqueness, the object's ownership has real consequences, whereas the ownership of a score of music is of much less relevance to the purpose of that score's existence.
For its part, technology is always telling us that it will catalyze society into new, more effective forms of social organization. It does not necessarily ask what society is doing already, and what the value of that activity might be. Simultaneously, technology oftentimes devalues our own participation in society and especially culture by ensuring that that participation has less at stake. We are assured that we no longer need to read music in order to pretend to understand it; it only matters that we possess it.
Thus, in a final twist that emphasizes the poverty of choices with which technology eventually presents us, two Wu-Tang fans became determined to ensure the album's dissemination. This took the unsurprising form of a Kickstarter campaign. Since there was a rumored $5 million offering price for the album, the job of finding enough consumers committed to an altruistic redistribution was a daunting one. Indeed, by the time the fundraising window closed, the project had only raised $15,400. Maybe Wu-Tang's fans should have asked for a score instead.
Posted by Misha Lepetic at 12:25 AM | Permalink | Comments (0)
Monday, June 16, 2014
Philosophy is a Bunch of Empty Ideas: Interview with Peter Unger
by Grace Boey
Philosophy: you either get it or you don't. The field has its passionate defenders, but according to its critics, philosophy is irrelevant, unproductive, and right at the height of the ivory towers. And now, the philosophy-bashing camp can count a proud defector from the other side: Peter Unger, Professor of Philosophy at New York University, has come out against the field in his latest book, Empty Ideas: A Critique of Analytic Philosophy.
Unger has written extensively over the course of his career on various philosophical topics, and his best-known writings include Ignorance: A Case for Scepticism (1975) and Living High and Letting Die: Our Illusion of Innocence (1995). As a no-holds-barred critique of mainstream analytic philosophy, Empty Ideas is a continuation of Unger's signature provocative style.
As a former student of his, I spoke to Unger in late May about Empty Ideas, his thoughts on the value of philosophy, Wittgenstein, Bertrand Russell, David Lewis, and the difference between philosophy, crystal healing and self-help (the answer: nothing that important).
Hi, Peter. To start things off, could you say a bit about your book Empty Ideas, and what it's about?
Philosophers easily get the idea that somehow or other, just by considering things about the world that they already know, they can write up deep stories which are true, or pretty nearly true, about how it is with the world. By that I especially mean the world of things that includes themselves, and everything that's spatio-temporally related to them, or anything that has a causal effect on anything else, and so on. They think they can tell a deep story about how it is that all of this stuff really hangs together, that's much deeper, more enlightening and more comprehensive than anything that any scientist can do.

And so philosophers proceed to write up these stories, and they're under the impression that they're saying something new and interesting about how it is about the world, when in fact this is all an illusion. To say new and interesting things about the world — and that's very hard, things of any generality I mean, or even anything interesting — you really have to engage with a lot of science. And very few philosophers do any of that, at least in any relevant way.
So, these so-called deep stories are the empty ideas, or what your book calls 'concretely empty ideas', that don't affect concrete reality.

Right. What philosophers are in search of — and they don't realize this — is generalizations that aren't open to any conceivable possible counterexample, however far-fetched. These counter-instances don't have to be at all realistic. So they put forth these offerings. Almost always, these offerings fail, and colleagues come up with counter-instances. When they don't fail, they turn out to be trivial. Virtually all of them are analytically correct, though philosophers don't realize it.

Generally, though, they're mostly incorrect offerings, with counterexamples, and it keeps changing and keeps changing, until everyone becomes bored with the topic, and then they go on to something else. It's not as though anything ever gets established, except for very trivial things, nor is it that anything ever gets refuted. Rather, things become old hat and fashions change. But this general way of doing things hasn't changed. In about seventy or eighty years, as far as I can tell, in terms of mainstream English-speaking philosophy.
That leads me to my next question. In Empty Ideas, your attack on certain leading figures in metaphysics is pretty—

It's not just metaphysics, it's pretty much everything. I'm just concentrating on certain issues. Mostly metaphysics, also some epistemology, a fair amount of philosophy of mind and philosophy of language - what with the semantic externalism and all this business. I don't really go into it, but it all goes down into these nonsensical so-called theories of reference and all that stuff — which itself isn't anything deep, it's just about how people use certain words. That isn't analytic, but it's relatively superficial.

To me, all this sort of stuff is parochial, or trivial. People who are signing up for philosophy don't think they're going to end up with this kind of stuff. They want to learn something about the 'ultimate nature of reality', and their position in relation to it. And when you're doing philosophy, you don't have a prayer of offering even anything close to a correct or even intelligible answer to any of these questions.

In a way, all I'm doing is detailing things that were already said aphoristically by Wittgenstein in Philosophical Investigations. I read it twice over in the sixties, pretty soon after it came out, when I was an undergraduate. I believed it all — well, sort of. I knew, but I didn't want to know, and so it just went on. And basically what Philosophical Investigations says is that when you're doing philosophy, you're not going to find out anything. You find out some trivial things, you'll be under the delusion that you're doing a great deal, but what you should do is stop and do something more productive.
But you didn't stop.

Neither did Wittgenstein. He kept scribbling away! What stopped him from doing that was terminal cancer. Only cancer had that desired effect. But it also had some other undesired effects — namely, ending his life. (Laughter)

Even though Wittgeinstein is perhaps the most widely admired philosopher of the twentieth century, at least amongst mainstream philosophy, nobody really pays attention to his main conclusion: you can't really do anything when you do this stuff, you should stop it. He basically said you should try to be a therapist for young people who are starting out in philosophy, to get them away from the field and turn them into something more useful. No more of of this fruitless, self-deluding endeavor. So really, what I'm doing is detailing some of that.
Do you think people are going to follow your advice and stop philosophizing?

No, of course not. No more than I think that people are all of a sudden going to stop it from being the case that many thousands of children needlessly die in Africa everyday. That'll go on for another century or so, probably.
Why do you think all these people — all these brilliant people — keep pouring all their energy into these questions?

I'm not a psychologist. I don't have any diagnosis.
Going back to my unfinished question: you've taken on quite a few very big, respected names and big ideas in Empty Ideas. David Lewis, Hilary Putnam, Saul Kripke, and so on. Your book is basically a systematic, chapter-by-chapter takedown of these big names and ideas. How do you think people and fellow philosophers will respond to these attacks?

I have no idea how people will respond to it. I haven't showed it to too many people so far. I showed it to David Chalmers, who takes it pretty seriously, and he seems to think most of it's right. And also Tim Maudlin, whose comments show up on the last part of the book. He thinks pretty much all of it's right, and he takes it seriously.

Tim Maudlin's already done a similar sort of thing within himself, so that most of the time when he's doing philosophy, he's also doing theoretical physics. So he has a chance to do something like an amalgam of physics and metaphysics. It's not pure philosophy, it's very adulterated philosophy. It's not the sort of thing where you make claims of the sort where any imaginable far-fetched scenario would count as a counterexample against it. Rather, if it's too far-fetched, it's irrelevant to what they're doing.

As I say in Empty Ideas, there are very few people capable of doing work like that, at the level Tim Maudlin does it. Maybe — at any given time — five or four in the world. To do it at an adequate level, maybe another fifteen, and it's quite a step down for the other fifteen. That's about it. Slow but humdrum.
So I guess the rest of us philosophers have much dimmer prospects than these twenty people.

People with a lot of philosophical training, and something like a philosophical bend to their mind, can do productive work in areas where you don't have to be a mathematical whiz, or learn up the frontiers of theoretical physics. For example, some young people help up with empirical linguistics, and they should be doing it a hundred times as much. I say something about that in the book. Something which I don't discuss in the book is — they could do seriously helpful work in experimental psychology.
Speaking of experimental psychology, I understand that this is something you've recently been trying to do.

Yes, I've just started doing that now. We've sketched out certain experiments to be run. Even the best psychologists, when they get into areas that have to do with human evaluative judgments - let along human moral responses or judgments — they make a mess of things. Even a psychologist as good as Daniel Kahneman, who's one of the best. He's probably one of the half-dozen best of the last forty years or so. You're somewhat aware of his work, about how human reasoning is strange in ways? Thinking Fast and Slow is his bestseller. It's a five-part book. When Kahneman gets to the fifth part, and gets into things about judgments of pleasure and pain — mainly pain — he completely messes it up.

So some some experiments which I'll do will just be to straighten this whole thing out. I can do psychology, as can other people who are trained in philosophy, about things like what's really going on with our judgments about what a desirable life is, or even how much pain we've had or something like that, far better than the best psychologist like Daniel Kahneman, who hasn't been trained up in philosophy. It may be because I'm smarter than him. But there's probably more to it than just that.
Do you think philosophical training plays any part at all in philosophers being better at these things, if they are?

I don't know. The only real way to find out is to test randomized groups of people. You pay people a hundred thousand dollars, give them a free education, and randomly assign them to go through this free PhD program in either philosophy or psychology, and see what happens. It may just be a selection effect — philosophical training may have nothing to do with it. This is complete speculation. This is something you can always test — whether it's a completely a selection effect, whether it's really completely a treatment effect, or whether it's a mix — and if it's so, what the percentages are.

My guess is that about a tenth of it is explained as a treatment effect, and nine tenths of it is just a selection effect. That would be my guess. It's almost all selection effect. It has a very small, barely noticeable, but noticeable, treatment effect.
I'd like to think that philosophical education isn't that useless in actually increasing students' critical thinking skills.

This is something testable, it's got nothing to do with what you'd like to think. Going into this, do you know the difference between the selection effect and the treatment effect?
Yes, I do.

This is the most basic thing in social science, and it has been for the last twenty years. Not to make this confusion. Trained social scientists are doing it less and less, but other people like you keep doing it all the time. People who 'like to think … oh I like to think taking a lot of philosophy courses makes you better at certain kinds of critical thinking' and stuff like that.

It's just blowing smoke. You have got to have a randomized trial, and give the people incentives, people who'd be interested. I was interested, as an undergraduate, in both experimental psychology — which I took a lot of, more than enough to graduate with a major — and also philosophy. And philosophy gripped me, unfortunately.

Well, I shouldn't say unfortunately. I had a good time. I had a lot of fun doing philosophy. I didn't make any discoveries, unlike a classmate of mine who went into experimental psychology, but I had a better time than him. He retired — actually he became a dean at Penn, and went into administration when he was, like, 62. He was already bored with making psychological discoveries, and he completely retired when he was, maybe, 68 or 70. And I'm still having a lot of fun, messing around with this garbage at 72, and expect to do so until I'm 80. At which point I probably won't be able to hear, or see, or type, or whatever it is. If — I hope — I'm still above the grass.
Yes, philosophy is fun. This might be a good or bad thing, but one view might be that the value of most philosophy is simply the fact that it's fun.

It's fun, of course, it's a lot of fun doing it. Logic puzzles, language puzzles, so on and so forth. For some people there's fun in chess, in far more people there's a lot of fun in bridge, for others there's a lot of fun in constructing or solving very difficult crossword puzzles. And then for lots of people there's fun in doing philosophy.

With a certain proviso, philosophy is an enjoyable form of literature, at least for people of a certain training and temperament. The proviso is that a fair amount of it contains special symbols instead of words, so that it looks like some sort of scientific thing, almost like an equation. Mathematics, symbolic logic, so on and so forth. So philosophers put that in, and give themselves the impression that they're doing things 'ohhh, so scientifically' that they need the math. All this makes it much less enjoyable to me. I don't like reading that stuff. But insofar as we can get over all of that useless and pretentious writing, it's an enjoyable sort of literature, if they take the time to make it reader-friendly.

Take Derek Parfit's book, Reasons and Persons. It's in four parts. The first part is not enjoyable to read, because he talks about a lot of theories which he labels with letters. You can't keep it straight, you need a scorecard next to the page. But the other three parts don't have that, and they're tremendously enjoyable to read — at least for some people who have some training in philosophy, and have the temperament for it. It's wonderful stuff, fascinating stuff.

Reasons and Persons is extremely enjoyable. But does Parfit ever discover anything? No, not at all. Does he ever make credible, interesting new statements about concrete reality? No, not even close. But it's very enjoyable literature for very many people.
Back to Empty Ideas, I guess you think people should just face up to that, instead of thinking that they're doing something very important, or deep.

Probably. That's what Wittgenstein concluded. I'm just not holding myself to be something like a quasi-mystical genius that he was supposed to have been. I'm just an ordinary schlub, who happens to have more perspective on things than other mainstream philosophers.

And I'm smarter than almost all of them. A few of my colleagues are smarter than I am. But except for Tim Maudlin, they all have much less perspective than I do, and some of them none at all. They have no idea what they're doing, or very little idea of what they're doing, or distorted ideas of what they're doing.

One of them who's much smarter than me is Kit Fine. His office is right over there next to mine. I discuss him in one of the chapters of Empty Ideas. He has no more idea of what he's doing than Aristotle did, and in Aristotle's day there was an excuse: nobody knew anything. Nowadays it's less of an excuse.
Why did you suddenly decide now to write Empty Ideas?

Well, it wasn't so suddenly. It gradually grew upon me. I sort of knew it without wanting to fully know it when I was writing my previous book, All the Power in the World, which has a lot of speculative philosophy. And then after that, I said, okay, now I'm going to address what's unconsciously, or half-consciously, been popping up during those years. Those years being from about 1998 to 2005, when I wrote All the Power in the World.

So this thing started with me in 1998, and now it's 2014. I don't think that's very sudden. I started writing this book in the fall of 2005. It germinated from 1998 to 2005. I was having ideas about it, but I wasn't writing it down on paper. That didn't start until the second half of 2005. But even so, that's a while ago.
Alright. I asked this because Empty Ideas came so late into your career. I hope you don't mind me saying this, in fact I actually mean it in the best way possible, if that's possible — I feel like you've just taken a big crap on everything you've done before.

Certainly on most of what I've done. If that's what it takes, that's what it takes.

See, going back to Wittgenstein — he had his two periods. In his early period he wrote the Tractatus, which is supposed to be one of the five classics of twentieth century analytic philosophy. His second period was — it's all crap on Tractatus. All that stuff I did as a young man is nonsense. This is it — I have to start anew, and what I now say is, you can't do any of that stuff. You can't do any of what people have thought of as philosophy. You just can't do it, it doesn't amount to anything. When you do it, it's all puffery, puffery gone awry. So Wittgenstein did that. But then he couldn't stop doing the puffery!

Let's go to Bertrand Russell. He was one of the few philosophers to win a Nobel Prize in literature. But it is literature! Russell wrote some short stories that were not well-received — he got it for his philosophical writing, as well as his writing on social affairs, which was quasi-philosophical. He was writing in favor of peace, pre-marital living together, all this sort of stuff. Progressive education.

This quote is from a small book that Bertrand Russell wrote, from 1912, which is still used as a textbook today: a little book called The Problems of Philosophy. He talks here about the value of philosophy:
Thus, to sum up our discussion of the value of philosophy; Philosophy is to be studied, not for the sake of any definite answers to its questions, since no definite answers can, as a rule, be known to be true, but rather for the sake of the questions themselves. Because these questions enlarge our conception of what is possible, enrich our intellectual imagination and diminish the dogmatic assurance which closes the mind against speculation; but above all that because, through the greatness of the universe which philosophy contemplates, the mind also is rendered great, and becomes capable of that union with the universe which constitutes its highest good.
The second part, after the 'above all' seems like complete nonsense. What the heck does all that mean? It's mystical nonsense, no? This from one of the two founders of modern logic, second only to Gottlob Frege in laying down the foundations of symbolic and mathematical logic.

Let's go to the first part, before the 'above all'. He says that these questions, and not questions about, say, chemistry, or ornothology, enlarge your conception of what is possible. I hardly even know what that means. But he goes on and says things which are less hard to understand, like, it enriches your intellectual imagination. And a second thing it does, which I take to be distinct, is it diminishes your dogmatic assurance.

These are things that can be tested for, as I said before! Whether it's a treatment effect, or a selection effect. There are tests for how creative people are, or how dogmatic they are. You test them, at the end, the day after they graduate. And you see whether this is true.

Bertrand Russell never even bothers to think about whether, or what, these things might have to do with any test you can give to human people, or what's going on. It's so full of nonsense, the guy was always full of nonsense. He read up on relativity theory, but you would think he would think of some psychological testing that had some bearing on the smoke he was blowing. He never gave it a thought.
Is there anything else you'd like to add about the book, or anything in general?

As I've said, I've had a lot of fun doing philosophy. I'm glad I got into the field just to have a good time. As far as I can tell, out of the three smartest guys in my class — I wasn't one of them, although I was very smart — two of them became theoretical physicists. But the third went into philosophy — David Lewis, who is by far the most influential philosopher over the last fifty years. No one else comes close.

David Lewis never discovered anything. It's all hot air! Except for this thing — it's not hot air, but it's gratuitous speculation — about the plura-verse and the mutually isolated worlds. It's fun to think about for a week, but after that, I mean, come on. The guy kept going at it for thirty years. Out of his mind, right? Brilliant guy.

Have you seen the study about the elite general citation? No?

(From a computer, Peter accesses the blog of Kieran Healy, professor of sociology at Duke University. The two blog articles referenced are A Co-Citation Network for Philosophy and Lewis and the Women.)

This study has a lot of errors in it, but the general thrust is correct. What Healy did was to take the four most prestigious philosophy journals — Philosophical Review, Journal of Philosophy, Nous and Mind. He took all of the articles and reviews published in them, over a period of twenty years ending with the year 2013. Then he looked at which works those journals cited — what was being cited in these really prestigious places, the top of the field.

So, this is how it turned out. It is fair to say that the past twenty years in our four journals has been dominated by two philosophers: Saul Kripke and David Lewis. I discuss both of them at length in Empty Ideas. You see, I'm not going after small fish. These guys are considered the smartest and biggest by everybody else who's anywhere near the top.
As can be seen in the network diagram (reproduced below, from A Co-Citation Network for Philosophy), Kripke's Naming and Necessity and Lewis's On the Plurality of Worlds are the connected twin centers of the co-citation network. Naming and Necessity has 180 elite citations, and Plurality has 131.
(Unger reads off the first table from Lewis and the Women)—
Here's a table of the twenty most cited works, preserving ties so we have slightly more than twenty items. Healy comments on this:
The usual way that a scholar comes to influence their field is quite simply by writing a book or article that everyone wants to talk about. It must be discussed directly, or one must explain why talking about it in more detail can be avoided. Either way, you have to cite it. Hardly anyone writes something like this in their career, of course. Those few who do usually do not write more than one thing that has this effect on a field.

Naming and Necessity is the most influential single item of this type in the data. On the Plurality of Worlds is the only work that comes close to it (and is the only other item with more than 100 cites). So Kripke's influence is of the usual kind, mostly through a single work.

Lewis is not like this. Writing a book with the impact of On the Plurality of Worlds is more than enough to make one absolutely central to one's field. But even so, focusing on Plurality alone would radically underestimate Lewis's influence on the philosophical conversation in our journals over the past twenty years. Look at the Top 20 table above. Naming and Necessity, Word and Object, Reasons and Persons, A Theory of Justice, The Conscious Mind, and The Varieties of Reference are all very important books. These works have had a very large—in some cases, a defining—effect on their subfields, and often beyond. Tim Williamson and Donald Davidson are unusual in that each of them has two items in the top 20. Lewis has six items in the top twenty. He has thirteen items in the top one hundred. In the complete dataset of 526 items—the basis of the co-citation graph —thirty three are by Lewis. And he shows up all over the graph, too, not just in his main area of metaphysics.
There's Lewis — second, five, nine, sixteen, eighteen … eighty-two … and by contrast, here's Kripke. A pigeon compared to Lewis! After Naming and Necessity, Kripke's second entry is number 53, and then he falls to 195 and 324, and that's it, he's off. He has four things in the top 500. I have four or five things in the top 500. (Laughter) Well, who cares. They're all nonsense anyway, including mine. Then Kealy has something about women in the data. Nineteen items in the data are written by women, or 3.6 percent. By comparison, 6.3 percent of the items are written by David Lewis.

So, you get the picture with David Lewis. It's almost like Noam Chomsky with linguistics — the big enchilada. And he never said anything! Except for this stuff about the mutually isolated worlds. All the rest of it is just attempts to come up with analytic sentences. 95 percent of which failed, and 5 percent of which — so what? They're just analytic sentences.

I should have known better as an undergraduate, with David Lewis in our sophomore year. We read Philosophical Investigations, twice over with yellow markers. We knew, but didn't want to know. So we puffed around, and churned out a lot of pages.
Before we wrap up, I have one more comment to make. When I was reading Empty Ideas, it did seem like a much more detailed version of what lots of non-philosophers think about the field. I think many of them would appreciate this book.

It's what all non-philosophers think. Except — those like this guy on a plane flight with my friend James Van Cleve, a philosopher at USC. Jim introduces himself as a philosopher, and the guy said — oh really? What are some of your sayings? (Laughter) Sayings!
That is pretty funny. Some of my friends who aren't familiar with the field have asked me if I've learned to meditate in philosophy grad school, and if I've got any 'insights' to tell them.

Especially bookstores. You go to most bookstores and there will be a section called 'metaphysics'. And it's all about this meditation stuff, crystal healing, some stuff or other from the orient…
I was at Daytona Beach in Florida recently, and I was pretty excited to see this big store sign that said 'Books and Metaphysics'. So I went in, thinking that would be a philosophy bookstore, but of course it wasn't. Half of it was filled with trashy books, and the other half was filled with crystal healing stones and Buddha statues.

(Laughter)
And in lots of libraries, I've noticed that the philosophy books are interspersed with all sorts of self-help or motivational books, which I find a little sad.

What's sad about it?
Well, I find it sad that people think that this stuff is what philosophers study.

Why is that sad? What harm does it do?
I suppose if you take pride in your work and what you do, you would be upset if people had a completely wrong impression of it.

If I'm right, there really hasn't been much going on. So you really shouldn't be that much proud of it anyhow, and it's not that much of a loss that people have the wrong idea as to what's been going on. People think that philosophy is this sort of 'nothing much', when it really should be that sort of 'nothing much'. I don't see any great harm in that difference.
* * *
This conversation was edited for length and clarity.
Posted by Grace Boey at 12:40 AM | Permalink | Comments (0)
perceptions
Andrew Esiebo. Soccer World. 2006.
Posted by Sughra Raza at 12:30 AM | Permalink | Comments (0)
Taking Standardized Tests in Middle Age: Examining the Doctor
by Carol A. Westbrook
The single most important skill you need to practice medicine is the ability to pass multiple-choice exams.  Most people saw their last standardized test when college or grad school ended.    No so for us doctors-- exam taking continues until retirement.  The process begins with the high SAT score required for entry into a good college, then a high MCAT to get into medical school.  In medical school we complete Steps 1 and 2 of the USMLE (US Medical Licensing Exam) and in residency, Step 3.  After residency come the Specialty Boards (e.g. Internal Medicine, Surgery, etc.), then the Subspecialty Boards (e.g. Cardiology, Oncology).  It continues with re-certification exams in your specialty every 10 years. It does not end until retirement.

So here I am, in my 60's, having to sit for an exam in order to renew my credentials as a Medical Oncologist.   If you haven't taken a standardized test within the last decade you will be surprised to find how things have changed.  There is no paper, no filling out circles with No.2 pencils, and no exam booklets.  The questions are read on a computer screen, and answered by point-and-click with a mouse. The exams are given at a testing center in a strip mall, where other test-takers may be fireman, manicurists, or hairdressers taking their state licensing exams.  After passing triple security (two ID's and a palm print scan) you enter the exam room, where you will be directed to a workstation containing only a computer on an otherwise empty desk.  No purses, wallets, watches, pens, cell phones, or calculators are allowed into the room.  It is dead silent, and anonymous. Nonetheless, you quickly adapt to the computerized routine, and the exam itself is remarkably similar to any other multiple-choice exam. As always, there are a series of single questions and 4 answers, of which only one is right, including the notorious "all of the above" or "none of the above."

Scoring well on a multiple-choice exam requires certain skills. You do need at least a passing familiarity with the material, of course, but just as important is a feel for the psychology of the exam--are they trying to trip me up on this question?  Is there a hidden trick?  Does the exam phrasing suggest a certain emphasis? Also required is  precise reading of the question, and facility with English grammar (beware of the double negative!).  The most important skill for the test-taker, though, is the ability to "cram".  By cramming, I mean the ability to review and retain a large amount of detailed information for a few days prior to the test.
I'll admit, my ability to cram is not what it used to be. I could never compete with a young, newly-minted doctor fresh out of a training program.  Sure, I attended a review course, and I crammed for weeks prior to the test, but I'll admit I was a bit anxious about going into this exam.  Perhaps multiple-choice exams are one way of weeding out doctors with memory loss or Alzheimer's disease?  On the other hand, I have been treating patients with cancer for almost thirty years and am confident in my competence. I, like other specialists, have kept up with the latest advances and completed my required continuing education in order to provide our patients with the best possible care.  I am left asking, what is the purpose of taking a multiple-choice, "
Maintenance of Certification
" exam?
The questionnaire given at the post-test evaluation asked if the exam accurately represented clinical practice.  My answer was a resounding, "strongly disagree".  I don't feel a multiple-choice exam tests anything except one's ability to take such an exam.  This exam has little to do with my clinical skills or medical knowledge. 
A skilled physician is not someone who can recall a lot of factual knowledge.  Rather, it s someone who has the ability and experience to obtain relevant clinical information, and then utilize the universe of medical knowledge to make the best treatment decisions possible, keeping the patient's special needs in mind. 
Here is the reality check.  When I see a patient with a particularly difficult clinical problem, I don't guess which is better, A, B, C or D.  I look it up!  I call the pathologist and discuss the biopsy.  Or I consult a variety of approved sources which are available to me instantly, online, and frequently updated by specialists.  I check the published guidelines and find out what is appropriate and, more importantly, what is likely to be covered by insurance -- or what is not. I network with other physicians, or present the case at one of our weekly conference.  At times I contact one of the "uber-specialists," in a nearby university whose practice is limited to only one type of cancer.    Ironically, these sub-specialized university professors who write the exams would be unlikely to pass a general oncology exam themselves because their practice is so limited!
In this day and age of instant online access to the world's knowledge, and ready social networking, a multiple-choice exam which relies on factual memory seems and outdated, almost anachronistic way to ascertain a physician's competence.  They persist because they are easy to write and easy to score, in spite of their irrelevance.
If I could rewrite the medical oncology certification exams, I would permit the physician to have open use of any online resources.   In my dream exam, the doctor would be able to use these resources to provide an answer that reflects current knowledge, that insurance would reimburse, put the treatment orders correctly into the electronic chart, and the complete the answer before the 15-minute clinic visit is over.  Now that is a realistic scenario!
Post-script:  Yes, I did pass the exam and won't have to take it again for 10 years. 
Posted by Carol A Westbrook at 12:25 AM | Permalink | Comments (0)