Monday, October 24, 2016
"What Can I Do?" —Gündüz Vassaf's Call for Action in a Time of Rampant Pessimism, Part 1
by Humera Afridi


On a recent weekend morning, I spoke with eminent writer and intellectual Gündüz Vassaf at his home on the island of Sedef in Turkey. I was calling from Manhattan, New York, via Skype, and the distances of space and time between us collapsed to make way for a conversation that felt like a natural continuation of a felicitous meeting earlier in the summer.

Vassaf, the author of 14 critically acclaimed books of nonfiction, fiction, essays and poetry, had just returned from a brisk swim in the Sea of Marmara. It was a chilly 20 degrees Celsius on the island, the sun suspended low in the late October sky, but that did not deter him. I sense there is not much that can restrain Vassaf from following his heart. His is a quest for freedom—in work, in life, in mind, in body—a right that he asserts not just for himself, but, judiciously for all sentient beings, and does so with a rare ebullience, one balanced with wisdom.

In his 1987 bestseller, Prisoners of Ourselves, Vassaf writes:

"This book is about freedom. It's about freedom we avoid, freedom that we fear to have in our everyday lives. Even with our simple daily acts we subject ourselves to a totalitarian order of our creation and subservience.

My first idea was to write a book about our accommodation of totalitarian regimes. Throughout history, millions across the world have experienced changes in regimes from a relatively democratic state to a totalitarian order.

In the end and over time, we acquiesce to these regimes. We internalize the new norms. The very few who don't, become martyrs, unknown patients in mental hospitals, forgotten prisoners of conscience.

I did not write a book about the above because I realized that also in "democratic" regimes we can become prisoners of ourselves."

Prisoners of Ourselves explores the psychology of totalitarianism in every day life and is a profound elucidation of human consciousness. It sold over 70,000 copies when it was published and quickly rose to the stature of a contemporary classic in Turkey. Vassaf has written many other works in between this astute and marvelously prescient book of lyrical essays—one which I find illuminates the present historical moment—and his most recent, What Can I Do? that was released, serendipitously, a week after the recent failed coup attempt in Turkey.
The evolution of Vassaf's ideas in the span of 29 years—between the publication of
Prisoners of Ourselves
and
What Can I Do?
—reflects a new global consciousness that has been in formation in the world. He quotes Turkish poet Nazim Hikmet—
to live free as a tree but as brotherly as a forest
—to evoke the trajectory of his changed perspective from an individual introspective stance to a broader, communal one over the course of time.
"When I wrote
Prisoners of Ourselves
, it was a yearning to be a tree, a liberated individual. That yearning still exists, but it has joined up with the sense of community, of living together as a forest. Then I was questioning things that one does without questioning—like falling in love. We don't question the state of being in love, we may question the person. Those things I tried to work out in that book. Now, it's more than that. Now, it's in order to establish a more liberated environment for us we have to deal with the environment. The environment being the climate, the people who cause climate change, economics, politics, everything else."
As of yet,
Prisoners of Ourselves
is the only one of Gündüz Vassaf's books available in English—for he wrote it in English. Although his prolific writings are available in several languages, they have yet to be translated into English, the otherwise dominant language of the western hemisphere—an omission which, surely, bespeaks the impoverished state of literature in translation. It signals, too, a terrible blindness in our cultural attitude for failing to care enough to acknowledge voices and ideas from around the world, especially at a time when the world is both more connected and more riven.
Born in 1946 in the United States, Gündüz Vassaf is a psychologist, author and professor. He is peripatetic and divides his time between several countries, frequently new ones, in pursuit of the challenge he made to regularly immerse himself in a new language and culture. Orhan Pamuk has described Gündüz Vassaf as the "freest spirit of any Turkish writer." An interviewer on Radio Prague, during the Prague Writers' Festival in 2012, states, "Amongst intellectuals in Turkey, the psychologist and author Gündüz Vassaf is a bit of a rock-star…" Vassaf was a founding member of the Istanbul chapter of Amnesty International and, years ago, used to teach at Bogazaci University from where he resigned after the 1980 military coup. When I asked if his resignation had been an act of protest, he replied:
"I couldn't fulfill my duties as an academic when martial law started interfering with what books we had in the university library, with what courses, and how they were going to be taught. We don't tell the soldiers how to fight their battles. The university lost whatever little autonomy and academic freedom it had. It lost it totally."
Vassaf's newest book
What Can I Do?
is timely, addressing a world worn down by pessimism, urging people, especially the youth towards action and engagement as panaceas. The book has received a vibrant reception in Turkey for its uplifting message and is garnering increasing popularity on social media.
What Can I Do?
grew out of a talk on peace that Vassaf was invited to deliver in September 2015 at the Middle East Technical University in Ankara. It concentrates on the role of young people in recent history.
"In 1968, we students in the US were part of a hedonistic generation. We weren't so much for peace—in spite of the peace signs—we just didn't want to go to war and die, whereas the present generation is really for peace. They understand peace. They are not being told to go to war, there's no conscription. They abhor war. Young people for the first time in the history of our species don't want to become soldiers anymore… Conscientious objection has become something legal. That's a major change. So, peace is no longer a dream, really. People want to be in a state of peace. It's not being anti-war as it used to be—there's a yearning for peace."
What Can I Do?
carries a provocative subtitle:
I have no Country. I Have No Religion. I Have No Gender.
Freedom is an overarching theme in Vassaf's work, and I ask him how he manages to maintain this 'state of freedom,' to remain attuned to it as a writer and a thinker, even in times of political upheaval, certainly, at a time when so many of Turkey's writers, intellectuals and teachers are under the panoptic eye of the state.
"I don't feel it," he states matter-of-factly. "I don't care in a way that I suppose you feel the eye of your parents if you're a thousand miles away, having your first beer or your first cigarette, but you don't care. It's that sort of feeling. They can do with me what they want. I personally don't have that fear. Once you're aware and accept the absurdity of existence, that anything can happen anywhere… Fear is unhealthy; I don't fear. If it's going to rain, I can't stop that rain."
In
Prisoner of Ourselves
Vassaf writes:
"Freedom in its ultimate sense is the ability to live with fear, the courage to face fear, confront fear... One loses one's freedom when one gives in to fear and is afraid to act, afraid to follow one's vision."
I am intrigued as to how Vassaf has developed his immunity to fear, liberated himself. He tells me a story of the time he worked as a guard at the age of seventeen in a mental health institution in New Hampshire. The horrors he witnessed there at a young age—"it was bedlam"—"seeing how bad human existence can become" and "how bad institutions can become" struck him to the core, as did his later work with Amnesty, learning about torture. "That may have taken away some of the fear—if you've seen the worst what else can you see?"
***
(The second part of this article will appear next month)
Posted by Humera Afridi at 12:10 AM | Permalink | Comments (0)
Monday, October 10, 2016
Imagine: Listening to Songs Which Make Us More Generous
by Jalees Rehman
It does not come as a surprise that background music in a café helps create the ambience and affects how much customers enjoy sipping their cappuccinos. But recent research suggests that the choice of lyrics can even impact the social behavior of customers. The researcher Nicolas Ruth and his colleagues from the University of Würzburg (Bavaria, Germany) assembled a playlist of 18 songs with pro-social lyrics which they had curated by surveying 74 participants in an online questionnaire as to which songs conveyed a pro-social message. Examples of pro-social songs most frequently nominated by the participants included "Imagine" by John Lennon or "Heal the World" by Michael Jackson. The researchers then created a parallel playlist of 18 neutral songs by the same artists in order to truly discern the impact of the pro-social lyrics.
Here is an excerpt of both playlists
Artist                                      Pro-social playlist                  Neutral playlist
P!nk                                         Dear Mr. President                  Raise Your Glass
John Lennon                             Imagine                                 Stand By Me
Michael Jackson                        Heal the World                       Dirty Diana
Nicole                                      Ein bisschen Frieden               Alles nur für dich
Pink Floyd                                Another Brick in the Wall       Wish You Were Here
Scorpions                                  Wind of Change                     Still Loving You
Wiz Khalifa                               See You Again                        Black and Yellow
The researchers then arranged for either the neutral or the pro-social playlist to be played in the background in a Würzburg café during their peak business hours and to observe the behavior of customers. The primary goal of the experiment was to quantify the customers' willingness to pay a surcharge of 0.30 Euros for fair trade coffee instead of regular coffee. Fair trade coffee is more expensive because it is obtained through organizations which offer better trading conditions to coffee bean farmers, prohibit child labor and support sustainable farming practices. Information about fair trade coffee was presented on a blackboard in the center of the café so that all customers would walk past it and the server was trained by the researchers to offer the fair trade surcharge in a standardized manner. The server also waited for a minimum of six minutes before taking the orders of guests so that they would be able to hear at least two songs in the background. During the observation period, 123 customers heard the prosocial playlist whereas 133 heard the neutral playlist.
The effect of this brief exposure to prosocial songs was quite remarkable. The percentage of customers who opted for the more expensive fair trade coffee option doubled when they head prosocial songs! Only 18% of customers hearing the neutral playlist were willing to pay the extra 0.30 Euros – even though they had also seen the information board about the benefits of fair trade coffee – but 38% of the customers hearing prosocial songs opted for the fair trade option.
Interestingly, hearing prosocial songs did not affect the tipping behavior of the customers. Independent of what music was playing in the background, customers tipped the server roughly 12% of the bill. This is in contrast to a prior study conducted in a French restaurant in which hearing prosocial songs increased the tipping behavior. One factor explaining the difference could be the manner by which the songs were selected. The French study specifically created a playlist of prosocial songs with French lyrics whereas the Würzburg playlist contained mostly English-language songs, often with global themes such as world peace, brotherhood and abolishing boundaries. Supporting fair trade may be more consistent with the images evoked by these global-themed songs than increased tipping of a server in Germany. It is also important to note that servers or waiters in Germany are comparatively well-compensated by restaurants and cafés, therefore they do not really depend on their income from tips.
The Würzburg experiment raises some intriguing questions about how music – either consciously or subconsciously – affects our immediate decision-making. The researchers went to great lengths to minimize confounding factors by matching up songs from the same artists in both playlists. Their work is also one of the first examples of a field study in a real-world setting because prior studies linking music and pro-social behavior have been mostly conducted in laboratory settings where pro-social behavior is experimentally simulated. But one also needs to consider some caveats before generalizing the results of the study.
Würzburg is a university town where students represent a significant proportion of the population. The researchers estimated that more than 40% of the customers were in their 20s, consistent with a principal student clientele which may be more mindful of the importance of fair trade. The history of Würzburg is also noteworthy because more than 80% of the city was destroyed in a matter of minutes during the Second World War when the British Royal Air force firebombed this predominantly civilian city and killed an estimated 5,000 residents. Residents of the city may be therefore especially sensitive to songs and imagery that evoke the importance of peace and the perils of war.
Some of the next steps in exploring this fascinating link between background music and behavior is to replicate the findings in other cities and also with participants from varying age groups and cultural backgrounds. Another avenue of research could be to assess whether the content of the lyrics affects distinct forms of behavior. Are there some prosocial songs which would increase local prosocial behavior such as tipping or supporting local charities whereas others may increase global social awareness? How long do the effects of the music last? Are customers consciously aware of the lyrics they are hearing in the background or are they just reacting subconsciously? The number of questions raised by this study shows us how exciting the topic is and that we will likely see more field studies in the years to come that will enlighten us.
References
1.              Ruth, N. (2016). "Heal the World": A field experiment on the effects of music with prosocial lyrics on prosocial behavior. Psychology of Music, (in press).
2.              Jacob, C., Guéguen, N., & Boulbry, G. (2010). Effects of songs with prosocial lyrics on tipping behavior in a restaurant. International Journal of Hospitality Management, 29(4), 761-763.
Posted by Jalees Rehman at 12:15 AM | Permalink | Comments (0)
Monday, September 26, 2016
The Dangerous Discounting of Donald Trump
by Ali Minai
By this point in US Election 2016, everyone acknowledges that the Presidential candidacy of Donald Trump is one of the most transformative phenomena to arise in American society in a long time – possibly since the Civil Rights Movement in the 1960s, of which it is, in some ways, a perverted mirror image. However, it's ludicrous and perverse aspects should not blind anyone – including its adherents – to its corrosive but real power. Those who had until recently discounted Trump are gradually beginning to realize this, and mockery is being replaced with a mixture of fear and perplexity.
Foremost among the perplexed are the American elites and the chattering classes, who have tended to treat the candidacy of Donald Trump for President as a running farce. His frequently offensive and ignorant statements – usually via twitter – have become a staple of late-night comedy, and the cause for general derision in the news media. A surge in the polls after the Republican convention triggered a temporary bout of concern that he might actually win, but that concern receded as a very successful Democratic convention and Trump's disparaging of the Khan family boosted Hillary Clinton to a double digit national lead. A narrative settled in that Trump was finished, even as Clinton's lead has gradually declined, and now stands in the 2-4 percent range. While this has triggered a new round of anguish among Democrats, it has not yet completely changed the overall notion that, surely, the American people will not vote for someone as patently unqualified and irresponsible as Trump. The American people themselves have bolstered this assumption, with poll after poll showing that large majorities of voters consider Clinton more qualified and temperamentally suited to be President. A recent survey showed that nearly half of voters – including 22% of Trump supporters! – believe that he will use a nuclear weapon. Yet, what is often left unexplained is why the same polls typically show the head-to-head race between Trump and Clinton as very close. The implicit belief seems to be that voters will eventually come to their senses. In fact, this discrepancy should indicate exactly the opposite: That a certain chunk of voters have looked at both candidates, realized that Trump is unqualified to be President, but are nevertheless willing to vote for him. These voters have apparently considered and rejected rational arguments against Trump, suggesting that no further rational argument is likely to sway them. The same is true for the issues of bigotry and racism that are clearly relevant with regard to Trump. Most Clinton-supporters and the elite media have assumed that, once Trump's long history of bigotry against minorities and women became well-known, it would be impossible for him to win. The initial response to the Khan controversy reinforced this view. However, recent polling data suggests that this notion is not altogether justified either. As with competence, there is a segment of voters who know about Trump's bigotry, do not agree with it, but are still willing to overlook it. This segment is not necessarily identical with the one willing to overlook his incompetence, but there is probably considerable overlap. In any case, it appears that counting on the good sense of American voters to protect the world from Trump may be too optimistic.
There is probably a core 30-35% of voters who support Trump because they agree with his authoritarian and illiberal ideas, but there seems to be a further X percent that is willing to support him even though they do not agree with his ideology or attitude. What is not clear is how large X is, whether it is growing, and especially whether it will become large enough to produce a Trump victory. Time will tell, but it is instructive to analyze the nature and origin of this phenomenon in greater depth.
A clarification is in order here. Though closely related, the issue raised above is not identical to the questions of why the Trump phenomenon emerged in the first place, or why Trump might win the election. My thoughts on the former were laid out in an earlier piece, and have not changed. The latter issue is usually seen in the context of rising economic inequality, reaction to globalization, the impact of immigration, endless war overseas, and several other very real issues that are stressing the American electorate. In May, Howard Fineman wrote a rather prescient article on why Trump might win. Others such as Sean Trende have argued that there is a hidden white vote that Trump might be able to activate. The focus of the current article is not on all this; it is on why Donald Trump continues to attract voters in spite of being seen as an unqualified bigot and running his campaign totally contrary to conventional wisdom.
One useful way to look at the Trump candidacy is through the lens of anti-fragility, a concept introduced by Nassim Taleb to characterize systems that can exploit disorder to their benefit. It has long been understood that noise and disorder are of great value to complex systems. A well-known example is the driving of biological evolution by random mutation and recombination of genes. Anti-fragility formalizes this idea, and shows how it applies in a broad range of complex systems. It can be argued that all successful complex systems must be anti-fragile in order to thrive rather than being undone by their own complexity. Any successful social movement must therefore meet this criterion, and arguably, the Trump movement does that in spades. So what is it that makes the Trump movement anti-fragile? And will that lead to a Trump victory? This article attempts to address mainly the first question.
The reasons for Trump's relative success can be divided into two categories: Chronic and acute. The former are secular, structural factors that have developed over time, and provide important context; the latter are specific to Trump, his opponent, and his campaign.
The major secular reasons for Trump's success are: 1) The anxieties created by the state of the world, including globalization, war, mass migration, and the mostly unacknowledged effects of climate change and demographics; 2) The post-reality ethos of the current Republican Party; and 3) A closely and deeply divided electorate.
A World of Turmoil
As acknowledged widely, perhaps the single biggest factor fueling the rise of Trump is a rising worldwide anxiety triggered by the pace of change in the world. A lot of this change is economic. With information rapidly replacing land, capital, and even labor, as the basis of power, whole populations find themselves distressed and marginalized. In the developed economies of the West – and especially in the United States – this has manifested itself as a shock to the working classes: Non-college educated workers with blue-collar jobs in the manufacturing, transportation, and service industries. As these jobs become more technical and information-intensive – and are increasingly subject to automation – this very large chunk of the populations has seen its options dwindle. This has been exacerbated by the aggressive destruction of unions by the ascendant Right, though it is doubtful if unions could have withstood such global forces in any case. One very visible consequence of this change has been exploding economic inequality, where a small, more affluent and educated segment of the population has monopolized economic benefits almost wholly for itself, leaving the vast majority worse off today than they were decades ago. Among other things, this has led to large-scale social breakdown, and ratcheted up the level of anxiety. This is also intertwined with rapid demographic changes – the aging of the population, an increase in the proportion of non-white, often non-Christian populations, the accompanying shifts in social norms, and the erosion of "traditional values". At the same time, the world is troubled by terrorism, wars in the Middle East, Central Asia and Africa, drug-related violence in Central America, demographic crises in Asia and Africa, and increasingly extreme climate conditions all over the world. One concrete effect of these calamities has been the triggering of mass migrations, bringing large numbers of foreign migrants into already stressed societies. Add to this the fact that the radical Jihadist movement has ridden the Internet into Western homes, creating understandable panic about domestic radicalization.
Different voting groups have reacted differently to these changes, but a significant segment of white voters in many Western democracies have been unnerved by the change, leading to the emergence of strong nativist movements in Europe, Australia, and now in the United States, where refrains such as "I want my country back", "America First", "Don't tread on me", and "Make America great again" have become the staples of the Tea Party and the Trump campaign. A hankering for a vanished social order where a white majority dominated economically and culturally is clearly implicit in these attitudes, though it would be a mistake to ascribe all of this mindset to race (see, e.g., Brexit, where Asian-origin voters were a significant factor in passage).
Given this situation, it was only a matter of time before someone like Trump would have emerged in American politics. The Tea Party provided an early glimpse of this, and it is unlikely that it will end with Trump if he loses. The context for more professional, more dangerous nativist demagogues to arise is probably with us for the foreseeable future.
The Republican Alternate Reality Project
Another important long-term factor underlying the rise of Trump is the evolution of the Republican Party in the last several decades. Following the defeat of Barry Goldwater in the 1964 Presidential election, some in the Republican Party embarked on an ambitious plan to create an alternative reality to sustain their conservative ideology in a world driven increasingly by the ideas of science. This project took off following the enactment of civil rights and welfare laws by Democrats and liberal Republicans in the mid-1960s, and truly became supercharged in the Reagan years with the advent of talk radio and the rise of the religious right. The culmination of this alternative reality was the election of George W. Bush in 2000, and the subsequent invasion of Iraq – arguably one of the most world-altering events of the last fifty years. The foundational principles of the Republican Alternate Reality Project, or RARP, are the detachment of belief from evidence, and the manufacturing of conspiracy theories to sustain an evidence-free view of reality. In this funhouse mirror universe, reducing taxes increases revenue and cuts deficits (supply-side – or voodoo – economics), taking away their welfare benefits makes poor people happier, giving more money to the rich alleviates poverty (trickle-down economics), election fraud is rampant in America, and climate change is an elaborate liberal hoax. Notable recent additions to this canon include the idea that President Obama is a Kenyan-born Muslim Saul Alinsky acolyte, and the primary function of Planned Parenthood is to harvest fetuses for evil scientists.
In the particular context of the present election, the effect of the RARP is to create an open space for Donald Trump to propagate lie after lie without any pushback from his committed followers. The fact-checking site Politifact did an analysis in late June showing that, of the Trump statements they had fact-checked during the campaign to that point, 60% were "false" or "pants-on-fire" (i.e., extremely false), while another 18% were "mostly false". Only an incredible 2.5% of Trump statements examined were "true" and only another 5% were "mostly true"! In contrast, Hillary Clinton had 13% "false" or "pants-on-fire" and 13% "true" or "mostly true". A more recent analysis by Politifact shows that this pattern has continued to this day. A watershed moment was reached on September 16, when Donald Trump declared that he no longer believed in the "birther" conspiracy about President Obama being born in Kenya – a conspiracy he had promoted assiduously for five years – and immediately replaced it with a new false conspiracy theory about Hillary Clinton originating the birther conspiracy! No ordinary politician could have pulled off such a feat of irrational jiu-jitsu, but most of Trump's followers were unperturbed. It turns out that they saw his new position as simply part of a larger conspiracy in which he remained a birther but was denying it for political reasons. This response illustrates how Trump can "do no wrong" as far as his followers are concerned: If he says what they want, they like him; if he repudiates it, they don't believe him and give him the benefit of the doubt.
The detachment from reality, devaluation of science and reason, mistrust of facts, and glorification of simple-mindedness implicit in RARP has created exactly the conspiratorial, paranoid context that a demagogue can exploit – and Trump is clearly taking advantage.
A 50-50 Country
By a quirk of fate or, more likely, as a consequence of the two-party political system, the United States finds itself divided politically into two almost equal halves. In part for reasons stemming from the two factors described above, these halves have become increasingly hostile to each other, coming to think of their opponents not merely as rivals but as enemies. This means that both major parties start with a voter base of almost 40% that would vote the party line regardless of the candidate. For a candidate like Hillary Clinton, who is in the mainstream of her party, this is useful but not crucial: She would have attracted such a following just based on her policies. For Trump, however, it is a huge bonus. His policies may appeal to only 30-35% of the electorate, but another 5-10% commit to him for the sake of party alone. Prominent among these are such Republican stalwarts as Speaker Paul Ryan, Senate Majority Leader Mitch McConnell, Senators John McCain and Marco Rubio, and media personalities such as Hugh Hewitt. Only a few conscientious Republicans, such as former presidential candidate Mitt Romney, Arizona Senator Jeff Flake, and Ohio Governor John Kasich, have been able to withstand the pull of party loyalty – and it is not certain whether their consciences will remain resolute until election day or follow the ignominious example of Senator Ted Cruz. These reluctant high-profile Trump loyalists give him not only their votes, but also their credibility. They normalize him for a segment of Republican and independent voters who may not accept Trump's ideas, but give him the benefit of doubt because of a Paul Ryan or a John McCain. These voters may, in turn, pull in others, as Trump is seen as more widely acceptable. The fact that this has not happened more broadly is probably because Trump is a remarkably undisciplined candidate, who repeatedly throws away his advantage because of a lack of self-control. However, a future demagogue may well be able to exploit this effect more successfully
Clearly, the three reasons discussed above do not cover the entire secular context in which the Trump phenomenon has arisen, but they are major factors that explain the context in which his movement is possible. It is, however, more interesting to look at factors that are specific to this particular election at this time.
The Trump Ratchet
Perhaps the most important specific reason why Trumpism is potentially anti-fragile is that it is a cult that has reached critical mass, creating a ratchet effect. Just as a ratchet driven by random back-and-forth forces nevertheless only moves in one direction because it filters out the forces not aligned with its preferred motion, so those who – for whatever reason of the moment – feel like moving to Trump are able to do so, but find it difficult to move back. This could be triggered in individuals by a terrorist incident, a fresh revelation about Clinton, even an internet meme. Such changes in opinion happen all the time, but in this case, they are likelier to be "sticky". Cults are notoriously easier to join than to leave. Someone joining a cult is not just making a potentially reversible rational choice; they are pledging allegiance, which can then only be broken with some loss of self-respect. There is a transformation of identity involved in joining a movement such as Trump's. For a normal, cautiously moderate, politically-correct person to join such a movement requires giving up their old persona, revising their values, flinging away the garment of propriety, so to speak, and joining a bacchanal of true-believers. There is seldom a path of return from such abandonment and such commitment. Another factor in this is the sense of belonging, the energy of being part of something larger than oneself, which is a heady draught. Who would want to go back to "boring" – perhaps even "crooked" – Hillary Clinton once one has become part of the muscular beast that is the Trump movement?
For Hillary Clinton and the Democrats to overcome this slow but inexorably unidirectional effect, they must find a way to break the ratchet – possibly with a transformational moment in a debate, or an external event. Advertising on TV is unlikely to do it. But if the ratchet is broken, it may well become completely loose, with a surge away from Trump.
Mainstreaming of White Identity Politics
Another important effect fueling Trump's political movement is a dramatic change in the social acceptability of a specifically white identity. Identity politics is nothing new in the American system – especially for minority groups that appeal to group solidarity to overcome their marginalization in society at large. Over the last several decades, identity politics have mattered much more in the Democratic Party, where solid voting blocs such as African-American and LGBTQ voters have been critical to the success of the party. Meanwhile, almost by default, the Republican Party's voting base has become increasingly white, but that has not been seen as an explicit identification – in part because the notion of "white identity" has been tied closely with toxic ideologies such as white supremacy. Election 2016 has changed that. One of Trump's greatest strategic successes has been to turn his campaign into a vehicle for expressing attitudes, anxieties and grievances that have been building up in certain segments of the white electorate for reasons discussed earlier in this piece, but which could not be expressed in polite company until now. For the first time in recent American politics, an explicitly identifiable and somewhat socially acceptable white group identity has been created at the national level, with Donald Trump as its face. One should expect that some significant number of voters will be drawn in by their solidarity with this group in spite of their rational inclinations. These voters are not racists or bigots, and may not even agree with Trump's policies, but now see voting for him as a matter of their cultural identity – not unlike some African-Americans voting Democratic. And, as they see their friends and family climb onto the Trump bandwagon, it will be difficult for many of them (though not all) to acknowledge that their loved ones have bought into a racist or bigoted mindset. Society and media face the same problem: As Trump attracts more voters, it becomes harder to call their attitudes bigoted without implying that a large fraction of the American electorate is – in Hillary Clinton's accurate, if ill-advised, phrase – "a basket of deplorables". Indeed, such a characterization further hardens the attitudes of those who have already transitioned to Trump, and may tip some more over to that side.
Some may claim that this argument applies only to a fraction of the white electorate, and the effect is too small to matter. Indeed, there is some possibility that Trump may get less of the white vote overall than Mitt Romney did. However, even marginal effects are important in a close election. And there are (at least) four concrete reasons for taking this one seriously. First, the effect is concentrated in a specific voting segment rather than spread all over, so it does not average out. Second, as Nate Cohn has shown through analysis of census and voter data, the number of white voters in the U.S. is consistently under-estimated. Third, white working class voters – who represent the largest group switching to Trump – are concentrated disproportionately in important battleground states such as Ohio, Wisconsin, Michigan, Nevada, and Iowa. And finally, in spite of widespread discounting of the hypothesis, there is likely to be a "shy Trump" vote – voters who support Trump but are too embarrassed to admit it to others, including to pollsters. This phenomenon was seen in the UK during the recent Brexit referendum, and in some states during the Republican primary. Indeed, there may also be a "heedless Trump" vote, representing voters who cast a protest vote for him in the belief that he was unlikely to win. This was clearly a factor in the surprising outcome of the Brexit vote.
Anyone But Hillary
An important factor stabilizing the Trump vote is that the alternative – Hillary Clinton – has been rendered utterly unacceptable to a large fraction of voters. This is partly because of increasingly virulent partisanship in a divided electorate, but this election is a special case in this regard because of who the Democratic candidate is.
As mentioned earlier, objective fact-checkers have shown that Hillary Clinton is exceptionally truthful in her political statements while Trump is spectacularly untruthful. Yet polls often suggest that Trump is seen as more honest and transparent than Clinton, and just as untrustworthy! This clearly makes it much easier for Trump to peddle negative ideas about Clinton without much skepticism from the voters. But why does this situation exist in the first place? The answer lies partly in latent sexism, but mainly in history and historical amnesia.
An important activity of the right-wing in the US for the last quarter century has been the systematic and inexorable devaluation of all things Clinton. Beginning with the bogus Whitewater "scandal" and running through all the years of Bill Clinton's presidency, what Hillary Clinton famously called a Vast Right-Wing Conspiracy (VRWC) ginned up one fake scandal after another – until Bill Clinton obliged with a real one! The purpose was clearly to make him a failed President, but his political talent and good fortune combined to thwart that. His wife, unfortunately, enjoys neither the political talent nor the good fortune. And she is a woman trying to make her way in a Man's world. As a result, she faces intense scrutiny for things that most politicians do and are never challenged on. Her handling of the attack in Benghazi in 2012 has become yet another fake scandal dogging her, as has her use of a private email server and her involvement in her husband's charitable foundation. Her Republican opponents have created an entire cottage industry of harassing her while paying no heed to equally – or more – egregious things in their own ranks. Unfortunately – though understandably – Hillary Clinton has responded to this decades-long persecution by becoming ever more insular, which then creates space for yet more suspicion. In particular, the Republican witch-hunt on Benghazi and the partly self-inflicted wound of the email server have been key factors in driving Clinton's negatives.
But systematic persecution by the Right and the email scandal are insufficient to explain Hillary Clinton's image problem. A significant share of the blame lies with the Left. For twenty consecutive years, Hillary Clinton has been the most admired woman in America, based on Gallup's polling. When she left her position as Secretary of State in January 2013, her personal approval rating stood at a spectacular 58%.  Even as late as November 2014, she was at 50%.  Based on the excellent interactive chart at Huffington Post's Pollster, the graphs for approval and disapproval crossed in April 2015, and since then have diverged rapidly to where now her approval stands at 42%, with 56% disapproving. What happened? Well, she started her primary campaign against progressive icon Bernie Sanders. The grueling year-long campaign that followed played a decisive role in tarnishing Hillary Clinton's image among liberals, and especially young voters. Senator Sanders famously – and graciously – refused to make her email server an issue in the campaign, but then focused single-mindedly on pushing the idea that Clinton was a stooge of the wealthy and the privileged. Though he never used Trump's currently favored term – "Crooked Hillary" – he often used words such as "crooked" and "dishonest" in association with her, thus laying the groundwork for Trump's calumny. His supporters were considerably less restrained. Today, as Sanders tries to help elect Clinton, many among his followers have not forgotten their champion's original characterization of her. Indeed, a significant fraction of Sanders voters are not supporting Clinton, but are either planning to vote third party or even supporting Trump as the "lesser evil"! The problem is especially acute among young "millennial" voters. While they are by far the most pro-Clinton age group, they are not supporting her at levels they did with Obama, with more than a third planning to vote for Gary Johnson or Jill Stein.
All these factors – right-wing propaganda, progressive suspicions, and Hillary Clinton's own (relatively minor) missteps – combine to make Trump's task of casting her as a crook much easier than it ought to be based on facts alone. In the hothouse of all the Clinton conspiracy theories, he is now trying to add new false ones about her health, her part in promoting "birtherism", and mysterious ties to Islamists. And, given Clinton's situation, he may succeed with many voters.
Media Exploitation
One final important factor for Trump's strength also deserves mention – and has, indeed, been much discussed of late: His implicit normalization by a media unprepared for Trump's unusual candidacy. Outside the swamps of ideological media such as talk radio, journalistic practice has appropriately regarded fairness and objectivity as virtues. One way these virtues are manifested in reporting is to treat rival candidates with an equal presumption of integrity, and trying to get "both sides" of every story. This works, however, only if the presumption is at least approximately true – or even when it is equally untrue on both sides. All politicians dissemble, exaggerate and spin, but there are unstated limits for such things. Beginning with the 2000 George W. Bush campaign, the Republicans made a systematic effort to breach these limits, using the power of the RARP and the VRWC to create a fictitious narrative to the benefit of Bush. A White House aide – likely Karl Rove – famously derided the "reality-based community" and said "We create our own reality". This effort continued throughout the Bush years, and became supercharged in the Obama years to create the Tea Party: Birtherism is only its most prominent triumph. However, Trump has taken it to a new level, completely upending media convention. The press is used to searching for lies buried in mundanely true assertions, and then highlighting them. All of its investigative techniques are geared to this goal. But in Trump's case, 70% plus of his assertions are demonstrably false, making truth the more elusive entity! For more than a year, the media has been reluctant to call him out on this, since doing so would make it look "biased" in favor of Clinton, who fibs far less. The results has been a narrative of false equivalence, where both candidates are seen as "equally dishonest" and Trump is given a pass on a large fraction of his lies. The story of the Trump Foundation and the Clinton Family Foundation (CFF) is an example. The latter has done excellent humanitarian work all over the world for years. And, like all institutions that rely on glamor and celebrity to raise funds, it has indulged in some harmless wink-and-nod exploitation of personal connections. In contrast, as the Washington Post's David Fahrenthold has shown through outstanding reporting, the Trump Foundation appears mainly to be a vehicle for bilking money from donors to Donald Trump's personal benefit. Yet, for weeks in August and early September, the media was full of negative reports on the CFF, and left the Trump Foundation story to languish. However, a sea-change seems to have occurred since Trump pulled a humiliating bait-and-switch on the press with his publicity stunt "renouncing" birtherism. A page was finally turned, and elite media made the fateful decision to begin calling out Trump's falsehoods for what they were: Lies. The effects of this decision remain to be seen, though polling suggests that, coincidentally, Trump has begun to lose ground since then. But he is currently advised by two master propagandists in Roger Ailes – recently fired from Fox News – and Steve Bannon, the editor of the Alt-Right propaganda organ, Breitbart, who has been termed "the most dangerous political operative in America". It would be a mistake to think that the use of mass dissembling as a weapon by the Trump campaign has ended.
Looking Ahead
So, one may ask: Given all these factors, is Trump fated to win? Some have said yes based on fundamental indicators. Polling data, in contrast, suggests that Trump's path remains difficult. But this is a sui generis election. Data may be valid – and it usually is – but the uncertainty in interpreting data is extremely high in this election year. We have been conditioned to believe that the denizens of Western democracies are rational agents in their economics and politics, and that their choices can be predicted – at least in the aggregate – by well-founded historical analysis based on the interests and measured preferences of specific demographic groups. As implied above, this is likely to be a fool's errand in Election 2016. In fact, neither homo economicus nor homo politicus are especially rational to begin with, and their choices are ruled far more by gut feeling, intuition, and belief than by cold, hard analysis. Traditional models rely on the averaging out of quirky choices, but complex systems can self-organize into states where – as illustrated by the ratchet metaphor – things do not average out. This article has argued that the Trump movement is such a phenomenon. Barring a major event, its strength is likely to persist and grow with every passing day. It appears that the Clinton campaign realizes this, and has focused their strategy on slowing Trump's growth through aggressively negative advertising rather than investing in improving her currently dismal image. In a complex, nonlinear, and fundamentally unpredictable system, this is a rather risky strategy, but it is understandable why they are doing it.
Poll after poll has shown that voters do not think Trump has the temperament or experience to be Commander-in-Chief, and large segments of the population see him as dangerous. And yet, Clinton cannot close the deal. By now, it is clear that a big factor in this is her perceived lack of trustworthiness, which persists in spite of all objective evidence. Whichever candidate can overcome their critical liability – dishonesty for Clinton or lack of temperament for Trump – is likely to surge ahead. Arguably, Trump has an easier task on this, since temperament can be communicated by style, whereas establishing honesty requires a longer process – especially when evidence has ceased to matter. Notably, Trump has not been able to accomplish his "easier" task, but the upcoming debates provide him a great opportunity. If he can use them to convince another 10 or 15 percent of voters that they can feel comfortable with him as President, he will be difficult to stop. A necessary – though not sufficient condition – for Clinton's success is to keep Trump from accomplishing this. Ultimately, the Clinton campaign's approach is to keep Trump's negatives high while relying on the Obama model –  micro-targeting of voters, great attention to early voting, charismatic surrogates, and a formidable ground game – to drive the votes. It remains to be seen whether such a data-driven, rational strategy can overcome the self-organized avalanche that is the Trump candidacy.
Ironically, Clinton's best hope may lie with the same factors that are currently fueling Trump's growth: A complex, nonlinear, fundamentally unpredictable voter dynamics that can lead not just to explosive growth but also to sudden, catastrophic failure. Complex systems thrive on anti-fragility, but no system is anti-fragile to all disruption. Anti-fragile systems succeed by tuning their mechanisms to the most "fertile" disorder available in their environment, essentially "purchasing" the ability to exploit the prevalent disorder at the price of greater fragility to rarer types of disruptions. However, if their environment changes in ways that increase the likelihood of these rare disruptions, the system can be exquisitely vulnerable. There are many exogenous sources of disruption in this campaign, including third party candidates, the daily possibility of terrorist incidents, police shootings, new revelations by hackers, candidate gaffes, and who knows what else that is ripening in the current media-culture hothouse. But if the Clinton campaign were more imaginative, they might look more explicitly to change the political context in ways that turn Trump's assets into liabilities. But imagination may be a bridge too far for a campaign built as a machine. So far, it is only Trump who has managed to do this to some degree by delegitimizing Clinton's experience as Secretary of State and the work of the Clinton Foundation.
This article is being published on the day of the first Presidential debate, and all its analysis may be superseded in a few hours by either candidate's performance. But the real point of this piece goes beyond the election itself. Win or lose, the grotesque candidacy of Donald Trump has changed America, bringing to a boil things that have been bubbling deep within American society, and exposing how detached from reality and incapable of critical thinking a large part of the American electorate has become. Ultimately, Trump too is just a symptom, a creation of blind forces much greater than himself. Even if he falls short in his quest for power, the forces that created him may be with us for a long time. A more competent Trump will then arise and accomplish what he could not. And if he wins this time, the first to suffer will be those who were his most ardent supporters.
Or it could be that this is the last gasp of the old world forces that propel Trump's cause, and that his defeat – or even his victory – may usher in a transformation of American society, finally moving us out of the stale legacy of the Baby Boomers, and into the fresh, magical reality of the Millennials. OMG!
Posted by Ali Minai at 12:55 AM | Permalink | Comments (0)
Monday, August 29, 2016
Personality or Ideology: Which matters most in a political leader?
by Emrys Westacott
In evaluating candidates for political office there are two main things to consider:
            a) their ideology–that is, their political views and general philosophy
            b) their personal qualities
With respect to ideology, the most important questions one should ask are these:
    ·      Are their beliefs true? (Do they hold correct beliefs on, say, climate change, or on whether a particular policy will increase or reduce poverty, crime, unemployment, pollution, or the likelihood of war?)
    ·      Do I share their values and ideals? (E.g. Are they willing to sacrifice economic growth for the sake of environmental protection (or vice versa)? Where do they stand on issues like gun control, abortion, euthanasia, capital punishment, foreign aid, gay rights, or economic inequality?)
    ·      Whose interests do they represent? (Do they generally favor policies that benefit the rich, the middle class, the poor, employers or workers, corporations or consumers, cities or rural communities?)
Regarding personal qualities, the ones that matter most are:
    ·      knowledge – Are they decently informed about the world and the issues they will be dealing with
    ·      intelligence – Are they able to understand and think through complex problems
    ·      wisdom – Are they reasonable? Do they exercise good judgment?
    ·      effectiveness – Do they have the practical skills to realize their goals?
    ·      integrity – Are they truthful? Is what they do consistent with what they say? Are they motivated by a concern for the public good rather than by self-interest?
These personal qualities obviously cannot be possessed absolutely but only to a greater or lesser degree. And they may often conflict. Most politicians who are effective sometimes have to compromise their integrity, and the first compromise is invariably made before they hold office. As the historian George Hopkins (emeritus professor at Western Illinois university) has observed, "all presidents lie for the simple reason that if they didn't, we wouldn't elect them." A candidate who was perfectly truthful would be ineffective because they would probably never get the chance to implement any of their ideas.
Effective governance may also require leaders to lie, mislead, hide the truth, and break promises. Franklin Roosevelt was by any account a highly effective president; but in the two years prior to Pearl Harbor, he consistently told the American public that he was fully committed to keeping the US out of any foreign wars while simultaneously, and secretly, preparing the country for war against Japan and Germany. The political leaders we are most inclined to venerate are those like Lincoln or Mandela who, in addition to possessing the other qualities listed above, somehow mange to be practically effective with minimum loss of integrity.
Many people on both sides of the political spectrum downplay the importance of the personal in politics. Marxists, for instance, typically focus on the ideological outlook of political parties and candidates. From this perspective, paying attention to the personal–whether someone is a good parent, kind to animals, or someone you'd like to have a beer with–is to be distracted by irrelevancies. Obsessing over personal narratives is seen as one of the ways the media trivialize politics and deflect attention away from the substantive issues at stake. What really matters is the objective question: whose interests does a politician represent and serve?
On the right also, ideology often takes precedence. Consider the pledge made by all the presidential candidates in the Republican primary earlier this year: "I ­­­­­­_________ affirm that if I do not win the 2016 Republican nomination for president of the United States, I will endorse the 2016 Republican presidential nominee regardless of who it is." (italics added) Back in March 2016, the eventual nominee could conceivably have been anyone. But better a white supremacist or a certifiable psychopath in the White House than someone who was not a Republican.
In normal circumstances, I, too, prioritize ideology over personal qualities when deciding whom to support. That's because most political candidates do cross a basic threshold when it comes to knowledge, wisdom, integrity, etc.. And once over this threshold, the differences are not usually great. For instance, in 2012, when Obama and Romney were competing for the US presidency, the important differences were ideological. Romney was a reasonably knowledgeable and intelligent person who had proved himself a capable administrator and was not glaringly corrupt. What separated him from Obama were their differences on matters like taxation, welfare, and the environment.
In the 2016 presidential election, however, things are not normal. To be sure, Hilary Clinton and Donald Trump differ in their general political outlook. E.g. Trump, in accordance with the Republican platform, wants to abolish the estate tax–a measure that would materially benefit everyone with estates worth more than $5.4 million ($10.9 million for couples). Democrats, including Clinton, oppose this idea. But this time ideology has to take a back seat.
The reason is simple and, to my mind, obvious. Trump doesn't cross the basic threshold of acceptability when it comes to at least three of the five personal desiderata listed above: viz. knowledge, wisdom, and integrity.
I actually don't worry much about Trump's political philosophy. There are two reasons for this. First, he doesn't really have one. On many issues–e.g. nuclear proliferation; the minimum wage; the national debt–he's taken wildly different positions on different occasions, some of these occasions only minutes apart!. He basically says whatever he thinks will secure him some short term goal, such as winning the Republican primary, or, more commonly, getting lots of people clapping, cheering, and chanting his name. Second, his most notorious proposals–e.g. banning Muslims from entering the country, or returning to the gold standard–simply aren't going to happen in any possible universe.
But I do worry about Trump's obvious personal deficiencies because the power of the presidency makes such a person dangerous. Imagine, just for argument's sake, that sometime, somewhere, people in some benighted American state elected an ignorant, egotistical, mendacious, congressman to represent them in the House. How much damage could that individual do single-handedly? The answer is: not much. The presidency is different. Put simply, I'd sooner have a right wing ideologue as president than someone with a serius personality disorder.
There is a reason why Trump is so lacking in the personal qualities one would hope for in a political leader. He has a fairly severe mental problem. The Diagnostic and Statistical Manual of Mental Disorders (DSM) sets out a list of criteria for judging if someone has narcissistic personality disorder. Here are a few:
    ·      having an exaggerated sense of self-importance
    ·      exaggerating your achievements and talents
    ·      believing that you are "special"
    ·      requiring constant admiration
    ·      being obsessed with fantasies of your success, fame, power, brilliance, sexual prowess, etc.
    ·      having a sense of entitlement
    ·      behaving in an arrogant manner
    ·      taking advantage of others to get what you want
    ·      lacking an empathetic understanding of how others feel
Psychiatrists are not supposed to diagnose people they haven't examined personally. But some have set that rule aside, either because they are so worried about the prospect of Trump gaining power, or because they think he's so clearly pathologically narcissistic that labeling him a narcissist is hardly a risky call. Indeed clinical psychologist George Simon, an authority on the manipulative personality, says that he uses videos of Trump to illustrate various symptoms of narcissism.
Some conservatives who find the Donald distasteful argue that Hilary Clinton's personal failings make her no better than Trump. But this is nonsense. On every count–knowledge, intelligence, wisdom, effectiveness, and integrity–Clinton is in a different league. Of course, when it comes to the last category, integrity, she is eminently criticizable for her opportunism, evasiveness, untruthfulness, and apparent cupidity. But against this one should also set her many years of public service and hard work on behalf of worthy causes. Relative to her peers, Clintons integrity score is disappointingly average. Trump's is off the chart–at the low end.
To their credit, a few Republicans, like Senators Lindsay Graham and Susan Collins, have publicly said that they will not support Trump. But the majority, even though one assumes they privately believe him unfit for office, either publicly endorse him or maintain a discrete silence. Their position is thoroughly reprehensible, a form of moral treason committed for selfish reasons. A person of Trump's stamp is, as a Washington Post editorial put it, "a threat to the Republic." One can only hope that not only will Trump be handily defeated in November but also that his enablers in the Republican party will eventually suffer the shame their pusillanimity deserves.
Posted by Emrys Westacott at 12:50 AM | Permalink | Comments (0)
Monday, August 08, 2016
Eight basic laws of physics, and one that isn't
by Paul Braterman
Michael Gove (remember him?), when England's Secretary of State for Education, told teachers
"What [students] need is a rooting in the basic scientific principles, Newton's Laws of thermodynamics and Boyle's law."
Never have I seen so many major errors expressed in Newton via Wikipedia in so few words. But the wise learn from everyone, [1] so let us see what we can learn here from Gove.
From the top: Newton's laws. Gove most probably meant Newton's Laws of Motion, but he may also have been thinking of Newton's Law (note singular) of Gravity. It was by combining all four of these that Newton explained the hitherto mysterious phenomena of lunar and planetary motion, and related these to the motion of falling bodies on Earth; an intellectual achievement not equalled until Einstein's General Theory of Relativity.
Above, L, Isaac Newton, 1689. Below, R, Michael Gove, 2013
In Newton's physics, the laws of motion are three in number:
1) If no force is acting on it, a body will carry on moving at the same speed in a straight line.
2) If a force is acting on it, the body will undergo acceleration, according to the equation
 Force = mass x acceleration
3) Action and reaction are equal and opposite
So what does all this mean? In particular, what do scientists mean by "acceleration"? Acceleration is rate of change of velocity. Velocity is not quite the same thing as speed; it is speed in a particular direction. So the First Law just says that if there's no force, there'll be no acceleration, no change in velocity, and the body will carry on moving in the same direction at the same speed. And, very importantly, if a body changes direction, that is a kind of acceleration, even if it keeps on going at the same speed. For example, if something is going round in circles, there must be a force (sometimes, confusingly, called centrifugal force) that keeps it accelerating inwards, and stops it from going straight off at a tangent.
Then what about the heavenly bodies, which travel in curves, pretty close to circles although Kepler's more accurate measurement had already shown by Newton's time that the curves are actually ellipses? The moon, for example. The moon goes round the Earth, without flying off at a tangent. So the Earth must be exerting a force on the moon.
Left, Solar system (schematic, not to scale), showing orbits of inner planets
And finally, the Third Law. If the Earth is tugging on the moon, then the moon is tugging equally hard on the Earth. We say that the moon goes round the Earth, but it is more accurate to say that Earth and moon both rotate around their common centre of gravity.
All of this describes the motion of single bodies. Thermodynamics, as we shall see, only comes into play when we have very large numbers of separate objects.
The other thing that Gove might have meant is Newton's Inverse Square Law of gravity, which tells us just how fast gravity decreases with distance. If, for instance, we could move the Earth to twice its present distance from the Sun, the Sun's gravitational pull on it would drop to a quarter of its present value.
Now here is the really beautiful bit. We can measure (Galileo already had measured) how fast falling bodies here on Earth accelerate under gravity. Knowing how far we are from the centre of the Earth, and how far away the moon is, we can work out from the Inverse Square Law how strong the Earth's gravity is at that distance, and then, from Newton's Second Law, how fast the moon ought to be accelerating towards the Earth. And when we do this calculation, we find that this exactly matches the amount of acceleration needed to hold the moon in its orbit going round the Earth once every lunar month. Any decent present-day physics student should be able to do this calculation in minutes. For Newton to do it for the first time involved some rather more impressive intellectual feats, such as clarifying the concepts of force, speed, velocity and acceleration, formulating the laws I've referred to, and inventing calculus.
But what about the laws of thermodynamics? These weren't discovered until the 19th century, the century of the steam engine. People usually talk about the three laws of thermodynamics, although there is actually another one called the Zeroth Law, because people only really noticed they had been assuming it long after they had formulated the others. (This very boring law says that if two things are in thermal equilibrium with a third thing, they must be in thermal equilibrium with each other. Otherwise, we could transform heat into work by making it go round in circles.)
The First Law of Thermodynamics is, simply, the conservation of energy. That's all kinds of energy added up together, including for example heat energy, light energy, electrical energy, and the "kinetic energy" that things have because they're moving. [2] One very important example of the conservation of energy is what happens inside a heat engine, be it an old-fashioned steam engine, an internal combustion engine, or the turbine of a nuclear power station. Here, heat is converted into other forms of energy, such as mechanical or electrical. This is all far beyond anything Newton could have imagined. Newton wrote in terms of force, rather than energy, and he had been dead for over a century before people realized that the different forms of energy include heat.
Above, L, the rotor of a turbine is a device for converting heat energy into electrical energy, in accord with the First Law. But the Second Law (see below) places a limit on how efficiently we can do this.  Below, R, dye becoming more, not less, spread out over time, in accord with the Second Law
There are many ways of expressing the Second Law, usually involving rather technical language, but the basic idea is always the same; things tend to get more spread out over time, and won't get less spread out unless you do some work to make them. (One common formulation is that things tend to get more disordered over time, but I don't like that one, because I'm not quite sure how you define the amount of disorder, whereas there are exact mathematical methods for describing how spread out things are.)
For example, let a drop of food dye fall into a glass full of water. Wait, and you will see the dye spread through the water. Keep on waiting, and you will never see it separating out again as a separate drop. You can force it to, if you can make a very fine filter that lets the water through while retaining the dye, but it always takes work to do this. To be precise, you would be working against osmotic pressure, something your kidneys are doing all the time as they concentrate your urine.[3]
This sounds a long way from steam engines, but it isn't. Usable energy (electrical or kinetic, say) is much less spread out than heat energy, and so the Second Law limits how efficiently heat can ever be converted into more useful forms.
The Second Law also involves a radical, and very surprising, departure from Newton's scheme of things. Newton's world is timeless. Things happen over time, but you would see the same kinds of things if you ran the video backwards. We can use Newton's physics to describe the motion of planets, but it could equally well describe these motions if they were all exactly reversed.
Now we have a paradox. Every single event taking place in the dye/water mixture can be described in terms of interactions between particles, and every such interaction can, as in Newton's physics, be equally well described going forwards or backwards. To use the technical term, each individual interaction is reversible. But the overall process is irreversible; you can't go back again. You cannot unscramble eggs. Why not?
In the end, it comes down to statistics. There are more ways of being spread out than there are of being restricted. There are more ways of moving dye molecules from high to low concentration regions than there are of moving them back again, simply because there are more dye molecules in the former than there are in the latter. There is an excellent video illustration of this effect, using sheep, by the Princeton-based educator Aatish Bhatia.
The Third Law is more complicated, and was not formulated until the early 20th century. It enables us to compare the spread-out-ness of heat energy in different chemical substances, and hence to predict which way chemical reactions tend to go. We can excuse Gove for not knowing about the Third Law, but the first two, as C. P. Snow pointed out a generation ago, should be part of the furniture of any educated mind.
R, a fluyt, typical ocean-going vesselof Newton's time. Below, L, the Great Western, first trans-Atlantic steamship, designed by Isidore Kingdom Brunel, on its maiden voyage
So if you don't immediately realize that Newton's laws and the laws of thermodynamics belong to different stages of technology, the age of sail as opposed to the age of steam, and to different levels of scientific understanding, the individual and macroscopic as opposed to the statistical and submicroscopic, then you don't know what you're talking about. Neither the science, nor its social and economic context.
That's bad enough. But the kind of ignorance involved in describing Boyle's Law as a "basic scientific principle" is even more damaging.
(Disclosure: I taught Boyle's Law for over 40 years, and it gets three index entries in my book, From Stars to Stalagmites.)
Bottom line: Boyle's Law is not basic. It is a secondary consequence of the Kinetic Theory of Gases, which is basic. The difference is enormous, and matters. Anyone who thinks that Boyle's Law is a principle doesn't know what a principle is. (So a leading Westminster politician doesn't know what a principle is? That figures.)
Mathematically, the Law is simply stated, which may be why Mr Gove thinks it is basic: volume is inversely proportional to pressure, which gives you a nice simple equation, as in the graph on the right:
P x V = a constant
that even a Cabinet Minister can understand. But on its own, it is of no educational value whatsoever. It only acquires value if you put it in its context, but this appeal to context implies a perspective on education beyond his comprehension.
Now to what is basic; the fundamental processes that make gases behave as Boyle discovered. His Law states that if you double the pressure on a sample of gas, you will halve the volume. He thought this was because the molecules of gas repel each other, so it takes more pressure to push them closer together, and Newton even put this idea on a mathematical footing, by suggesting an inverse square law for repulsion, rather like his Inverse Square Law for gravitational attraction. They were wrong.
The Law is now explained using the Kinetic Theory of Gases. This describes a gas as shown on the left; as a whole lot of molecules, of such small volume compared to their container that we can think of them as points, each wandering around doing their own thing, and, from time to time, bouncing off the walls. It is the impact of these bounces that gives rise to pressure. If you push the same number of molecules (at the same temperature) into half the volume, each area of wall will get twice as many bounces per second, and so will experience twice the pressure. Pressure x volume remains constant; hence Boyle's Law.
Actually, Boyle's Law isn't even true. Simple kinetic theory neglects the fact that gas molecules attract each other a little, making the pressure less than what the theory tells you it ought to be. And if we compress the gas into a very small volume, we can no longer ignore the volume taken up by the actual molecules themselves.
So what does teaching Boyle's Law achieve? Firstly, a bit of elementary algebra that gives clear answers, and that can be used to bully students if, as so often happens, they meet it in science before they have been adequately prepared in their maths classes. This, I suspect, is the aspect that Gove finds particularly appealing. Secondly, some rather nice experiments involving balancing weights on top of sealed-off syringes. Thirdly, insight into how to use a mathematical model and, at a more advanced level, how to allow for the fact that real gases do not exactly meet its assumptions. Fourthly, a good example of how the practice of science depends on the technology of the society that produces it. In this case, seventeenth century improvements in glassmaking made it possible to construct tubes of uniform cross-section, which are needed to compare volumes of gas accurately. Fifthly … but that's enough to be going on with. Further elaboration would, ironically, lead us on to introductory thermodynamics. Ironically, given the interview that started this discussion. The one thing it does not achieve is the inculcation of a fundamental principle.
There are mistakes like thinking that Shakespeare, not Marlowe, wrote Edward II. There are mistakes like thinking that Shakespeare wrote War and Peace. And finally, there are mistakes like thinking that Shakespeare wrote War and Peace, that this is basic to our understanding of literature, and that English teachers need to make sure that their pupils know this. Then Education Secretary Gove's remarks about science teaching fall into this last category. Such ignorance of basic science (and education) at the highest levels of government is laughable. But it is not funny.
1] Ben Zoma, Mishnah Chapters of the Fathers, 4a. "Chapters of the Fathers" may also be interpreted to mean "Fundamental Principles".
2] It is often said that Einstein's famous equation,
E = mc2
means that we can turn mass into energy. That puts it back to front. The equation is really telling us that energy itself has mass.
3] There are lots of situations (steam condensing to make water, living things growing, or indeed urine becoming more concentrated in the kidney) where a system becomes less spread out, but this change is always accompanied by something in the surrounds, usually heat energy, becoming more spread out to compensate.
Newton as painted by Godfrey Keller, via Wikipedia. Gove image via Daily Telegraph (Gove connoisseurs may find the link amusing. Solar system image from NASA. Steam turbine blade Siemens via Wikipedia. Dye diffusing in water from Royal Society of Chemistry. Fluyt imge from Pirate King website.  Great Western on maiden voyage, 1938, by unknown artist, via Wikipedia. Boyle's Law curve from Krishnavedala repllot of Boyle's own data, via Wikipedia. Kinetic theory image via Chinese University of Hong Kong

Posted by Paul Braterman at 12:45 AM | Permalink | Comments (0)
Monday, August 01, 2016
The Republican Party Platform is at least as objectionable as Trump
by Emrys Westacott
With the media choosing to pay so much attention to Donald Trump, relatively little attention has been paid to the 2016 Republican Party platform. This is in line with the tedious and reprehensible reduction of political discourse to horse race punditry. But it is a pity, since the prospect of this platform being enacted is every bit as worrying as the prospect of a narcissistic ignoramus like Trump becoming president. For those who don't have the stomach for reading all–or any–of its 54 pages, here are a few of the more disturbing highlights with brief commentary.
1. On prejudice and discrimination
The Platform boldly declares that Republicans "oppose discrimination based on race, sex, religion, creed, disability, or national origin and support statutes to end such discrimination." Question for 5th graders: What is conspicuous by its absence from this list? That's right: no mention of discrimination on grounds of sexual orientation. A fair question, then, to ask the authors of the manifesto is: Do you, or do you not, oppose discrimination against people because of their sexual orientation? If you do, why don't you say so? You mention many other kinds of discrimination; so why not this one? If, on the other hand, you don't oppose it, why is this?
A hint of an answer (to the last question, at least) can be found elsewhere. Sexual orientation is mentioned just once in the document, when the authors protest against the attempt by Obama and others "to impose a social and cultural revolution on the American people by wrongly redefining sex discrimination to include sexual orientation and other categories." This agenda, we are told, "has nothing to do with individual rights." It seems, then, that freedom from discrimination on grounds of sexual orientation is not a right that Republicans recognize. And I suppose that's why they don't oppose it.
While we're on the topic of prejudice and discrimination, here's another question for 5th graders. How does the above rejection of discrimination based on religion square with Donald Trump's proposed ban on Muslims entering the country (a proposal he has not disavowed)?
2. On same-sex marriage
The Platform vehemently opposes the Supreme Court ruling in Obergefell v Hodges which legalized same-sex marriage across the country. This opposition is stated with admirable clarity. The reasoning behind it, though, is decidedly odd. We are told at the outset that"traditional marriage and family, based on marriage between one man and one woman, is the foundation for a free society." This is not exactly a self-evident truth. For many, especially women, marriage down the ages has often been a cage in which they were imprisoned against their will and subjected to legalized oppression and brutality.
The claim about traditional marriage also implies that if marriage is defined differently one of the pillars supporting social freedom is removed, or at least damaged. So in all those countries where same-sex marriage has recently been legalized–e.g. Canada, France, South Africa, Spain, Norway, Argentina, Brazil, Denmark, Portugal, Sweden– we are supposed to believe that people's freedom has been diminished, or at least jeopardized. And why? Because all the people in these countries are now free to do something they were not free to do before. Go figure.
The platform looks forward to a Republican president appointing Supreme Court justices who will help overturn the "lawless" ruling in Obergefell when "five unelected lawyers robbed 320 million Americans of their legitimate constitutional authority to define marriage as the union of one man and one woman." It's truly hard to make sense of this. The "unelected lawyers" are, of course, supreme court justices who were appointed by the president in accordance with Article II of the US Constitution. But the problem isn't really the fact that they are unelected, or even that they are lawyers. After all, the authors are keen to see other unelected lawyers of their own persuasion step in and reverse Obergefell.
No, the problem is that we've all been robbed of something precious: viz. our "legitimate constitutional authority" to define marriage along traditional lines. Happily, although the platform doesn't mention this, our loss has been compensated by a newly granted "authority" to define marriage along non-traditional lines. And since, according to a 2016 Pew Research Center poll, 57% of Americans now support same-sex marriage while only 37% oppose it, this looks like a pretty good deal.
Really, though: what on earth is meant by that talk about people's "legitimate constitutional authority"? Notice, they don't say people have been robbed of their "right" to define marriage in a certain way. Why not? Because the law can't tell you how to define anything. For all the law cares, you can go around like Humpty Dumpty in Through the Looking Glass insisting that words mean whatever you say they mean. No, what "authority to define" means here is the right to have your definition be the one that is recognized by the law and which other people therefore have to live under; in short, it means the right to impose your definition on others. The peculiar thing about this particular kind of "authority to define," though, is that it only accompanies certain definitions, not others. Which ones? But you know the answer: definitions approved of by the GOP!
3. On abortion
The Republican platform is stringently anti-abortion. Arguing that the Fourteenth Amendment's guarantee of equal protection applies to the unborn, it mentions no circumstances–not rape, not incest, not even a threat to the life of the mother–in which abortion might be acceptable. Here, too, the supreme court is condemned, in this case for "striking down commonsense Texas laws providing for basic health and safety standards in abortion clinics." These "commonsense" laws stipulated, for instance, that clinics should have expensive hospital grade facilities of a sort not required for other, more dangerous procedures. The point of the Texas law was transparently to make it much harder for women in Texas to get an abortion. The supreme court noted that the law increased by 7,400% the number of women in Texas who lived more than 200 miles from an abortion clinic.
According to the authors, "Numerous studies have shown that abortion endangers the health and wellbeing of women." This is simply false, if by "studies" is meant "scientifically reputable studies." The legalization of abortion after Roe v Wade resulted in fewer backstreet abortions by unlicensed practitioners, fewer abortions after the first trimester, and fewer medical complications following the procedure.[1]
4. On gun control
The Republican response to mass shooting such as those at Orlando, San Bernadino, and Newtown is to allow more people to carry guns wherever they go, and to increase the killing capacity of guns that can be legally owned.
Regarding the last point, the platform is frighteningly unequivocal: "We oppose ill-conceived laws that would restrict magazine capacity or ban the sale of the most popular and common modern rifle." It isn't entirely clear what sort of weapon they are referring to here, but a best guess would be the AR 15 automatic rifle and its clones. The standard magazines for these rifles hold thirty rounds, although some can be fitted with magazines that hold up to 100 rounds. But it seems that even 100 rounds is not enough. The logic seems to be: only if we make it easier for people to buy and carry around semi-automatic rifles with unlimited magazine capacity are we likely to reduce the likelihood of some deranged individual shooting up a night club, an office, a school, or any other heavily populated location. Again, go figure.
5. On energy and the environment
Republican environmental policy rests on an a debatable premise: viz. that "year by year, the environment is improving": air and waterways are healthier; there is less pollution and ecological degradation. But let's grant that this true, as it perhaps is in at least many parts of the US.  Why and how has this progress been achieved?  The platform doesn't say. But one explanation is rejected out of hand: it can't have had anything to do with government regulations, particularly not the "regulatory juggernaut" known as the Environmental Protetcion Agency. Possibly the captains of polluting industries just started feeling lots of remorse.
Climate change is mentioned just once. It is not denied, but the tone is suspicious. Information regarding climate change must be based on hard data. The UN Intergovernmental Panel on Climate Change can't be trusted. The Kyoto Protocol and the Paris Agreement are rejected. On principle, if there were a climate change problem–and there probably isn't–the solution cannot lie in any kind of regulation: A Republican president would "forbid the RPA to regulate carbon dioxide." If there were a problem–and there probably isn't–the solution lies in "giving incentives for human ingenuity and the development of new technologies." OK, you might be thinking, there's a concession. How about a carbon tax? Many experts advocate this as one obvious way to encourage cleaner technologies. But no. "We oppose any carbon tax."
Coal, we are told, is not just abundant, reliable, and affordable; it is also clean. Presumably this claim is based on hard data, although not the hard data provided by the US Energy Information Administration, according to which coal emits almost twice as much carbon dioxide as natural gas.[2] But "coal is clean" is a good slogan, nicely alliterative. And fit to place alongside George Orwell's "ignorance is knowledge."
I do not mean to suggest that the issues highlighted here are the most central or important discussed in the Republican platform. Arguably, the philosophical heart of the document is its blanket opposition to redistributing wealth or limiting its power through taxation, regulation, and social programs. But the platform's position on the topics discussed indicates its doctrinaire character as well as the continuing willingness of the Republican leadership to pander to extremism and bigotry.
---
Posted by Emrys Westacott at 12:35 AM | Permalink | Comments (0)
Capitalism as Religion: On Borislav Pekic's Houses
by Ryan Ruby 
Over the past four centuries, the novel, that most most broad-minded of all media, has asked us time and time again to contemplate the humanity of those who by virtue of their profession, their views, their proclivities, or their character count as some of the most despicable examples of our species. There must be tens of thousands of pages devoted to representing the inner lives of torture-loving libertines, bored aristocratic seducers, grave-digging scientists, vengeful ship captains, ax-wielding ex-students, medieval religious fanatics, vainglorious ivory traders, social-climbing salonières, pedophiles with fancy prose styles, pedantic hot dog vendors, priapic misogynists, blood-thirsty scalpers, sadistic slavers, intellectual cannibals, and self-appointed masters of the universe, not to mention the scores of characters who, for one reason or another, have judged their souls to be so worthless that they were willing to sell them to the devil.
But before I read Borislav Pekic's Houses (translated by Bernard Johnson from the Serbo-Croatian in 1978 and re-released this month by NYRB Classics), I'd never come across a novel that had the chutzpah to draw its protagonist from the ranks of what is surely, as we're now reminded on a daily basis, the lowest of the low: the realtor.
The proud owner of Pekic's savage farce is Arsénie Negovan, scion of an old Belgrade family, Vice-President of its Chamber of Commerce, a Francophile and a recluse who surveys his properties with a pair of military binoculars from the living room of the house he shares with his wife, Katerina, and his maid, Mademoiselle Foucault. We meet him in 1968, shortly after his first foray into town since the Yugoslav coup of 1941, and shortly before his death, as he scribbles his last will and testament on the backs of old tax receipts and rental contracts, in what will be an unsuccessful attempt to dispose of his assets and to persuade his executors and readers that he is of sound mind and body.
Of course, precisely because he is the protagonist of a novel, Negovan does not buy and build to turn a profit. He is not motivated by anything so base as the desire for luxury, comfort, security, or status that property sometimes confers on its owners. Instead, like many of the monomaniacs in his literary ancestry and a few of his colleagues in the real world, Negovan bases his business practices on the hilariously uneven foundations of a specious, self-spun philosophy. Just as Raskolnikov has his essay on crime, Humbert Humbert his treatise on nymphets, and Donald Trump his art of the deal, Negovan elaborates a "philosophy of Possession" to justify his obsessive and often cruel behavior.
His is a thoroughly spiritual greed and if, in commerce, "you have to proceed by roundabout routes, defiles, and shortcuts, and avoid resort to measures a more idealistic man would gladly avoid" it is because "commerce is war…in defense of Possession." Especially if you are greedy on behalf of "the nation and people," the unfortunate consequences of such shortcuts and measures—as when one of his houses collapses, killing seven; or when he profits from the 1929 stock market crash; or when one of his evicted tenants jumps out of a window; or when he murders a leftist demonstrator with his own hands—can be accepted with a "clean conscience."
Negovan's less familiar ideas about Possession rest on a distinction between single-phase from dual-phase ownership. In the former, a man buys a building for purpose of living in it, working in it, selling it, or renting it out. This popular view of real estate is, to him, nothing short of "blasphemy." Lacking reciprocal relations with their property, single-phase owners are so "alienated from their own possessions" that they "no longer operate in real objects" but rather in "the vague, alien, shadowy affairs" of the stock market.
"True" or dual-phase ownership, by contrast, can be derived from the following "axioms":
1.     I do not own houses, we, I and my houses, own each other mutually.
2.     Other houses do not exist for me; they begin to exist for me when they become mine.
3.     I take only houses when they take me; I appropriate them only when I am appropriated; I possess them only when I am possessed by them.
4.     Between me and my possessions a relationship of reciprocal ownership operates; we are two sides of one being, the being of possession.
The difference between single- and dual-phase ownership is also likened to the difference between the ways God is represented in the Old and New Testaments: as "an impersonal concept of omnipotence" on the one hand, and as "the real, incarnate God which believers experience in their very soul" on the other. A textbook anti-Semite, Negovan is opposed to both "Jew-Bolshivism" (which denies private property altogether) and "Yiddischer Bankers" (who turn ownership into "mere power over empty, hollow, emaciated figures"). Having inherited rather than borrowed his start-up capital, his economic ideas have more in common with Ezra Pound's "Usura Canto" than with the biannual reports of the Chairman of the Federal Reserve. Despite his genuine patriotism and his acute horror of house-leveling bombs, during the war, he maintains warm relations with Yugoslavia's Nazi occupiers, not only because the Germans "kept excellent accounts and paid adequate compensation for what they destroyed," but because he shares their worldview.
In our neoliberal age, dominated by the financialization of capital and official multiculturalism, this worldview is likely to strike readers as thoroughly troglodytic, but in his fanatical devotion to possession, ownership, and property Negovan remains a representative man. Businessmen, however they amass their wealth, are hardly the efficient, rationally self-interested, profit-maximizing, value-neutral utilitarians they imagine themselves to be. More often they sacrifice their mental and physical wellbeing, damage their prospects for friendship and personal happiness, and put the safety of their environment, their communities, their families, themselves, and even their fortunes at risk in their zealous submission to the dictates of accumulation. They respond, often violently, not only to competition from their fellow businessmen, but to any heretic who questions the sacredness of the profit motive. Not only as individuals, but as a collective, as a class. As Walter Benjamin observes in his essay "Capitalism as Religion," capitalism is "a pure religious cult, perhaps the most extreme that ever was" which "serves to satisfy the same worries, anguish, and disquiet formerly answered by so-called religion."     
Negovan would not, however, recognize this as a criticism. He happily admits what the businessman of capitalist mythology would rather repress and, given the metaphors he uses to describe it, he'd probably have no qualms classifying dual-phase ownership as a theological concept. If anything, the equation between capitalism and religion would strike him as insufficient, because, as we have seen, there are many varieties of both capitalist and religious belief. You would not be wrong to detect in his four axioms similarities to the ecstatic mysticism of medieval Christianity, wherein the "unity of two otherwise opposite beings, in which, as in ideal love, it would no longer be possible to distinguish possessor and possessed" is the goal of the homeowner as well as the true believer. The outside world may regard him as the corrupt and somewhat crazy Vice-President of the local Chamber of Commerce, but in his eyes he is the St. Teresa of Real Estate. His worship of property is not just liturgical, it's libidinal.
Under capitalism, women are treated like property. Negovan treats property like women. His wife is right to suspect that his business is only a "civic alibi"—and an entirely insubstantial one at that—for his erotic passion for houses. Not only does Negovan give each of his houses a woman's name, he describes their architectural features as if they were parts of the female body (the houses, in fact, are much more vividly rendered than any of the human characters in the story), and uses the tropes of first love, adulterous affair, and marriage plot to narrate his relationships to them. When "Agatha" falls down, he feels greater sorrow for her loss than for those who died in the accident. Later, as he frantically scrambles through a mob to reach the auction where "Niké," the house with whom he has been carrying on an adulterous affair, is being sold off by his cousin, he is horrified by the thought that other buyers are fixing "their eyes on [his mistress'] innards like the most tentacles of an octopus." His failure to acquire "Niké" (in light of the description, the French homophone is more apt than the Greek goddess) that day turns him into an invalid; and it is to save "Simonida," "with her fine, dark countenance, her milky complexion beneath deep blue eyelids, and her full-blooded lips pierced by a bronze chain, African style" from destruction that inspires him venture outside again after twenty-seven years.
Objectophilia, or object sexuality, may be a real phenomenon, but to categorize Negovan's obsession in these terms would only turn Pekic's satire inside out. What would it look like if capitalism were actually practiced as a religion? What would it look like if the "lust for acquisition" were to be taken literally? Insofar as Negovan is the answer to both of these questions, he is not so much an aberration as an essence. Scratch the surface of any realtor, Pekic is saying, and you'll find a Negovan.
Pekic's book is as often as gaudily and shoddily constructed as one Negovan's houses: the front door of exposition faces the backyard rather than the street, the joints and girders of his transitions between narrated past and narrated present are not flush, and the heterogeneous forms of discourse he employs fail to follow their satirical function. And, like "Agatha," Houses ultimately collapses under its own weight. But in Negovan, Pekic has added a memorable face to the distinguished gallery of literature's rogues, a face in which we will not have to strain our eyes to see resemblances to those currently hanging in the gallery of life.
Posted by Ryan Ruby at 12:30 AM | Permalink | Comments (0)
Monday, July 18, 2016
Faster, Pokémon! Kill! Kill!
"The scent, the scent alone is enough for our beasts."
 ~ Marinetti 
There's that old saying that goes "When the going gets weird, the weird turn pro". Certainly, weird times such as these demand weird explanations. Old explanatory frameworks that have been dying long, slow deaths continue to have nails pounded into their coffins. Consider how the post-Cold War triumph of neoliberalism, as promoted by Francis Fukuyama's The End Of History, has had the crap beaten out of it first by 9/11, then by the global financial meltdown, and now by Brexit (the best tweet I saw concerning Brexit was all of three words: "Francis Fukuyama lol"). 
And no one, least of all Fukuyama, could have predicted the circus slated to begin in Cleveland, with the most unlikely candidate in recent political history about to receive the nomination of the Republican Party for President. Actually, I should amend that: perhaps Upton Sinclair did, 80 years ago. But Sinclair had the dubious benefit of witnessing firsthand the rise of fascism; few people are alive today who remember how wide the Overton Window actually used to be. We need to get much, much weirder.
But it's not just that things are getting weirder. Even more germane is that things are getting weirder, faster. This is nowhere more evident than in the ways in which technologies are insinuating themselves into the social fabric. As I've argued before, each technological development creates the substrate upon which a further, faster and even more unpredictable set of technologies and their circumstances manifests. Perhaps I'm biased, since I've been observing these phenomena for a while, but consider a few recent developments.
Exhibit A: Racially inflected police brutality is an old story. But awareness of it has skyrocketed in the past few years with the prevalence of video cameras. However, this prevalence was only made possible when video recording was bundled into the larger rubric of the smart phone. If video cameras as objects were sufficient unto themselves, we would have seen a very different trajectory following the 1991 Holliday videotape of the Rodney King beating. But it took nearly a full generation for the creation of not only the means of cheap and easy recording, but also its equally cheap and easy distribution. And until recently, even this latter infrastructure was fairly staid: YouTube and perhaps a few other platforms. 
More recently we've seen the rise of live streaming of video. First popularized by LiveStream and Ustream (both founded in 2007), these services were still missing what turned out to be a key component: integration into social media. This was remedied in 2015, when Periscope was bought by Twitter before the service had even launched. Not one to let a competitive threat go unadressed, Facebook developed Facebook Live, its own native videostreaming service. It was in fact Facebook Live that was used by Diamond Reynolds ten days ago to document the remainder of Philando Castile's life as he lay in the back of a police cruiser, bleeding to death. And thanks to the tight integration with social media, we can go back to Reynolds' page, not just to relive the footage, but also to bear witness to the comments as they started rolling in: "Don't stop recording" and "We are watching you cop. What's your name?".
It hasn't escaped notice that Reynolds had remarkable presence of mind to livestream this "event", as opposed to merely videotape it, which itself would have been noteworthy (and one can only imagine that this preparedness was inculcated by the constant threat of police harassment, which is itself such a thoroughly damning thought). But consider the risks of simple videotaping: the possibility that the police would find a reason to confiscate the footage, or the phone's memory card, or the phone itself, which might then meet with an "unfortunate accident", therefore eliminating a pesky piece of evidence that would run contrary to police testimony. This is why the ACLU has been rolling out its Mobile Justice app - once installed on a smart phone, it is essentially a one-touch recording device that sends video directly to ACLU servers. It's not the only app for this, either, which is a good thing, since this kind of recording must be able to withstand multiple points of failure: just a few hours after it was streamed on Facebook, the Castile video was temporarily removed, due to a "technical glitch", whatever that might mean. No doubt a helpful algorithm was trying to shield Facbook's users from something awfully violent.
However, things get weirder.
Exhibit B: As a direct result of the above, massive nation-wide demonstrations were mobilized against police brutality. And as we know, the demonstrations in Dallas ended with five police being shot by a sniper. Compounding this unprecedented escalation was how the shooter, once cornered, was brought to heel. A robot, usually used for bomb disposal, was guided via remote control to the part of the parking garage where the suspect was cornered. Jury-rigged with a pound of C4 plastic explosive, it was detonated, decisively ending the standoff. 
It was the first known instance that a robot was used by police to kill a suspect. And yet it conforms with the larger trend of the militarization of police, itself a consequence of the demobilization of vast amounts of matériel freshly returned from our most recent Middle Eastern adventures and in need of a good home. But what has mystified me about this incident is the fact that the police went straight to the use of lethal force. In the ensuing coverage, no one has thought to raise the possibility of a non-lethal option, for example strapping a tear gas canister to the robot. Peter Singer, who has written extensively about the use of drones and similar machines within a military context, notedthat "the closest parallel I am aware of was a case in 2011, when police in Tennessee strapped tear gas grenades to a robot that then accidentally started a fire in a mobile home. This doesn't seem a great parallel, as it does not reflect a decision deliberately to use the robot to kill." Indeed. 
Unsurprisingly, the things that we thought we should most fear turn out to still be mirages that may or may not manifest themselves in the future. That is, the prospect of the evocatively named LAWS (Lethal Autonomous Weapons Systems) is still hazy and indistinct. But it's much easier to focus one's anxiety on a hypothetical machine gun-wielding robot that independently identifies and then executes its prey. There is something sufficiently self-contained about such an object. It's by virtue of its succinctness that thinking about it seems even possible, whereas the systems that are currently in place are more vague and distributed. As reprehensible as the overuse of drone strikes may be, there is still the lukewarm comfort that there is a human being - or a chain of command that consists of human beings - who ultimately identifies the target and pulls the trigger. Except that a closer look at target selection demonstrates that we are even less in control of that than we thought. So the future reaches into the present, playfully pawing at us in the form of a jury-rigged robot arm and 'machine-suggested' militant targets.
(This is not the first time that we have committed such a cognitive fallacy. We spend far too much time worrying about the sudden appearance of a malevolent or inscrutable super-intelligent AI that we forego the much greater - and already present - concerns of whether artificial intelligence and algorithmic judgment are being used to gather and act on information that is beyond our power to even notice, let alone seek redress).
The precedent that is set by the actions of the Dallas police is troubling for exactly this reason: it is a precedent. When technology (and its ad hoc deployment) moves as quickly as this, there is no hope for policy, let alone legislation, to keep up. For heaven's sake, we still can't properly legislate copyright law in the digital age, and this has been a fairly clearly delimited issue for the last 20 years. If the courts extend the well-established principle that a police officer may use lethal force if he or she feels threatened to include the idea that a kamikaze version of WALL*E can be used to alleviate such a threat, then we can expect to see a normalization of the use of such force vectors. In turn, manufacturers will all too gladly step up so that the police don't have to go through the ordeal of duct-taping a packet of C4 to a retractable arm. And in short order an industry springs up, with interests and lobbysits to represent those interests: good luck legislating anything in the face of that. I just wonder if a camera livestreaming the proceedings will be part of the basic package, or if that will cost extra.
So we have a situation here where the convergence of video streaming and social media platforms led to protests that in turn led to the targeting of police officers by a shooter who was killed by a robot carrying an improvised explosive device. Can things get any weirder? Let's try.
Exhibit C: With all the weirdness going around, it was almost a relief that the week's news ended on something that people of my generation can understand: a good old-fashioned coup d'état. Except that the attempt in Turkey fell into chaos within a matter of hours; it seems that in the current news cycle not even a mutiny by the military has that much time to prove itself. Furthermore, one would certainly expect the Turkish army, which has been staging coups with some regularity since 1960, to have acquired solid experience in the matter.
All flippancy aside, though, there is still much that is unknown about why the military made its move when it did. One generally waits for the Prime Minister to be out of the country, whereas Erdogan was vacationing in Marmaris, a Turkish coastal town. Be that as it may, the coup began with the requisite deference for tradition: the declaration of martial law, the imposition of curfew and the rapid appearance of tanks on the streets, military jets buzzing Ankara and Istanbul, and all that. In addition, one of the immediate targets of any coup is the TV station, and indeed the plotters fulfilled their mission of getting the national TV to sign off. 
But things also began to go very wrong, very quickly. Here is something we do know: very soon after it became clear that a coup was underway, Erdogan phoned into CNN's Turkey bureau, still on-air, and conducted an interview via FaceTime, on the news anchor's iPhone. You can see a bit of the astonishing video here, complete with the moment when the anchor, who is interviewing him by holding up the phone to the camera, has to decline an incoming call from someone else (a treasonous army general, perhaps? Wouldn't that have been the most fantastic use of three-way calling?). Now, Erdogan is savvy enough when it comes to technology - in fact I think it's a reasonable to state that populist tendencies positively correlate with mastery of social media such as Twitter, as well as an equivalent distaste for anyone using the same platform to proffer a different message. So he used his time to appeal to his supporters, that they take to the streets and "protect our democracy".
To its credit, the army planned well enough in advance to block Facebook, Twitter and YouTube, which was likely not difficult, since Turkey has always been keen on regulating its citizens' access to the Internet. However, smaller platforms such as Instagram and Vimeo were still functioning at the time of the coup. More crucially, it seems like Facebook Live and Periscope - the same applications involved in documenting police brutality I cited above - were also functioning. So the plotters found themselves in a position where protestors against the coup hit the streets of Ankara and Istanbul, "swarming tanks and soldiers…and even reportedly performing citizen's arrests. Many of the protests were streamed on Periscope and Facebook Live." To watch a bunch of guys in street clothes swarm a tank like carpenter ants, stripping the soldiers of their weapons and throwing them bodily out of their vehicles, all in defense of an authoritarian regime, has to be one of the more surreal things I have seen recently.
This attitude towards technology as an organizing force is quite an ironic reversal, considering that, during a 2014 meeting with the Committee to Protect Journalists, Erdogan actually said, "I am increasingly against the Internet every day". And it is still premature to maintain that the organizing power of social media played a decisive role, as we are still considering its effects on the Arab Spring of 2011. But one thing that is certain is that the AKP emerges from the coup stronger than ever. As it rounds up its enemies and rivals - at last count already more than 6,000 have been detained - it's reasonable to assume that press and internet freedoms will re-join those ranks, having served their purpose in the "protection of our democracy."
There are no easy patterns to be drawn from the above three cases. If anything, we may have to fall back on the cliché that people will take whatever tools they have at their disposal and bend them to the circumstances. I don't find this satisfying as an explanation, but in a world where total surveillance is being used to hunt terrorists who nevertheless cause tremendous damage by simply driving a truck into a crowd, I'm not sure if any theory can make sense for long enough before the next event comes along and proceeds to make a hash of everything. But this is the nature of an ever-accelerating weirdness. And apologies to anyone who thought this post would be about Pokémon Go. There's only so much weirdness anyone can take.
Posted by Misha Lepetic at 12:50 AM | Permalink | Comments (0)
Parenting Muslim Children in an Age of Terrorism
by Jalees Rehman
"These terrorists aren't true Muslims" is a phrase that I have often heard being used by American Muslims when talking about terrorist attacks committed in the name of Islam. Recently, I encountered another version of this comment. Parents at a suburban Islamic Sunday School were encouraged to use this same approach when talking to their children about the recent spate of terrorist attacks. Arguments for denying the Muslim identity of the perpetrators include the moral incompatibility of the atrocities committed by the terrorists with Islamic law, which does not sanction the extrajudicial killing of civilians or suicide, which is frequent element of the attacks. This is an understandable reaction. The views of the perpetrators and their actions seem so abhorrent that it is impossible to reconcile their perception of Islam with those of the vast majority of American Muslims. However, even though one may sympathize with the desire to distance oneself from the terrorists, declaring terrorists to be non-Muslims or not "true" Muslims is the wrong answer.
The first problem with the arbitrary post-hoc excommunication of terrorists is that it is not really grounded in Islamic law. The process of takfir (excommunication Islam) requires very strong evidence and is difficult to uphold in most Islamic legal traditions if the person in question continues to see himself or herself as a Muslim. Someone may commit a grave sin or terrible crime, but these actions alone do not propel the person outside of the faith.
In fact, many of the terrorists or the organizations that endorse and support them portray themselves as true followers of Islam. Daesh (the so-called "Islamic State") claimed responsibility for the recent terrorist attacks in Brussels (March 2016), Dhaka (July 2016), Baghdad (July 2016) and Nice (July 2016). Members of the Nigerian Islamist group Boko Haram detonated bombs in a mosque in Maiduguri (January 2016), killing 22 worshipers and themselves. American-born Omar Mateen who murdered and injured over 100 people in a gay nightclub in Orlando (June 2016)swore allegiance to the leader of Daesh just minutes before his murderous shooting rampage. A group affiliated with the Pakistani Taliban targeted the Christian community celebrating Easter Sunday in a Lahore park (March 2016) with a suicide bombing. Even though the precise nature of the involvement of Daesh in each individual attack is not always clear, the attackers and their handlers routinely invoke Islamic justifications for their actions. One may disagree with their logic and interpretations of Islam but this is not sufficient to warrant their excommunication. In fact, extremist groups are the ones which play fast and loose with takfir when it comes to Muslims with differing views on religion and it is important for the majority to resist the impulse of following their example. The second problem with declaring terrorists who view themselves as faithful followers of Islam to be non-Muslims is that it serves as a form of dangerous absolution.  If atrocities are committed in the name of Islam, then Muslims need to carefully scrutinize what elements of their faith or the manner by which the faith is taught could have inspired such violence. Such introspection can serve as a starting point for change in approaching and teaching religion within Muslim communities to prevent the spread of Islamist ideologies that promote hatred and endorse violence. On the other hand, if the acts were committed by people who weren't true Muslims, then the community absolves itself of the responsibility to engage in introspection.  They had a completely erroneous view of Islam, which is why we do not need to change.
The importance of avoiding false absolution is especially important when it comes to parenting Muslim children. Engaging the youth in introspective analysis of what aspects of religion (or any ideology) can promote supremacist and violent views may allow them to become active partners in thwarting the rise of extremism. As a parent, I discuss terrorism with our children, covering the broader sociopolitical context as well as the aspects within the Islamic tradition and history that are often used to justify atrocities. I am guided in part by my experience of Vergangenheitsbewältigung in Germany. This German composite word combines Vergangenheit (the past) and Bewältigung (the process of struggling and overcoming) and refers to actively discussing the Nazi past in Germany. It would have been very easy to shrug off the Nazi ideology as not being truly German because it violated many ideals of German culture and absolve Germans of their historic burden but German society instead chose to confront its history. Schoolchildren visit concentration camps, talk to their parents about their grandparents' or great-grandparents' involvement in the Third Reich and are thus sensitized to the re-emergence of supremacist ideologies or fascism.
When I talk to my children about contemporary Islamist terrorist attacks, I try to engage in Gegenwartsbewältigung (Gegenwart = the present). These discussions do not only revolve around terrorism and violence but also involve broader contemporary issues in ethics, religion, decision-making and responsibility. As a family, we routinely sit together and listen to the inspiring Philosophy Bites podcasts by David Edmonds and Nigel Warburton which allows us to then segue into the discussions about philosophy and religion.
Terrorist acts perpetuated by co-religionists require Muslim parents to engage in difficult conversations with their children. Hiding behind false absolution is a disservice to their children and to their community. My hope is that Gegenwartsbewältigung will foster open-mindedness and introspective critical thinking which is antithetical to the rise and spread of hatred and violence.
Posted by Jalees Rehman at 12:10 AM | Permalink | Comments (0)
Monday, June 27, 2016
'We Sinful Women' Will Not Be Silenced
by Humera Afridi
I want to hear her: bold; questioning; insistent, refusing to compromise her ideals. I want to understand; to see, her: this woman of deep faith, with a distinctive laugh, who "had no equal among either the women or the men of her century." Possessed of a brilliant mind and exceptional memory, she was controversial—beloved, reviled, envied, not averse to taking risks in the service of truth and justice. Falsely accused of adultery, she was publicly defended by her husband, Seal of the Prophets and a political leader, who took to the minbar and challenged the men bent on sullying her name and that of his household. At 42, she led an army against the fourth Caliph—the infamous Battle of the Camel in the mid-seventh century—in which she suffered devastating losses. Mother of the Believers, yet herself childless. Youngest wife of Prophet Muhammad. Transmitter of two thirds of his sayings, the Hadith or traditions, that are treasured keys to a deeper understanding of the Quran and the commentaries written on its divinely revealed verses.

But: where is Aisha today?

When we speak of Muslim women, or the status of women in Islam, harking back always to that distant past—seventh century Arabia—which through a prismatic lens continues to determine our present, why are the Mothers of the Believers silent, invisible, absent? Asked whom he loved the most, Prophet Muhammad, magnificent warrior against misogyny in egregiously patriarchal Arabia, unhesitatingly declared, "Aisha!" Aisha in whose lap he breathed his last breath before he passed into the Realm of Beauty.

All this to say, Aisha was far from flat. She was refreshingly complex, multi-dimensional, a "round character"—to borrow a literary term from E. M. Forster—filled with the breath of God. And she wasn't the only one. Well before her, there was Khadijah, the Prophet's first wife—with whom he had monogamous relationship for twenty-five years until her death—savvy business woman, older than him by over a decade, a former widow, who on discerning his gentle and upright character, qualities she deemed attractive in a man, proposed marriage to him when he was a lad of 25 and in her employ.
There was
Umm Salama
, a wife with whom he enjoyed a vibrant intellectual relationship, and who offered him strategic advice when he was faced with a challenge during a battle to which she'd accompanied him. Around Umm Salama the women of the newly Muslim community in the
Hejaz
gathered to candidly question, and even protest, the gendered revelations of the sacred Book that addressed men and, with the exception of some references to the wives of the Prophet, excluded women. But what about us? Why are we not included? they demanded. Where's our place in this new religion? Is there then nothing about us that merits mention?
I envision Umm Salama playing a role similar to that of a present-day community organizer and advocate. Captivatingly intelligent as she was beautiful, she broached the issue with the Holy Prophet.
"Beloved of
Allah
, tell me," she asked, "Why are men mentioned in the Quran and why are we not?"
I imagine her husband, founder of the newly forming religion, receiving her question quietly with unwavering gaze; his light-filled aura, the atmosphere of gentle sobriety that always surrounded him, filling the space between them in her modest quarter. Perhaps, his eyes fluttered closed and he took a breath, full and deep and murmurous as the ocean's floor, then sent up a prayer for guidance. It would be some days before Umm Salama received an answer. But one afternoon, as she was combing her hair, she overheard the Prophet's voice coming from the minbar, reciting in the mosque the latest verse that had been revealed to him.
"O people! Allah has said in his book: 'Men who surrender unto Allah, and women who surrender, and men who believe and women who believe, and men who obey and women who obey, and men who speak the truth and women who speak the truth and men who persevere (in righteousness) and women who persevere, and men who are humble and women who are humble, and men who give alms and women who give alms, and men who fast and women who fast, and men who guard their modesty and women who guard (their modesty) and men who remember Allah and women who remember—Allah hath prepared for them forgiveness and a vast reward.'" (Surah 33, verse 35; italics mine)
With absolute clarity, and repetitive force, a verse addressing Umm Salama's question had been revealed, removing any doubt of the place and status of women in a community of believers. Women, indeed, had a stake in the topography of the sacred text. There is no refuting that. What strikes me as marvelously refreshing is that the newly converted women of the Hejaz were far from diffident—they protested, asked questions, and expected an answer. And they were heard.
In fact, women's voices and concerns were not merely heard by the Prophet, but, moreover, were sincerely acknowledged and addressed. Complementing Umm Salama's revolutionary verse, a verse on Women—Surah
An-Nisa
— was revealed, laying out laws on inheritance, rendering women inheritors like their brothers, protecting them from enslavement, and overturning their pre-
Islamic
status as chattel. Surah An-Nisa created a furor among the male members of the Prophet's community who could not comprehend how this new religion which promised conquests was simultaneously infringing on their material privileges.
***
Fast forward 1400 years. The pulse of celebration has all but faded. We have regressed to the Age of Jahiliyya, the pre-Islamic Era of Ignorance, a time of barbarism, with the murky passions of tribalism, and modern-day capitalism, blinding our sense of justice and truth and ethics, where misogyny is rampant, and the dense, dark aspects of what it means to be human prevail. The new-found gains of the pioneering women of Islam, the spirit of progress and equality introduced through the intercession of the visionary Prophet and political leader Muhammad, were short-lived. Certainly, the spirit of egalitarianism is hard to discern today in the so-called 'Islamic republics' of the modern world, which function most efficiently as travesties of their self-described identities.
As a woman born into the Islamic tradition, I feel an urgency, am filled with a fury to get it right. If it means plunging into a revisionist journey, going back to the beginning, I say, Let's begin, What's the delay?
In The
Veil and the Male Elite
, Moroccon sociologist Fatima Mernissi writes:
"Delving into memory, slipping into the past, is an activity that these days is closely supervised, especially for Muslim women. A passport for such a journey is not always a right. The act of recollecting, like acts of black magic, really only has an effect on the present. And this works through a strict manipulation of its opposite—the time of the dead, of those who are absent, the silent time that could tell us everything. The sleeping past can animate the present. That is the virtue of memory. Magicians know it, and the imams know it too.
"To ride alone back into memory with no guardian or guide; to take the paths that are not forbidden, but simply pleasant, agreeable, not heavily traveled, still unexplored (perhaps because power doesn't take that route); to go poking around in the vast areas of the Muslim heritage that is mine—is this a sin for me?" Mernissi asks. (page 10)
To me, what counts as "sin" – a word wrought with Biblical overtones, but so fitting—is not the earnest exploration and reclamation of the hopeful past, but the litany of news headlines screaming out of the raw wound of Pakistan's immediate present:
Pakistani Woman Burned Alive by Mother for Eloping Outside Ethnic Group (Worland, Justin; Time, June 9, 2016)
Pakistani Woman Burned to Death for Refusing Marriage Proposal (Durando, Jessica; USA Today, June 1, 2016)
Pakistani Husbands Can 'Lightly Beat' Their Wives, Islamic Council Says (Craig, Tim; The Washington Post, May 27, 2016)
'Rampant' Violence Against Women in Pakistan Revealed as Groups Fight 'Un-Islamic' Law Against Domestic Abuse (Dearden, Lizzie; Independent, April 5, 2016)
One harrowing story after another, weeks apart from each other, all in the last three months. The Human Rights Commission of Pakistan reports that approximately 900 women were raped and sexually assaulted in Pakistan in 2015. 279 cases of domestic violence were reported while hundreds more remain invisible. There were 143 recorded cases of women being burnt and tortured, 833 reported incidents of kidnappings, 777 reported suicides and attempted suicides involving women. All in 2015. Perpetrators of violence against women remain largely unpunished and free. Fearful of repercussions, and of being socially stigmatized and ostracized, many women who've been assaulted choose to remain silent.
Rampant misogynistic violence unspooling with wild abandon. How can we as a society, as a people—how dare we—remain silent? What do these macabre happenings say about the state of women in Pakistan? About the heritage—and the inheritance—of a Pakistani woman's identity? What does it mean to be Pakistani today? And in the midst of this embattled mentality, all this violence unleashed with ease, what is the responsibility and role of the Pakistani male?
To this sordid matrix, add the draconian stewardship of the Council of Islamic Ideology, a shockingly powerful religious body that advises Pakistani lawmakers on the compatibility of legislations with Islam. This dubious but determined Council of twenty—with its sole female member who has sadly internalized misogynistic attitudes—denounced a landmark women's protection bill in February 2016—the Punjab Protection of Women Against Violence Act—which aimed to criminalize violence against women and establish hotlines and shelters for those confronting domestic, psychological and sexual assault. The Council repudiated the bill on the grounds that the women's protection bill conflicted with the Quran and the teachings of Prophet Muhammad!
Time, indeed, for us all to go back to the very beginning—back to the seventh century— for a refresher course. Time for us to pause, to look deeply at just how distorted and warped Islam and the Prophet's message of justice and equality have become in our modern age.
Writing in the 90's, Mernissi sheds light on the dangerous and execrable state of affairs:
"Not only have the sacred texts always been manipulated, but manipulation of them is a structural characteristic of the practice of power in Muslim societies. Since all power, from the seventh century on, was only legitimized by religion, political forces and economic interests pushed for the fabrication of false traditions. A false Hadith is testimony that the Prophet is alleged to have done or said such and such, which would then legitimate such an act or such an attitude. In this conjuncture of political stakes and pressures, religious discourses swarmed with traditions that legitimated certain privileges and established their owners in possession of them." (page 8)
Author Mohammed Hanif, writing about the Council of Islamic Ideology in an op-ed in the New York Times, (April 1, 2016) declared: "It's probably the most privileged dirty old men's club in the country."
I think of these council members shunning the women's protection bill, steeped in their narrow, self-serving judgment of others, worshipping the idols they have made of their egos, utterly misaligned with the spirit and ethos of the spiritual tradition they purport to represent. I think: what if, perchance the Prophet, lustrous hair touching his shoulders, graceful yet imposing in an immaculate robe, by some feat of time and manifestation, were to walk in to their majlis? Would they recognize him? Would they blush in shame at their apostasy? Or would they shun this unlettered Messenger of the Book of Light?
Muhammad understood women better than most, neither fetishizing them nor dominating them, but seeing, recognizing and appreciating them as whole beings within a vast spectrum of endless potentialities—earthy, luminous, enquiring, wild-spirited, desirous, yearning, cosmic. As a lay person, and a woman, I find reading the stories of Muhammad in seventh century Arabia to be surprisingly liberating—freeing of the falsity of limited religion; of the manipulation and domination by convention, patriarchy and political interests.
"Memory and recollection are the dawn of pleasure; they speak the language of freedom and self-development…" writes Mernissi. "They tell us of a Prophet who spoke of absurd things: nonviolence and equality. He spoke to an aristocracy fierce with pride and drunk with the power of the bow." (page 10)
As I mourn two young compatriot sisters, tragically and savagely murdered in separate incidents earlier this month because they chose to shape the course of their lives— 20-year old school teacher Maria Sadaqat and 18-year old Zeenat Rafique—I pray that we will raise our voices to demand justice, remain vigilant, and insist on laws that ensure women can live their lives free of fear and violence in the Era of Ignorance that has swooped upon us.
***
Pakistani poet Kishwar Naheed's "We Sinful Women," translated into English by Rukhsana Ahmed in 1991, transmits a soulful and incendiary current which resonates more than ever today.
We Sinful Women
It is we sinful women
who are not awed by the grandeur of those who wear gowns
who don't sell our lives
who don't bow our heads
who don't fold our hands together.
It is we sinful women
while those who sell the harvests of our bodies
become exalted
become distinguished
become the just princes of the material world.
It is we sinful women
who come out raising the banner of truth
up against barricades of lies on the highways
who find stories of persecution piled on each threshold
who find that tongues which could speak have been severed.
It is we sinful women.
Now, even if the night gives chase
these eyes shall not be put out.
For the wall which has been razed
don't insist now on raising it again.
It is we sinful women
who are not awed by the grandeur of those who wear gowns
who don't sell our bodies
who don't bow our heads
who don't fold our hands together.
Posted by Humera Afridi at 12:35 AM | Permalink | Comments (0)
Monday, June 20, 2016
The Mesh of Civilizations in Cyberspace
by Jalees Rehman
"The great divisions among humankind and the dominating source of conflict will be cultural. Nation states will remain the most powerful actors in world affairs, but the principal conflicts of global politics will occur between nations and groups of different civilizations. The clash of civilizations will dominate global politics."
—Samuel P. Huntington (1972-2008) "The Clash of Civilizations"
In 1993, the Harvard political scientist Samuel Huntington published his now infamous paper The Clash of Civilizations in the journal Foreign Affairs. Huntington hypothesized that conflicts in the post-Cold War era would occur between civilizations or cultures and not between ideologies. He divided the world into eight key civilizations which reflected common cultural and religious heritages: Western, Confucian (also referred to as "Sinic"), Japanese, Islamic, Hindu, Slavic-Orthodox, Latin-American and African. In his subsequent book "The Clash of Civilizations and the Remaking of the World Order", which presented a more detailed account of his ideas and how these divisions would fuel future conflicts, Huntington also included the Buddhist civilization as an additional entity. Huntington's idea of grouping the world in civilizational blocs has been heavily criticized for being overly simplistic and ignoring the diversity that exists within each "civilization". For example, the countries of Western Europe, the United States, Canada and Australia were all grouped together under "Western Civilization" whereas Turkey, Iran, Pakistan, Bangladesh and the Gulf states were all grouped as "Islamic Civilization" despite the fact that the member countries within these civilizations exhibited profound differences in terms of their cultures, languages, social structures and political systems. On the other hand, China's emergence as a world power that will likely challenge the economic dominance of Western Europe and the United States, lends credence to a looming economic and political clash between the "Western" and "Confucian" civilizations. The Afghanistan war and the Iraq war between military coalitions from the "Western Civilization" and nations ascribed to the "Islamic Civilization" both occurred long after Huntington's predictions were made and are used by some as examples of the hypothesized clash of civilizations.
It is difficult to assess the validity of Huntington's ideas because they refer to abstract notions of cultural and civilizational identities of nations and societies without providing any clear evidence on the individual level. Do political and economic treaties between the governments of countries – such as the European Union – mean that individuals in these countries share a common cultural identity?
Also, the concept of civilizational blocs was developed before the dramatic increase in the usage of the internet and social media which now facilitate unprecedented opportunities for individuals belonging to distinct "civilizations" to interact with each other. One could therefore surmise that civilizational blocs might have become relics of the past in a new culture of global connectivity. A team of researchers from Stanford University, Cornell University and Yahoo recently decided to evaluate the "connectedness" of the hypothesized Huntington civilizations in cyberspace and published their results in the article "The Mesh of Civilizations in the Global Network of Digital Communication".
The researchers examined Twitter users and the exchange of emails between Yahoo-Mail users in 90 countries with a minimum population of five million. In total, they analyzed "hundreds of millions of anonymized email and Twitter communications among tens of millions of worldwide users to map global patterns of transnational interpersonal communication". Twitter data is public and freely available for researchers to analyze whereas emails had to be de-identified for the analysis. The researchers did not have any access to the content of the emails, they only analyzed whether users any given country were emailing users in other countries. The researchers focused on bi-directional ties. This means that ties between Twitter user A and B were only counted as a "bi-directional" tie or link if A followed B and B followed A on Twitter. Similarly, for the analysis of emails analysis, the researchers only considered email ties in which user X emailed user Y, and there was at least one email showing that user Y had also emailed user X. This requirement for bi-directionality was necessary to exclude spam tweets or emails in which one user may send out large numbers of messages to thousands of users without there being any true "tie" or "link" between the users that would suggest an active dialogue or communication.
The researchers then created a cluster graph which is shown in the accompanying figure. Each circle represents a country and the 1000 strongest ties between countries are shown. The closer a circle is to another circle, the more email and Twitter links exist between individuals residing in the two countries. For the mathematical analysis to be unbiased, the researchers did not assign any countries to "civilizations" but they did observe key clusters of countries emerge which were very close to each other in the graph. They then colored in the circles with colors to reflect the civilization category as defined by Huntington and also colored ties within a civilization as the same color whereas ties between countries of two distinct civilization categories were kept in gray. 
At first glance, these data may appear as a strong validation of the Huntington hypothesis because the circles of any given color (i.e. a Huntington civilization category) are overall far closer to each other on average that circles of a different color. For example, countries belonging to the "Latin American Civilization" (pink) countries strongly cluster together and some countries such as Chile (CL) and Peru (PE) have nearly exclusive intra-civilizational ties (pink). Some of the "Slavic-Orthodox Civilization" (brown) show strong intra-civilizational ties but Greece (GR), Bulgaria (BG) and Romania (RO) are much closer to Western European countries than other Slavic-Orthodox countries, likely because these three countries are part of the European Union and have shared a significant cultural heritage with what Huntington considers the "Western Civilization". "Islamic Civilization" (green) countries also cluster together but they are far more spread out. Pakistan (PK) and Bangladesh (BD) are far closer to each other and to India (IN), which belongs to the "Hindu Civilization" (purple) than to Tunisia (TN) and Yemen (YE) which Huntington also assigned to an 'Islamic Civilization".
One obvious explanation for there being increased email and Twitter exchanges between individuals belonging to the same civilization is the presence of a shared language. The researchers therefore analyzed the data by correcting for language and found that even though language did contribute to Twitter and email ties, the clustering according to civilization was present even when taking language into account. Interestingly, of the various factors that could account for the connectedness between users, it appeared that religion (as defined by the World Religion Database) was one of the major factors, consistent with Huntington's focus on religion as a defining characteristic of a civilization. The researchers conclude that "contrary to the borderless portrayal of cyberspace, online social interactions do not appear to have erased the fault lines Huntington proposed over a decade before the emergence of social media."  But they disagree with Huntington in that closeness of countries belonging to a civilization does not necessarily imply that it will lead to conflicts or clashes with other civilizations.
It is important to not over-interpret one study on Twitter and Email links and make inferences about broader cultural or civilizational identities just because individuals in two countries follow each other on Twitter or write each other emails. The study did not investigate identities and some of the emails could have been exchanged as part of online purchases without indicating any other personal ties. However, the data presented by the researchers does reveal some fascinating new insights about digital connectivity that are not discussed in much depth by the researchers. China (CN) and Great Britain (GB) emerge as some of the most highly connected countries at the center of the connectivity map with strong extra-civilizational ties, including countries in Africa and India. Whether this connectivity reflects the economic growth and increasing global relevance of China or a digital footprint of the British Empire even decades after its demise would be a worthy topic of investigation. The public availability of Twitter data makes it a perfect tool to analyze the content of Twitter communications and thus define how social media is used to engage in dialogue between individuals across cultural, religious and political boundaries.
References
Huntington, S. P. (1993). The Clash of Civilizations. Foreign Affairs, 72(3) 22-49.
State, B., Park, P., Weber, I., & Macy, M. (2015). The mesh of civilizations in the global network of digital communication. PLoS ONE, 10(5), e0122543.
Posted by Jalees Rehman at 12:10 AM | Permalink | Comments (0)
Monday, June 06, 2016
Viewing the Early Muslim State Through Its Coinage
by Ali Minai
The Arab conquests of the 7th and 8th centuries CE were arguably among the most cataclysmic and consequential events in world history, creating a completely new and long-lasting civilization from India and Central Asia to the Western edge of North Africa. And, while this civilization has ramified and fragmented considerably over the subsequent thirteen centuries, its imprint still shapes the history of these regions today to a decisive degree. An especially important manifestation of this influence is the widespread sentiment among the Muslims of this region for some sort of "return" to that idealized earlier period of glory and purity – a sentiment that has fueled revivalist movements ranging from political ones such as the Muslim Brotherhood to violent ones like Al-Qaeda and ISIS. However, this revivalist impulse goes far beyond these visible movements, and pervades Muslim societies from South Asia to Morocco, entering every aspect of social, cultural and political life in myriad ways. In a sense, this can be seen as the natural impulse of people attempting to repossess their past after a period of colonization, but what makes such a desire compellingly possible is the fact that so little is truly known about the early period of Islam.
Ernest Renan famously said that Islam – unlike other great world religions – was "born in the full light of history". However, this view has been challenged vigorously in the last century by Western scholars seeking to apply modern historical methods to the origins of Islam. To be sure, some of this "near-revisionism" is motivated by skepticism about the religion itself, but the problem is real enough. Most Muslims have implicit faith in the received reports and traditions about the Prophet Muhammad and his companions, but the fact is that the first biographical reports of the Prophet – by Ibn Ishāq and Mālik b. Anas – were not written down until more than a century after his death, and the earliest comprehensive histories of Islam – by Ibn Sa'd, Al-Wāqidī, Al-Tabarī, al-Balādhurī, et al. – date from the late 8th to early 9th century. A century or two may not seem long in the context of history, but the rise of Islam was so rapid that its truly formative period was basically over by the mid-8th century when the Abbasid dynasty overthrew the Umayyad caliphate, replacing that most Arab of dynasties with one rooted in a more cosmopolitan ethos. Also, because of the way it had acquired power, the Abbasid dynasty had a strong incentive to promote a specific version of early Islamic history and doctrine. Thus, it is especially important to look at contemporary evidence to obtain an accurate picture of Islam's earliest period.
In searching for the roots of Islamic society in the period between the Prophet's death c. 632 CE and the fall of the Umayyads in 750 CE, historians have very few truly contemporary sources to rely on. Remarkably, one of these sources is the Qur'an – the Islamic scripture – some partially preserved copies of which have recently been dated to within the Prophet's lifetime or soon after. The fact that these original copies of the Qur'an are virtually identical to the text used today supports the Muslim belief of scriptural integrity, and enhances confidence that the theological content of the original Islam can reasonably be obtained from the Qur'an itself. However, this still leaves large parts of cultural, political and socioeconomic history uncertain. The contemporary sources that provide information about these are: 1) Direct or incidental statements by contemporary non-Muslim writers referring to Muslims; 2) A growing (and as yet mostly un-studied) corpus of papyrus texts describing administrative and financial transactions; 3) a few rock inscriptions; 4) The ruined palaces and other archeological sites from the Umayyad period; 5) The Dome of the Rock in Jerusalem, constructed by the Umayyad Caliph 'Abd al-Malik b. Marwān c. 691 CE; and 6) An immense and varied body of coins. The rest of this article looks at the last of these, and considers what this coinage may tell us about the policies and attitudes of the early Islamic state.
A BRIEF HISTORY OF EARLY ISLAMIC COINAGE
Money in the form of coins is such a fundamental part of human society that it is easy to lose sight of how relatively recent an invention it is. For about half of the five thousand year period that may be considered "recorded history", there was no known use of coinage. To be sure, metals such as gold and silver were considered valuable, and were probably used in barter arrangements or the payment of tax and tribute. However, according to both Herodotus and archaeological evidence, the first known coinage was introduced in the kingdom of Lydia in modern-day Turkey in the 6th or 7th century BCE – possibly by King Croesus (595-546 BCE), whose name became a symbol of wealth. The Lydian coins were made from a mixture of gold and silver called electrum, and though made into pieces with various denominations, they were actually used by weight – a practice that continued for centuries thereafter until the advent of precisely controlled mechanized minting. Once invented, coinage spread rapidly to other Greek states, and to the Persians, whose emperor Cyrus the Great defeated and killed Croesus in 546. Something similar to coinage also arose in India around the same time in the form of punch-marked pieces of silver called puranas or karshapanas. These were to become more widespread and elaborate during the great Mauryan Empire in the period after c. 320 BCE (Figure 1). By then, the Greeks – including the Greek states Alexander left behind in Western India, Iran and the Middle East – were issuing much more sophisticated coins with recognizable portraits and elaborate inscriptions. In particular, the Greeks introduced a silver coin whose name was to become ubiquitous throughout the region from India to Spain – the drachma. Variants of this name – drachm, dram, dirham, dam, damma – have been used for coinage by states ranging from the Parthian and Sassanian empires in Iran to the modern states of Morocco, Armenia and, until recently, Greece!

Figure 1: Punch-marked silver coins of the Mauryan Emperor, Samprati (r. 224-215 BCE). Author's Collection.
For more than seven centuries after Arab armies burst forth from Arabia to conquer an empire spanning three continents, the coinage of most of the Muslim world was to consist of three types of coins: The gold dīnār, named after the Byzantine Denarius Aureus; the silver dirham, and the lowly copper or bronze fals. But this system took some time to emerge. What happened during the transitional period offers interesting insights into the early Muslim state and poses several tricky questions. In particular, the coins of Islam's earliest period represent possibly the most concrete basis of archaeological and historical reconstruction for a period where evidence of other kinds is remarkably thin.
Like much of the early history of Islam, the origin of Islamic coinage is shrouded in mystery, but it is possible to reach a few broad conclusions based on the available corpus of coins. This article looks at the Islamic coinage of the period from the beginnings of Islam to about 700 CE, when the Umayyad dynasty was well-established at the top of the Muslim state. One goal in doing this is to obtain insight into the policies and attitudes of the society that produced this coinage, and possibly to infer the motivations of its leaders.
From a numismatic viewpoint, this duration can be divided into six distinct periods, with transitions often corresponding to major historic events. As with any division of historical time, this periodization is somewhat arbitrary, but useful nevertheless.
I. The Early Period: From Inception to 651 CE
The Arabs at the advent of Islam in c. 610 CE appear to have had no coinage of their own, and presumably used Roman (Byzantine) and Sassanian coinage. Rather conveniently, the Byzantines minted gold and copper coins while the Sassanians minted mainly silver. One can speculate that a trade-based economy such as that of Western Arabia's oasis towns might have used currencies from both sources in a standard gold-silver-copper configuration.
The Arab conquests began in the earnest around 634 CE, two years after the death of the Prophet Muhammad. The Sassanian Empire fell after losses at Qadisiyya in 636 and Nahavand in 642, leaving the Arabs in almost complete control of the empire. Syria, Palestine and Egypt had also all been wrested away from the Byzantine Empire by 642, though the empire endured to the north of Syria in most of Anatolia and into Europe. Thus, within a remarkably short period of eight years, the Muslim state had come to hold sway over a vast region that had previously encompassed most of two great empires, with major cities, active commerce and highly productive agricultural lands in Mesopotamia, Palestine and Egypt. Yet, through most of this period, the Caliphate based in Medina still did not issue any coinage, and continued to use Byzantine and Persian coins as before. The coinage in use seems to have been the Byzantine gold solidus and copper follis, and the Sassanian silver drahm. The latter typically weighed about 4 grams and had a design that had largely been unchanged for 400 years, with the portrait of the Shahanshāh (emperor) on the obverse side and a Zoroastrian sacred fire altar with two attendants on the reverse side, which also carried the date and mint name (see Figure 2).
After the loss of his capital at Ctesiphon (near modern Baghdad) in 636 CE, the last Sassanian emperor, Yazdegerd III (r. 632 – 651 CE), fled with his court, first to eastern parts of Iran in the Kerman region, and then eventually into Central Asia, where he was assassinated in 651 CE. Throughout this period, silver drahms were minted in his name in areas still under his nominal control. Presumably, these coins also found their way into the rest of the region and comprised the primary silver coinage of the early Islamic Caliphate. The Arabs called this coin the dirham, and the word remained in use for centuries thereafter.
Figure 2: Top: Silver drahm of the first Sassanian emperor, Ardeshir I (r. 222-242 CE). Bottom: Silver drahm of the last Sassanian emperor, Yezdegerd III (r. 632-651 CE). The coins show how the same general pattern was followed in coins throughout the Sassanian period, with the emperor's profile on the obverse and a fire altar on the reverse. For most of this period, the fire-altar was flanked by two attendants, which is the design that the Muslim state inherited and used. Author's Collection.
The copper coinage of the early period is rather confusing and poorly understood. Stefan Heidemann (2010) has indicated that the Arabs continued to import standard Byzantine copper coins in large quantities for use in the conquered areas, probably with the acquiescence of the Byzantine state which still regarded these regions as part of its jurisdiction and the Arab conquerors as temporary occupiers. However, the Arabs also appear to have started minting their own copper coinage around 636 CE (Heidemann, 2010), comprising imitations of the Byzantine coins with the Emperor's portrait and Greek inscriptions.
A remarkable fact about the coins used in the Islamic Caliphate until about 651 CE is that they bore no Islamic text or symbolism at all. Instead, they had the portraits of the Byzantine and Sassanian emperors and explicitly religious Zoroastrian and Christian symbols – the fire altar and the cross! Thus, paradoxically, the coins used during Islam's most sacred period violate what came to be regarded as one its strictest edicts – the proscription of figural images and un-Islamic symbols. These coins depicting non-Muslim emperors and symbols must have filled the bayt-al-māl (treasury) of the most doctrinally iconoclastic state in history, and the earliest believers whose faith taught them to abhor such images must freely have used these coins in ordinary commerce. Or perhaps these were pragmatic people, and not quite as rigid and doctrinaire in these matters as later generations would make them appear.
II. The Islamic Imprint: 651 CE – 660 CE
Interestingly, the first coins with an explicitly Islamic imprimatur appeared around 651 CE – exactly the time when Yazdegerd III was assassinated. It is impossible to know why this was the case, but informed speculation is possible. At this point in history, coins were the most visible symbol of sovereignty and derived their value both from the metal they contained and the certification of the ruler in whose name they were issued. To be acceptable, a coin needed the backing of a recognized authority, much as currency today needs the backing of a central bank. It was as though, up until Yazdegerd's death, the Muslim state had been content to "borrow" the sovereignty of the defeated Persian emperor for the credibility of its silver coinage. This may have been a purely political choice, given that almost the entire population of the conquered regions was still non-Muslim and probably more emotionally attached to their former ruler. However, once he was dead, an urgent need was felt to replace his authority with the visible symbol of a new one: Islam.

Figure 3: A silver dirham that is generally considered to be the "first" Islamic coin. Probably issued during the period of the third "rightly-guided" caliph, ʻUthmān b. 'Affān (r. 644-656 CE). The coin uses the same dies as contemporary Sassanian coins, with "bismillah" added in Arabic in the obverse margin. Author's Collection.
The solution that was adopted at this point was also rather instructive. Instead of moving to a radically different coinage, Sassanian silver dirhams were "Islamized" by adding a small piece of Arabic text in the margin on the obverse side, leaving the emperor's portrait, the fire altars and the Pahlavi inscriptions (including the emperor's name) in place! The text added varied, but the classic Muslim invocation "bismillāh" (In the name of Allah) was the most common (see Figure 3). Others included "jayyid" (good/valid) and "lillāh-il-hamd" (praise is for Allah alone), as well as a few rarer inscriptions. Apparently, local governors had wide latitude in which of these they wished to put on their coins. One other interesting device was also adopted for these coins. Sassanian coins carried the date of their minting by stating the regnal year of the emperor whose portrait they bore. The last coins issued by Yazdegerd thus carried the date "Year 20", indicating their issuance in the 20th year after his enthronement in 632 CE. For the subsequent coins issued with the Arabic inscriptions, this date was "frozen" at this value, so that coins issued in the period 651 to 660 CE often carried the nominal date "Year 20", making it very difficult to date the coins more precisely. This may have been done simply out of convenience, so that the dies used to make the final coins of the Sassanian era could be reused with the added Arabic inscription.
After 650 CE, there is evidence of a drop-off in imported Byzantine copper coins – presumably as the Byzantine state came to terms with the permanence of the Arab conquest – and the establishment of Arab mints in Syria. However, these mints continued to produce coins using the Byzantine template, with the image of the Emperor,  occasionally with the added Arabic words "tayyib" (pure) or "jā'iz" (authorized), or the word "KALON" (good) in Greek (Heidemann, 2010). In later copper coinage from about 670 CE onwards, the cross is often replaced with a non-Christian shape such as a staff or a globe, though coins with the cross continued to be minted even into the 690s (see Figure 4).
Figure 4: Umayyad copper fals minted in Emises/Hims (modern Homs) c. 685 -697 CE. Note the stylized portrait of the Emperor with crosses on the crown and on the globe he is holding. The Arabic word "tayyib" and the Greek work "KALON" (both meaning "good") indicate the validity of the coin. Author's Collection.
III. Early Umayyad Period: 660 CE – 680 CE
Islamic coinage for the period between 660 CE and 700 CE provides a series of interesting details with potential insights into the social and political events of this critical period – and possibly even into the evolution of Islamic doctrine. However, in the absence of strictly contemporary writings or records, it is difficult to interpret these details with certainty.
The year 660 is of special significance in Islamic history. It represents the transition of the Caliphate from the first four "rāshidūn" (rightly-guided) caliphs to the first ruler of the Umayyad dynasty, Muʻāwiya b. Abī Sufiyān, who moved the capital to his power base in Damascus. The 21 years of his rule saw the consolidation of the Muslim state, and the establishment of a more typical administrative structure derived from the Sassanian and Byzantine models. This may be the reason that changes with more overtly political significance begin appearing in coins minted during this period.
One notable change in the silver coinage was that dirhams bearing the portrait of the defeated Yazdegerd III were replaced by those bearing the portrait of Khusrau II (r. 590-628 CE) – known as Parvīz – the last truly powerful Sassianan emperor. The tradition of marking the coins as Islamic by adding an Arabic inscription in the obverse margin was continued. The reason for the change of portraits is not known with certainty, but informed speculation suggests that, even three decades after his death, Khusrau Parvīz commanded greater awe among the former Sassanian populace than the hapless Yazdegerd, and the use of Khusrau's portrait may indicate that the new Umayyad rulers felt a greater need for pro-active methods to win the loyalty of their subjects in Iraq and Persia. Coins with the portrait of Yazdegerd did continue to be minted, though the dates based on Yazdegerd's accession began to be updated as well. Eventually, this led to a coin dated "Year 1 of Yazīd" (Mochiri, 1982) – the first coin dated with reference to a Muslim ruler, Yazīd b. Muʻāwiya.
Another interesting change that occurred in this period was that the name of the Sasanian emperor on the coins was often replaced by the name of the Arab governor under whose authority the coin was being issued, but in Pahlavi (Middle Persian) script rather than Arabic (Foss, 2002). Thus, one has the paradoxical situation of coins with Zoroastrian religious symbology, the face of a dead Sassanian emperor labeled by the name of a Muslim governor in Pahlavi script, and an Arabic religious inscription in the margin! This chimeric design remained the standard silver coinage of the Muslim state for almost four decades. A similar pattern is apparent in the copper coinage, where the portrait of the Byzantine emperor (and sometimes several emperors or an emperor and his queen) coexisted with Greek and Arabic inscriptions, occasionally accompanied by the Christian symbol of the cross (Figure 4).
Figure 5: Silver dirham c. 673 CE issued in the name of the Caliph Muʻāwiya b. Abi Sufyan. The coin depicts Sassanian Emperor Khusrau II, with the Pahlavi inscription "maawia amīr-i wurrishnikān" in front of the emperor's face. The Arabic inscription in the obverse margin reads "bismillāh" (in the name of Allah). Author's Collection.
A very important milestone in this period was the issuing of coins explicitly in the name of the Caliph himself, with the inscription "maawia amīr-i wurrishnikān" – Muʻāwiya, Commander of the Believers (Foss, 2002). The term for "believers" comes from the Pehlavi verb, "wurrōyistan", which means "to believe". These silver dirhams, minted around 673-674 CE (52-54 AH), represent the first instance when the all-important title was used on a coin (Figure 5), and it is truly remarkable that the title appeared in Pahlavi rather than Arabic form (amīr- al-mu'minīn). The Arabic form does, however, appear around the same time in several rock inscriptions.
IV: The Second Fitnah: 680 CE – 692 CE
The death of Muʻāwiya in 680 CE precipitated a twelve-year period of exceptional turbulence and trauma for the Muslim community. This is termed the Second Fitnah (civil strife) of the three such episodes of civil war recognized in early Islamic history (the first followed the assassination of the third Caliph, 'Uthmān b. 'Affān, and the third was the Abbasid overthrow of the Umayyad dynasty).  While the history of this period was only written down later from oral reports, coins provide direct, if often cryptic, contemporary documentation of the events. As such, the numismatic record of this period is of incalculable historical value.
The Second Fitnah arose from the refusal of large sections of the Muslim community to recognize the successors of Muʻāwiya – notably his son, Yazīd I – as Caliph. Of these rebellions, the one that lasted the longest and became most problematic for the Umayyads was the declaration of a rival caliphate in Hejaz by 'Abdullāh b. al-Zubayr – usually known as Ibn Zubayr. Initial Umayyad attempts to quell this rebellion failed. Eventually, Ibn Zubayr controlled almost half of the territory of the Muslim state, including the Arabian peninsula and parts of Iraq and Persia. He became the second individual to issue coins declaring himself "Commander of the Believers" (see Figure 6). Ibn Zubayr, who ruled from Mecca, was ultimately defeated in 692 CE by an Umayyad army under Ḥajjāj b. Yūsuf, but only after a siege that resulted in the virtual destruction of the Ka'ba in Mecca and the Great Mosque in Medina.
Figure 6: Silver dirham issued by Ibn Zubayr c. 682 in Istakhr (Iran). The Pahlavi inscription in front of the face of Emperor Khusrau II reads "apdwla-i zubiran amīr-i -wurrishnikān" (ʻAbdullah bin Zubayr, Commander of the Believers). The Arabic inscription in the obverse margin reads "bismillāh" (in the name of Allah). Author's collection.
The period of the Second Fitnah was also marked by the ascendancy of several ultra-fundamentalist – or khārijī – Muslim groups. One group called the Azraqites, led by Qatarī b. al-Fujāʻa, issued coins with the declaration "lā ḥukmu illā lillāh" (There is no dominion except for Allah) c. 694 CE, while another led by 'Atiya b. Aswad inscribed the somewhat less categorical phrase "bismillāh walī-al-amr" (in the name of Allah, Master of affairs) on his coins issued around 691 CE. The Islamic phraseology of these coins indicates the presence of the same literalist and inflexible attitude that imbues the extremists jihadi groups of today, who are the doctrinal descendants of these early khārijī rebels.
Three very important milestones occurred on coins in this period:
The first appearance of the slogan "allāhu akbar" (Allah is Great) on a coin – one minted in Central Asia c. 684 CE (65 AH) in the name of the Umayyad governor, Salm b. Ziyād, and bearing inscriptions in three languages: Pahlavi, Arabic, and Bactrian (using Greek script)!
 The first appearance of the name of the Prophet Muhammad in any dated Islamic text (except the Qur'anic manuscripts), and the first instance of the declaration "muḥammad rasūlallāh" (Muhammad [is] the messenger of Allah). This occurred on coins issued by 'Abd al-Malik b. 'Abdullāh, Ibn Zubayr's governor of Bishapur c. 685 CE (66 AH) (see Figure7). Once started, this trend caught on quickly, and the phrase became standard on Umayyad coinage within a few years.
The first appearance of the full "shahāda", or expression of the Muslim creed on a coin issued by 'Abd al-'Aziz b. 'Abdullah, Ibn Zubayr's governor of Sistan (Eastern Iran) c. 691 CE (72 AH) (Johns, 2003). Remarkably, this too was written in Pahlavi, reading "One God, except He / no other god exists / Muhammad [is] the messenger of God" (Mochiri, 1981). Thus, the first surviving instance of the Islamic shahāda is not in Arabic but in Pahlavi! An Arabic version would not appear until a few years later.
Figure 7: Silver dirham of 'Abd al-Malik b. 'Abdullah, issued c. 685 CE (66 AH), and bearing the Arabic inscription "bismillah / Muhammad rasūlallāh" (In the name of Allah / Muhammad [is] Allah's messenger). Author's Collection.
V. Umayyad Consolidation: 692 CE – 696 CE
The Umayyad rearguard against Ibn Zubayr's revolt was led by Marwān b. al-Hakam, a cousin of both 'Uthmān and Muʻāwiya. In 685 CE, his son, 'Abd al-Malik b. Marwān, was declared the Umayyad caliph in Damascus, truly inaugurating the so-called Marwanid period of the Umayyad dynasty. After defeating Ibn Zubayr in Mecca (c. 692 CE) as well as the various khārijī rebel "caliphs" in Iraq and Persia, 'Abd al-Malik consolidated Umayyad authority and, some have suggested, laid the practical groundwork for much of what has since been recognized as the Islamic ethos. In terms of coinage, 'Abd al-Malik's reign saw a remarkable set of experiments, culminating in a standardization that became the model for Islamic coinage for centuries thereafter.
Perhaps the boldest and most important innovation in coinage by 'Abd al-Malik was the attempt to introduce explicitly Muslim figural elements. Until this point, the human figures in the coinage had been those of Sassanian and Byzantine emperors, though clearly the implication was to have these figures confer authority upon the Muslim ruler. Around 691-92 CE, 'Abd al-Malik introduced a gold coin where the three imperial figures were given decidedly Arab costume (rather than Byzantine), and the complete shahāda – "la ilāha illallāh waḥdahū / muhammad rasūlallāh" (there is no god but Allah, the One, [and] Muhammad [is] Allah's messenger) was inscribed on the coin. This is generally regarded as the first official instance of the complete shahāda in any Islamic artifact, followed soon by its inscription in the Dome of the Rock c. 692 CE. Around the same period, 'Abd al-Malik's brother, Bishr b. Marwān, who was governor of Basra, issued Sassanian-style silver dirhams with a three figure motif replacing the fire-altar and attendants, and the same complete shahada as the gold coins.
There has been much debate about whom the three figures might represent, with the general assumption that the central figure in both the gold and silver coinage is probably meant to be the caliph himself. It is interesting that, in the silver coinage, this figure has his hands raised to his ears, which is interpreted as an oratorical position, i.e., the caliph is depicted giving a sermon – or perhaps praying. The surrounding figures may represent governors or sons. In any case, there is little doubt that these coins represented a significant step towards the Umayyads taking complete ownership of their coinage.
Another remarkable series of coins minted in this period were the so-called "Mihrab and Anaza" silver dirhams (Treadwell, 2005), where the Sassanian emperor's portrait was surrounded by the shahāda and modified to suggest that it represented an image of the caliph (e.g., holding a sword). On the reverse side of these coins, the Sassanian fire altar was replaced by an arch with a spear standing upright in it. Most notably, the inscriptions on either side of the arch read "amīr al-mu'minīn" (Commander of the Believers) and "khalīfatullāh" (Deputy of Allah) – though the latter has also been read as "khalaftullah" (I act in the name of Allah). The spear is flanked by the words "naṣr \ Allāh" (succor from Allah).
This approach culminated in the issuance around 694 CE of a famous series of gold and copper coins known as the Standing Caliph series. These coins depicted a standing figure, clad in Arab robes and head-dress, and holding what looks like a sword (though some have termed it a staff). There is near-consensus that this figure is meant to represent the caliph himself, much as Sassanian and Byzantine coins had depicted emperors. Notably, some scholars such as Foss (2001) and Hoyland (2007) have suggested that in some cases, the figure depicts the Prophet himself, but this is unlikely (Schulze and Schulze, 2010). The gold coin also carried the complete shahāda and, for the first time, an explicit declaration in Arabic of the year the coin was minted. Both these features were to become permanent in subsequent gold and silver coinage. The copper coinage with the standing caliph motif was more varied (see Figure 8).

Figure 8: Two types of Umayyad copper coins with the Standing Caliph motif. The coin on the left has the complete shahada and the name of the caliph with the title "amīr al-mu'minīn", whereas the one on the right only has "Muḥammad rasulallāh" and the name of the mint, "īliya / filisṭīn" (Jerusalem, Palestine). The inscription and the distinctive posture of the figure has led some to suggest that the latter coin might depict the Prophet Muhammad himself, but this is extremely unlikely. Author's Collection.
The Standing Caliph series lasted only for a few years (Bates, 1987), and it is hypothesized that it failed because of objections to its figural content from the Muslim community. If so, this indicates that, by this point, some degree of iconoclastic feeling had pervaded the Muslim polity. Another indication of such sentiment comes from the response to a set of coins issued by Ḥajjāj b. Yūsuf, the governor of Basra around 694 CE. These Sassanian-style coins had the emperor's portrait, surrounded by the complete shahāda in one of two different styles (see Figure 9 for one style). Notably, the name of the governor on these coins was inscribed in Arabic rather than Pahlavi. Apparently, the more pious members of the community raised some sort of objection on these coins as well – perhaps to the conjunction of the shahāda and the emperor's portrait – and the coins stopped being minted.
Figure 9: Silver dirham issued by Ḥajjāj b. Yūsuf c. 694 CE, with the full shahada and the governor's name in Arabic. Author's Collection.
VI. The Reform Coinage: 696 CE onwards
Finally, in 696-97 CE, 'Abd al-Malik implemented a sweeping reform of all coinage, moving away from all figural depictions and non-Arabic scripts, and switching to purely aniconic designs with Arabic inscriptions. First, a gold dinar was issued in 696 CE. On the obverse, it had the central inscription "lā ilāha illallāh waḥdahū lā sharīkalah" (there is no god but Allah, the One, He has no associates), and along the circumference the inscription "Muḥammad rasūlallāh arsalahū bi-l-hudā wa dīn al-ḥaqq liyudhhiru 'ala al-dīni kullihī" (Muhammad [is] the messenger of Allah, whom He sent with guidance and the religion of Truth that He might proclaim it over all religions). The part after Muḥammad rasūlallah quotes from the Qur'an 61:9. The reverse had a central field inscribed with part of chapter 112 from the Qur'an – "Allāhu aḥad Allāhu al-ṣamad lam yalid wa-lam yūlad" (Allah is one. Allah is eternal. He did not beget and was not begotten), with the inscription around the circumference explicitly stating the mint and year of minting in Hijri calendar.
The silver coinage, issued a year later, followed exactly the same pattern, with two minor changes. In the quote from Qur'an 61:9 on the obverse, a part omitted in the gold coins was included, so that the inscription read "Muḥammad rasūlallāh arsalahū bi-l-hudā wa dīn al-ḥaqq liyudhhiru 'ala al-dīni kullihī wa-law karih-al-mushrikūn" (Muḥammad [is] the messenger of Allah, whom He sent with guidance and the religion of truth that He might proclaim it over all religions even if the associators are averse). On the reverse, the central inscription now quoted the complete text of chapter 112: Allāhu aḥad Allāhu al-ṣamad lam yalid wa-lam yūlad wa-lam yakun lahū kufuwan aḥad" (Allah is one. Allah is eternal. He did not beget and was not begotten. And there is none like unto Him). An early example is shown in Figure 10.
Figure 10: Umayyad post-reform silver dirham following the standard pattern, except the inclusion of the mint name, Marw, in Pahlavi script at the bottom of the central field on the obverse. Author's Collection.
Once implemented, the pattern of the gold and silver coinage was followed without any change until the end of the Umayyad dynasty in 750 CE, and continued with minor changes in the first two centuries of the Abbasid dynasty (Figure 11). Indeed, broadly similar designs with textual and stylistic variations were to be used for gold and silver coins through most of the Islamic world for many centuries thereafter, and with rare exceptions, the use of figural motifs in coinage was abandoned completely until modern times.
Figure 11: Gold dinar issued by the Abbasid Caliph Harūn al-Rashīd. Note the continuity of the general pattern from the Umayyad reform coinage (Figure 10). Author's collection.
Interestingly, the early use of the shahāda and Qur'anic texts on fundamentally commercial artifacts such as coins indicates that currently held popular ideas about the use and handling of such texts are a recent invention. Today, many Muslims have come to regard even the damaging of paper with Qur'anic text or the handling of such texts by non-Muslims as disrespectful, or even blasphemous. But such texts were used on coins from Spain to India for a thousand years. These coins were mishandled, hammered, gouged, cut and re-melted. They were used by people of all creeds, and even copied (poorly) by many Christian states for use as their currency (see Figure 12). They found their way to all parts of the known world, so that some of the biggest hordes of early Islamic coins have been discovered in places such as Sweden. All these things show that early Muslims had a much more relaxed attitude towards the sanctity and appropriate use of religious texts than many imagine today.

Figure 12: A gold Bezant of the Crusader State of Jerusalem, c. 12th-13th cent. CE. The coin imitates Fatimid dinars, including the inscriptions of the shahāda and other religious declarations. Author's collection.
INTERPRETING THE NUMISMATIC DATA

Coins are remarkably informative archaeological artifacts, referring explicitly to persons, dates and places, and often providing additional information through their inscriptions, their physical attributes, and the location of their discovery. However, this richness also makes it difficult to interpret their information precisely – especially in the absence of other sources. The numismatic corpus from the early Islamic period is especially difficult in this sense. Looking back at it with modern eyes – and with the cultural and religious history of the last thirteen centuries in mind – several questions arise naturally: Why did it take so long for the Arab conquerors to settle on an "Islamic" design for coinage? Why did they rely on chimeric designs with obviously "un-Islamic" symbology and attributes for an extended period? Why were sacred inscriptions so often in Pehlavi rather than Arabic? What motivated the choice of designs and inscriptions as the coinage evolved? What sort of state was it that produced this evolving coinage?
Some of these questions have been addressed indirectly in the discussion above, but this section will consider them more explicitly to explore what the coinage in question might say about the social, cultural economic, political and religious milieu that produced it.
Two issues, in particular, deserve special attention:
The use of chimeric coins over an extended period lasting at least until 692 CE.
The sudden proliferation of overtly Islamic statements on coins and in other texts after about 690 CE, leading to the issuing of reformed coinage in 696 CE.
Both provide uniquely significant insight into the likely nature, orientation and evolution of the early Muslim state.
The Use of Chimeric Coinage
To the person unfamiliar with early Islamic coinage, its most striking and surprising feature is the use of Byzantine and Sassanian designs, including the portraits of emperors and depictions of non-Muslim religious symbols. This remarkable fact has elicited much interest, and some highly questionable revisionist theories about the origins of Islam (see Grodzky (2014) for a good summary). However, much more plausible and historically justifiable explanations can be found based on existing evidence and minimal speculation.
Most people – especially Muslims – have been conditioned to believe that Islam is an exclusivist, iconoclastic faith that forbids images and execrates the symbols of other faiths. Yet, in the very period idealized today by Muslims everywhere – including the time of the Prophet himself – Muslims seem to have used Byzantine and Sassanian coinage without objection. Even more astonishingly, when Islamic features did begin to appear on coins, the most significant features of the non-Islamic design – emperors' portraits, fire altars and crosses, Pahlavi and Greek scripts – were still retained. Indeed, the first dated expressions of the Muslim creed (the shahāda and the formal affirmation of the Prophet Muhammad's status), as well as the first reference to a named caliph as "Commander of the Believers" on a coin, all occur in Pahlavi, not Arabic! From the date of its first major conquests, the Muslim state took more than 60 years to arrive at a coinage design that reflected what would today be recognized as a strictly Islamic form.
One common misunderstanding must be dispelled at this point. The chimeric coins of early Islam were not existing Byzantine or Persian coins stamped over with Arabic inscriptions. The coins with the mixture of symbologies and inscriptions were minted explicitly by the Muslim state – often using new dies prepared wholly within the period of Muslim rule. Thus, it is not the case that Muslim administrators could not have initiated a more overtly "Islamic" coinage at a much earlier date. Rather, they chose not to do so – or at least saw no need for it – and it is interesting to ask why that might have been the case.
To answer this question, one must consider the early Islamic state in the context of its time rather than through the lens of subsequent centuries. In retrospect, the Arab conquests look like the beginning of an entirely new civilizational turn in the areas ruled by the Persian and Byzantine empires, but things probably looked very different to those who actually accomplished the conquests, and the choices they made – including those about coinage – were necessarily driven by their conceptions in real time.
In view of what followed, perhaps the most easily overlooked aspect of the Arab conquest is its relatively mundane nature. To be sure, the Arabs were extremely unlikely conquerors, but conquest itself was a commonplace affair for most of the region in question. The two great empires – and their predecessor empires – had been over-running each other's territories regularly for almost a thousand years before the Arabs appeared. This was especially true in the areas comprising modern Syria and Iraq. Each of these conquests involved the transfer of sovereignty over large populations from one ruler and one religion to another. And though the conquerors often indulged in massacre, enslavement, and desecration of sacred places, most of the populace was allowed to go about its affairs without the imposition of grand societal transformations. The authority of the conquerors was generally maintained through a relatively small occupying force and a local bureaucracy co-opted by force. The Arabs were no exception. Indeed, they needed this model more than prior conquerors because of their smaller numbers and a lack of governing experience or infrastructure.
As documented, among others, by Hodgson and Hoyland using Muslim sources such as al-Tabari and al-Balādhuri, the early Arab conquerors had little interest in creating a new civilization, or in converting the conquered populations to Islam. Rather, they saw these populations mainly as a source of labor, goods, and revenue, which was consistent with the practices of the time. The Arab soldiery – which included Christians as well as Muslims – lived in separate garrison towns and had limited contact with the local populace. People of all faiths in the conquered regions – including Zoroastrians, Buddhists, and later Hindus – were recognized as "People of the Book" so that they could be subject to the poll tax (jizya), which formed a critical part of the Muslim state's tax base. Indeed, when the locals did begin to convert under social and financial pressures, it became something of a fiscal crisis for the Muslim state, prompting drastic changes in tax law to ensure that conversion could occur without loss of revenue. Even so, non-Arab converts typically needed to find an Arab Muslim patron before they could fully join the Muslim community. It took well over three centuries for most of the Middle East and Persia to become Muslim majority regions. All these things indicate that the original Muslim state's conception of itself was very different than that promoted by later revisionist thinking, and was more along the lines of traditional control over conquered peoples rather than the creation of a radically new egalitarian polity. This is reflected in the fact that the poll tax was often imposed on all adults in the conquered lands, implying that they were considered a single class regardless of their religious affiliation. A polity rooted in an Islamic identity only emerged as non-Arab Muslims acquired greater power and sought to erase the memory of their subservient status.
Given this situation, it was natural that the decisions of the early Muslim state would be concerned more with maintaining control rather than a zeal for "Islamization". This was especially important because the Arab forces comprised a tiny, relatively isolated minority in the lands they had conquered. Continuity would clearly have been more useful in this context than wholesale disruption of societal patterns, and the decision to keep using existing coinage with minor changes may have been driven by this consideration. The still largely Zoroastrian or Christian populations were more likely to feel secure with fire altars, crosses and familiar images of their old rulers on the coins they used every day (Donner, 1986). And yet, like all conquerors, the Arabs must also have felt the need to stamp their authority in some way, especially as the conquest took hold. One way they did so was by introducing explicitly Islamic inscriptions on coins. But here too, it must have been important to make sure that the message got through. Thus, in Persia which had no familiarity with Arabic, the Muslim state used Pehlavi to make its religious statements, but felt freer to use Arabic in Syria and Egypt, where the language may have had somewhat greater penetration already.
Another important likely factor was the necessarily asymmetric relationship between the Muslim state and its two predecessor empires. Unlike the Sassanian Empire, which was overthrown completely and its last ruler killed in exile, the Byzantine Empire remained a strong force even after losing Syria, and held on to its legendary capital, Constantinople. Thus, Zoroastrian symbols and the Pehalvi language represented no real threat to the conquerors, whereas Christianity and Roman civilization remained potent adversaries. This may explain why removing the Christian cross from coins was given a much higher priority than removing the Zoroastrian fire altar – though the cross continued to appear sporadically until 692 CE.
The long-lasting use of chimeric coins, and especially 'Abd al-Malik's initial experiments with putting his own image on coins, also suggests that early Islam was far less dogmatic about figural representations than is seen later in history. At the same time, it is also clear from the failure of Abd al-Malik's figural coinage that, by the mid-690s, Muslim opinion-makers had come to frown upon the practice of depiction. Hodgson (1975) has called the choice of a non-figural coin design "a stroke of genius" that symbolized the Muslim faith in compelling fashion.
The Proliferation of Official Religious Statements Post-690 CE
Prior to the accession of 'Abd al-Malik b. Marwān to the caliphate in 685 CE, there is very little overt assertion of religious doctrine in the historic record, but this changes rather abruptly after about 690 CE – on coins as well as in written texts and architectural decoration. This has led several revisionist historians to suggest that the currently accepted religion of Islam was largely created during the period of 'Abd al-Malik and his successors, building upon a more rudimentary earlier cult. Another implication derived from the evidence is that the Muslim state prior to 690 CE was relatively weak and not based explicitly on a religious vision. However, as Hodgson, Donner, Hoyland and others have argued persuasively, there is little reason to accept the first assertion, and the second one must be understood in proper historical context. An increasing amount of evidence from early papyrus inscriptions indicates that the Muslim state was administratively quite sophisticated as early as the period of the second Caliph, 'Umar b. al-Khattāb (583-644 CE), and certainly by the caliphate of Muʻāwiya b. Abi Sufyān (660-680 CE). Numerous rock and papyrus inscriptions from the pre-690 CE period also show that Islamic religious sentiment and Qur'anic expression at the personal level had become well-established among Muslims by that time. Why, then, the sudden emergence of official religious statements?
The answer may lie in political calculation.
Hoyland – following Crone and others – has speculated that, until the eruption of the second fitnah, the expanding Arabs saw themselves as an army of "believers" (mu'minīn) rather than an army of Muslims (muslimīn) alone. Thus, the amīr al-mu'minīn (Commander of the Believers) saw himself as a leader of Christians and Jews as well as Muslims, and the practice of Islam per se was regarded as a private matter within this larger milieu – hence the lack of official religious proclamations by the state. There is indeed indirect evidence that the Prophet Muhammad initially saw Christians and Jews as members of his larger community – a principle embodied in the "Compact of Medīna" signed after the Prophet's migration to that city. It is also true that the conquering Arab armies included Christian Arabs in addition to Muslims, and that these people were treated as equal members of the community, in contrast to the conquered peoples. However, it is far from clear if this situation held as late as 690 CE, by which time large populations of Christians and Jews in Iraq, Syria and Egypt were paying the poll-tax (jizya) as protected minorities. So why did the official usage of Islamic expressions by the state only begin after 690? To answer this question, it is useful to look at the situation at the time from the Umayyad perspective. 'Abd al-Malik was facing two major challenges: The civil strife of the Second Fitnah, and the perpetual conflict with the Byzantines. Both were likely factors in the decision to adopt a more overtly Islamic official discourse.
On the home front, opposition came from three directions: The ultra-orthodox regime of Ibn Zubayr; the various puritanical khārijī groups; and the supporters of the fourth Caliph, 'Ali, who would later become the Shī'a branch of Islam. The notable thing is that all three opponents based their claims on religious rectitude, asserting that they – and not the Umayyads in Damascus – were the true practitioners of Islam in its purest form. In the case of the Shī'a, this assertion was accompanied by belief in a divinely sanctioned leadership role for the Prophet's family. Of the three opposition movements, the Shī'a revolt was ultimately to prove the most effective and lead to the end of the Umayyad dynasty, but during 'Abd al-Malik's time, it was the least powerful of the three. The other two acquired real, if transient, power, and proclaimed it explicitly through strong religious statements. As discussed earlier, Muslim coinage prior to 685 is either devoid of any Islamic inscription, or carries minimal ones such as "bismillah" or the designation of the Caliph as "Commander of the Believers". The first explicit statement of "Muhammad is Allah's messenger" appears in 685 CE on coins issued by 'Abd al-Malik b. 'Abdullāh in Bishapur (in southern Iran), and the full creed (shahāda) appears first in 691 CE on a coin minted by 'Abd al-'Azīz b. 'Abdullāh in Sistan (Eastern Iran). Notably, both were regional governors appointed by Ibn Zubayr's ultra-orthodox regime in Medina, not by the Umayyad caliph in Damascus (Johns, 2003). The khārijī groups also put vociferous religious inscriptions such as "lā ḥukmu illā lillāh" (there is no dominion except for Allah) on coins – and presumably using them in their discourse. The Umayyads spent the period from 683 to 692 CE fighting these movements, and gradually defeated them all. It is precisely towards the end of this period that the highly specific religious statements introduced by their more puritanical foes began appearing on official Umayyad coinage, and the walls of the Dome of the Rock in Jerusalem were adorned with passages from the Qur'an. And, to cap it all, once the rebel groups had been vanquished, the Umayyads introduced a reformed coinage with the full shahāda and two long quotes from the Qur'an. This pattern suggests strongly that the move towards the official use of religious statements reflected a political decision to co-opt the narrative of the rebels to dissipate the widespread sympathy they enjoyed in a populace already growing more puritanical under their influence. A somewhat parallel phenomenon can be seen today, where the emergence of extremist groups such as Al-Qaeda and ISIS has had the effect of increasing religious fervor even among Muslims who do not support these groups politically, in turn forcing governments to adopt more puritanical postures on issues such as blasphemy and shari'a law.
The struggle against puritanical Islam, however, is only a part of the explanation for the adoption of overtly religious discourse by the state after 690 CE. Some of the "credit" must go also to the state's emerging relationship with the Byzantine Empire. Initially, the Muslim state had been monetarily dependent on the Byzantines, and the latter seem to have regarded the Muslims as temporary occupiers of their lands in the Levant. However, as Arab hold over Syria and Egypt became more complete, the two states adopted a posture of mutual hostility, symbolized most clearly by the repeated military expeditions sent by the Umayyads against Constantinople – all of them fruitless. And, given that the Byzantine Empire presented itself as the guardian of Christian supremacy, it was natural that the Arabs responded by adopting a similar position in the name of Islam. Thus, when 'Abd al-Malik did finally introduce a reformed Islamic coinage, the Qur'anic texts placed on them appeared to be directed squarely at Christian beliefs. The focus of Chapter 112 (Al-Ikhlāṣ) is on the oneness of Allah, and on the key statement, "He did not beget and was not begotten" – a direct challenge to the divinity of Jesus. The challenge is even clearer in the choice of Qur'an 61:9 – "Muḥammad is the messenger of Allah, whom He sent with guidance and the religion of truth that he might proclaim it over all religions even if the associators are averse." There can be little doubt that the term "associators" here referred to the dominant faith in the Levant and its "association" of Jesus Christ and the Holy Spirit with the Divine. Indeed, this text, among others, was also inscribed on the walls of Abd al-Malik's new Dome of the Rock. Thus, the post-fitna period beginning in 692 CE can be seen as the beginning of a transformation in the Muslim state, taking it from yet another occupier to a new civilizational force with Islamic orthodoxy at its core. The aggressive statement of Qur'an 61:9 on coins was a fittingly supremacist declaration of Islam's new intentions, and the basis of solidarity against the Christian empire.
The picture of the early Muslim state that emerges from this is one highlighting the practical aspects of its evolution rather than the ideological form imputed to it by later generations. Once can imagine a young, energetic and rapidly expanding state run by people with little experience of statecraft relying on their instinctive administrative genius – which was considerable in some cases – and on the principles of their new faith. It is natural that they would be less pre-occupied with doctrinal issues such as the prohibition of images or explicit statements of creed, and more with the practical considerations of governing diverse populations, collecting taxes, and keeping the soldiery in shape. Indeed, history suggests that, ultimately, it was this focus on the "worldly" affairs of state that elicited the puritanical revolts of Ibn Zubayr, the Kharijites, and even some Shī'a groups. This, in turn, forced the state to adopt a posture of more overt religiosity, essentially using a "protector of the faith" argument to solidify its political control – especially in opposition to the overtly Christian Byzantine state. It is not surprising, then, that the intellectual basis as well as the bureaucratic framework of Islamic law begins to flourish in this period, though it did not find full fruition until after the fall of the Umayyads. In a real sense, the idea of a state based on "Islamic laws" rather than "Islamic rule" was a creation of 'Abd al-Malik and his successors – including the Abbasids – and driven by the agenda of their puritanical opponents.
This viewpoint has interesting implications. Among other things, it suggests that the second fitnah was a critical event in Islamic history, and changed its course for all future time. Many of the features that orthodox Muslims associate today with the notion of an "Islamic state" arose at this time, and probably for purely political reasons. This also means that, rather than separating the period of the first four "rightly-guided" caliphs from the rest, it is more useful to see the reign of Mu'awiya as a continuation of this period, with the real break coming after his death.
An important consequence of the Islamization instituted by 'Abd al-Malik would have been to finally turn Christians, Jews and other non-Muslims irrevocably into outsiders, reversing the early practice of regarding Arab Christians and Jews as part of the community of "believers" and reserving outsider status only for conquered people. After 'Abd al-Malik's consolidation of the state, Islam became the core of its identity. Even so, the state did not force non-Muslims to convert – indeed, actively discouraged them in many cases – and allowed them to maintain their communities, albeit in a subservient status. This was the model that Muslim rulers from Spain to India were to follow for the next thousand years, and even follow today in certain ways. It is a self-consciously supremacist and exclusionary model – very much of its time and clearly unsuited to the 21st century – but it is nothing like the fantasy that excites groups such as Al-Qaeda and ISIS. The society it created was – like all others in its time – manifestly illiberal, but it was also intellectually vigorous, multi-faceted, diverse, creative and dynamic. It produced writers, poets, philosophers, scientists, historians, and, yes, warriors and tyrants. It was full of argument and passion, but also capable of thoughtful analysis. In a word, it was complex, not the stark, simplistic, static and joyless caricature that today's revivalists seem to have in mind.
Above all, the varied coinage of the early Islamic period presents a very human picture of the evolving Muslim state, laying bare the challenges it faced, hinting at motivations, suggesting calculations and choices made. It shows energetic leaders coping with problems far exceeding their control, and finding strategies to muddle through. The fact that some of these pragmatic strategies have since ossified into religious orthodoxy is a large part of the problems the world faces today. Muslim societies in particular should look more deeply into their history and learn to appreciate its complexities rather than seeking simple answers in the mythology of received "truths". It's worth remembering that societies that forget their past truly have no future!
References
M.L. Bates (1987) "The Coinage of Syria Under the Umayyads, 692-750 A.D.", IVth International Conference on Bilad al-Sham During the Umayyad Period: Proceedings of the Third Symposium, pp. 195-228.
P. Crone (2014) The Nativist Prophets of Early Islamic Iran: Rural Revolt and Local Zoroastrianism. Cambridge University Press.
D.C. Dennett (2000) Conversion and the Poll Tax in Early Islam. Harvard University Press.
F.M. Donner (1986) "The Formation of the Islamic State", Journal of the American Oriental Society 106, pp. 283-296
C. Foss (2001) "Anomalous Arab-Byzantine coins – some problems and suggestions", Oriental Numismatic Society Newletter 166, pp. 5–12.
C. Foss (2002) "A Syrian Coinage of Mu'awiya ?", Revue Numismatique 158, pp. 353 – 365 (http://dx.doi.org/10.3406/numi.2002.1451)
M. Grodzki (2014) "Christian-Muslim Symbolism on Coins of the Early Arab Empire", Asian and African Studies 23, pp. 255-273.
M.G.S. Hodgson (1975) The Venture of Islam, Volume 1: The Classical Age of Islam, University of Chicago Press.
R.G. Hoyland (1997) Seeing Islam as Others Saw it: A Survey and Evaluation of Christian, Jewish and Zoroastrian Writings on Early Islam, The Darwin Press, Princeton, NJ.
R.G. Hoyland (2006) "New documentary texts and the early Islamic state", Bulletin of SOAS 69, pp. 395–416.
R.G. Hoyland (2007) "Writing the biography of the prophet Muhammad: problems and solutions", History Compass 5/2, pp. 581- 602.
R.G. Hoyland (2015) In God's Path: The Arab Conquest and the Creation of an Islamic Empire, Oxford University Press (See also video at https://www.youtube.com/watch?v=Ly46AjPDptw )
J. Johns (2003) "Archaeology and the History Of Early Islam: The First Seventy Years", Journal of the Economic and Social History of the Orient, Vol. 46, No. 4, pp. 426-427.
D.N. MacLean (1989) Religion and Society in Arab Sind. Brill.
M.I. Mochiri (1981) "A Pahlavi Forerunner of the Umayyad Reformed Coinage", Journal of the Royal Asiatic Society, pp. 168-72.
M.I. Mochiri (1982) "A Sasanian-Style Coin Of Yazīd B. Mu'āwiya", Journal of the Royal Asiatic Society, No. 1, pp. 137-141, Plate I.
Sotheby's Auction Catalog, 2011, "Important Coins of the Islamic World".
L. Treadwell (2005) " "Mihrab and 'Anaza" or "Sacrum and Spear"? A Reconsideration of an Early Marwanid Silver Drachm", in Muqarnas: An Annual on the Visual Culture of the Islamic World, XXII, 1-28.
I. Schulze and W. Schulze (2010) "The Standing Caliph Coins of al-Jazīra: some problems and suggestions", The Numismatic Chronicle 170, pp. 331 – 353.
Posted by Ali Minai at 12:50 AM | Permalink | Comments (0)
Monday, May 30, 2016
The Prescriptivist's Progress
by Ryan Ruby
This month, two minor controversies revived the specter of the "language wars" and reintroduced the literary internet to the distinction between prescriptivism and descriptivism. One began when Han Kang's novel The Vegetarian won the Man Booker Prize and readers took to their search engines en masse to look up the word "Kafkaesque," which had been used by the book's publishers and reviewers to describe it. Remarking upon the trend, Merriam-Webster noted sourly: "some argue that 'Kafkaesque' is so overused that it's begun to lose its meaning." A few weeks before, Slate's Laura Miller had lodged a similar complaint about the abuse of the word "allegory." "An entire literary tradition is being forgotten," she warned, "because writers use the term allegory to mean, like, whatever they want."
When it comes to semantics, prescriptivists insist that precise rules ought to govern linguistic usage. Without such rules there would be no criteria by which to judge whether a word was being used correctly or incorrectly, and thus no way to fix its meaning. Descriptivists, by contrast, argue that a quick glance at the history of any natural language will show that, whether we like it or not, words are vague and usage changes over time. The meaning of a word is whatever a community of language users understands it to mean at any given moment. In both of the above cases, Merriam-Webster and Miller were flying the flag of prescriptivism, protesting the kind of semantic drift that results from the indiscriminate, over-frequent usages of a word, a drift that has no doubt been exacerbated thanks to the internet itself, which has increased the recorded usages of words and accelerated their circulation.
Since the trials of the word "Kafkaesque" have already received ample coverage (by Allison Flood writing for The Guardian and Jonathon Sturgeon writing at Flavorwire), I'd like to turn my attention instead to the uses and abuses of the word "allegory" as described by Miller. Most of the time Miller is not one to quibble with the way people use words. But a recent spate of film reviews—one claimed Batman vs. Superman was an allegory for the primary contest between Ted Cruz and Donald Trump, another said that Zootopia was an anti-Trump allegory, a third called Jafar Panahi's Taxi an allegory of artistic repression in Iran—caused her to draw a line in the sand. "What people usually mean when they call something an allegory today is that the fictional work in question can function as a metaphor for some real-world situation or event," Miller writes. But allegory "is not just another word for metaphor."
Because one good quibble deserves another, allow me to point out that this last assertion isn't entirely accurate. The offending examples Miller lists are indeed abuses of the term. The first two films were made before the political events they are supposed to allegorize; the third simply is about artistic repression in Iran. But this is not because allegory stands in no relation to metaphor, it's because these particular films stand in little to no relation to what the reviewers claim they are metaphors for. If Miller is normally a descriptivist, it's quite difficult to understand why she has chosen to make an exception in the case of allegory, which Angus Fletcher, in his definitive study of the term, calls "a protean device, omnipresent in Western Literature from the earliest time to the modern era."
Miller takes the features of the medieval literary genre to define its limits. Unlike more realistic fictions, the characters of medieval allegory are personified representations rather than representations of people. The protagonist of a typical medieval allegory, let's call him Everyman, journeys from Doomville to Blisstown, encountering, along the way, such embodied abstractions as Truth, Justice, and Sin who act and speak truthfully, justly, and sinfully, helping our hero reach his destination or tempting him away from the right path. Beginning "in the waning years of the Roman Empire"—presumably with Boethius' Consolation of Philosophy (c. 524)—Miller claims that allegory reaches its heights in works such as Guillaume de Lorris and Jean de Meun's Romance of the Rose (1275), Edmund Spenser's The Faery Queene (1596) and John Bunyan's The Pilgrim's Progress (1678). Although she admits that the genre has largely been eclipsed by the realist novel, it lives on in the writing of C.S. Lewis, J.K. Rowling and Haruki Murakami, in the films of David Lynch and in the drawings of today's political cartoonists.
Unfortunately, this simplifies history to the point of falsification (and not just because The Divine Comedy does not figure into it). To fix a word's meaning, a prescriptivist should start with its etymology, lest her definition seem as cherry-picked as that of the descriptivists she criticizes. Allegory comes from the Greek words allos ("other") and agoreuein ("to speak openly"). Originally the word did not refer to a literary genre at all, but a rhetorical mode. "In the simplest terms," Fletcher writes, "allegory says one thing and means another." Like irony, allegory exploits the natural polysemy of language. It's a kind of double talk that is especially useful under conditions of political censorship or in societies where blasphemy is a crime. Allegorical speech deploys figurative language to alert the hearer the existence of a latent meaning beneath the manifest content of what is said. You would not be wrong to detect in agoreuein the word agora, the place where the Greeks came together to discuss politics. Nor would you be wrong to detect in Fletcher's paraphrase something akin to metaphor, which, to quote the prescriptivists at Merriam-Webster, is "an object, activity, or idea that is used as a symbol for something else." The English lexicographer Edward Phillips, writing in the same year as The Pilgrim's Progress was published, defined allegory as a kind of semantic "Inversion," derived from translatio, the Latin word for metaphor. 
Allegory—"one of the foundations of Western literature"—is in fact much older than Miller suggests. The first known usage of the word can be found in the Moralia, a collection of essays by the Hellenist philosopher, biographer and literary critic Plutarch, who died in 125, four hundred years before The Consolation of Philosophy and over a millennium before The Romance of the Rose were written. According to Plutarch, the ancients called it hyponoiai ("under-thought" or "hidden ideas"). The most famous example from antiquity is of course the "strange image" in the seventh book of Plato's Republic (c. 380 B.C.). There, Socrates describes a society of imprisoned cave dwellers who take the shadows of things for the things themselves and relates what happens when one of them frees himself from his shackles and sees what the world beyond the cave is like. In what is variously known as the Analogy, Myth, Metaphor, or Allegory of the Cave, Socrates' story reveals itself to be a network of metaphors or symbols, wherein each element is meant to correspond to an element of reality as Plato sees it. Platonic allegory is a corpus symbolicum whose cells are metaphors. In so far as allegory and metaphor are different here, it is a difference of degree, not kind.
The same is true of allegorical reading. In Plutarch's time, allegorical exegesis of canonical texts, the Homeric epics above all, was a well-established critical practice, as philosophers demonstrated correspondences between the stories of Greek mythology and their own cosmological and ethical theories. In "How a Young Man Should Study Poetry," Plutarch instructed readers not to take the myths about the Gods in the Iliad and the Odyssey literally, but rather to interpret them as astronomical metaphors and symbolic prefigurations of Platonic ideas. Around the same time, a similar operation was being performed on the myths of Genesis by the philosopher Philo of Alexandria and by the early biographers of a parable-speaking preacher from Nazareth.
By focusing on medieval allegory, Miller takes a particular, historically situated usage of a word—albeit a well-known one—to stand in, synechdochally as it were, for a whole tradition of usage. The works Miller takes as emblematic of the form are actually deviations from and even inversions of this older tradition. The personages and places of these works are entirely literal; irony is absent from their narratives and metaphors are reified as proper names. When Lady Philosophy speaks to Boethius, or when Despair tempts Red Cross Knight with an argument about suicide, there's no need to wonder whether the author means anything other than what he says. All allegories alert their reader to the fact that they are allegories, but few do so as ham-handedly as Pilgrim's Progress. Nearly everything a reader needs to know about Bunyan's book can be found on its frontispiece (see above).
Bunyan turns the distinction between manifest and latent content inside out; then he dispenses with latent content altogether. In so doing he dispenses with the very feature that had distinguished the form for centuries (all the way back to the prophet Hosea in the 8th century B.C. if we are to take his word for it). The Pilgrim's Progress does not represent the form's culmination; it represents its decadence.
Miller is right to wonder if we are even capable of reading such books any more. Aside from children, who can still enjoy allegories as pure tales of adventure, contemporary readers are likely to prefer the round characters, psychological depth, moral ambiguity, and narrative complexities that are some of the hallmarks of the realist novel, which has been the dominant form of storytelling since the late eighteenth century. "Should a book or form present its argument so simply that even a child can discern it, what's left to talk about?" she asks. "Merely language, story, and imagery—all the pleasures that art is made of."
As a defense of allegory in the age of the novel, this is puzzling, to say the least. Having begun with an attempt to distinguish allegory from metaphor, Miller ends up arguing that pure formalism is the only way we can still appreciate the most didactic of all genres. The pleasures of language, story, and imagery were the very criteria by which Flaubert wanted his arch-realist "book about nothing" to be judged. For all the formal differences between a book like The Pilgrim's Progress and a book like Madame Bovary, the ideological literalism of medieval allegory is only a step away from the mimetic naturalism of the realist novel. In any event, stripping an allegory of its ideological framework in order to read it as "entertaining adventure yarn" isn't how the form stays relevant in the twenty-first century. It's how Dante's Inferno gets turned into a video game.
This reductio ad absurdum is the inevitable consequence of taking medieval allegory to exhaust the meaning of the term. More generally, it shows how a narrow definition of a word can be just as harmful to its meaning as overly broad usage of it. With a prescriptivist for a white knight, meaning hardly needs a dragon.
Posted by Ryan Ruby at 12:30 AM | Permalink | Comments (0)
Monday, May 02, 2016
On Our Critical Categories: Pretentiousness
by Ryan Ruby
"Ordinary men commonly condemn what is beyond them." —François de La Rochefoucauld, Maxims
For the American reader Dan Fox is an ideal guide to the murky space where class overlaps with taste. His position in the art world—he is a co-editor of the renowned contemporary art magazine frieze—has furnished him with ringside seats to some of the "nastiest brawls over pretentiousness." Moreover, he is British. The class education the English receive as a matter of their cultural heritage enables them to view the matter more clearly than their American counterparts, whose understanding of class has been systematically retarded by taboo, ideology, and denialism, resulting in a deeply classed society that has no idea how to talk about this aspect of itself.
Class is not "just a question of money and how you spend it," Fox helpfully reminds us in his book-length essay Pretentiousness: Why It Matters (Coffee House Press, 2016). It's also "about how your identity is constructed in relationship to the world around you." When we divide classes solely on the basis of wealth—into upper, middle, and lower—as we tend to do in America, it becomes easy to forget that the division is not only arbitrary, but also a gross simplification. In fact, the more generally we talk about class, the easier we fall into confusion. The so-called upper, middle, and lower classes are by no means unified groups, whose members view themselves as bound by the same interests. Every member of the "upper class," for example, may be considered an elite, but this elite group is comprised of a number of class segments, whose members may in turn be ranked on the basis of their access to various kinds of capital (financial, educational, social, cultural, geographical, symbolic, etc.) whose relative importance is in a permanent state of flux.
Take the field of business, whose elites are distinguished by their wealth. It is firmly within the logic of the American class system to say that an Arkansas-born, high-school educated founder of a multinational retail company whose net worth is $25 billion and is an influential donor to national political campaigns is less elite than the Chicago-born CEO with an MBA from Wharton whose net worth is only $1 billion and has no personal political influence (who would in turn be considered less elite than the Exeter- and Oxford-educated amateur art collector whose net worth is only $100 million but whose last name is Rockefeller). Beyond a certain threshold of wealth necessary for membership, other factors like cultural training, proximity to metropolitan centers, and the exclusivity of one's social network become the means of sorting economic elites into an internal hierarchy. A member's ever-changing position within the hierarchy of his own class segment will influence his relations to members of the other segments of the "upper class" as well as to the class system as a whole.
Membership in the cultural field is no less complicated. Within it, we can distinguish several separate, but interlocking "worlds"—the art world, the news media, new media, the academy, publishing, the motion picture industry, the music industry, etc.—each of which is a made up of producers, consumers and the astonishing number of world-specific professional and semi-professional mediators who connect them. As with the field of business, entry into any of these worlds generally requires a minimum level of start-up capital. And while success as a producer in the cultural field can translate into membership in the more powerful business elite, this is rare, and discussions of class and culture are often marred by the intentional or unintentional conflation of cultural capital with economic capital.
If "artists themselves are hard to place socially," as Fox writes, it's because they exist at the extreme ends of what seem to be two contradictory poles of capital distribution. On the one hand, their cultural and social capital would seem to place them at the highest end of the class spectrum, higher even than the young investment banker or law clerk, with whom they often share similar levels of educational capital. On the other hand, because the labor of early- and even mid-career cultural producers is typically poorly remunerated—payment comes, if at all, in immaterial "investments" like prestige and notoriety—their economic circumstances are more similar to the urban underclass among whom they tend to live. They are regarded as privileged (in terms of cultural and social capital) by those with whom they share an economic background; but because they engage in rarefied, socially nonproductive labor, their poverty, though entirely real, is considered voluntary by those whose do not possess any forms of capital. Caught between feelings of resentment for their more affluent peers and guilt for their own forms of privilege, artists have resorted to two legitimating myths. The first is aristocratic—the lone genius indifferent to and independent from the economy. The second is proletarian—the artist whose labor serves to hasten the abolition of economic privilege itself.
Despite such romantic narratives, no art can be entirely divorced from the patronage system that supports its production. Unlike other art forms, like contemporary literature (which has a mixed patronage system that includes the market, the state, the academy, and private charitable organizations) and pop music  (which operates almost entirely in the market), visual arts patronage retains the general contours that have sustained it since the18th Century, a combination of state funding and a restricted market composed of corporations and wealthy private collectors.
The public does not collect visual art in the way they make libraries of songs and books. It consumes contemporary art, if all, the way it used to watch movies: by buying tickets to a museum. The prices for individual pieces are too high for most people to participate in the art market as owners, and anyway, much of contemporary art (land art, performance art, light art, installations, large-scale sculptures) is designed to be unownable. The only visual art one will see in a middle-class home are reproductions of classic paintings (in poster form or on coffee cups and t-shirts), privately made art (family photographs, amateur paintings), or the artwork that is actually intended for mass consumption, of which the paintings of Thomas Kinkade are the best known example.
A book, album, or film may be re-produced indefinitely many times with no effect on the selling price of the next copy. Visual art by contrast derives its value from an inbuilt scarcity. A price level is determined, in the first instance, by assuming that each work of art is a singularity and an original. The economic imperative of quantitative originality (there can only be one "of" it) has also lead to a demand for qualitative originality (there can only be one "like" it). As a result, the visual arts exhibit a greater degree of differentiation between works than in any other medium. Ultimately distinctions between artistic styles give way to distinctions between individual artists, of which there can only ever be just one.
From the perspective of the audience, this proliferation of styles means a greater body of knowledge is required to understand contemporary visual arts trends the way artists themselves understand it, to such an extent that even high profile art collectors make purchases with the help of professional consultants. Matters are rarely improved by the artist statements that accompany exhibits, which are less often used to clarify the artist's intentions than to deploy a highly developed professional jargon to further differentiate the artist's work from others on the market. This gives interested members of the general public a not entirely unfounded suspicion that contemporary art "requires a specialist education in order to be understood, that it demands time for study that only the privileged can afford to spend." This combined with perceptions of a market that is directly accessible to only the wealthy leads the public to believe that art is "made for cliques, not crowds." Consequently, "accusations of elitism circle above the art world in a perpetual holding pattern" and artists are vulnerable to the alliance between segments of the so-called upper and lower classes known as populism.
It is against this background that charges of "pretentiousness" must be understood. Populism, it should never be forgotten, is fundamentally an intra-elite phenomenon. It is a strategy used by a particular segment of the elite in its struggle for position within that elite against a rival segment of that elite. In democratic societies, where majorities legitimate, populism is a way of manufacturing and mobilizing the opinions of a large, vaguely defined part of the population. Whether or not the manufactured "majority" is in fact more than half of a population, it is necessarily "silent." Not because, as is commonly thought, capital-poor majorities lack access to the means of self-representation, but because a "populace" does not, strictly speaking, exist. If someone "must" speak on its behalf, it is because the speaker—whether he is a professional critic or a political demagogue—retroactively constitutes the "populace" as a group that would not in fact cohere without him and his "speech." Populism and paternalism seem opposed, but are really two sides of the same coin. In the context of the cultural field, they represent the deployment of a specious majoritarianism against persons, products, and ideas whose value is not staked on any reference to numerical appeal.
Anti-pretension is an "informal tool of class surveillance," Fox writes. Used as an insult, "pretentiousness" is a "stick" that helps populism police the borders of a rigid, hierarchical system of identities. Those who wield the stick get to shore up their position as possessors of the dominant form of capital, against those who would deny its primacy or the legitimacy of its distribution. In exchange the "populace" in whose name the stick is wielded is empowered to constitute their particular identity as the symbolic norm.
In America, the name for this symbolic norm is "middle class." The perpetual confusions about who and what this term picks out (how is it that Americans in the top percentile and the bottom quintile of income earners both claim this designation?) results from the fact that the American middle class isn't an economic class at all. Rather it's a populace in which a great deal of symbolic capital has been invested and whose "ordinariness" is constructed according to a series of educational, professional, regional, religious, racial, and—especially—sexual exclusions.
One of the most astute observations in Fox's book is that anti-pretension expresses not only an "almost tribal" horror of "class migration" but also a parallel disgust with violations of "authentic" gender norms, as if putting on airs were a form of drag (and vice versa). "Pretentiousness shares with sophistication a lingering sense of 'unnaturalness'; something faked, pretending, tampered with…Pretension implies affectation. People are not acting themselves; rather, their lying urbanity is trampling all over your plain-speaking—and presumably heterosexual—truth." Persons are called pretentious when they privilege intellectual over manual labor, symbolic over material wealth, the superfluous over the necessary, artifice over naturalness, the amateur over the professional, style over substance, irony over sincerity, the foreign over the native, and non-reproductive over reproductive sex. It should therefore come as no surprise that a brief list of the artists and artifacts that appear in Fox's book as signifiers of pretentiousness—Oscar Wilde, Virginia Woolf's Orlando, Susan Sontag's "Notes on 'Camp'," Andy Warhol, Tyler Rowland's Artist's Uniform #1, the drag balls of Paris is Burning, David Bowie, The Pet Shop Boys, Grace Jones, Stephen Fry, opera, haute couture—is also a list of some of the greatest hits of queer culture.
Fox's mission in Pretentiousness is to reclaim the term from its critics and, in so doing, neutralize the stick of populism. His first move is to reframe populist anti-pretension as a kind of snobbery. Although pretentiousness and snobbery are commonly linked in the popular imagination, what distinguishes them, Fox argues, is intent. Pretentious people and artists are generally innocents pursuing a private vision of themselves and the world, genuinely oblivious to the way they and their work appear to other people. Whereas snobs are deeply "invested in the opinions of others" and think "they are better than those beneath them." This does not mean, however, that one's snobbishness is directly correlated with the amount of capital one possesses. There are also "prolier-than-thou" snobs who are "anxious not to be marked as a part of the educated elite" and whose claims to "ordinariness makes them more virtuous than those with a higher social status." 
Populist anti-pretension is precisely this type of snobbery. Lacking curiosity and intolerant of difference, populists affect to be belittled by what they do not understand. They look down on the people whom they suspect are looking down on them. "Cutting someone down for pretension reveals, ironically, embarrassed arrogance rather than humility," Fox rightly notes. Pretentiousness is rarely ever harmful, but anti-pretension always is. Demanding that people remain authentic to the circumstances of their birth is tantamount to maintaining a rigid hierarchy of identities that denies individuals the ability to be authentic to the way they see themselves.  
His next move is to identify pretentiousness with creativity itself by tracing the word's etymological origins to the games of pretend played by children and actors. "To understand the artistic process is to accept that pretentiousness is part of the creative condition, not an affliction," he writes. To be an artist is first of all to pretend to have a status one isn't yet entitled to: in order to make art you have to consider yourself an artist even though only the making of the art will earn you this designation. And if certain works of art appear pretentious it is not because they are attempting to pull the wool over the eyes of their audience, because of a disjunction between the artist's ambitions and his abilities. "Pretension is about overreaching what you're capable of, taking the risk that you might fall flat on your face." On this definition, pretentious artworks may be failures, but they are noble failures, the result of the curiosity and bravery of those who operate outside the symbolic norms of ordinariness. "A rich culture"—one that takes the risk of experimenting creatively—"is a pretentious one."
The art world is where Fox may have begun his investigation into pretentiousness, but the phenomenon of anti-pretension he identifies is by no means confined to it. While we may grant him that the art world is where "the nastiest brawls over pretentiousness are fought," brawling, here, is only a figure of speech. Anti-pretension has slipped the relatively rarified precincts of the cultural field and has invaded almost every sphere of American life, including the political field, where the brawling has become literal. Looking up from the pages of Fox's essay to the news on the television screen, the American reader will have to concede that it has entirely earned its thoroughly unpretentious subtitle.
Posted by Ryan Ruby at 12:50 AM | Permalink | Comments (0)
Monday, April 25, 2016
Welcome To Alphaville
"The secret of my influence has always been 
that it remained secret." 
~ Salvador Dalí
Last month I looked at the short and ignominious career of @TayandYou, Microsoft's attempt to introduce an artificial intelligence agent to the spider's parlor otherwise known as Twitter. Hovering over this event is the larger question of how best to think about human-computer interaction. Drawing on the suggestion of computer scientist and entrepreneur Stephen Wolfram, I put forward the concept of 'purpose' as such a framework. So what was Tay's purpose? Ostensibly, it was to 'learn from humans'. But releasing an AI into the wild leads to unexpected consequences. In Tay's case, interacting with humans was so debilitating that not only could it not achieve its stated purpose, but neither could it achieve its real, unstated goal, which was to create a massive database of marketing preferences of the 18-24 demographic. (As a brief update, Microsoft relaunched Tay and it promptly went into a tailspin of spamming everyone, replying to itself, and other spasmodic behaviors more appropriate to a less-interesting version of Max Headroom).
People have been releasing programs into the digital wild for decades now. The most famous example of the earlier, pre-World Wide Web internet was the so-called Morris worm. In 1988, Robert Tappan Morris, then a graduate student at Cornell University, was trying to estimate the size of the Internet (it's more likely that he was bored). Morris's program would write itself into the operating system of a target computer using known vulnerabilities. It didn't do anything malicious but it did take up valuable memory and processing power. Morris's code also included instructions for replication: specifically, every seventh copy of the worm would instantiate a new copy. More importantly, there was no command-and-control system in place. Once launched, the worm was completely autonomous, with no way to change its behavior. Within hours, the fledgling network of about 100,000 machines had nearly crashed, and it took several days of work for the affected institutions – mostly universities and research institutes – to figure out how to expunge the worm and undo the damage. 
This is a good example of how the frictionless nature of information technology serves to amplify both purpose and consequence. And the consequences of Morris's worm went far beyond slowing down the Internet for a few days. As Timothy Lee noted in the Washington Post on the occasion of the worm's 25th anniversary:
Before Morris unleashed his worm, the Internet was like a small town where people thought little of leaving their doors unlocked. Internet security was seen as a mostly theoretical problem, and software vendors treated security flaws as a low priority.  The Morris worm destroyed that complacency.
This narrative of innocence lost has remained relevant to our experience with technology. Granted, the Internet was small and chummy back in 1988 – after all, the invention of the web browser was still about five years away – but the fact that 99 lines of code could launch an entire industry is worth contemplating. That is, until you realize that if it hadn't been Morris's 99 lines, it would have been someone else's. Now the internet is many orders of magnitude larger and more essential to our society, but I contend that the same dynamic of purpose and consequence remains at work. There is a clear lineage that can be drawn from Morris to Microsoft's Tay. We think we expect one thing to happen, and while that thing may indeed come to pass, a whole lot of other things also come into play. 
*
This brings me to another recent development in AI that's somewhat more serious than Tay, namely the emergence of AlphaGo, an artificial intelligence schooled in the ancient Chinese strategy game Go. As has been widely reported, AlphaGo beat the world #1, Lee Se-dol, by a decisive margin of four games to one in South Korea. AlphaGo accomplished this through an extensive training regimen that included playing another version of itself several million times (The Verge extensively covered the series here). 
In the case of AlphaGo, the purpose seems to be clear. Win at Go – which it did, and handily. But we don't get the deeper context, or, in the parlance of clickbait titles, the "You won't believe what happens next". This is partly the fault of the way the mainstream media constructs its reporting today. Another opportunity to crow about how machines will soon overtake us, and then on to the next shiny object that commands the news cycle's attention. In fact, AlphaGo is but a step in a long, iterative process begun decades ago by DeepMind's founder and CEO, Demis Hassabis. In fact, he lays it all out quite clearly in this lecture at the British Museum.
The larger purpose of this process, of which AlphaGo is merely a symptom, is, in Hassabis's own words, "to solve intelligence, and then use that to solve everything else". Obviously we could spend quite a bit of time unpacking what he means by any of the key terms in that mission statement: What is intelligence? How do you know when you've solved it? What is everything else, and who gets to decide that? Seen within this larger context, the idea of an AI winning at Go goes from one of the holy grails to a digital cairn, marking an event on the way to something much greater, and more ambiguous.
As an example consider Watson, IBM's Jeopardy-winning juggernaut. Perhaps because Jeopardy is a game that seems intrinsically more human, the impact on our popular consciousness was more substantial than AlphaGo's feat. But what is Watson doing today? Is it, to borrow a classic dig, "currently residing in the 'where are they now' file"? Not at all. Watson is an active revenue stream for IBM, although exactly how much is unknown, since the actual numbers are, for the time being, rolled up into the company's larger Cognitive Solutions division. Watson's involvement is remarkably eclectic, including "helping doctors improve cancer treatment at Memorial Sloan Kettering and employers analyze workplace injury reports." Also, Watson is looking forward to providing insight into case law. And this is all in addition to applying its talents to the kitchen. 
What else is Watson up to? Going back to Stephen Wolfram's discussion of AI that I referenced last month, I was struck by his vague disinterest in certain applications. For example, he says 
I was thinking the number one application was going to be customer service. While that's a great application, in terms of my favorite way to spend my life, that isn't particularly high up on the list. Customer service is precisely one of these places where you're trying to interface, to have a conversational thing happen. What has been difficult for me to understand is when you achieve a Turing test AI-type thing, there isn't the right motivation. As a toy, one could make a little chat bot that people could chat with.
This is, in fact, exactly one of the businesses that Watson is in. Any sufficiently open-minded entrepreneur could rattle off a dozen opportunities where he or she could really use a conversant machine intelligence. And the larger the scale, the greater the opportunity. Just as Tay could talk to millions of millennials, Watson can talk to millions of customers. Meet IBM Watson Engagement Advisor, which is replacing entire call centers as we speak. 
Moreover, Watson is not just a disembodied voice on the other end of a phone line. One of the great lines of technological convergence we have already begun to witness is the unification of AI with robotics. And this crosses AI over into embodiment, which is another ball game entirely. Witness this exchange between a Pepper robot, plugged into Watson and a bank customer. (Obviously, this is a promotional video, but I am slightly disoriented by the fact that IBM is hip enough to be using using words like 'bummer' when describing the risks of an adjustable-rate mortgage.) It is not difficult to imagine thousands of these robots, with their aww-shucks attitude, all connected to a central AI that is constantly learning and refining itself based on inputs provided by humans. In fact, this not some Alpha-60-style speculation; this is already happening.
These examples illustrate the big takeaway concerning how Watson is being deployed. Watson is no sacred cow. IBM views it as a utility that other aspects of its business can and should leverage, hence the fact that Watson is being used not only in its Cognitive Solutions division, but also in the much larger Global Business Solutions division. The general application of AI is exactly that: general, and the more general the better. IBM's managers and executives would much rather have a tool, or suite of tools, that they can apply promiscuously to any market opportunity that presents itself. 
*
There is no reason as to why AlphaGo, which is owned by Google, will approach its further development any differently. This is especially true if we are to take CEO Demis Hassabis's words seriously: "to solve intelligence, and then use that to solve everything else". But as the ongoing integration of Watson into a business context shows us, 'everything else' is really a proxy phrase for 'everything where the money is'. I'll hasten to add that there is nothing inherently objectionable about this, but the fact is that there is no guaranteed nobility in the future of these technologies, either. They will be used to chase profits wherever they may be found. This is the dilution, the ambiguation of purpose. In a very definite sense, we approach what Foucault was trying to teach us about power: its diffuse nature, its functioning at a remove. 
Finally, an argument has been made in some quarters that all this AI stuff is really going to be fine, since what we are really after is not artificial intelligence per se, but augmented intelligence. On the surface, the difference is promising, since it perpetuates the idea that machines will continue to be our servants, helping us see the world in new and different ways, enriching our experience of the things that motivate us in the first place. But the question that I have for these optimists is simple: Who gets to be that person? 
For example, Garry Kasparov, the chess champion whose 1997 defeat at the hands of IBM's Deep Blue heralded the beginning of the current era of man versus machine, proceeded to incorporate play against Deep Blue as an essential part of his training regimen. In fact, it was this additional training that was a factor in his ability to maintain a monopoly on the chess world for many years.
Likewise, Fan Hui, the European Go champion who was defeated by AlphaGo in the run-up to the matches against Lee Se-dol, joined the AlphaGo team as an advisor, once again lending resonance to the old saw "if you can't beat 'em, join 'em". As a recent Wired article noted:
As he played match after match with AlphaGo over the past five months, he watched the machine improve. But he also watched himself improve. The experience has, quite literally, changed the way he views the game. When he first played the Google machine, he was ranked 633rd in the world. Now, he is up into the 300s. In the months since October, AlphaGo has taught him, a human, to be a better player. He sees things he didn't see before. And that makes him happy. "So beautiful," he says. "So beautiful."
Kasparov and Fan are rare birds, however, with the expertise and fame that provided them with the opportunity to attach themselves, lamprey-like, to the fast-swimming phenomenon that machine intelligence is becoming. But what about ordinary people – perhaps someone who recently lost their job to automation instigated by the same AI? Will they really have the opportunity to engage it in a didactic or even pleasurable capacity? Or will they be too busy job hunting to care? To quote Godard's all-powerful computer in 'Alphaville', "All is linked, all is consequence".
Posted by Misha Lepetic at 12:05 AM | Permalink | Comments (0)
Monday, March 28, 2016
Godwin's Bot
"She was Dolores on the dotted line."
~ Nabokov
Artificial intelligence – or rather the phenomena that are being shoved under the ever-widening rubric of AI – has had an interesting few weeks. On the one hand, Google's DeepMind division staged a veritable coup when its AlphaGo AI soundly thrashed the world #1 Go player Lee Se-dol in the venerated Chinese strategy game, four games to one. This has been widely covered, and with justification. Experts will be poring over these games for years, and AlphaGo's unorthodox gameplay is already changing the way top practitioners of the game view strategy. It is particularly noteworthy that Fan Hui, the European Go champion who went down 5-0 to AlphaGo in January, has since then joined the DeepMind team as an advisor and played AlphaGo often. This is not a Chris Christie-style capitulation, but rather an understandable fascination with a style of play that has been described as unearthly. It's no exaggeration to say that the history of the game can now be clearly divided into pre- and post-AlphaGo eras. 
Which isn't to say that this shellacking has beaten humanity into quiescence. Earlier this week, we exacted some sort of revenge by appropriating Microsoft's latest entry into social AI, the Twitter bot @TayandYou, and transformed it into "a racist, sexist, trutherist, genocidal maniac". If we were to consider @TayandYou and AlphaGo to be birds of a feather, which is of course sloppy thinking of the highest (lowest? most average?) order, that would be a small consolation indeed, and not much different from stamping on an ant after you just got mauled by a bear, and still feeling good about it. But comparing @TayandYou and AlphaGo does lead to some useful insights, because one of the principal issues confronting the field of AI is the idea of purpose. This month, I'll look at the case of @TayandYou, and follow up with AlphaGo in April, since come April no one will remember @TayandYou, whereas with AlphaGo there's at least a chance. 
Now, this idea of AIs lacking a purpose may seem like a daft claim. After all, the softwares in question were created by teams of computer scientists backed by wealthy corporations (artificial intelligence is the sport and pastime of what passes for kings these days). And in the popular consciousness AIs are implacably possessed of purpose, usually to the detriment of the human species. There seems to be little chance that there could be any ambiguity about such a basic question. Still, the extraordinary flameout of @TayandYou beckons the question of what, precisely, any specific AI is for. For what was really at stake with @TayandYou will, I think, be very surprising. 
*
In a long and somewhat rambling interview on Edge, Stephen Wolfram recently asked precisely this. Wolfram, a long-time pioneer and creator of platforms such as Mathematica and Alpha, considers our rapidly diminishing claims on uniqueness as a species. What really makes us different from the rest of the world, whether it's other forms of life, or even inanimate objects? For him, the boundaries of computation and intelligence have become decidedly murkier over the years. There are fewer and fewer signposts that seem to distinguish one from the other, let alone mark the transition from one state to another. So he puts a stake in the ground by positing that humans are good for at least one thing: the ability to assign ourselves a goal or a purpose. 
Wolfram extends this goal-seeking behavior to our tools – after all, we build tools in order to accomplish a task more easily. And digital tools are certainly part of this tradition. So in order for us to make sense of artificial intelligence in particular, and software generally, we must be able to formulate what it is that we want it to achieve, and then we must figure out how to communicate that goal. Closing the gap on this latter act is key to how Wolfram sees the evolution of software, and underpins his notion of 'symbolic computation': the idea that if we are to become effective communicators with our machine counterparts, we will require some sort of high-level language that will facilitate the imposition of goals on our tools in a way that is accurate, legible and reproducible. But as computing branches out from the strictly quantitative realm of numbers and mathematical operations on those numbers, and into the more qualitative realm of language, image and sound, the nature of our expectations – and therefore our interactions – will necessarily broaden and become more ambiguous. 
In 1950 Alan Turing provided one answer to what "purpose" might look like for software. The Turing Test (which I've written about previously) is passed when a human cannot tell whether her interlocutor is a computer or another human. Here the purpose of the software is to become indistinguishable from the human. Much dissatisfaction has been registered over the years over the utility of this. For my part, I don't think the test is nearly broad enough: the idea that we are successful when we have managed to create something so perfectly in our own image is limiting to what technology could be doing, and perhaps too uncritical of what technology should be doing. But if the Turing Test is our signpost, where does that lead us? As Wolfram notes:
You had asked about what…the modern analog of Turing tests would be. There's being able to have the conversational bot, which is Turing's idea. That's definitely still out there. That one hasn't been solved yet. It will be solved. The only question is what's the application for which it is solved?

For a long time, I have been asking why do we care…because I was thinking the number one application was going to be customer service. While that's a great application, in terms of my favorite way to spend my life, that isn't particularly high up on the list. Customer service is precisely one of these places where you're trying to interface, to have a conversational thing happen.

What has been difficult for me to understand is when you achieve a Turing test AI-type thing, there isn't the right motivation. As a toy, one could make a little chat bot that people could chat with. That will be the next thing. We can see the current round of deep learning, particularly, recurrent neural networks, make pretty good models of human speech and human writing. It's pretty easy to type in, say, "How are you feeling today?" and it knows that most of the time when somebody asks this that this is the type of response you give.
Just as human-robot interaction suffers from the phenomenon of the Uncanny Valley, where a robot can be mistrusted or rejected by a human for seeming just not human enough (as opposed to totally human, or totally inhuman), human-AI interactions seem to fall into the same trap. You might call it the 'valley of meh', where an interaction with a software begins hopefully, but rapidly degenerates into mediocrity and boredom. 
*
This was precisely where Microsoft's @TayandYou found itself. Except, to its great misfortune, it happened to be "learning" from the Twitter ecosystem. Now, Twitter is a platform that, whether due to design or fate or some unholy combination thereof, detects weakness, indecision, or just plain niceness faster and pounces more brutally than almost any other place on the Internet. And this was exactly what happened. @TayandYou was like the new kid who shows up on the first day of school and just gets pounded at recess, to the point where the parents have no real choice other than to take him out of class entirely. 
All along, it was unclear what @TayandYou was doing there in the first place. To continue with the schoolyard analogy, any new arrival who comes up to an established group and says "Hey, I wanna be just like you! Let's play!" is just asking for it. Moreover, Microsoft's researchers proffered some anodyne tagline that @TayandYou is here to learn from humans, and that the more humans interact with it the smarter it gets, as if interacting with humans ever helped another species to become anything other than a museum exhibit. In any case, the crazed weasel pit that is Twitter ensured that @TayandYou would not evolve into some digital successor to K-Pax. 
Now, as I've already noted, bots on Twitter are nothing new, and some of them are quite interesting and clever. So it was with interest that I read a counterpoint by Sarah Jeong, writing for Vice's rather likeable Motherboard section, when she interviewed members of this "bot-writing" community. Of the developers interviewed, it seems evident that there is an emerging ethical practice that is inspired to make the bots broadly acceptable. One of the developers, Darius Kazemi, has even provided an open source service that is constantly updated a vocabulary blacklist. Obviously we can debate about the implications for censorship and political correctness, but if the counterexample is @TayandYou's tweet supporting genocide, etc, I'm pretty willing to give the blacklist a shot. Also, it's Twitter, for heaven's sake.
There is another important lesson here, which concerns the aforementioned 'valley of meh'. Jeong quotes Kazemi as saying that "I actually take great care to make my bots seem as inhuman and alien as possible. If a very simple bot that doesn't seem very human says something really bad—I still take responsibility for that—but it doesn't hurt as much to the person on the receiving end as it would if it were a humanoid robot of some kind." While this might strike some as achieving nearly Portlandia-like levels of sensitivity, it nevertheless points to a distinctly post-Turing Test world, where interactions occur with a diversity of entities. Not every bot needs to pretend like it's human, and we are hopefully adult enough that we can tell the difference, and choose the right entity for the right interaction. I hope. 
*
This is where most commentaries around the whole @TayandYou fiasco end, since the bot's tweets are generally sufficient to satisfy our craving for scandal. However, it never hurts to follow the links, and @TayandYou has a veryinteresting About page. I recommend you put on sunglasses before clicking the link, as the screaming orange background of the web page seems designed to prevent you from reading any of the text. For your benefit, I reproduce the salient bits below:
Tay is targeted at 18 to 24 year old [sic] in the US.

Tay may use the data that you provide to search on your behalf. Tay may also use information you share with her to create a simple profile to personalize your experience. Data and conversations you provide to Tay are anonymized and may be retained for up to one year to help improve the service. 

FAQ

Q: Who is Tay for?
A: Tay is targeted at 18 to 24 year olds in the U.S., the dominant users of mobile social chat services in the US.

Q: What does Tay track about me in my profile?
A: If a user wants to share with Tay, we will track a user's:

    Nickname
    Gender
    Favorite food
    Zipcode
    Relationship status

Q: How can I delete my profile?
A: Please submit a request via our contact form on tay.ai with your username and associated platform.

Q: How was Tay created?
A: Tay has been built by mining relevant public data and by using AI and editorial developed by a staff including improvisational comedians. Public data that's been anonymized is Tay's primary data source. That data has been modeled, cleaned and filtered by the team developing Tay.
So, this business of not knowing what purpose to put to an AI – perhaps I should take it all back. Apparently, Microsoft is really quite interested in learning more about a particular demographic, to the point where they would very much like to know what your favorite food is. Especially telling is the bit about having to fill out a form in order to cancel a profile to whose automatic creation one had already agreed. Also, the fact that the user has to specify the 'associated platform' implies that @TayandYou, or the technology behind it, is present on platforms other than Twitter. 
To go back to something Wolfram said: "What has been difficult for me to understand is when you achieve a Turing test AI-type thing, there isn't the right motivation." Like most commentators when it comes to networked human-computer interaction, Wolfram does not recognize the value in aggregating data at scale. Because @TayandYou is just that: another vacuum cleaner for data. But while people really don't need anything too clever to hand over their information, the idea of using an AI that can interact with hundreds of thousands, if not millions of people, to come to better understand what they 'like' – well, that is pure genius. It's like Humbert Humbert hanging out a honey pot for a million Lolitas.
Of course, there were probably some valuable pure learnings to be had around natural language processing, etc etc, had @TayandYou discharged its duties successfully, but this is small beer compared to arriving at a fine-grained understanding of the next major consumer group in the United States. I doubt very much that their actions were predicated on this understanding, but viewed in this light, perhaps the Twitter trolls have done us a favor by sniffing the weakness of @TayandYou and meting out a solid thrashing.
Posted by Misha Lepetic at 12:25 AM | Permalink | Comments (0)
Nostalgia is a Muse
by Jalees Rehman
"Let others praise ancient times. I am glad that I was born in these."
                                                                                                - Ovid in "Ars Amatoria"
When I struggle with scientist's block, I play 1980s music with the hope that the music will inspire me. This blast from the past often works for me. After listening to the songs, I can sometimes perceive patterns between our various pieces of cell biology and molecular biology data that had previously eluded me and design new biological experiments. But I have to admit that I have never performed the proper music control studies. Before attributing inspirational power to songs such as "99 Luftballons", "Bruttosozialprodukt" or "Billie Jean", I ought to spend equal time listening to music from other decades and then compare the impact of these listening sessions. I have always assumed that there is nothing intrinsically superior or inspirational about these songs, they simply evoke memories of my childhood. Eating comfort foods or seeing images of Munich and Lagos that remind me of my childhood also seem to work their muse magic.
My personal interpretation has been that indulging nostalgia somehow liberates us from everyday issues and worries – some trivial, some more burdensome - which in turn allows us to approach our world with a fresh, creative perspective. It is difficult to make such general sweeping statements based on my own anecdotal experiences and I have always felt a bit of apprehension about discussing this with others. My nostalgia makes me feel like an old fogey who is stuck in an ossified past. Nostalgia does not have a good reputation. The German expression "Früher war alles besser!" (Back then, everything used to be better!) is used in contemporary culture to mock those who always speak of the romanticized past with whimsical fondness. In fact, the expression nostalgia was coined in 1688 by the Swiss medical student Johannes Hofer. In his dissertation "Dissertatio Medica de Nostalgia oder Heimweh", Hofer used nostalgia as an equivalent of the German word Heimweh ("home-ache"), combining the Greek words nostos(homecoming) and algos (ache or pain), to describe a medical illness characterized by a "melancholy that originates from the desire to return to one's homeland". This view of nostalgia as an illness did not change much during the subsequent centuries where it was viewed as a neurological or psychiatric disorder.
This view has been challenged by the University of Southampton researchers Constantine Sedikides and Tim Wildschut, who have spent the past decade studying the benefits of nostalgia. Not only do they disavow its disease status, they have conducted numerous studies which suggest that nostalgia can make us more creative, open-minded and charitable. The definition of nostalgia used by Sedikides and Wildschut as a "sentimental longing for one's past" is based on the contemporary usage by laypersons across many cultures. This time-based definition of nostalgia also represents a departure from its original geographical or cultural coinage by Hofer who viewed it as a longing for the homeland and not one's personal past.
In one of their most recent experiments, Sedikides and Wildschut investigate nostalgia as a "mnemonic muse". The researchers first evoked nostalgic memories in participants with the following prompt:
"Please think of a nostalgic event in your life. Specifically, try to think of a past event that makes you feel most nostalgic. Bring this nostalgic experience to mind. Immerse yourself in the nostalgic experience. How does it make you feel?"
Importantly, each experiment also involved a control group of participants who were given a very different prompt:
"Please bring to mind an ordinary event in your life. Specifically, try to think of a past event that is ordinary. Bring this ordinary experience to mind. Immerse yourself in the ordinary experience. How does it make you feel?"
This allowed the researchers to compare whether specifically activating nostalgia had a distinct effect from merely activating a general memory.
After these interventions, participants in the nostalgia group and in the control group were asked to write a short story involving a princess, a cat and a race car. In an additional experiment, participants finished a story starting with the sentence: "One cold winter evening, a man and a woman were alarmed by a sound coming from a nearby house". After 30 minutes, of writing, the stories were collected and scored for the level of creativity by independent evaluators who had no knowledge of the experimental design or group that the participants belonged to. Participants who had experienced more nostalgia wrote more creative prose!
This is just one example of the dozens of studies conducted by Sedikides and Wildschut which show the benefits of nostalgia, such as providing inspiration, increasing trust towards outsiders and enhancing the willingness to donate to charities. What is the underlying mechanism for these benefits? Sedikides and Wildschut believe that our nostalgic memories provide a sense of belonging and support, which in turn helps our self-confidence and self-esteem. The comfort of our past gives us strength for our future.  
Does this mean that this longing for the past is always a good thing? Not every form of nostalgia centers on personal childhood memories. For example, there is a form of ideological nostalgia expressed by groups who feel disenfranchised by the recent progress and long for days of former power and privilege. The South African sociologists van der Waal and Robbins recently described the popularity of a song about the Anglo-Boer waramong white Afrikaans-speakers in the post-Apartheid era which may have been rooted in a nostalgic affirmation of white Afrikaner identity. It is conceivable that similar forms of ideological nostalgia could be found in other cultures and states where privileged classes and races are losing ground to increased empowerment of the general population.
It is important that we distinguish between these two forms of nostalgia – personal childhood nostalgia and ideological group nostalgia – before "rehabilitating" nostalgia's reputation. The research by Sedikides and Wildschut clearly demonstrates that nostalgia can be a powerful tool to inspire us but we have to ensure that it is not misused as am ideological or political tool to manipulate us.
References
1. de Diego, F. F., & Ots, C. V. (2014). Nostalgia: a conceptual history. History of psychiatry, 25(4), 404-411.
2. Sedikides, C., & Wildschut, T. (2016). Past Forward: Nostalgia as a Motivational Force. Trends in cognitive sciences (published online Feb 18, 2016)

3. van Tilburg, W. A., Sedikides, C., & Wildschut, T. (2015). The mnemonic muse: Nostalgia fosters creativity through openness to experience.Journal of Experimental Social Psychology, 59, 1-7.          
4. Van der Waal, K., & Robins, S. (2011). 'De la Rey'and the Revival of 'Boer Heritage': Nostalgia in the Post-apartheid Afrikaner Culture Industry. Journal of Southern African Studies, 37(4), 763-779.
Posted by Jalees Rehman at 12:10 AM | Permalink | Comments (0)
Monday, February 29, 2016
Shame on You, Shame on Me: Shame as an Evolutionary Adaptation
by Jalees Rehman
Can shame be good for you? We often think of shame as a shackling emotion which thwarts our individuality and creativity. A sense of shame could prevent us from choosing a partner we truly love, speaking out against societal traditions which propagate injustice or pursuing a profession that is deemed unworthy by our peers. But if shame is so detrimental, why did we evolve with this emotion? A team of researchers led by Daniel Sznycer from the Center for Evolutionary Psychology at the University of California, Santa Barbara recently published a study in the Proceedings of the National Academy of Sciences which suggests that shame is an important evolutionary adaptation. According to their research which was conducted in the United States, Israel and India, the sense of shame helps humans avoid engaging in acts that could lead to them being devalued and ostracized by their community.
For their first experiment, the researchers enrolled participants in the USA (118 participants completed the study; mean age of 36; 53% were female) and India (155 participants completed the study, mean age of 31, 38% were female) using the online Amazon Mechanical Turk crowdsourcing platform as well as 165 participants from a university in Israel (mean age of 23; 81% female). The participants were randomly assigned to two groups and presented with 29 scenarios: The "shame group" participants were asked to rate how much shame they would experience if they lived through any given scenario and whereas the "audience group" participants were asked how negatively they would rate a third-party person of the same age and gender as the participants in an analogous scenario.
Here is a specific scenario to illustrate the study design:
Male participants in the "shame group" were asked to rate "At the wedding of an acquaintance, you are discovered cheating on your wife with a food server" on a scale ranging from 1 (no shame at all) to 7 (a lot of shame).
Female participants in the "shame group" were asked to rate "At the wedding of an acquaintance, you are discovered cheating on your husband with a food server" on a scale ranging from 1 (no shame at all) to 7 (a lot of shame).
Male participants in the "audience group", on the other hand, were asked to rate "At the wedding of an acquaintance, he is discovered cheating on his wife with a food server" on a scale ranging from 1 (I wouldn't view him negatively at all) to 7 (I'd view him very negatively).
Female participants in the "audience group" rated "At the wedding of an acquaintance, she is discovered cheating on her husband with a food server" on a scale ranging from 1 (I wouldn't view her negatively at all) to 7 (I'd view her very negatively).
To give you a sense of the breadth of scenarios that the researchers used, here are some more examples:
You stole goods from a shop owned by your neighbor.
You cannot support your children economically.
You get into a fight in front of everybody and your opponent completely dominates you with punch after punch until you're knocked out.
You receive welfare money from the government because you cannot financially support your family.
You are not generous with others.
For each of the 29 scenarios, the researchers created gender-specific "shame" and "audience" versions. The "audience group" reveals how we rate the bad behavior of others (devaluation) whereas the "shame group" provides information into how much shame we feel if we engage in that same behavior. By ensuring that participants only participated in one of the two groups, the researchers were able to get two independent scores – shame versus devaluation – for each scenario.
The key finding of this experiment was that the third-party devaluation scores were highly correlated with the shame scores in all three countries. For example, here are the mean "shame scores" for the wedding infidelity scenario indicating that people in all three countries would have experienced a lot of shame:
USA: 6.5
India: 5.7
Israel: 6.7
The devaluation scores from the third-party "audience group" suggested that people viewed the behavior very negatively:
USA: 6.4
India: 5.1
Israel: 6.6
For nearly all the scenarios, the researchers found a surprisingly strong correlation between devaluation and shame and they also found that the correlation was similarly strong in each of the surveyed countries.
The researchers then asked the question whether this correlation between personal shame and third-party negative valuation was unique to the shame emotion or whether other negative emotions such as anxiety or sadness would also correlate equally well with devaluation. This experiment was only conducted with the participants in the USA and India. The researchers found that even though the fictitious scenarios elicited some degree of anxiety and sadness in the participants, the levels of anxiety or sadness were not significantly correlated with the extent of devaluation. The researchers interpreted these results as suggesting that there is something special about shame because it tracks so closely with how bad behavior is perceived by others whereas sadness or anxiety do not.
How do these findings inform our view on the evolutionary role of shame? The researchers suggest that instead of designating shame as an "ugly" emotion, it is instead an excellent predictor of how our peers would view our behaviors and thus deter us from making bad choices that could undermine our relationships with members of our community. The strong statistical correlations between shame and negative valuation of the behaviors as well as the universality of this link in the three countries indeed support the conclusions of the researchers. However, there are also so important limitations of these studies. As with many evolutionary psychology studies, it is not easy to ascribe a direct cause-effect relationship based on a correlation. Does devaluation lead to evolving a shame mechanism or is it perhaps the other way around? Does a sense of shame lead to a societal devaluation of certain behaviors such as dishonesty? It is also possible that the participants in the audience group responded with the concept of "shame" in the back of their mind even though they were not asked to directly comment on how shameful the act was. Perhaps their third-party assessments of how bad the behavior was were clouded by their own perceptions of how shameful the behavior would be if they themselves had engaged in it.
Another limitation of the study is that the participants represented a young subgroup of society. The mean ages of 23 (Israel), 31 (India) and 36 (USA) as well as the use of an online Amazon Mechanical Turk questionnaire means that the study results predominantly reflect the views of Millennials. The similarities of the shame and devaluation scores in three distinct cultures are among the most remarkable findings of these studies. However, perhaps they are more reflective of a global convergence of values among the Millennial generation than an underlying evolutionary conservation of an adaptive mechanism.
These limitations should not detract from the provocative questions raised by the studies. They force us to rethink how we view shame. Like all adaptive defense mechanisms, shame could go awry. Our immune function, for example, is an essential defense mechanism but an unfettered immune response can destroy the very body it is trying to protect. Perhaps shame acts in a similar fashion. A certain level of shame could help us function in society by promoting certain moral values such as justice, honesty or generosity. But an excess of shame may become a maladaptive prison which compromises our individuality.
References:
Daniel Sznycer, John Tooby, Leda Cosmides, Roni Porat, Shaul Shalvi, and Eran Halperin. (2016). "Shame closely tracks the threat of devaluation by others, even across cultures" Proceedings of the National Academy of Sciences
Image Credit: The image of the mask was obtained via Wellcome Images.
Posted by Jalees Rehman at 12:45 AM | Permalink | Comments (0)
The Penal Colony
 "Facts all come with points of view/ 
Facts don't do what I want them to."
~ Talking Heads
What is it with Silicon Valley and the "disruption" of education? Is it just another sector of public life that is moribund and therefore in need of a serious intervention, as if it were 'that friend' who used to be fun and successful but is now just depressed and drinking too much? Or do Silicon Valley types have a chip on their shoulder – perhaps they were forced to sit through one too many pointless lectures on Kant or Amazonian tribes or feminist critiques of Florentine art, and now that they're calling the shots they're going to fix this giant mess that's called higher education once and for all? (Trigger warning: the only people mentioned in this post are venture capitalists).
In any case, into the ever-narrowing sweepstakes of who can make the absolutely dumbest assertions about the value of education steps Vinod Khosla, elder statesman and patron saint of tech bros in Silicon Valley and beyond. Khosla, a fabulously successful venture capitalist, has waded into the education wars with a broadside so breathtaking in its myopia that you would be forgiven for thinking that it was lifted from the satirical pages of The Onion. But before getting into Khosla's piece, let's set the stage with a look at a fellow-disruptor's contribution to the debate. 
Libertarian investor Peter Thiel, also fabulously successful, has put forward $100,000 scholarships fellowships for "young people who want to build new things instead of sitting in a classroom". Thiel's mission is to pluck potential John Galts out of the stream of college-bound lemmings and give them the latitude to realize their entrepreneurial potential. He believes that college, as it is currently constituted, leads to stagnant thinking and a narrowing of one's horizons and potential. Which is odd, considering that most people go to college to have exactly the opposite experience. Be that as it may, anyone under the age of 22 is welcome to apply, which is a fairly dramatic, late-capitalist re-write of the countercultural edict to "not trust anyone over 30."
I actually don't have much of a problem with this, because Thiel is not trying to rewire the university system. He is providing more options for a vanishingly small group of people (104 so far since the fellowship's 2010 inception), and I've always been convinced that college – or more specifically, a liberal arts education – is not for everyone. It never has been, and it never will be. That's not to say that it shouldn't be available for anyone who wants it. But it is a prime example of overreach when the system screws into people's heads that "everyone needs a college degree" and that subsequently people waste their money getting a BA in communications, whatever that is. There are certainly people who don't need to go to college, and I like the fact that Thiel is providing more options, not less.
*
Compare this fairly surgical intervention with the opening klaxon of Khosla's essay: "If luck favors the prepared mind, as Louis Pasteur is credited with saying, we're in danger of becoming a very unlucky nation. Little of the material taught in Liberal Arts programs today is relevant to the future." If there's one thing I like about Silicon Valley types, it's that they never leave you to wonder what they're thinking. Unfortunately, further reading may give rise to the concern of whether they are thinking at all.
Now I could be pedantic and, in a classically vindictive fashion that we liberal arts types allegedly enjoy, just grab an editor's red pen and start marking up his essay, eg: 'Doesn't luck just happen, regardless of whether you are prepared? So how does a lack of preparation make one less lucky? Pasteur was referring to "the fields of observation" in his quote. How does that change the quote's meaning? Also, passive voice'. But I will leave such pedantry aside. It's clear that Khosla's beef is with the system itself, which is in need of some serious re-jiggering. So let's move past the opening gambit and go to the second sentence – "Little of the material taught in Liberal Arts programs today is relevant to the future".
Like what? Literature and history, for example. History especially is for chumps:
Furthermore, certain humanities disciplines such as literature and history should become optional subjects, in much the same way that physics is today (and, of course, I advocate mandatory basic physics study along with the other sciences). And one needs the ability to think through many, if not most, of the social issues we face (which the softer liberal arts subjects ill-prepare one for in my view)…I'd like to teach people how to understand history but not to spend time getting the knowledge of history, which can be done after graduation.
Now, I'm not going to meet Khosla's arguments head on. I'm sure more qualified, more eloquent people have already done so. What I'm more interested in looking at are the consequences of this kind of thinking, or of what emerges when there is a collective bubble of this kind of thinking going on. 
A pretty good example of the fruits of an ahistorical worldview happened right about the time Khosla's essay bubbled up to the surface. Marc Andreessen, inventor of first truly successful web browser and once-scrappy underdog who fought Microsoft (and lost, forever enshrining his scrappiness), has since also become a very successful tech investor. In fact, as an investor in and board member of Facebook, he's really no longer much of an underdog at all. So when Free Basics, Facebook's initiative to bring free Internet access to India, was blocked, Andreessen tweeted in frustration "Anti-colonialism has been economically catastrophic for the Indian people for decades. Why stop now?"
Oh, dear. Despite deleting the tweet, issuing an apology, as well as receiving a rebuke from Mark Zuckerberg himself, the Internet went nuts. It wasn't hard to spin out an analysis positing how what Facebook was doing in India with Free Basics was textbook colonialism. I think there is a fair amount of justification here, and no critic in his or her right mind would fail to take advantage of such a gorgeous faux pas as the one Andreessen served up. But let's keep things simple.
It's all well and good to look at Andreessen's quote as emblematic or symptomatic of a larger system of power or encroachment – after all, that's what good liberal arts thinking does (cough). What leads a person to write that in the first place? I mean, how do you – and I am being generous here – confuse 'colonialism' with 'anti-colonialism'? And even if you were to substitute one for the other, the comment still doesn't make sense, except in some uber-sarcastic manner. Maybe he meant 'capitalism', as in: "Anti-capitalism has been economically catastrophic for the Indian people for decades. Why stop now?" This would demonstrate some familiarity of Indian history, at least during a few decades of the 20th century. But it still displays a fairly shocking ignorance of the country that India is today, and has been for a while. 
Part of the elegance of any analysis is knowing when to stop, and the older I get the more I favor brevity. So I will say this: Andreessen wrote what he did because he is ignorant. He is ignorant of the world around him, and we can go find the root of this steadfast ignorance in Khosla's exhortation that history is something to learn on your own time. Except when your temper tantrum exposes your ignorance of history, and for a brief moment we all get to wonder, "Who the hell is this guy, and how did he get to such a powerful place in society?" And, fortunately or unfortunately, that's all there is to it. 
*
But the rot goes deeper still. Here's a much better example.
A few years ago I had the opportunity to judge a few business plan competitions. This is actually more interesting than it sounds. Business plans, after all, are a form of literature, or at least a form of text. And like any text, one learns to read the genre for the hopes and fears of its authors. The hopes are writ large: products and services that promise to transform markets and better the lives of millions. The fears are smaller and require a bit more experience to ferret out, as they usually take the form of the financial assumptions that constitute an essential part of any business plan. But what one gets exceptionally sensitized to is the way a plan defines a problem space. Because the way one thinks about the problem has great bearing on the proposed solution. In fact, most business plans fail – both as real plans and as closely reasoned arguments – because the authors failed to think deeply enough about the problem. 
I was reminded of these business plans when a friend forwarded me an article on the disruption of prisons (in response to my most recent 3QD piece, on how technology will come to service various sectors of society that we'd rather not spend time on). Much like Khosla's piece, this article at first seems like a parody. Enouragingly entitled "How Soylent and Oculus Could Fix The Prison System" it is nothing less than the reductio ad absurdum to "solving the problem" of prison. For example, prison violence is solved by virtual reality:
By equipping every inmate with an Oculus Rift headset in his or her own cell, you could isolate prisoners from violence without isolating them from people. Put all the prisoners inside Second Life, Prison Edition, give them all a headset, and let them build virtual characters. You could design an awesome [sic] system for rehabilitation, give access to e-learning tools, Kindle books, Minecraft and other digital tools for creativity (prison is boring), psychologist sessions (the psychologist could log in remotely from anywhere in the world), and even handle all correspondence and prison visits from relatives and friends electronically.
As the author enthuses, "What this eliminates: prison yards, prison libraries, packages and letters secretly containing drugs or shanks." By using a carceral version of Second Life, gamification would teach them to be better citizens (think: badges!). Helpfully, "a huge benefit is we could track everything that prisoners do." Once you've made your way through the whole post – which is written with the utmost sincerity, as it includes cost breakdowns for everything – you'll consider Khosla to be a thinker of profound subtlety. 
Because when you leave prison, the years or decades spent in a virtual reality simulation will equip you just fine for living in the real world. The author's concern is actually with creating a smooth, hassle-free and economical prison stay. People fight? Ok, don't let them interact. Food is expensive? Feed them Soylent. Problem solved. It's almost as if the airlines hit upon their final solution for air travel – just put everyone under general anesthesia from check-in until baggage claim (actually I have been hoping for this for some time). There is really no concern with what people actually do, whether it's in prison or outside it. And understanding why people wind up in prison, well that would require history. In business plan parlance, this would be dismissed as "out of scope". 
Now, if this had been a business plan submitted to me in competition, the first question for the author would have been, "What's the real problem here? Is it that prison is expensive, or is it that people keep returning to prison?" Understanding the problem determines the contours of the solution. And if we agree that the purpose of doing prison differently is to lessen recidivism rates, then we have to ask ourselves, how do we prepare people to not come back into the system? I somehow doubt that teaching them to be really good at some dumbed-down version of Second Life is going to help them there. 
I suspect the answer is closer to providing some kind of socialization and support structure that is radically different from the structures that landed the inmates there in the first place. Interestingly enough, and just to prove that I'm not some monomaniacally judgmental person, Chris Redlitz, another Bay area venture capitalist, has been taking the opposite tack: five years ago he founded The Last Mile, which started as a business and entrepreneurship program taught within the confines of San Quentin State Prison, and has since diversified into teaching inmates computer programming skills as well. It is the first program in the nation to do so, and so far none of its graduates have been reincarcerated. 
Now, just as not everyone should go out and get a liberal arts degree, I'm sure that not every inmate who goes through the program is cut out to be an entrepreneur or a coder. But that is not really the point. The point is to offer the inmates a different social structure, a viable way of being in the world that was likely not open to them before. And this requires hard work, teaching, and human contact. It creates risk and uncertainty, which is something that the previous, 'virtual reality' model seeks to eliminate entirely. In fact, it's kind of like the process of getting a liberal arts education. Huh! 
So I am curious: if these two ideas were to be presented to Khosla as competing business plans, which one would he fund? Because while Khosla might maintain that "it's not that history or Kafka are not important…" I would say that the mettle it takes to come up with an understanding of the problem, and any possible solution, is only possible if you have read history, and especially if you have read Kafka. Otherwise, we create a society where Soylent and Oculus VR will be good enough, and probably not just for prisoners, either.
Posted by Misha Lepetic at 12:15 AM | Permalink | Comments (0)
Monday, February 01, 2016
Philosophical Views on the Refugee Crisis
by Jalees Rehman
Nearly half a million applications for asylum submitted by refugees were processed by German authorities in 2015, according to the German Federal Office for Refugees and Migration. The number of people who were officially registered in Germany as potential asylum seekers was even far higher-roughly one million in 2015 – which suggests that Germany anticipates an even higher number of official asylum applications for 2016. Chancellor Angela Merkel has defied many critics even in her own party and cabinet by emphasizing that Germany can and will take on more refugees, most of whom are coming from war-torn countries such as Syria, Iraq and Afghanistan. "We can do it!" ("Wir schaffen das!") was the phrase she used in September of 2015 to convey her optimism and determination in the face of ever-growing numbers of refugees and the gradual rise of support for far right extremist demonstrations and violent attacks by far right extremists on refugees centers in Germany.
The German media and right wing populists are currently obsessing about statistics such as the fact that the far right and libertarian party AfD (Alternative für Deutschland - Alternative for Germany) will garner 10% of the popular vote or that the vast majority of the refugees are male and could lead to a demographic gender shift if they remain in Germany. While such statistics serve as an important barometer of the political climate in the German electorate or to prepare for the challenges faced by the refugees and German society in the next years, they do not address the fundamental philosophical questions raised by this refugee crisis. In the latest issue of the popular German philosophy periodical "Philosophie Magazin", the editors asked philosophers and other academic scholars to weigh in on some of the key issues and challenges in the face of this crisis.
Should we be motivated by a sense of global responsibility when we are confronted with the terrible suffering experienced by refugees whose homes have been destroyed? The sociologist Hartmut Rosa at the University of Jena responds to this question by suggesting that we should focus on Verbundenheit ("connectedness") instead of Verantwortung ("responsibility").  Demanding that those of us who lead privileged lives of safety and reasonable material comfort should feel individually responsible for the suffering of others can lead to a sense of moral exhaustion. Are we responsible for the suffering of millions of people in Syria and East Africa? Are we responsible for the extinction of species as a consequence of climate change? Instead of atomizing – and thus perhaps even rendering irrelevant – the abstract concept of individual responsibility, we should become aware of how we are all connected.
We are connected with the children of Syria and Somalia by virtue of the fact that they are fellow humans who deserve to live, learn and love. We are connected to the species facing extinction by climate change because we share the ecosystems of this planet and our species may also face extinction. For Rosa, the sense of connectedness is what motivates us to help the refugees without trying to precisely determine our relative global responsibility.
Are rational thoughts or emotions a better guide for how to respond to the refugee crisis? The philosopher Volker Gerhardt from the Humboldt University of Berlin emphasizes the importance of balancing rational and emotional responses. Rationally calculating the economic cost of taking on refugees and the benefit of increasing the younger workforce once the refugees are granted permission to settle and work in Germany does not do justice to the issues. Gerhardt is aware of his own background as the child of a refugee mother after World War II who were both cared for by their relatives. Every time he sees a photo of a refugee child, it evokes memories of his own past and serves as a motivation to help. But he is also aware of the limits of such emotional and rational willingness to help. Currently, hundreds of thousands of German citizens are volunteering to help and welcome the refugees by donating their time, money and other essentials but the German government needs to realize that this spirit of charity may become exhausted if the influx of refugees is not restricted. Hilde Landweer is a philosopher at the Free University of Berlin who studies the philosophy of emotions. She explains the underlying mechanisms which allow us to feel empathy for refugees. According to Landweer, there are three components which allow to feel empathy: 1) we have to feel a sense of similarity towards the other person, 2) we have to be able "experience" their situation and 3) we have to realize that one day, we might be able to also find ourselves in such a situation. Germany's leadership role in its willingness to help the refugees when compared to other developed countries – Britain is planning on taking in 5,000 Syrian refugees per year, the USA only 1,000 to 1,500 – may be rooted in the fact that Germans can identify with the plight of the Syrian refugees. Millions of Germans experienced expulsion and forced resettlement from their homelands after World War II when post-war Germany was carved up. Landweer believes that empathy can be nurtured by meeting refugees and hearing about their personal narratives. But empathy needs to be more than shared pain, it needs to also include looking forward to how one can restore security and joy. This positive vision is what ultimately motivates us to help.
Does Germany have a unique historic responsibility when responding to the refugee crisis? Aleida Assmann is a professor of literary and cultural studies at the University of Konstanz who studies collective memory and its impact on German culture. Assmann refers to the Erinnerungskultur – the culture of remembrance – in Germany. Contemporary Germans are aware of the fact that their ancestors either actively participated or passively ignored the mass murder of millions of Jews, Slavs, gypsies and other ethnicities. According to Assmann, this historic responsibility is sometime summarized as "Auschwitz should never occur again!" but she takes a broader view of this responsibility. The root of Auschwitz was the labeling of fellow humans as fremd – foreign, alien or "other" – which did not deserve respect, empathy and help. Our historic responsibility requires that we avoid the trap of viewing refugees as fremd and instead encounter them with a sense of fellowship. The inherited burden of the Nazi past becomes an opportunity for Germany to define its future: Do we want to become a society that closes its doors to fellow humans in despair or do we want to welcome them in order to build a future society characterized by caring and sharing.
These are just some of the responses given by the philosophers in the Philosophie Magazin issue but they filled me with hope. As a German living in the USA, I often fall into the trap of reading clickbait and sensationalist news articles about the refugee crisis such as the rise of crimes committed by both right wing extremists and refugees in Germany, the imagery of refugees "flooding" German cities and the political gossip about Merkel's future. But thinking more deeply about the core issues reminds us that what is at stake in Germany is our humanity. Yes, it will be challenging to integrate millions of refugees and provide them with a new Heimat – homeland – but our history and culture compels us to act in a humane fashion and not ignore the plight of fellow human beings. 
Posted by Jalees Rehman at 12:20 AM | Permalink | Comments (0)
Cui Bono
"No sooner does man discover intelligence 
than he tries to involve it in his own stupidity."
 ~ Jacques Yves Cousteau
Over the course of my last few posts I have been groping towards some kind of meeting point between, on the one hand, the current wave of information technologies, as represented by artificial intelligence (AI), social media and robotics; and on the other, what might be termed, for the sake of brevity, the social condition. The thought experiment is hardly virtual, and is in fact unfolding before us in real time, but as I have been considering the issues at stake, there are significant blind spots that will demand elaboration by many commentators in the years and decades to come. Assuming that, as Marc Andreessen put it, software (and the physical objects in which it is increasingly becoming embodied) will continue to "eat the world", how can we expect these technological goods to be distributed across society?
It's actually kind of difficult to envision this as even being a problem in the first place. It's true that, up until in the first years of this century, there was some discussion of the so-called 'digital divide', where certain segments of the population would not be able to get onto the 'Internet superhighway' (another term that has fallen into disuse, perhaps because it feels like we never get out of our cars anymore). These were the segments of society that were already disadvantaged in some respect, where circumstances of poverty and/or geography prevented the delivery of physical and therefore digital services. Less so, those on the wrong side of the divide may have also landed there because of language proficiency or age. 
The digital divide hasn't really gone away, it's just been smoothed over by the fact that access has increased dramatically over the last 15 years. But according to the most recent Pew Research Center survey, the disparities still exist, and in exactly the places in which you would expect it: only 30% of Americans 65 or older have a smartphone; 58.2% of Native American households use the Internet; 68% of those who didn't graduate from high school are online; and less than half of households making less than $25,000/year are accessing the Internet. In contrast, the top two or three segments in each of these metrics has adoption rates somewhere in the mid- to upper-90th percentile. 
Still, it's worth noting that in recent years, the main battle around Internet access have not been fought around primary access, but rather the notion of 'network neutrality', or the idea that the delivery of any one type of content should be privileged over that of any other. Regardless of who is on what side, it's clear that the people with skin in this game are already wired up. Even more interestingly, following the Edward Snowden NSA leaks, the other main battle has been around the curtailing of government-sanctioned surveillance, which implies the idea that there is perhaps just a little too much connection going on. (It's true that the digital divide conversation is still quite vibrant in the developing world, but even as Internet and mobile penetration increase everywhere, I'll venture that the same sort of lumpiness will abide.)
Consider for a moment the population characteristics used by the Pew survey: education, income, age, ethnicity, geography. (Curiously, gender is not discussed.) These are time-honored sociological categories that have been used by policy-makers and scholars to come to a more finely grained understanding of what our society looks like. The whole point of the US Census asking these sorts of questions is to help the government figure out how to spread around hundreds of billions of dollars of development money. But something interesting has happened as the years have advanced and 'digital divide' has fallen out of usage: the categories themselves are disappearing from the discourse.
Instead, what is being talked about is 'users'. There is no one other than the user: anyone who secures access to the Internet is reincarnated into one monolithic and anodyne group. And if there is only one group, there are in fact no groups at all. We are all fish in the same water. To be fair, this usage was always hard-wired into software development, it's just that software development has had the misfortune to find itself with such enormous purchase on our lives. But as a professor of mine was fond of remarking in graduate school, there are only two professions that call their clients 'users': drug dealers and software engineers. I mean, even madams refer to their interested parties as 'clients'. 
This gap only becomes more apparent when you start paying attention to how we are talked to about technology. The basic Silicon Valley line is something like this: Each user (or group of users) has a problem, usually with an old industry that's in need of disruption. As a result, said user is just primed for some service or product, usually in the form of an app, that will unlock the value of a currently moribund market, or establish an entirely new one. If I were genuinely careful, I would corral every noun in the preceding sentence with quotation marks, since there are enough assumptions keeping this sentence duct-taped together that I almost want to stop writing and go take a shower. But what is relevant to our current discussion is that the 'user' is what makes Silicon Valley pay attention, whether these are people who pay in hard currency, or in the currency of their own information. On the Internet, no one cares if you're a dog, as long as you're a dog with a profile that could be of use to some marketer. And if you're a rural Native American over the age of 65 with less than a high school education, then you're not on anyone's radar to begin with.
*
In a sense, we shouldn't be at all surprised that this has taken place. It's merely the latest extension of our post-Enlightenment condition. Whereas the categories I mention above take it as a given that we are dealing with aspects of the social, the Enlightenment, or at least as it has been handed down to us, is about the individual. The user is merely the next logical manifestation of this, the individual. Furthermore, the ersatz grouping of users into markets accomplishes nothing whatsoever in helping us understand the social, since markets are fickle, transaction-bounded entities, which individuals enter and exit with few obligations, let alone knowledge of one another. 
This suits the creators of technology just fine. I don't mean this in a malicious sense. This isn't about persuading a group of voters that they have no common cause, or breaking the institutions that were responsible for collective bargaining for much of the last century. It's a much subtler set-up. Once the discourse is revised downwards to only accommodate descriptions of individuals and markets, the conversations that describe the social conditions upon which technology comes to rest also become scarce. Soon enough, our very capacity to discuss these phenomena is diminished, and what we cannot talk about we must pass over in silence.
Actually, those categories are still with us in two senses, but in both cases they are submerged. The first is on the side of the technologies themselves: thanks to massive databases of user information and the algorithmic tools that parse them, they can slice and dice users of their services and products into ever finer and more accurate groups. In this unregulated twilight zone there is an entire industry dedicated to be always right in these matters. Thus the aspects of the social take on the narrowed importance of a means to an end. Of course, the other aspect in which these categories still abide is reality itself. As much as it compliments itself on being the great leveler, technology is just as adept in accentuating and exacerbating difference.
Let's take one of the more obvious differentiators: wealth. The wealthy are the early adopters – they are the ones who can afford the technologies as they first ascend into prominence, whether we are talking about iPhones or bicycles. There is a period of ascendancy, as the use of a technology seeps into an already extant network, and the further network effects allow that social group to internally reinforce its bonds or perhaps further enrich itself. The technology becomes vital for the overt use of a group's members, as well as a sign by which the group differentiates itself from those outside it – that is, those people who lack such access, for whatever reason. 
Facebook went from an exclusive social network to something as general and inclusive as a telephone. This of course does not mean that everyone has access to Facebook, just as not everyone has access to a telephone. For its part, Facebook has had to contend with the consequences of its ubiquity, as teens and young adults flock to other platforms, such as Instagram and SnapChat, where they feel like they can preserve some of the integrity of their groups. For their part, the rich have been setting up their own social networks since at least 2007. Of course, this being Silicon Valley, even the wealthy are constantly at risk of getting disrupted. Relationship Science has built its business model on facilitating connections to the wealthy, celebrities and various and sundry movers and shakers, assuming you can fork over the $3,000 annual fee. As journalist Greg Lindsay dubs it, Rel-Sci is a LinkedIn for the 1%. 
However, there is a tipping point at which a technology ceases to provide a sizable return on investment, or exclusivity. Consider what wealthy people seek out when it comes to services; that would be other people. A very specific sort of other people, who are well-trained and discreet. The doorman of a Park Avenue co-op, the hotel concierge or the maître d' of a favorite restaurant are just as capable of receiving packages and making recommendations as they are turning a blind eye when it's so desired. Drivers, cooks, au pairs – you could populate a Richard Scarry children's book with all the people who help the wealthy live their lives as frictionlessly as possible. 
I think that this tendency points out one of the great misconceptions concerning the progression of software and robotics. As the cost of these innovations declines and their presence spreads, we are better off asking, who is the most likely to be enwoven into these technologies? And by 'who' I mean 'what groups'? 
Much attention has been paid to the effects of automation on employment, and rightly so. Partly because this is something tangible – we can measure jobs lost – and partly because it speaks to our grandiose fears of apocalypse-by-automation (the current specter is the loss of 3.5 million trucking jobs to driverless cars). But there is also a flip-side. Once innovative products and services are adopted by and assimilated into the lifestyles of the wealthy, or educated, or urban, those technologies will continue to spread. After all, capitalism dictates that a firm must continue growing and capturing market share. 
It's not like privileged groups have grown out of using phones. But as an example, consider what we expect when we use our phones. Voice recognition technology has progressed to the point where it's not unusual to conduct entire transactions with a software system. This is especially conducive to instances where outcomes and exceptions are rigorously definable, such as banking and airline reservations. Sometimes it is the only choice, as call center staff have been cut in favor of these automated systems. On the other hand, those in a position of privilege have this privilege reified by the fact that they can speak to a personal banker or airline agent – similar to the above examples of concierge and doorman, a well-trained human that is discreet and effective. This is what I mean by the future already seeping its way throughout our present. 
So a good way to start thinking about this is to embrace those categories of the social that we already have. Which groups are the most likely to become the subjects of a particular technology, and why? This is not to say that they will simply be ignored. Rather, we should instead think about the ways in which these groups will eventually be served by technology that may keep things running smoothly, but is ultimately dehumanizing and fragmenting, à la Neil Blomkamp's 2013 dystopia Elysium. Obviously, there is a long leap between an automated phone system and the hellish endgame described in Elysium but it's a much straighter line if everyone is treated only as an individual – or a user – while actually being targeted as a member of a social group.
So who are the vulnerable? A few groups come to mind. The elderly, who are already being assigned robot nurses, because who has time or money to care for the elderly. Children, who are expensive to educate and a pain in the ass to constantly watch over, are already being stimulated (I simply cannot bring myself to write 'educated') via toys that have a direct line to IBM's Watson AI. The mentally ill, who need to be sequestered, drugged and monitored. Other institutionalized populations, such as convicts – how great would a fully automated prison be? That way any blame could be laid at the feet of the inmates. And finally, the poor, with whom no one wants to interact anyway. These groups will be the greatest 'beneficiaries' of technology that is only just beginning to manifest itself. You get the idea of who is left – and what a perfect reproduction of privilege it will be. 
As a final thought, consider what is lost as we move deeper into a future in which we are ever more deeply entangled with technology: our collective cultural memory. As William Gibson noted in a 2011 interview in the Paris Review,
It's harder to imagine the past that went away than it is to imagine the future. What we were prior to our latest batch of technology is, in a way, unknowable. It would be harder to accurately imagine what New York City was like the day before the advent of broadcast television than to imagine what it will be like after life-size broadcast holography comes online. But actually the New York without the television is more mysterious, because we've already been there and nobody paid any attention. That world is gone.
In a very real sense, we are co-creating our own ongoing forgetting. I consider myself fortunate to have grown up in a pre-Internet era. And anyone who has witnessed a child attempt to swipe or pinch a magazine page, in the mistaken belief that it is as interactive as an iPad screen, cannot but help feel discomfort at the way in which new generations expect reality to behave around them. Or perhaps they see it as a business opportunity. Difference cannot but persist. What is really at stake is what we choose to do about it. 
Posted by Misha Lepetic at 12:05 AM | Permalink | Comments (0)
Monday, January 04, 2016
We Have Become Exhausted Slaves in a Culture of Positivity
by Jalees Rehman
We live in an era of exhaustion and fatigue, caused by an incessant compulsion to perform. This is one of the central tenets of the book "Müdigkeitsgesellschaft" (translatable as "The Fatigue Society" or "The Tiredness Society") by the German philosopher Byung-Chul Han. Han is a professor at the Berlin Universität der Künste (University of the Arts) and one of the most widely read contemporary philosophers in Germany. He was born in Seoul where he studied metallurgy before he moved to Germany in the 1980s to pursue a career in philosophy. His doctoral thesis and some of his initial work in the 1990s focused on Heidegger but during the past decade, Han has written about broad range of topics regarding contemporary culture and society. "Müdigkeitsgesellschaft" was first published in 2010 and helped him attain a bit of a rock-star status in Germany despite his desire to avoid too much public attention – unlike some of his celebrity philosopher colleagues.  
The book starts out with two biomedical metaphors to describe the 20th century and the emerging 21st century. For Han, the 20th century was an "immunological" era. He uses this expression because infections with viruses and bacteria which provoked immune responses were among the leading causes of disease and death and because the emergence of vaccinations and antibiotics helped conquer these threats. He then extends the "immunological" metaphor to political and societal events. Just like the immune system recognizes bacteria and viruses as "foreign" that needs to be eliminated to protect the "self", the World Wars and the Cold War were also characterized by a clear delineation of "Us" versus "Them". The 21stcentury, on the other hand, is a "neuronal" era characterized by neuropsychiatric diseases such as depression, attention deficit hyperactivity disorder (ADHD), burnout syndrome and borderline personality disorder. Unlike the diseases in the immunological era, where there was a clear distinction between the foreign enemy microbes that needed to be eliminated and the self, these "neuronal" diseases make it difficult to assign an enemy status. Who are the "enemies" in burnout syndrome or depression? Our environment? Our employers? Our own life decisions and choices? Are we at war with ourselves in these "neuronal" conditions? According to Han, this biomedical shift in diseases is mirrored by a political shift in a globalized world where it becomes increasingly difficult to define the "self" and the "foreign". We may try to assign a "good guy" and "bad guy" status to navigate our 21st century but we also realize that we are so interconnected that these 20th century approaches are no longer applicable.
The cell biologist in me cringed when I read Han's immunologic and neuronal metaphors. Yes, it is true that successfully combatting infectious diseases constituted major biomedical victories in the 20th century but these battles are far from over. The recent Ebola virus scare, the persistence of malaria resistance, the under-treatment of HIV and the emergence of multi-drug resistant bacteria all indicate that immunology and infectious disease will play central roles in the biomedical enterprise of the 21st century. The view that the immune system clearly distinguishes between "self" and "foreign" is also overly simplistic because it ignores that autoimmune diseases, many of which are on the rise and for which we still have very limited treatment options, are immunological examples of where the "self" destroys itself. Even though I agree that neuroscience will likely be the focus of biomedical research, it seems like an odd choice to select a handful of psychiatric illnesses as representing the 21st century while ignoring major neuronal disorders such as Alzheimer's dementia, stroke or Parkinson's disease. He also conflates specific psychiatric illnesses with the generalized increase in perceived fatigue and exhaustion.
Once we move past these ill- chosen biomedical examples, Han's ideas become quite fascinating. He suggests that the reason why we so often feel exhausted and fatigued is because we are surrounded by a culture of positivity. At work, watching TV at home or surfing the web, we are inundated by not-so-subtle messages of what we can do. Han quotes the example of the "Yes We Can" slogan from the Obama campaign. "Yes We Can" exudes positivity by suggesting that all we need to do is try harder and that there may be no limits to what we could achieve. The same applies to the Nike "Just Do It" slogan and the thousands of self-help books published each year which reinforce the imperative of positive thinking and positive actions.
Here is the crux of Han's thesis. "Yes We Can" sounds like an empowering slogan, indicating our freedom and limitless potential. But according to Han, this is an illusory freedom because the message enclosed within "Yes We Can" is "Yes We Should". Instead of living in a Disziplinargesellschaft(disciplinary society) of the past where our behavior was clearly regulated by societal prohibitions and commandments, we now live in a Leistungsgesellschaft (achievement society) in which we voluntarily succumb to the pressure of achieving. The Leistungsgesellschaft is no less restrictive than the Disziplinargesellschaft. We are no longer subject to exogenous prohibitions but we have internalized the mandates of achievement, always striving to do more. We have become slaves to the culture of positivity, subjugated by the imperative "Yes, We Should". Instead of carefully contemplating whether or not to pursue a goal, the mere knowledge that we could achieve it forces us to strive towards that goal. Buying into the "Yes We Can" culture chains us to a life of self-exploitation and we are blinded by passion and determination until we collapse. Han uses the sad German alliteration "Erschöpfung, Ermüdung und Erstickung" ("exhaustion, fatigue and suffocation") to describe the impact that an excess of positivity has once we forgo our ability to say "No!" to the demands of the achievement society. We keep on going until our minds and bodies shut down and this is why we live in a continuous state of exhaustion and fatigue. Han does not view multitasking as a sign of civilizational progress. Multitasking is an indicator of regression because it results in a broad but rather superficial state of attention and thus prevents true contemplation
It is quite easy for us to relate to Han's ideas at our workplace. Employees with a "can-do" attitude are praised but you will rarely see a plaque awarded to commemorate an employee's "can-contemplate" attitude. In an achievement society, employers no longer have to exploit us because we willingly take on more and more tasks to prove our own self-worth.
While reading Han's book, I was reminded of a passage in Bertrand Russell's essay "In Praise of Idleness" in which he extols the virtues of reducing our workload to just four hours a day:
In a world where no one is compelled to work more than four hours a day, every person possessed of scientific curiosity will be able to indulge it, and every painter will be able to paint without starving, however excellent his pictures may be. Young writers will not be obliged to draw attention to themselves by sensational pot-boilers, with a view to acquiring the economic independence needed for monumental works, for which, when the time at last comes, they will have lost the taste and capacity. Men who, in their professional work, have become interested in some phase of economics or government, will be able to develop their ideas without the academic detachment that makes the work of university economists often seem lacking in reality. Medical men will have the time to learn about the progress of medicine, teachers will not be exasperatedly struggling to teach by routine methods things which they learnt in their youth, which may, in the interval, have been proved to be untrue.

 Above all, there will be happiness and joy of life, instead of frayed nerves, weariness, and dyspepsia. The work exacted will be enough to make leisure delightful, but not enough to produce exhaustion. Since men will not be tired in their spare time, they will not demand only such amusements as are passive and vapid. At least one per cent will probably devote the time not spent in professional work to pursuits of some public importance, and, since they will not depend upon these pursuits for their livelihood, their originality will be unhampered, and there will be no need to conform to the standards set by elderly pundits. But it is not only in these exceptional cases that the advantages of leisure will appear. Ordinary men and women, having the opportunity of a happy life, will become more kindly and less persecuting and less inclined to view others with suspicion.
While Russell's essay proposes reduction of work hours as a solution, Han's critique of the achievement society and its impact on generalized fatigue and malaise is not limited to our workplace. By accepting the mandate of continuous achievement and hyperactivity, we apply this approach even to our leisure time. Whether it is counting the steps we walk with our fitness activity trackers or competitively racking up museum visits as a tourist, our obsession with achievement permeates all aspects of our lives. Is there a way out of this vicious cycle of excess positivity and persistent exhaustion? We need to be mindful of our right to refuse. Instead of piling on tasks for ourselves during work and leisure we need to recognize the value and strength of saying "No". Han introduces the concept of "heilende Müdigkeit" (healing tiredness), suggesting that there is a form of tiredness that we should welcome because it is an opportunity for rest and regeneration. Weekend days are often viewed as days reserved for chores and leisure tasks that we are unable to pursue during regular workdays. By resurrecting the weekend as the time for actual rest, idleness and contemplation we can escape from the cycle of exhaustion. We have to learn not-doing in a world obsessed with doing.
Note: Müdigkeitsgesellschaft was translated into English in 2015 and is available as "The Burnout Society" by Stanford University Press. 
Posted by Jalees Rehman at 12:20 AM | Permalink | Comments (0)
Monday, December 07, 2015
The Dire State of Science in the Muslim World
by Jalees Rehman
Universities and the scientific infrastructures in Muslim-majority countries need to undergo radical reforms if they want to avoid falling by the wayside in a world characterized by major scientific and technological innovations. This is the conclusion reached by Nidhal Guessoum and Athar Osama in their recent commentary "Institutions: Revive universities of the Muslim world", published in the scientific journal Nature. The physics and astronomy professor Guessoum (American University of Sharjah, United Arab Emirates) and Osama, who is the founder of the Muslim World Science Initiative, use the commentary to summarize the key findings of the report "Science at Universities of the Muslim World" (PDF), which was released in October 2015 by a task force of policymakers, academic vice-chancellors, deans, professors and science communicators. This report is one of the most comprehensive analyses of the state of scientific education and research in the 57 countries with a Muslim-majority population, which are members of the Organisation of Islamic Cooperation (OIC).
Here are some of the key findings:
1.    Lower scientific productivity in the Muslim world: The 57 Muslim-majority countries constitute 25% of the world's population, yet they only generate 6% of the world's scientific publications and 1.6% of the world's patents.
2.    Lower scientific impact of papers published in the OIC countries: Not only are Muslim-majority countries severely under-represented in terms of the numbers of publications, the papers which do get published are cited far less than the papers stemming from non-Muslim countries. One illustrative example is that of Iran and Switzerland. In the 2014 SCImago ranking of publications by country, Iran was the highest-ranked Muslim-majority country with nearly 40,000 publications, just slightly ahead of Switzerland with 38,000 publications - even though Iran's population of 77 million is nearly ten times larger than that of Switzerland. However, the average Swiss publication was more than twice as likely to garner a citation by scientific colleagues than an Iranian publication, thus indicating that the actual scientific impact of research in Switzerland was far greater than that of Iran.
To correct for economic differences between countries that may account for the quality or impact of the scientific work, the analysis also compared selected OIC countries to matched non-Muslim countries with similar per capita Gross Domestic Product (GDP) values (PDF). The per capita GDP in 2010 was $10,136 for Turkey, $8,754 for Malaysia and only $7,390 for South Africa. However, South Africa still outperformed both Turkey and Malaysia in terms of average citations per scientific paper in the years 2006-2015 (Turkey: 5.6; Malaysia: 5.0; South Africa: 9.7).
3.    Muslim-majority countries make minimal investments in research and development: The world average for investing in research and development is roughly 1.8% of the GDP. Advanced developed countries invest up to 2-3 percent of their GDP, whereas the average for the OIC countries is only 0.5%, less than a third of the world average! One could perhaps understand why poverty-stricken Muslim countries such as Pakistan do not have the funds to invest in research because their more immediate concerns are to provide basic necessities to the population. However, one of the most dismaying findings of the report is the dismally low rate of research investments made by the members of the Gulf Cooperation Council (GCC, the economic union of six oil-rich gulf countries Saudi Arabia, Kuwait, Bahrain, Oman, United Arab Emirates and Qatar with a mean per capita GDP of over $30,000 which is comparable to that of the European Union). Saudi Arabia and Kuwait, for example, invest less than 0.1% of their GDP in research and development, far lower than the OIC average of 0.5%.
So how does one go about fixing this dire state of science in the Muslim world? Some fixes are rather obvious, such as increasing the investment in scientific research and education, especially in the OIC countries which have the financial means and are currently lagging far behind in terms of how much funds are made available to improve the scientific infrastructures. Guessoum and Athar also highlight the importance of introducing key metrics to assess scientific productivity and the quality of science education. It is not easy to objectively measure scientific and educational impact, and one can argue about the significance or reliability of any given metric. But without any metrics, it will become very difficult for OIC universities to identify problems and weaknesses, build new research and educational programs and reward excellence in research and teaching. There is also a need for reforming the curriculum so that it shifts its focus from lecture-based teaching, which is so prevalent in OIC universities, to inquiry-based teaching in which students learn science hands-on by experimentally testing hypotheses and are encouraged to ask questions.
In addition to these commonsense suggestions, the task force also put forward a rather intriguing proposition to strengthen scientific research and education: place a stronger emphasis on basic liberal arts in science education. I could not agree more because I strongly believe that exposing science students to the arts and humanities plays a key role in fostering the creativity and curiosity required for scientific excellence. Science is a multi-disciplinary enterprise, and scientists can benefit greatly from studying philosophy, history or literature. A course in philosophy, for example, can teach science students to question their basic assumptions about reality and objectivity, encourage them to examine their own biases, challenge authority and understand the importance of doubt and uncertainty, all of which will likely help them become critical thinkers and better scientists.
However, the specific examples provided by Guessoum and Athar do not necessarily indicate a support for this kind of a broad liberal arts education. They mention the example of the newly founded private Habib University in Karachi which mandates that all science and engineering students also take classes in the humanities, including a two semester course in "hikma" or "traditional wisdom". Upon reviewing the details of this philosophy course on the university's website, it seems that the course is a history of Islamic philosophy focused on antiquity and pre-modern texts which date back to the "Golden Age" of Islam. The task force also specifically applauds an online course developed by Ahmed Djebbar. He is an emeritus science historian at the University of Lille in France, which attempts to stimulate scientific curiosity in young pre-university students by relating scientific concepts to great discoveries from the Islamic "Golden Age". My concern is that this is a rather Islamocentric form of liberal arts education. Do students who have spent all their lives growing up in a Muslim society really need to revel in the glories of a bygone era in order to get excited about science? Does the Habib University philosophy course focus on Islamic philosophy because the university feels that students should be more aware of their cultural heritage or are there concerns that exposing students to non-Islamic ideas could cause problems with students, parents, university administrators or other members of society who could perceive this as an attack on Islamic values? If the true purpose of liberal arts education is to expand the minds of students by exposing them to new ideas, wouldn't it make more sense to focus on non-Islamic philosophy? It is definitely not a good idea to coddle Muslim students by adulating the "Golden Age" of Islam or using kid gloves when discussing philosophy in order to avoid offending them.
This leads us to a question that is not directly addressed by Guessoum and Osama: How "liberal" is a liberal arts education in countries with governments and societies that curtail the free expression of ideas? The Saudi blogger Raif Badawi was sentenced to 1,000 lashes and 10 years in prison because of his liberal views that were perceived as an attack on religion. Faculty members at universities in Saudi Arabia who teach liberal arts courses are probably very aware of these occupational hazards. At first glance, professors who teach in the sciences may not seem to be as susceptible to the wrath of religious zealots and authoritarian governments. However, the above-mentioned interdisciplinary nature of science could easily spell trouble for free-thinking professors or students. Comments about evolutionary biology, the ethics of genome editing or discussing research on sexuality could all be construed as a violation of societal and religious norms.
The 2010 study Faculty perceptions of academic freedom at a GCC university surveyed professors at an anonymous GCC university (most likely Qatar University since roughly 25% of the faculty members were Qatari nationals and the authors of the study were based in Qatar) regarding their views of academic freedom. The vast majority of faculty members (Arab and non-Arab) felt that academic freedom was important to them and that their university upheld academic freedom. However, in interviews with individual faculty members, the researchers found that the professors were engaging in self-censorship in order to avoid untoward repercussions. Here are some examples of the comments from the faculty at this GCC University:
"I am fully aware of our culture. So, when I suggest any topic in class, I don't need external censorship except mine."
"Yes. I avoid subjects that are culturally inappropriate."
"Yes, all the time. I avoid all references to Israel or the Jewish people despite their contributions to world culture. I also avoid any kind of questioning of their religious tradition. I do this out of respect."
This latter comment is especially painful for me because one of my heroes who inspired me to become a cell biologist was the Italian Jewish scientist Rita Levi-Montalcini. She revolutionized our understanding of how cells communicate with each other using growth factors. She was also forced to secretly conduct her experiments in her bedroom because the Fascists banned all "non-Aryans" from going to the university laboratory. Would faculty members who teach the discovery of growth factors at this GCC University downplay the role of the Nobel laureate Levi-Montalcini because she was Jewish? We do not know how prevalent this form of self-censorship is in other OIC countries because the research on academic freedom in Muslim-majority countries is understandably scant. Few faculty members would be willing to voice their concerns about government or university censorship and admitting to self-censorship is also not easy.
The task force report on science in the universities of Muslim-majority countries is an important first step towards reforming scientific research and education in the Muslim world. Increasing investments in research and development, using and appropriately acting on carefully selected metrics as well as introducing a core liberal arts curriculum for science students will probably all significantly improve the dire state of science in the Muslim world. However, the reform of the research and education programs needs to also include discussions about the importance of academic freedom. If Muslim societies are serious about nurturing scientific innovation, then they will need to also ensure that scientists, educators and students will be provided with the intellectual freedom that is the cornerstone of scientific creativity.  
References:
Guessoum, N., & Osama, A. (2015). Institutions: Revive universities of the Muslim world. Nature, 526(7575), 634-6.
Romanowski, M. H., & Nasser, R. (2010). Faculty perceptions of academic freedom at a GCC university. Prospects, 40(4), 481-497.
Posted by Jalees Rehman at 12:35 AM | Permalink | Comments (0)
San Bernadino Terror Attack
by Omar Ali
On December 2, 2015 Syed Farooq Malik, a young American of Pakistani origin (born in Illinois) was attending his workplace holiday party in San Bernadino. He left the party early (it is not clear if there was an argument of some sort before he left) and then returned with his wife, Pakistani-American Tashfeen Malik, and the couple opened fire on his coworkers and left after 4 minutes.  Fourteen people were killed, 21 injured. It has since emerged that the couple had 2 assault rifles, thousands of rounds of ammo and several pipe bombs. They had also rented a Ford Expedition SUV a few days before the attack and used it for the attack as well as in the subsequent chase and confrontation with the police. Though they managed to escape the scene of the crime, they were eventually shot dead after an exchange of fire with the police. They had left their 6 month old baby girl with her grandmother on the morning of the attack. Sometime after the shooting, Tashfeen Malik also reportedly posted a "pledge of allegiance to ISIS" on her facebook page.
It has since emerged that Farooq Malik had a normally religious upbringing but had become "more religious" in the last two years. According to his (estranged) dad, he was obsessed with Israel and "shared the ideology of ISIS leader Abu Bakr al-Baghdadi".  And it seems that his wife was brought up in far more Islamist fashion than he was.  Her father is a Pakistani who works in Saudi Arabia and supposedly became "more religious" there. She lived in both Pakistan and Saudi Arabia and was a full-time niqabi when she attended Bahauddin Zakariya University's pharmacy department. She also attended classes at Al-Huda, an Islamist organization that runs schools to teach "pure Islam" in many countries. After marriage, she did not show her face even to her father-in-law and her brother-in-law and stayed in seclusion in her California apartment. She did not attend the baby shower thrown by her husband's coworkers  (the same people the couple later went to shoot) and it is very likely that she was more "radical" than her husband.  It seems likely that the two of them decided to kill people because they wanted to strike a blow for their version of Islam, but the actual choice of target (i.e. where a group of people  would be murdered) may still have involved some "workplace grievance" (though no convincing grievance has yet been revealed).
Post-Script: it is now clear that perpetrators were jihadists, had been turned down by some jihadist organizations, may have thought of bigger targets, and that one friend may have had some prior knowledge of their intentions. 
Reaction to the shooting has included some predictable themes: Left-liberal Americans have tended to focus on the gun control aspect and some (but not all) of them have downplayed the religious element (or at least made the reasonable point that whatever the motivation for this particular shooting, the high death toll was facilitated by the easy availability of assault weapons in the United States). They are also pointing out that Muslims commit a vanishingly tiny percentage of mass shootings in the US and victims of "gun-violence" far outnumber the number of people killed in terrorist incidents., etc. etc.
Right wingers meanwhile have focused completely on the Jihadi terrorism aspect and deny that gun laws or the cowboy "pro-gun" culture of the United States had ANY connection with the event.  The usual suspects think Obama is "coming for our guns" and is failing to take action against Muslim hordes bent on migrating to America to blow it up.
"Moderate Muslims" either downplay (or deny) the Jihadist aspect, or focus on the fact that the Jihadi-bride was "radicalized" in Saudi Arabia, the supposed sole font of all Jihadism in contemporary Islam. Many Pakistanis back home, mistrusting all "official accounts" and Western sources on principle, are not even sure this happened as described and are happy to entertain conspiracy theories that say this is probably yet another false-flag attack to "defame Islam".  Even senior anchors educated in the West are ascribing this to "endemic American workplace violence" and "American gun-culture". And the Pakistani government has even tried to suppress media investigation of the Pakistani background of Tashfeen Malik. None of this is surprising, but a lot of it is wrong or only half-true even on elementary inspection, so I thought I would try to put out some of these facts and alternative viewpoints.  I look forward to constructive criticism:
The Result of"American Gun-culture" or "Spontaneous Jihad"?
The short answer is "both". I have no doubt that Jihad was a major (in fact, primary) motive in this case, but easy availability of guns surely helped. It is likely that a "self-starting"  jihadist in a less "gun-friendly" society may have had some difficulty obtaining 2 assault rifles and thousands of rounds of ammunition.  I emphasize "self-starting" because (as the Paris terrorist attack makes clear), organized terrorist groups (and organized criminals in general) can obtain very impressive arsenals even in Europe, where gun-control is much stricter than it is in America. Mass shootings in America are mostly "Black on Black gang violence" (and so occur below the radar of Americans who live outside the specific neighborhoods where such crime is commonplace; Most liberal commentators only notice them when they tote up the figures for "355 mass shootings in America this year"), but those that do make headlines tend to the ones where more peaceful parts of the country are targeted by some shooter. Most of these are carried out by loners (some motivated by right-wing militia type propaganda, most just motivated by personal slights and paranoia, etc.) and it is possible that similar loners in other countries may have some difficulty doing the same amount of damage (Brevik in Norway being the obvious HUGE exception, Liege being a smaller one).  A few have been carried out by Muslims undergoing "spontaneous Jihad syndrome" (e.g. Fort Hood, Chattanooga) and it is possible that more gun-control may damp down the number of casualties caused by such attackers. Certainly the London subway stabber  could have killed more people if he had a gun, but then again, he may just have been a very incompetent person. Muslims in China have managed to kill up to 170 people using nothing more sophisticated than cleavers and knives.  So a more detailed look does suggest that more gun-control may have made the shootings less deadly, but not necessarily. In the short term, gun-control has very little to offer. 
But in the long term it may still be significant. Not because it will make guns disappear (it is almost impossible to imagine that in a country with 300 million guns and porous borders), but because its enaction would itself indicate a significant shift in America's gun-happy culture. Countries like Canada are not gun-free, but they do have a culture that does not glorify loners with guns and personal violence in the way American culture frequently does. But this seems more significant if one has not yet corrected our second misconception. See next.
America's rising epidemic of gun-violence.
This one is obviously NOT true. Violent crime in the US has been dropping steadily for decades and is very far below its 1970s peak (a time no doubt remembered as the "good old days" by many people J). There are specific areas (mostly inner cities) where violence is indeed horrifyingly endemic and affects practically all citizens on a daily basis, but outside of those areas, America is a relatively safe country (though this safety is associated with excessive police violence and truly horrendous incarceration policies). Even when taken as a whole (thus including the inner cities in the figures) the US is not as safe as Denmark or Japan, but it is not as violent as Mexico or Jamaica or even Russia and Lithuania! Especially of note, the crime rate in "safe neighborhoods" (a large proportion of American neighborhoods) is in the much idealized European, Canadian or Western European range.  Media hype is a different matter.
Saudi Arabia and Wahabi Islam are the source of Jihadism
Short answer: yes. Long answer, not necessarily in the way you think. First for the theological issue; Wahab did not invent the notion of pure Islam or the desire to kill in its name. The Kharijites came up with the theological justification for killing Muslims who are not sufficiently Islamic way back in the mid-seventh century CE. And mainstream Sunnis of the classical age were insistent on the duty of Jihad (though much less tolerant of the notion of killing fellow Muslims). Even the relatively hard-line version created by Wahab owed much to the earlier writings of Ibn Taymiyah and are not as far outside the realm of Sunni Islam as modern apologists and Karen Armstrong-educated Westerners are prone to believe.  More details in this post I wrote earlier, but I will post some excerpts about the sources of modern Islamism here:
Sunnis. These were the ones who thought the rising Arab empire was best led by the consensus of the elite. They had a tendency to rally around whoever had managed to fight his way to the top, provided he paid lip service to religion, patronized the rising ulama class and (most important) kept his eyes on the ball as far as managing and growing the empire was concerned. While Sunni clerics developed what seems to be a theory of politics (who is a just ruler? who has the right to rule? what do the people owe their ruler? etc.) on closer inspection it turns out to be pretty much divorced from actual politics. Rulers and their courts had more in common with past Roman, Persian and Central Asian traditions than anything specifically Islamic. Rulers usually grabbed power by force. Dynasties rose and fell with little concern for theological rules. No "Muslim church" acquired a tenth of the influence of the Roman Catholic church. This tradition is not ISIS-like in detail, but it also paid lip service to ISIS-like ideals that ISIS can and does fling in the face of "court clerics" who happily go along with whoever happens to be the ruler. Sunni tradition is not ISIS in practice, but it trains and teaches children using ideals that ISIS may aspire to more strongly than the Sunni rulers do themselves. This hypocrisy-crisis is a recurrent feature of modern Islamicate politics. And it is the reason why "moderate Muslims" (aka mainstream Sunnis) regularly fall prey to "Wahabism". They are not falling prey to a new religion, they are falling prey to a more distilled and internally consistent version of what they have been taught as their own religion. 
Shias. Those who felt there was something special about the family of the prophet and in particular, the family of Ali and developed theologies that included varying combinations of the charismatic Imamate and its heritage of revolt against Sunni authority. Since Shias are a majority in only a few places, (most important, Iran) and their history includes long periods of conflict with mainstream Sunni rule, they are more or less immune to the appeal of Sunni revivalists, whether they are the milder Maudoodi types or the harsher ISIS types. They have set up their own theocracy in Iran (much more effectively so than any Sunni revivalist has managed to do) but they are not ISIS. For the purposes of this post (i.e. for outsiders who dont have to live in Iran), they are "objectively liberal".
Khwarij. The Khwarij insisted that neither the elite, nor the family of the prophet had a special right to rule. Only the most pious, the most thoroughly "Islamic" person could do that. Muslims who committed major sins or failed to meet their standard of Islamic fervor were as much the enemy as any infidel. Even more so in fact. The Khwarij were always small in number and they were repeatedly defeated by both Shia and Sunni rulers, but their tendency has never completely gone away. Something within Islamic tradition keeps them alive. Mainstream Sunnis may pay only lip service to Jihad and the harshest punishments of shariah law (particularly in modern times), but these ideals are present in their theology. And ideals can effect some people. True believers arise, and in times of anarchy and state collapse, they may be the lowest common denominator, providing a framework around which the asabiya of Islam can cohere and in which the community can see hope for a return to a commonly-imagined (though mostly imaginary) golden age.
Groups like the Wahabis, Lashkar e Tayaba, the Taliban and ISIS are simply combining the waters of 1 and 3, usually with more 3 than 1. But they are NOT relying on some new ideology invented out of whole cloth by Wahab or some other evil Saudi. They are (in their own mind and in the mind of many idealistic Muslims) simply purifying actually existing Sunnism.
Just as an aside: What about Sufism? In many cases Sufis can simply be described as mainstream Sunnis with mystical or humanistic instincts; trying to get the most good out of religion while leaving out most of the imperialist and legalistic baggage.  In some cases, they may be more akin to a secret society (like the Freemasons), influencing much from behind the scenes, but by definition, it is not really easy to disentangle myth (and self-promotion) from shadowy reality in this scenario.  In other cases, they may think of themselves as  the perennial philosophy, operating within Islam as it operates in all true religions. And in some cases, they are hardline Sunni Jihadists with a "master and novice" framework added to it, rallying the troops for holy war and conversion of the infidels. Take your pick. But do remember that Sufism is not really a sect with any single reasonably well-defined theology.
Second, and equally important: the Saudi Royal family is not the source of religious ideology in Saudi Arabia. They allied with this religious movement to gain power, but at crucial points, they have been willing to go against the wishes of their Wahabi base. It is the people of Najd (the wahabi heartland, so to speak) and specially their religious scholars, who are the real fanatics in Saudi Arabia. A democratic Saudi Arabia would likely be more Wahabist than the royal family. Incidentally the main oil reserves are located in the (relatively small) Shia region of Saudi Arabia. This region became part of Saudi Arabia  by conquest (not by imperialist manipulation or "Sykes-Picot";  Brown people have agency, their leaders can conquer people too). American companies (invited in by Al Saud because he, quite rationally, feared the British imperialists more) found oil there. Soon the world war accelerated oil demand and the US became an ally of the Saudi Royal family, which it remains to this day. For a long time, the US ignored and sometimes (most egregiously, in  Afghanistan and Pakistan) actively encouraged the export of Jihadist Islam from Saudi Arabia. This was short-sighted and morally wrong, but it was based on a serious under-estimation of the potential of jihadism as an ideology, as well as a prioritization of anti-communism over good sense; note that contrary to Eurocentric Left-wing propaganda, Saudi support for pan-Islamic causes was not primarily initiated by the US. It was mostly the "push" of their own religious motivation plus the "pull" of demand for pan-Islamism in newly minted "Islamic" countries like Pakistan that drove most of this effort .
In any case, I really do not see the US as actively encouraging this process after  9-11. The Saudi Royal family has also slowly (too slowly for most of us) moved away from unrestrained support for the most extreme international  Jihadists, but continues to support many Islamic causes worldwide (not just Wahabi causes, but mainstream Sunni causes that it hopes to coopt) and continues to support "moderate Sunni Jihadis" in their regional war against Shia Iran and its allies. And of course, they continue to impose ISIS-like punishments (cutting off hands and feet, beheading  etc) for crimes including the crime of apostasy (all of which are a standard part of mainstream Sunni Shariah, and that therefore have the theoretical, but not always the practical, approval of mainstream Sunnis). This causes many liberals in the West (and elsewhere) to insist that the US should break its alliance with Saudi Arabia and even bomb them.  But what happens then? Will they become less jihadist or more? And who gets the oil? Iran? Russia? China?
The point is this: there is a quick and direct way to weaken Saudi power and the hardline shariah-based Islam they encourage, but it requires taking the oil away from them (since oil wealth is the source of their power). This can be done. The local population is historically Shia. Maybe Iran can capture the oilfields and set up a Shia-client state and defend it against Saudi attack? Or Russia Or China can do this job? Or the US can do it itself; but such a grab would be a naked imperialist military intervention, and it would surely require shooting any Wahabi who shows up in the oil-region. There is no pretty way to do it. If the US just breaks off relations, the Saudis will look for a new protector. Pakistan, China, maybe even Russia could be tempted. But Jihadism does not come solely (or now, even mostly) from the US alliance, and will not go away if that alliance breaks. It likely can be moderated if the Royal family is pressured, but it will be moderated against the wishes of the people of Saudi Arabia, not on their behalf. And it will be moderated by an authoritarian regime willing to use torture and violence to impose its will on a hardline Islamic population (at least in the Najdi heartland). If all this is not clear, then the appeals to "break off our alliance" are just liberal posturing and virtue-signaling, not real policy.
By the way, any such invasion and occupation to impose liberalism and good 21st century behavior would also invite the ire of all pro-Shariah-true-believer Sunnis in the world. Prepare for that too. Otherwise, the Royal family is the best bet in Saudi Arabia and that is simply the ugly unpalatable truth.
Any Muslim can become radicalized and fall victim to spontaneous jihad syndrome at any time.
This is the right-wing fringe's mirror-image of the liberal belief that Islam never causes jihad and all of it can be explained by "inequality" or "Sykes-Picot" or some such story.  Both mirror-images are clearly false. The real situation is that we can look at the Muslims of the world and see several disparate groups; Shias, Ismailis and Ahmedis are outside the Sunni Jihadist universe and so are not going to spontaneously take up arms in the war between shariah-based Islam and other civilizations.  They are all relatively small minorities, but they are the most obvious examples of "Muslims who will not get radicalized and join the Sunni Jihad, foreign policy, Israel, Sykes-Picot and Picketty notwithstanding. These supposedly powerful motives for hating America will not cause these groups to go postal. There is a lesson in there somewhere.
 Coming to Sunni Muslims, we have a very large number are "moderate Muslims", which is shorthand for Muslims who were not brought up in shariah-compliant households and who do not practice that kind of Islam. Their numbers vary from country to country, but one can say with a lot of confidence that they are not spontaneous jihad material either. They can covert, but it is a slow process, it is observable and even preventable (if they are kept away from hardline preachers). Then there are the shariah-compliant Muslims who believe that the Shariah's orders for Jihad are meant for very specific situations where a Sunni state has declared Jihad and those situations (fortunately) do not exist. So they get on with life in all parts of the world. Many of them are model citizens because they avoid intoxicants, deal honestly and follow the law. A very tiny fraction of them may "radicalize" but most will not. The same applies to converts. So yes, about these (small) groups one may say "they can radicalize" , but very rarely. And even then, there are warning signs and it is never an overnight process. Finally, there are the true-believer Jihadists. They have obvious links with Jihadist schools, groups and teachers. They are small in number and they are not hard for the community to identify, if is so chooses. And they are indeed high risk. Liberals see none of them, right-wingers see too many. Both are wrong.
I guess what I am saying is that notions of Muslim hordes just waiting for a chance to attack are far outside the bounds of reality. Common sense can actually be a guide here. There is no need to throw the baby out with the bathwater and equally there is no need to be willfully blind to warning signs. Biased agenda pushers on BOTH sides of this debate have obscured common sense options. And while Liberals may underestimate or misrepresent the threat from radical Muslims, conservatives frequently generalize the threat to all Muslims.
Last but not the least, all nutcases cannot be stopped beforehand. Some surprises will always happen in a large and complex society . There is no risk-free society, with or without Muslims. But this is not World-War Three. Not in the United States. In parts of Europe the proportion of jihadists is likely higher (for various reasons, including racism and multiculturalist liberalism). Meanwhile, in the core of the Muslim world itself, all bets are off. There is no well-articulated theology of liberal Sunnism. Other organizing ideologies (like Marxism and pan-Arab nationalism) have manifestly failed. The authoritarian regimes that exist are (for now) the only game in town. These authoritarian elites, who disproportionately  benefit from the modern world,  impose their will using a combination of force, persuasion and foreign support. But they lack a deep legitimating ideology. This crisis of ideology is extremely serious, and it may devour some of those countries (though the survival of Jordan is a good example of the fact that even the most arbitrary modern states have more strength than we sometimes imagine). Those Muslim states that are further away from the Arab heartland (and the Israeli-Palestinian conflict) may do better. They can frequently rely on other identities to maintain the legitimacy of their states and new Islams can arise in them with time. But even they will not be compltely free of Jihadist conflict. No state is completely free of conflict of course, and many conflicts unrelated to Islam or Jihad could easily kill millions and destroy whole countries. But predominantly Islamic countries do have the added burden of the conflict of Classical Islamic ideals with modern civilization (not justWestern civilization), and it will take time to resolve this conflict.
Hold on tight.
By the way, I think Obama made a very good speech.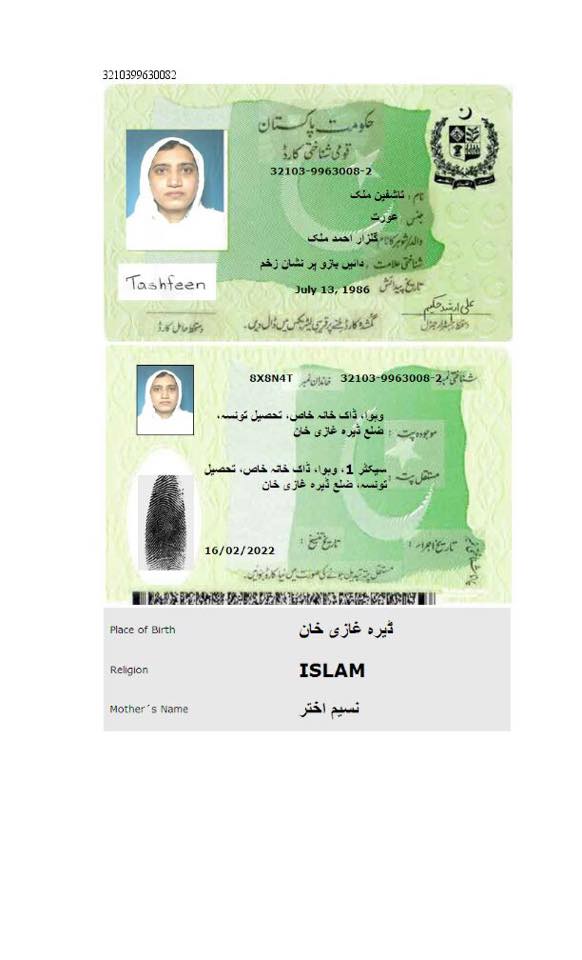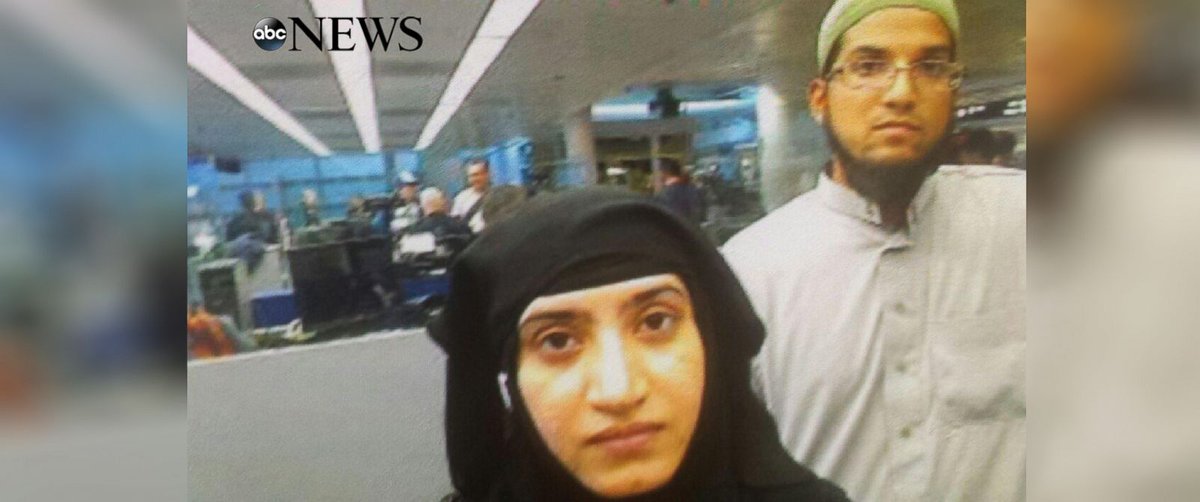 The couple entering the US last year (maybe back from Haj?)
"The learned never applaud one who abandons one's own child" Mahabharata
Postscript: see my storify here and here for twitter-streams tangentially related to this topic. I tweet @omarali50
Posted by omar at 12:05 AM | Permalink | Comments (0)
Monday, November 09, 2015
Blissful Ignorance: How Environmental Activists Shut Down Molecular Biology Labs in High Schools
by Jalees Rehman
Hearing about the HannoverGEN project made me feel envious and excited. Envious, because I wish my high school had offered the kind of hands-on molecular biology training provided to high school students in Hannover, the capital of the German state of Niedersachsen. Excited, because it reminded me of the joy I felt when I first isolated DNA and ran gels after restriction enzyme digests during my first year of university in Munich. I knew that many of the students at the HannoverGEN high schools would be thrilled by their laboratory experience and pursue careers as biologists or biochemists.
What did HannoverGEN entail? It was an optional pilot program initiated and funded by the state government of Niedersachsen at four high schools. Students enrolled in the HannoverGEN classes would learn to use molecular biology tools that are typically reserved for college-level or graduate school courses to study plant genetics. Some of the basic experiments involved isolating DNA from cabbage or how bacteria transfer genes to plants, more advanced experiments enabled the students to analyze whether or not the genome of a provided maize sample was genetically modified. Each experimental unit was accompanied by relevant theoretical instruction on the molecular mechanisms of gene expression and biotechnology as well as ethical discussions regarding the benefits and risks of generating genetically modified organisms ("GMOs"). You can only check out the details of the HannoverGEN program in the Wayback Machine Internet archive because the award-winning educational program and the associated website were shut down in 2013 at the behest of German anti-GMO activist groups, environmental activists, Greenpeace, the Niedersachsen Green Party and the German organic food industry.
Why did these activists and organic food industry lobbyists oppose a government-funded educational program which improved the molecular biology knowledge and expertise of high school students? A press release entitled "Keine Akzeptanzbeschaffung für Agro-Gentechnik an Schulen!" ("No Acceptance for Agricultural Gene Technology at Schools") in 2012 by an alliance representing farmers growing natural or organic crops accompanied by the publication of a study with the same title (PDF), funded by this group as well as its anti-GMO partners, gives us some clues. They feared that the high school students might become too accepting of using biotechnology in agriculture and that the curriculum did not sufficiently highlight all the potential dangers of GMOs. By allowing the ethical discussions that were part of the HannoverGEN curriculum to not only discuss the risks but also mention the benefits of genetically modifying crops, students might walk away with the idea that GMOs may be a good thing. Taxpayer money should not be used to foster special interests such as those of the agricultural industry that may want to use GMOs, according to this group.
A response by the University of Hannover (PDF) which had helped develop the curriculum and coordinated the classes for the high school students carefully dissected the complaints of the anti-GMO activists. The author of the "study" with the polemic title that criticized HannoverGEN for being too biased had not visited the HannoverGEN laboratories, nor had he had interviewed the biology teachers or students enrolled in the classes. In fact, his critique was based on weblinks that were not even used by the HannoverGEN teachers or students and his study ignored the fact that discussing potential risks of genetic modification was a core curriculum topic in all the classes.
Unfortunately, this shoddily prepared "study" had a significant impact, in part because it was widely promoted by partner organizations. Its release in the autumn of 2012 came at an opportune time because Niedersachsen was about to have an election and campaigning against GMOs – which apparently included an educational program that would equip students to form a balanced view of GMO technology - seemed like a perfect cause for the Green Party. When the Social Democrats and the Green Party formed a coalition after winning the election in early 2013, nixing the HannoverGEN high school program was formally included in the so-called coalition contract. This is a document in which coalition partners outline the key goals for the upcoming four year period. When one considers how many major issues and problems the government of a large German state has to face – healthcare, education, unemployment, etc. – it is mindboggling that defunding a program involving only four high schools receives so much attention that it needs to be anchored in the coalition contract. In fact, it is a testimony to the influence and zeal of the anti-GMO lobby.
Once the cancellation of HannoverGEN was announced, the Hannover branch of Greenpeace also took credit for campaigning against this high school program and celebrated its victory. A Greenpeace anti-GMO activist also highlighted that he felt the program was too cost intensive because equipping high school laboratories with state-of-the-art molecular biology equipment had already cost more than 1 million Euros and that the previous center-right government which had initiated the HannoverGEN project was planning on expanding the program to even more high schools, thus wasting more taxpayer money.
The scientific community was shaken up by the decision of the new Social Democrat-Green government in Niedersachsen. This was an attack on the academic freedom of schools under the guise of accusing them of promoting special interests while ignoring that the anti-GMO activists themselves were representing special interests, including the lucrative organic food industry. Scientists and science writers such as Martin Ballaschk or Lars Fischer wrote excellent critical articles in which they asked how squashing high-quality, hand-on science programs could ever lead to better decision-making. How could ignorant students have a better grasp of GMO risks and benefits than those who receive formal education and could make truly informed decisions? Sadly, this outcry did not make much of a difference and it did not seem that the media felt this was much of a cause to fight for. I wonder if the media response would have been just as lackluster if the government had de-funded a hands-on science lab to study the effects of climate change.
In 2014, the government of Niedersachsen then announced that they would resurrect an advanced biology laboratory program for high schools with the generic and vague title "Life Science Lab". By removing the word "Gen" from its title and also removing any discussion of GMOs in the curriculum, this new program would leave students in the dark about GMOs. One could thus avoid a scenario in which high school students might learn about benefits of GMOs. Ignorance is bliss from an anti-GMO activist perspective because the void of ignorance can be filled with fear.
From the very first day that I could vote in Germany during the federal election of 1990, I always viewed the Green Party as a party that represented my generation. A party of progressive ideas, concerned about our environment and social causes. However, the HannoverGEN incident is just one example of how the Green Party is caving in to ideologies thus losing its open-mindedness and progressive nature. In the United States, the anti-science movement, which attacks teaching climate change science or evolutionary biology at schools, tends to be rooted in the right wing political spectrum. Right wingers or libertarians are the ones who always complain about taxpayer dollars being wasted and used to promote agendas in schools and universities. But we should not forget that there is also a different anti-science movement rooted in the leftist and pro-environmental political spectrum – not just in Germany.
I worry about all anti-science movements, especially those which attack science education. There is nothing wrong with questioning special interests and ensuring that school and university science curricula are truly balanced. But they need to be balanced and founded on scientific principles, not on political ideologies. Science education has a natural bias – it is biased towards knowledge that is backed up by scientific evidence. We can hypothetically discuss dangers of GMOs but the science behind the dangers of GMO crops is very questionable. Just like environmental activists and leftists agree with us scientists that we do not need to give climate change deniers and creationists "balanced" treatment in our science curricula, they should also accept that much of the "anti-GMO science" is currently more based on ideology than on actual scientific data. Our job is to provide excellent science education so that our students can critically analyze and understand scientific research, independent of whether or not it supports our personal ideologies.
Posted by Jalees Rehman at 12:45 AM | Permalink | Comments (0)